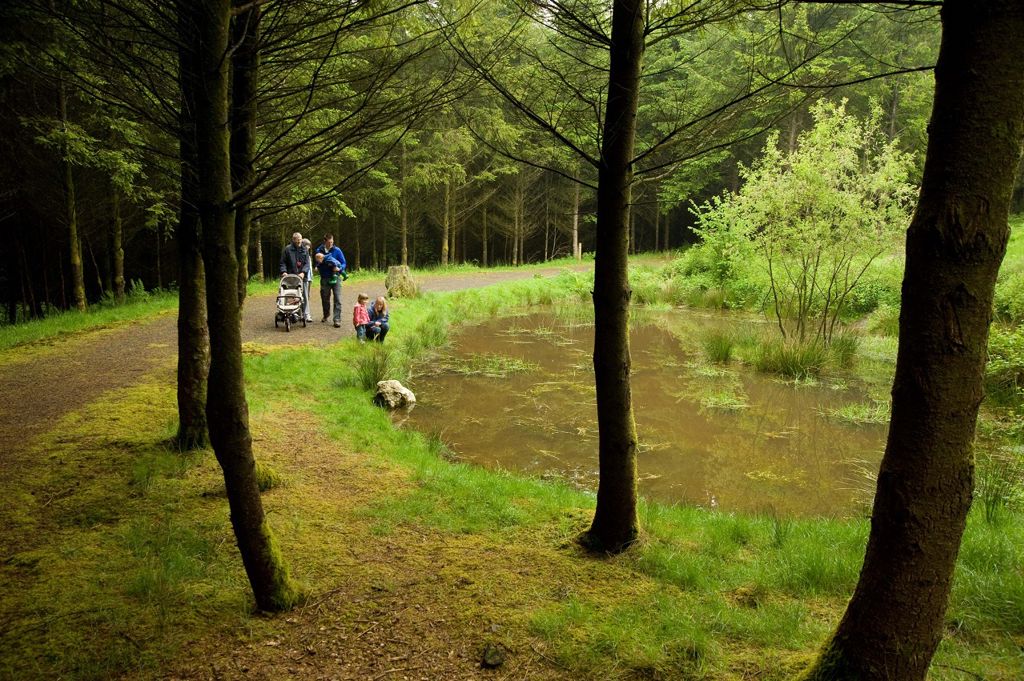 Overview
Woodlands and forests in the Llandovery area 
The woodlands and forests around the town of Llandovery vary hugely in character but they all offer a range of picnic sites and short walks for visitors.
Many were originally planted by the Forestry Commission to produce timber.
Today, however, Natural Resources Wales looks after them for people to enjoy and wildlife to live in, as well as still producing timber.
These woodlands and forests are located in the Llandovery area:
Cwm Rhaeadr Forest – a remote woodland and picnic area situated in the upper Tywi valley (see below)
Irfon Forest – home to an easy, level walk along the River Irfon
Talley Community Woodlands – these woods form a green backdrop to the ruins of Talley Abbey
Caio Forest – a woodland that spreads out into the uplands high above Caio village
Cilgwyn Wood – a small woodland with a pleasant mix of trees 
Pen Arthur Wood – a large forest with an attractive mix of conifers and native broadleaved trees
Cwm Rhaeadr Forest
Cwm Rhaeadr, which means "valley of the waterfall" in Welsh, is a remote woodland and picnic area situated in the upper Tywi valley in Carmarthenshire.
You can catch a glimpse of the dramatic falls on the Waterfall Walk through the woodland. The shorter trail, which is suitable for all abilities, passes by two peaceful ponds.
There is also a high-octane mountain biking trail for experienced riders and a horse-riding route with great views. 
Closures and diversions
Please note:
Sometimes we need to close or divert trails for your safety whilst we undertake maintenance work or forest operations
Occasionally we may have to close a site in extreme weather, such as high winds or snow and ice due to the risk of injury to visitors or staff
Please always follow any instructions onsite and make sure you follow any temporary diversion signs in place
Walking trails
All of the walking trails are waymarked and start from the car park.
Waterfall Walk
2.5 miles, 4 kilometres
The Waterfall Walk takes you along the lower part of the valley with glimpses of the waterfall through the trees. There are also several linking tracks that offer shorter alternative routes.
All Ability Trail
Three quarters of a mile, 1.25 kilometres
The All Ability trail is a shorter route through the woodlands which passes by two ponds which are a popular spot for dragonflies in late summer. It is suitable for wheelchair users.
Mountain biking trail
The mountain biking trail is waymarked and starts from the car park.
See our mountain biking page for a list of all our mountain bike trails and information about grading to make sure you pick a trail that is right for you. 
Please also read the relevant onsite information before setting off on your ride.
Cwm Rhaeadr Mountain Biking Trail
6.7 kilometres, grade red
The Cwm Rhaeadr Mountain Biking Trail delivers quality singletrack riding, including a descent over a rocky ridge, along with stunning views over the scenic valley and waterfall.
Horse riding trail
There is a waymarked linear horse riding trail along the forest road and onto the old bridleway on Mynydd Mallaen.
Accessibility information
The All Ability Trail is suitable for wheelchair users. It is three quarters of a mile long and its steepest gradient is 1/20.
How to get here
Cwm Rhaeadr is near Llandovery and is approximately one mile north of the village of Cilycwm. 
Car parking is free of charge.
Directions
Follow signs for Cilycwm from the A482 or A483 then continue northwards out of Cilycwm towards Llyn Brianne Reservoir until the sign for Cwm Rhaeadr.
The OS grid reference is SN 765 423.
Public transport
The nearest train station is in Llandovery. For details of public transport visit www.traveline.cymru
Find out more
Contact details
Tel: 0300 065 3000
Related document downloads
Explore more
Elsewhere on the site
Apps