Crychan Forest – Brynffo, near Llandovery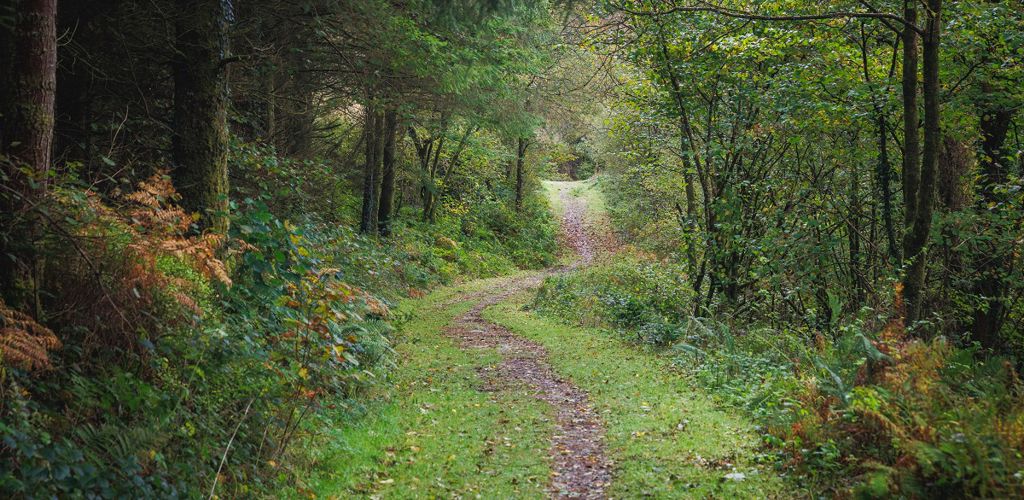 The horse riding trails are diverted between posts 164 and 168. Please follow all signage and instructions.
On Saturday 8 July, Crychan Forest will be closed for the Beacons Rally. Rally equipment is being set up on Thursday 6 and Friday 7 July and removed on Sunday 9 July. For your safety please follow all signage and instructions on site.
Welcome
Brynffo is one of our car parks in Crychan Forest.
It is the starting point for a walking trail with mountain views.
There are picnic benches around the car park.
Walking trail
The walking trail is waymarked from start to finish.
Look out for the information panel at the start of the trail.
Find out about walking trail grades.
Brynffo Trail
Grade: Moderate
Distance: 3½ miles/5.4 kilometres
Time: 2 hours
Enjoy long views of the Cambrian Mountains to the north, before dropping into the sheltered valley of Cwm Crychan.
You will follow the trail beside the stream, before climbing up through the trees back to the car park.
Crychan Forest
Brynffo car park is within Crychan Forest.
Set in beautiful countryside between the BBannau Brycheiniog (Brecon Beacons) National Park and the Cambrian Mountains, Crychan Forest is criss-crossed with many old tracks that linked the farms that were once here.
In the 1930s the Forestry Commission bought the farms and land and planted trees here as part of the efforts across the UK to replenish timber stocks which had been run-down during the First World War.
A few ruined dwellings remain and you may come across them as you explore.
The forest is made up of oak, ash, beech, hazel and conifers and the colours vary depending on the season from bluebells in the spring to the golden hues of autumn.
Nowadays it provides valuable timber and is home to a wide variety of wildlife.
Goshawks, buzzards and red kites nest here, and you may catch a glimpse of roe deer.
As well as the walking trail from Brynffo there are walking trails from our three other car parks in Crychan Forest:
Halfway car park is the easiest of these to reach as it is situated just off the A40, a few miles from Llandovery.
The car parks at Brynffo, Cefn Farm and Esgair Fwyog are located on minor roads off the A483 between Llandovery and Builth Wells.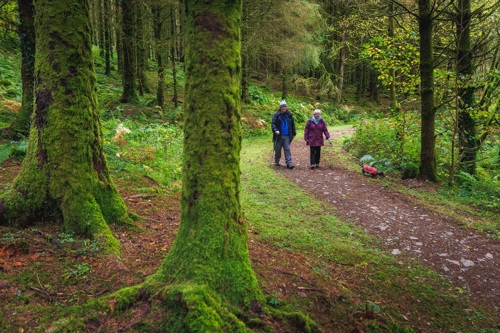 Horse riding in Crychan Forest
There is open access for horse riding throughout Crychan Forest.
Our car parks in Crychan Forest are the starting point for many miles of horse riding on forest roads and old tracks.
There are also shortcuts onto the Epynt Way, a 50 mile long bridleway around the boundary of the Sennybridge military training area.
Facilities for horse riders at our car parks include corrals and tethering rails.
The car parks at Halfway and Brynffo are the most suitable for horse boxes.
There is access for carriage drivers at Brynffo car park.
For more information about horse riding in Crychan Forest, go to the Crychan Forest Association website.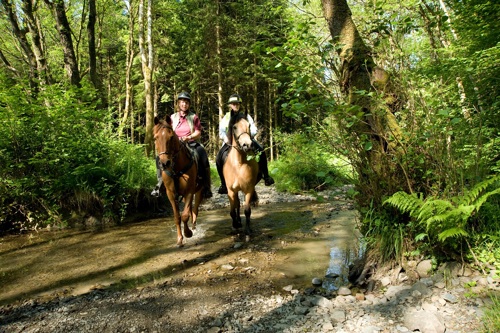 Closures and diversions
Sometimes we need to close or divert trails for your safety whilst we undertake maintenance work or other operations.
We may have to close a site in extreme weather, such as high winds or snow and ice, due to the risk of injury to visitors or staff.
Please always follow any instructions on site and any temporary diversion signs.
How to get here
Location
Brynffo car park is 7½ miles north east of Llandovery.
It is in the county of Carmarthenshire.
Ordnance Survey map
Brynffo car park is on Ordnance Survey (OS) Explorer map 187.
The OS grid reference is SN 848 409.
Directions
Take the A483 from Llandovery towards Builth Wells.
After 4 ½ miles turn right at the brown and white sign for Crychan Forest Trails.
Follow the minor road towards Tirabad and after 2 miles go past the entrance to the Esgair Fwyog car park.
After 1 mile the Brynffo car park is on the right.
Public transport
The nearest mainline railway station is in Llandovery.
For details of public transport visit Traveline Cymru's website.
Parking
Car parking is free of charge.
Overnight parking is not permitted.
Contact details
There are no staff at this location.
Contact our customer team for general enquiries during office hours, Monday to Friday.
Related document downloads