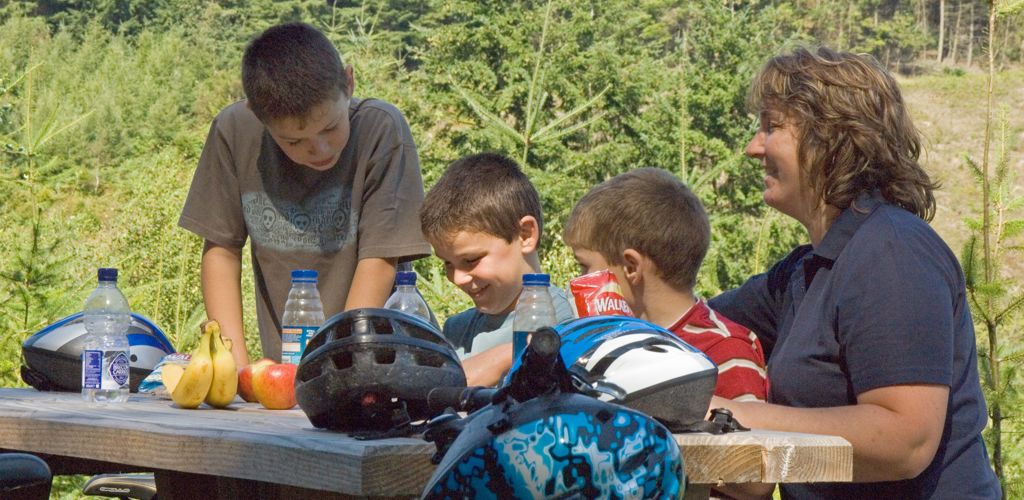 Coronavirus update
All Natural Resources Wales (NRW) car parks, play areas and toilet blocks in the reserves, woods and forests are closed from 23 March 2020
Mountain bike trails are now closed. No maintenance is being carried out until further notice on mountain bike trails.
For more information see our main page on coronavirus.

Other information
There are likely to be diversions in place for the Derwen and Raven Mountain Bike Trails from December 2019 until the end of March 2020 due to harvesting work. See the downloads section at the bottom of this page for maps showing the diversion routes. There will be barriers in place to help direct riders on site.
Overview
Brechfa Forest is the modern name for part of the ancient Glyn Cothi Forest.
Glyn Cothi Forest was managed for centuries by local people in order to provide building materials, products and grazing.
In 1283, following the final defeat of Wales by Edward I, Glyn Cothi became a Royal Forest administered under Forest Law for several centuries.
Since those days a very different forest has developed. In the 1900s Brechfa Forest was replanted with conifers by the Forestry Commission to boost Britain's timber reserve after the heavy use of timber in the First World War.
Visiting Brechfa Forest
Today Brechfa Forest covers some 6500 hectares and is looked after by Natural Resources Wales for the benefit of people, wildlife and timber production.
There are walking and mountain bike trails through these two woodlands within Brechfa Forest:
Byrgwm woodland (see below)
There are also walking trails in other places in Brechfa and horse riders are welcome on forest roads.
Byrgwm, Brechfa Forest
Byrgwm means "short valley" in Welsh and the woodland boasts some huge Douglas fir trees.
The waymarked walking trail passes a derelict smallholding, one of a number of similar ruins throughout Brechfa Forest. These are a poignant reminder that more people used to live off the land here.
Mountain bikers of all abilities can enjoy the woodland, too, as there is a trail for beginners and families and a black route for proficient riders.
Closures and diversions
Please note:
Sometimes we need to close or divert trails for your safety whilst we undertake maintenance work or forest operations
Occasionally we may have to close a site in extreme weather, such as high winds or snow and ice due to the risk of injury to visitors or staff
Please always follow any instructions onsite and make sure you follow any temporary diversion signs in place
Walking trail
The walking trail is waymarked and starts from the car park.
Byrgym Walk
4 miles, 6.4 kilometres, moderate
This walk goes through airy woodlands with huge Douglas fir trees and darker moss strewn Norway spruce areas. It passes a derelict smallholding and offers views of the Cothi Valley.
Mountain biking trails
All of the mountain biking trails are waymarked and start from the car park.
See our mountain biking page for a list of all our mountain bike trails and information about grading to make sure you pick a trail that is right for you.
Please also read the relevant onsite information before setting off on your ride.
Derwen Trail
9.2 kilometres, grade green
Typically, green trails are all on forest roads or canal towpaths - but not in Brechfa Forest! Named after the oak woodland it effortlessly flows through, the Derwen trail gives the inexperienced off-road rider a unique introduction to the world of mountain biking with some steady climbs and fun descents.
Derwen Trail
4.2 kilometres, grade blue – extension to the green Derwen Trail
This an extension to the green Derwen Trail which you join halfway along the green route. It then climbs a steeper bank before taking in a long, fast descent and rejoining the green trail to return to the car park.

Raven Trail
18.5 kilometres, grade black 
The Raven Trail was designed by Rowan Sorrell and Brian Rumble, who are well known in the mountain biking world.
Suitable only for proficient bikers, the trail takes goes out into the more interesting corners of the forest. It mixes up the more traditional narrow woodland singletracks with some brash descents and fast, undulating trail between trees, into berms and over jumps.

Opening times
The toilets are portaloos which are open at all times.
How to get here
Byrgwm is two miles north-east of Brechfa village on the B4310.
From the A40 between Llandeilo and Carmarthen, take the B4310 towards Brechfa village.
Car parking is free of charge.
Ordnance Survey map
Byrgwm is on Ordnance Survey (OS) map 186.
The OS grid reference is SN 544 315.
Public transport
The nearest train station is in Carmarthen. For details of public transport visit www.traveline.cymru
Find out more
Contact details
Tel: 0300 065 3000
Email: enquiries@naturalresourceswales.gov.uk
Downloads
Related document downloads