Taf Fechan Forest (Owl's Grove), near Merthyr Tydfil
Short riverside walking trail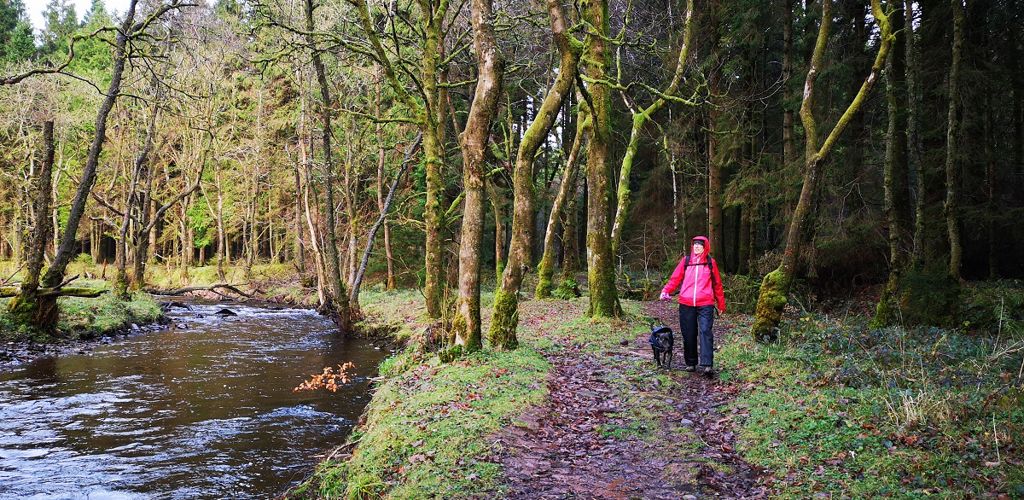 Coronavirus update
Our sites and most visitor facilities are open but, under the current coronavirus restrictions in Wales, this is intended only for the use of people who live locally.
You are strongly advised – in line with current Welsh Government regulations – not to drive to any of our sites to exercise unless you have specific health or mobility issues.
We have changed the normal route for some of our trails to help you maintain social distancing – please follow signs on site.
Welcome
Taf Fechan Forest is in the Brecon Beacons National Park, just a short drive from Merthyr Tydfil and and the South Wales Valleys.
Discover this peaceful forest on our short waymarked walking trail from Owl's Grove car park.
There is a picnic bench in the car park.
Walking trail
The walking trail is waymarked from start to finish.
Look out for the information panel at the start of the trail.
Find out about walking trail grades.
Taf Fechan Trail
Grade: Moderate
Distance: 1¼ miles/1.9 kilometres
Time: 45 minutes
Trail information: Cross the road from the car park to start the trail. The trail has some uneven and muddy sections, a short descent through trees and a section of forest road. The path is very wet underfoot after bad weather – wear appropriate footwear. There is a bench along the route.
This circular trail goes through tall conifer trees alongside the bubbling Taf Fechan River and, after a short section of forest road, it returns to the car park along a path through the woodland.
Other walking routes
Blaen y Glyn waterfall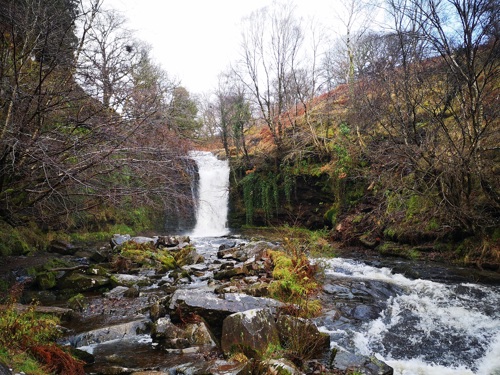 You can walk to Blaen y Glyn waterfall from our car parks at Upper Blaen y Glyn and Lower Blaen y Glyn.
The route from the lower car park is shorter and has less of a climb than the route from the upper car park.
Both car parks are situated on the same road as Owl's Grove car park – follow the road towards Talybont Reservoir and look out for the car park signs.
Beacons Way
You can join the Beacons Way long distance path from our car park at Upper Blaen y Glyn.
For more information about the Beacons Way go to the Brecon Beacons National Park website.
Long distance cycle route
The Sustrans National Cycle Network route 8 goes through Taf Fechan Forest.
For more information about this long distance cycle route, go to the Sustrans website.
Brecon Beacons National Park
Taf Fechan Forest is set in the heart of the Brecon Beacons National Park.
The National Park covers approximately 520 square miles of mountains and moorland in South and Mid Wales.
At night it gets so dark here that the Brecon Beacons is recognised as an International Dark Sky Reserve.
For more information about visiting the Brecon Beacons go to the Brecon Beacons National Park website.
Closures and diversions
Sometimes we need to close or divert trails for your safety whilst we undertake maintenance work or other operations.
We may have to close a site in extreme weather, such as high winds or snow and ice, due to the risk of injury to visitors or staff.
Please always follow any instructions on site and any temporary diversion signs.
How to get here
Location
Taf Fechan Forest is 9 miles North of Merthyr Tydfil.
It is in the county of Powys.
Ordnance Survey (OS) map
Taf Fechan Forest is on OS Explorer OL 12. 
The OS grid reference is SO 048 162.
Directions
From Merthyr Tydfil, follow the brown and white signs towards the Brecon Mountain Railway.
Continue past the railway station and, after 1½ miles, turn right at the T-junction towards Talybont-on-Usk. Follow signs for Talybont-on-Usk and the car park is on the right.
Public transport
The nearest mainline railway station is in Merthyr Tydfil.
For details of public transport go to the Traveline Cymru website.
Parking
Parking is free of charge in Owl's Grove car park.
If this car park is full, you can also join the Taf Fechan River Walk from the Pont Cwmyfedwen car park (OS grid reference is SO 042 164).
Contact details