Waterfall Country Woodlands - Dinas Rock, near Neath
Waterfall walks suitable for all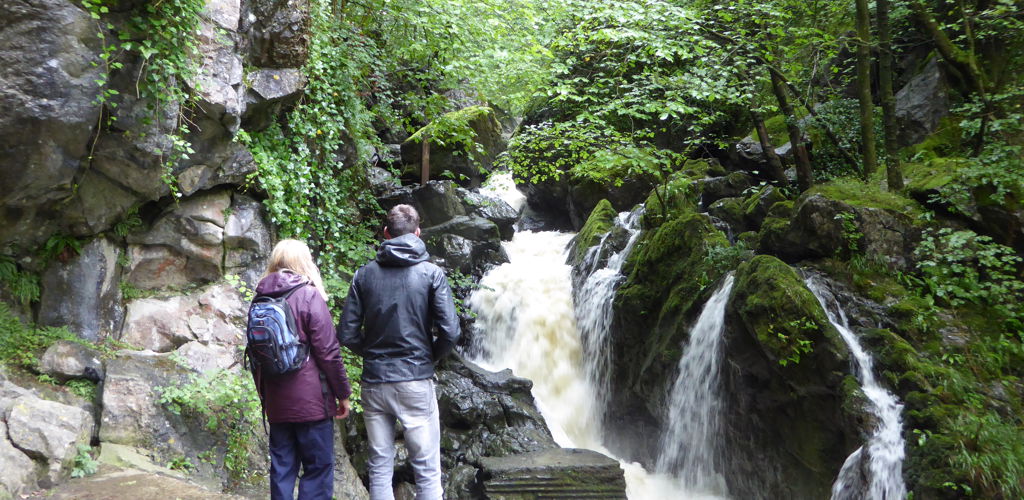 This site and visitor facilities are open - please see more details on this web page.
The car park is very busy and can often get full. For live information on car park spaces, go to the Brecon Beacons National Park website.
Coronavirus update
The Welsh Government is introducing national measures from Monday 9 November.
They apply to everyone living or travelling in Wales.
Our sites and most visitor facilities remain open but people are advised to avoid non-essential travel as much as possible.
Visiting your local site safely
We have changed the normal route for some of our trails to help you maintain social distancing – please follow signs on site.
Please remember to wear a mask when going inside one of our buildings.
You can check-in via the NHS app when entering one of our buildings – scan the QR-code on the NHS Covid-19 poster on site.
Welcome
Dinas Rock (Craig y Ddinas) is an imposing limestone cliff at the edge of the village of Pontneddfechan.
There was once an ancient fort on the flat top of Dinas Rock.
In more recent times, the area was home to a gunpowder works and you can see the ruins of the old industrial buildings today.
The Dinas Rock car park is the starting point for a short, all ability walk to the spectacular Sgydau Sychryd cascades and a strenuous route to Sgŵd-yr-Eira. This is the most well-known waterfall in Waterfall Country as you can walk right behind it.
Please note: Dinas Rock is an extremely popular destination for groups from outdoor activity centres and the car park can get full.
Waterfall Country
Dinas Rock is in a popular part of the Brecon Beacons National Park known as Waterfall Country.
Waterfall Country has more spectacular waterfalls than any other similar area in Wales.
Waterfall Country lies within the triangle formed by the villages of Hirwaun, Ystradfellte, and Pontneddfechan.
Here, three rivers - the Afon Mellte, Afon Hepste and Afon Nedd Fechan - have carved their way through soft rocks to create steep wooded gorges full of caves and tumbling cascades.
Go to the Brecon Beacons National Park website for more places to visit in Waterfall Country.
Walking trails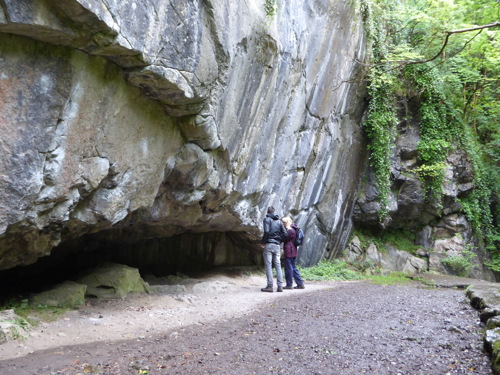 The walking trails are waymarked and start from the Dinas Rock car park. 
Sgydau Sychryd Trail
½ mile/0.6 kilometres, (there and back), accessible
This trail winds its way alongside the river through a narrow wooded gorge.
The huge rock known as Bwa Maen, an impressive geological fold, is on the other side of the river.
The trail reaches the Sgydau Sychryd cascades before returning along the same path.
It is suitable for more robust wheelchairs and buggies.
Sgŵd yr Eira Trail
2 miles/3.2 kilometres one way, strenuous
This trail's destination is the famous Sgŵd-yr-Eira waterfall (which means "fall of snow" in Welsh).
A natural path leads into an alcove behind its thundering curtain of water.
Although there's room to stand well back, the air is very moist and a waterproof is recommended! The trail also passes Dinas Rock hill fort and the old gunpowder works.
It returns to the car park along the same route.
Other route
You can reach Sgŵd-yr-Eira and three other dramatic waterfalls on the Four Falls Trail which is a circular route from the Gwaun Hepste car park.
Accessibility information
The Sgydau Sychryd Trail is a short riverside route suitable for more robust wheelchairs.
Closures and diversions
Please note:
Sometimes we need to close or divert trails for your safety whilst we undertake maintenance work or forest operations
Occasionally we may have to close a site in extreme weather, such as high winds or snow and ice due to the risk of injury to visitors or staff
Please always follow any instructions onsite and make sure you follow any temporary diversion signs in place
How to get here
Location
Dinas Rock car park is 13 miles north east of Neath off the A465.
Waterfall Country woodlands straddle the county borders of Powys, Neath Port Talbot and Rhondda Cynon Taf.
Car parking is free of charge.
Directions
Leave the A465 at the exit for Glynneath and the A4109. At the end of the slip road, follow signs for the B4242 and Pontneddfechan. Follow the brown and white signs for Dinas Rock through the village. Take the right fork immediately after the former Dinas Inn and continue for one kilometre. The car park is beyond the bus turn-around point after crossing the narrow bridge over the river.
Ordnance Survey map
Dinas Rock is on Ordnance Survey (OS) map OL 12.
The OS grid reference is SN 912 079.
Public transport
The nearest train station is in Aberdare.
For details of public transport visit Traveline Cymru's website.
Contact details
Tel: 0300 065 3000
Email: enquiries@naturalresourceswales.gov.uk
Downloads
Related document downloads