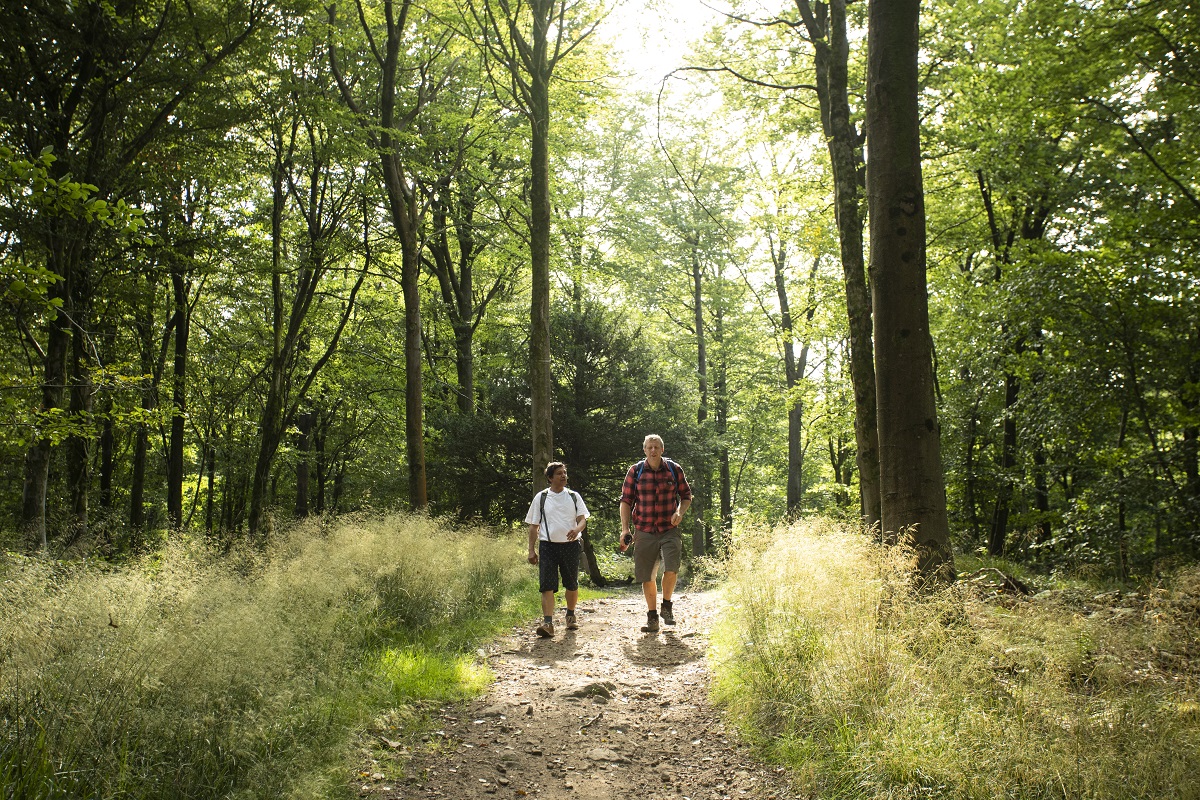 Welcome
Wentwood was once a hunting preserve for Chepstow Castle and it is the largest area of ancient woodland in Wales.
Most of the original native trees here were felled during the middle of the 20th century to make way for fast-growing, timber-producing conifers.
We are restoring Wentwood to native broadleaved woodland and our ancient woodland restoration project has been accredited under the Queen's Commonwealth Canopy initiative.
The forest is scattered with archaeological features from ancient trackways to the remains of an old mill.
Visiting Wentwood
You can explore Wentwood on foot, bicycle or horseback.
There is a welcome panel in the car park with a map and information about what to see.
There are also marker posts to help guide you along the paths through the forest.
In spring the paths are surrounded by carpets of bluebells.
Look out for wood ant nests - these mounds stand up to 4 feet high.
Enjoy the harmony of bird song and you may spot deer or even an adder.
Woodland Trust
The Woodland Trust own and manage a large part of Wentwood.
For more information about what you can see in Wentwood go to the Woodland Trust website.
National Forest for Wales
Wentwood forms part of the National Forest for Wales.
The National Forest will:
create areas of new woodland
enhance existing woodlands
restore Wales' irreplaceable ancient woodlands
It will form a connected ecological network running throughout Wales, bringing social, economic and environmental benefits.
Parts of the network will eventually form a trail running the length and breadth of Wales, so anyone can access it wherever they live.
For more information go to the National Forest for Wales website.
Closures and diversions
Sometimes we need to close or divert trails for your safety whilst we undertake maintenance work or other operations.
We may have to close a site in extreme weather, such as high winds or snow and ice, due to the risk of injury to visitors or staff.
Please always follow any instructions on site and any temporary diversion signs.
How to get here
Location
Wentwood is 7 miles west of Chepstow.
This site straddles the county borders of Newport and Monmouthshire.
Ordnance Survey map
Wentwood is on Ordnance Survey (OS) map OL 14 and 152.
The OS grid reference is ST 422 948.
Directions
From Newport, take the A48 towards Caerwent.
After 6 ½ miles, turn left onto the Usk Road, signposted Llanviar Discoed (Llanfair Disgoed / Llanvair Discoed).
After around 3 miles, pass the Wentwood reservoir and Foresters' Oaks car park is on the left.
Continue for a further ¾ mile, and Cadira Beeches car park is on the right.
Public transport
The nearest mainline railway station is in Caldicot.
For details of public transport visit Traveline Cymru's website.
Parking
There are two main car parks for visiting Wentwood:
Foresters' Oaks car park is on the left (this car park is managed by Newport City Council)
Cadira Beeches car park (managed by Natural Resources Wales)
Car parking is free of charge in the Cadira Beeches car park.
Overnight parking is not permitted.
Contact details
There are no staff at this location.
Contact our customer team for general enquiries during office hours, Monday to Friday.
Related document downloads