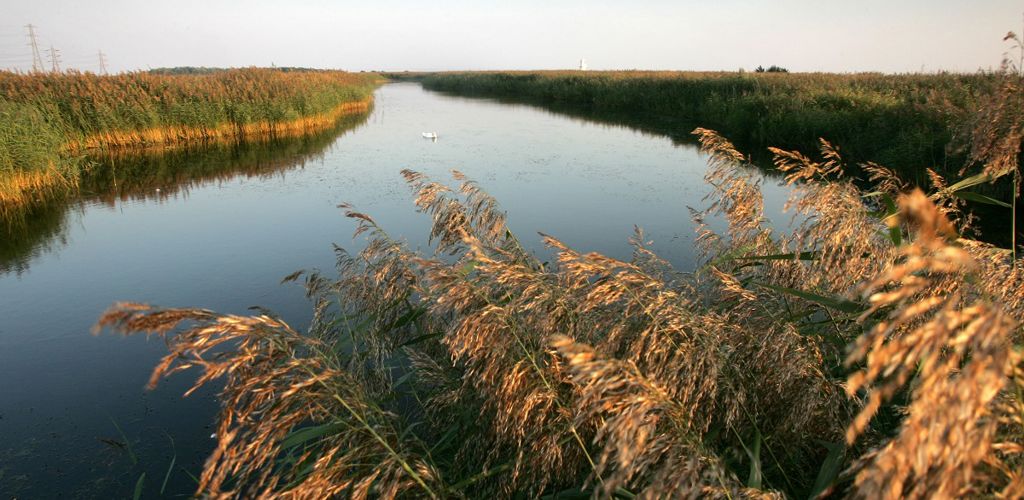 What's here
Parking (blue badge holders)
Coronavirus update
The visitor facilities (car park, visitor centre, café and toilets) at Newport Wetlands are operated by the RSPB and remain closed.
Our walking trails here are open but there may be some diversions – please follow signs.
Some of the bird hides are closed.
We'll keep this page up to date with the latest information so please check back regularly.
More information
We appreciate your patience as we work with our partners to provide a steady and safe return to the countryside.
Most of our woodlands and nature reserves have now re-opened.
See a list of all our places to visit.
Welcome
Tucked between the city of Newport and the Severn estuary lies one of the newest and most distinctive National Nature Reserves in Wales.
Part of the tranquil Gwent Levels, Newport Wetlands National Nature Reserve is made up of a diverse range of low-lying habitats, including wet grassland, reedbeds, saltmarsh and saline lagoons.
It is this combination of features that makes this reserve one of the best sites in the country for viewing bird life and the visitor facilities here allow you to do just that.
There is a seven kilometre network of re-surfaced paths around the Uskmouth reedbeds. Five of the reedbeds have viewing screens across the deepwater channels.  One reedbed has a raised viewing platform and one has a raised bird hide.
A floating pontoon forms a direct route to the East Usk Lighthouse which is over 120 years old.
Please note: dogs on a short lead are welcome on the Green Lanes and Coast Walk only.
Walking trails
All of the walking trails are waymarked.
Orchid Trail
1 mile/1.6 kilometre, accessible
Look out for orchids in late spring and early summer.
Sculpture Trail
1 mile/1.5 kilometres, accessible
Go through reedbeds, over the floating bridge and past the lighthouse.
Woodland and Estuary Trail
1½ miles/2.3 kilometres, accessible
Go through reedbeds, woodland, past open water and the estuary.
The Wetlands Experience
3m/4.5 kilometres, accessible
This route combines the orchid trail, the woodland and estuary trail and part of the Wales Coast Path.
Green Lanes and Coast Walk
4 miles/6 kilometres, easy
Highlights include the East Usk Lighthouse, views over the Severn Estuary as far as Exmoor, bird-hide, and green lanes (Fish-house Lane can be very muddy in winter or after heavy rain).
Dogs on a short lead are welcome on this walk.
National Nature Reserve
Newport Wetlands is a National Nature Reserve.
National Nature Reserves are places with some of the very finest examples of wildlife habitats and geological features. 
There are over 70 National Nature Reserves in Wales.
Find out more about National Nature Reserves.
Seasonal highlights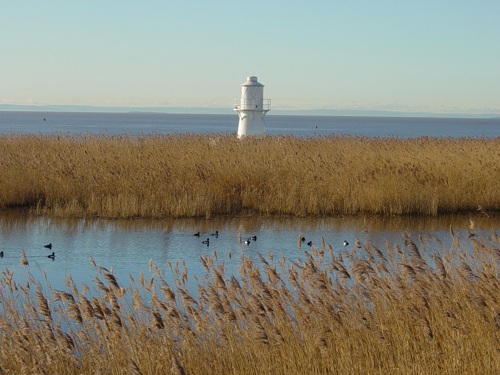 During the year, the landscape changes at Newport Wetlands National Nature Reserve.
Depending on when you visit, you are likely to see different wildlife, too.
Read on to find out what you could see here during the different seasons.
Spring
In spring, the reedbeds are alive with song. Warblers abound here, including a significant proportion of Britain's Cetti's warblers. Scan the pools from one of the viewing platforms and you should also see mute swans, tufted ducks, coot and families of little grebe.
Look out for displaying lapwing and avocet and listen for the song of warbler species and skylarks.
Over on the saline lagoons, you may see migrant wader species.
At this time of year, visitors with young children enjoy spotting ducklings and chicks all around the reserve.
Summer
In summer, you will be able to enjoy the reserve's plant life in all its glory. Orchids are abundant, look out for the rarer shrill carder bee amongst the everlasting pea flowers. Walk over to the saline lagoons and you will encounter a quite different habitat. This is the only breeding site in Wales for the avocet, a long-legged wading bird with a distinctive upwardly curving beak.
In the warmer months, the hay meadows around the reserve are rich in wild flowers.
If you make your way along the paths around the reedbeds, look out for orchids, dragonflies, hobbies and shrill carder bees.
As dusk falls, barn owls come out to hunt over the grasslands.
Autumn
Autumn is the best time of year for birdwatching at Newport Wetlands when migratory wildfowl and wading birds begin to arrive.
Watch migrant wader species on the saline lagoons and the starling roost on the reedbed. 
Flocks of redwing and fieldfare are busy feeding on the hedgerows along the Wales Coast Path which passes along the edge of the reserve.
Winter
In winter there are the largest flocks of birds - look out for merlin and peregrine falcons when the lapwing flock is startled.
There's plenty to see at Newport Wetlands in the winter – look out for big flocks of wigeon, teal, dunlin and lapwing.
In the wide open skies above the reserve you are likely to see hunting birds of prey such as peregrine, merlin and marsh harriers.
RSPB Visitor Centre
Please check the top of this webpage for the latest information.
Newport Wetlands is a partnership between Natural Resources Wales, Newport City Council and the RSPB.
The RSPB manage the Environmental Education and Visitor Centre which is open every day (except Christmas Day) free of charge.
The centre includes space for group and family activities, conference facilities, a large retail area and a Fairtrade/organic coffee shop.
Outside there is a children's play area.
Events
The RSPB run events from family fun days to guided walks at Newport Wetlands.
Many of these events are very popular and booking is essential for some of them.
Go to the RPSB website for the events programme and details of how to book a place.
Accessibility information
All of paths around the Uskmouth reedbeds are accessible to wheelchairs and there are benches approximately every 200 metres.
The paths are level with some gentle slopes and a zig-zag ramp to climb the five metres up to the raised reedbed levels.
Facilities include:
parking for blue badge holders
wheelchair access to the visitor centre and cafe
accessible toilets
three electric mobility scooters to hire, free of charge (contact the RSPB centre to book tel: 01633 636363)
viewing screens and a hide with wheelchair spaces
Opening times
Please check the top of this webpage for the latest information.
The Environmental Education and Visitor Centre, which is owned by the RSPB, is open free of charge from 9am until 5pm, seven days a week all year (except Christmas Day).
The car park is open from 9am to 5pm.
Closures and diversions
Sometimes we need to close or divert trails for your safety whilst we undertake maintenance work
Occasionally we may have to close a site in extreme weather, such as high winds or snow and ice due to the risk of injury to visitors or staff
Please always follow any instructions onsite and make sure you follow any temporary diversion signs in place
How to get here
Newport Wetlands National Nature Reserve is five miles south of Newport off the A48.
Car parking costs £3 (free for RSPB members).
Directions
From M4 Junction 24: take the A48 west and then follow the brown duck signs to the Newport Wetlands National Nature Reserve car park.
From M4 Junction 28: take the A48 east and then follow the brown duck signs.
The car park is on the West Nash road, just before the entrance to the Uskmouth Power Station.
Sustrans National Cycle Route 4 has a branch to Newport Wetlands using cycle paths and quiet roads. There is a covered cycle stand in the car park and a cycle stand at the entrance to the visitor centre.
The post code for SAT NAV is NP18 2BZ.
Ordnance Survey map
Newport Wetlands National Nature Reserve is on Ordnance Survey (OS) map 152.
The OS grid reference is ST 334 834.
Public transport
There is a demand responsive bus service to Newport Wetlands.
Ring 01633 21120 to book a bus by 5pm on the day before you wish to travel.
The nearest train station is in Newport.
For details of public transport visit the Traveline Cymru website.
Contact us
Natural Resources Wales
Tel: 0300 065 3000
enquiries@naturalresourceswales.gov.uk
RSPB
01633 636363
Downloads
Related document downloads