Ogof Ffynnon Ddu National Nature Reserve, near Ystradgynlais
Open moorland with spectacular views and an extensive cave system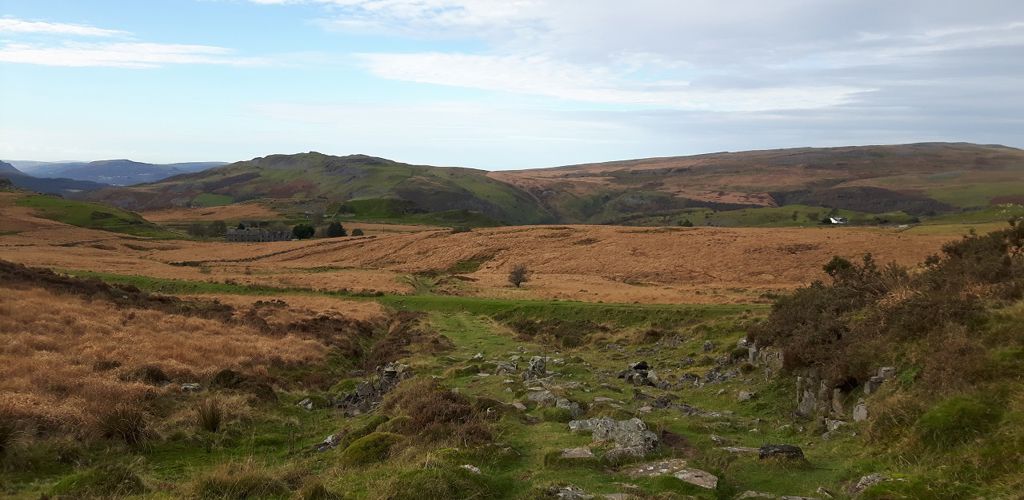 This site and visitor facilities are open – please see more details on this web page.
Coronavirus update
There are coronavirus local restrictions in some areas of Wales.
Our sites remain open in areas with local restrictions but you should not travel from outside the area to visit them - this site is located in the county of Powys.
We have changed the normal route for some of our trails to help you maintain social distancing – please follow signs on site.
You need to wear a mask when going inside one of our buildings.
You can check-in via the NHS app when entering one of our buildings – scan the QR-code on the NHS Covid-19 poster on site.
Overview
Ogof Ffynnon Ddu National Nature Reserve is a huge expanse of moorland with magnificent views, situated in the heart of the Brecon Beacons National Park.
It is best known for its cave system, which is one of the most extensive in Europe and a popular destination for proficient cavers.
There was once a thriving village with a quarry and brickworks here and there are industrial remains all around the reserve.
Fascinating geological features
The varied rock types in the reserve produce different soils on which a range of plants grow.
There are small areas of limestone pavement which has weathered into deep fissures and cracks.
The grassland on the limestone is rich in herbaceous plants.
Heather moorland grows on the peat which lies on the millstone grit.
The caves were discovered by the South Wales Caving Club in 1946. They are full of features from underground streams to waterfalls and stalagmites to stalactites.
Wildlife above and below ground
The most fascinating creatures live in the caves.
Some of them, such as crustaceans that live in the water, can only survive underground.
Others, such as the herald moth and the tissue moth, spend winter in the caves and summer in the open air.
Bats hibernate in the cave passages in winter, and blanched trout live in the underground stream.
The moorland is an ideal habitat for nesting birds - look out for skylarks and wheatears in summer.
Wide variety of plantlife
Large expanses of acidic rocks on the reserve are covered in heather, which is at its best in early autumn, as well as bilberry, mosses and lichens.
Less common plants such as mountain everlasting autumn gentian and mossy saxifrage grow in the grassland.
The fissures and cracks in the limestone pavement are home to limestone specialist plants, as well as those more typically found in a woodland or hedgerow. They include:
Small scabious
Lily of the valley
Wood anemone
Hart's tongue fern
Black spleenwort
Herb robert
Early summer is the best time to see most of the limestone-loving plants.
Industrial past
It is difficult to imagine Penwyllt as the thriving village it once was, with its own railway station, post office and public house.
The village provided a home to workers at the limestone quarry, the silica brickworks and a large number of lime kilns.
Penwyllt's fortunes rose and fell along with the industrial revolution in South Wales, and it steadily declined until it was abandoned.
Nowadays you can see brickwork remains, quarry workings, former tramroads and a row of terraced cottages near the car park.
These cottages were once lived in by workers and their families. They are now the headquarters of the South Wales Caving Club and provide accommodation for club members and visiting cavers.
National Nature Reserve
Ogof Ffynnon Ddu is a National Nature Reserve.
National Nature Reserves are places with some of the very finest examples of wildlife habitats and geological features.
There are over 70 National Nature Reserves in Wales.
Find out more about National Nature Reserves.

Walking
There are footpaths through the reserve from the car park.
These paths are well defined at first and you can get a taste of the reserve and enjoy the views by following them for a short way or try our waymarked Tram and Train Trail.
The paths have some short steep stretches and several stiles and kissing gates.
If you wish to walk further, we strongly recommend that you take a map.
Please stay on the paths because the ground is very rough and uneven and there are deep sink holes throughout the reserve.
Tram and Train Trail
1½ miles, 2.3km or 2½ miles, 3.6km with railway line, moderate
Follow this short waymarked walk around the reserve – look for lime-loving wildflowers in late spring and, at any time of year, discover the remains of a former hive of industry. You'll find a tramway, a railway line, lime kilns and a brick works.
Penwyllt – Craig-y-nos
4½ miles, 7.2km, difficult circular walk
A moderate walk suitable for families with older children (8+) along bridleways and old tramroads. This walk provides an insight into the fascinating lives of the men and women who lived and worked in Penwyllt.
Go to the Brecon Beacons National Park website for more information.
Beacons Way
The Beacons Way passes through the reserve.
This 95 mile long (152km) iconic walk runs the length of the Brecon Beacons National Park.
Go to the Brecon Beacons National Park website for more information.
Visiting the caves
The caves may only be accessed by properly equipped cavers with a permit from the South Wales Caving Club.
Cave entrances are gated and locked at all other times.
Find out more from the South Wales Caving Club website which also includes photos and videos taken inside the caves.
Dan-yr-Ogof National Showcaves Centre for Wales
If you would like to visit a cave in the area, the National Showcaves Centre for Wales is on the opposite side of the valley, just off the A4067.
This is a privately-run tourist attraction with an admission charge.
Part of the Dan-yr-Ogof cave system is a National Nature Reserve.
Find out more about the National Showcaves Centre for Wales.
Craig-y-Nos Country Park
Visitor facilities including toilets and a café are available at the nearby Craig-y-Nos Country Park.
This 40-acre Victorian garden with woodlands, meadows, ponds, lawns and rivers is managed by the Brecon Beacons National Park.
The car park entrance is on the A4067 and it is open daily (except Christmas Day).
Find out more about Craig-y-Nos Country Park.
Closures and diversions
Please note:
Sometimes we need to close or divert trails for your safety whilst we undertake maintenance work or forest operations
Occasionally we may have to close a site in extreme weather, such as high winds or snow and ice due to the risk of injury to visitors or staff
Please always follow any instructions onsite and make sure you follow any temporary diversion signs in place
How to get here
Ogof Ffynnon Ddu National Nature Reserve is six miles north of Ystradgynlais.
Car parking is free of charge.
Directions
Take the A4067 from Ystradgynlais to Abercraf and Pen y Cae. Continue through Pen y Cae and turn right down a minor road signposted to Penwyllt. Follow brown and white tourist signs over river and left at T-junction. Go past disused quarry along track to car park.
Ordnance Survey map
Ogof Ffynnon Ddu National Nature Reserve is on Ordnance Survey (OS) map OL 12.
The OS grid reference is SN 856 155.
Public transport
For details of public transport visit www.traveline.cymru
Find out more
Contact details
Tel: 0300 065 3000
Email: enquiries@naturalresourceswales.gov.uk
Downloads
Related document downloads