Cwmcarn Forest, near Newport
Walking trails and mountain biking in the heart of the valleys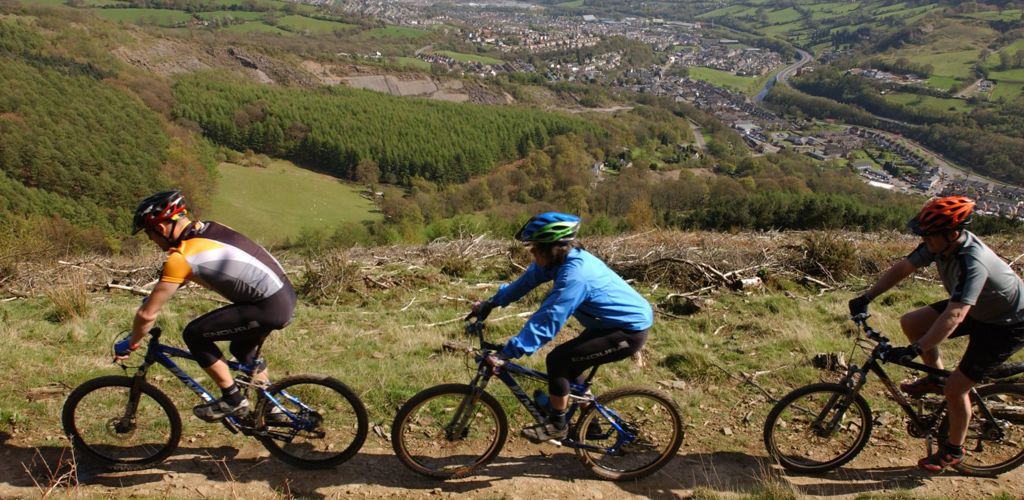 Coronavirus update
We appreciate your patience as we work with our partners to provide a steady and safe return to the countryside.
We're following Welsh Government and Public Health Wales guidance and are re-opening trails and facilities when we can do so safely.
We'll keep this page up to date with the latest information so please check back regularly.
What's open 
walking trails
mountain bike trails
Visitor facilities
The car park, visitor centre, toilets and play area are operated by Caerphilly County Borough Council - see the Cwmcarn Forest website for the latest information about these facilities.
Visiting our sites safely
Please take personal responsibility for your safety, making additional preparations ahead of your visit and abiding by the safety measures in place.
We have changed the normal route for some of our trails to help you maintain social distancing – please follow signs on site.
See our tips about how to plan for a safe visit.
Other information
Contractors have now started the next phase of work to redevelop and re-open the forest drive in Cwmcarn Forest.
There will be some heavy machinery working in the forest - please take care and follow safety notices and temporary diversions.
Welcome
The Forestry Commission started to plant trees in Cwmcarn in 1922. Since then, the hills of this previously mined area have been transformed into peaceful forests with impressive views.
With two cross country mountain bike trails and two downhill mountain bike trails, Cwmcarn is a popular destination for mountain bikers. There is an onsite uplift provider for the downhill trails and a pump track.
There are also walking trails and a fishing lake and, if you want to stay longer, there is a riverside camp site.
Walking trails
All of the walking trails are waymarked and start from the visitor centre.
Nant Carn Walk
0.9 miles, 1.5 kilometres
This is a short stroll during which you can enjoy the sights and sounds of the stream and lake.
Bluebell Walk
1.2 miles, 1.8 kilometres
This gentle walk takes in woodlands, ponds and streams. Along the way, there are fine views of the valley and the pit wheel monument.
Mountain biking trails
The two cross country mountain bike trails are waymarked and start from the car park.
The two downhill trails are serviced by the onsite uplift provider.
The pump track is located by the car park.
See our mountain biking page for a list of all our mountain bike trails and information about grading to make sure you pick a trail that is right for you.
Please also read the relevant onsite information before setting off on your ride.
Twrch Trail
13.4 kilometres, grade red
Graded red (for proficient riders only), the Twrch Trail is a high quality trail which is rideable in all weather. Virtually the entire route is on purpose built singletrack through a mixture of woodlands and open ridge tops with dramatic views of the Bristol Channel and the surrounding hills.
Cafall Trail
15 kilometres, grade red
Climbing up to altitudes of over 600 metres, the Cafall Trail is graded red (for proficient riders only). Highlights include some tough climbs, tight hand-built singletrack sections and some fantastic technical descents.
Y Mynydd Downhill
1.72 kilometres, 250 metres, vertical drop, grade orange, bike park extreme
Y Mynydd Downhill is one of the UK's original downhill mountain bike trails. The trail drops 250 metres through the steep hillsides of Cwmcarn and it is for experienced riders only. Features include lots of berms, a few switch backs, doubles, a tunnel, rock steps, the bridge, hip jump and a quarry gap jump. An uplift pass is available from Cwmdown.
Pedalhounds Downhill
1.4 kilometres, 203 metres, vertical drop, grade orange, bike park extreme
The Pedalhounds downhill course opened in 2014. It follows the line of the old "club track" down a steep sided valley in the forest. It starts off with a handmade rooty section through the trees and soon picks up speed as it flows in and out of the wooded sections. Access to this trail is via the Cavall XC trail or by the uplift service. An uplift pass is available from Cwmdown.
Closures and diversions
Many of the trees in Cwmcarn Forest have been infected by larch disease (Phytophthora ramorum). These infected trees are being cut down and removed.
Cwmcarn Forest Drive has been closed to allow the felling to take place safely.
There may be diversions and closures to footpaths and mountain bike trails.
For the latest information on trail closures and diversions, see:
Please always follow any instructions onsite and make sure you follow any diversion signs in place.
More information
Accessibility information
Cwmcarn Forest Visitor Centre is fully DDA compliant and has wheelchair accessible seating on the rear decking.
Facilities include:
disabled parking
wheelchair access to the visitor centre and café
disabled toilets
Opening times
Cwmcarn Forest Visitor Centre and café are operated by Caerphilly County Borough Council.
Check Caerphilly County Borough Council website for opening times and food serving times.
Cwmcarn Forest Visitor Centre and campsite
The Cwmcarn Forest Visitor Centre, run by Caerphilly County Borough Council, has a spacious information area where you will find walking guides, maps and information on the surrounding area.
There is a great selection of gifts in the gift shop featuring locally produced crafts and Welsh goods.
The café offers a wide range of snacks and cakes and has an outdoor seating area which stretches around the centre and overlooks the Nantcarn River.
The campsite is by the river and has touring pitches and glamping pods for hire.
For more information and to book a camping pitch, go to the Cwmcarn Forest Visitor Centre website.
How to get here
Cwmcarn Forest is on the A467, seven miles from Junction 28 of the M4.
The postcode is NP11 7FA
There is a parking charge in the car park which is operated by Caerphilly County Borough Council.
Directions
Follow the "Forest Drive' signs from junction 28 of  the M4 to the forest entrance on the A467.
Ordnance Survey map
Cwmcarn Forest is on Ordnance Survey (OS) map 152.
The OS grid reference is ST 228 936.
Public transport
The nearest train station is in Newport. For details of public transport visit Traveline Cymru's website.  
Contact details
Natural Resources Wales Contact Centre
0300 065 3000
enquiries@naturalresourceswales.gov.uk
Cwmcarn Forest Visitor Centre (operated by Caerphilly County Borough Council)
01495 272001
cwmcarn-vc@caerphilly.gov.uk
Downloads
Related document downloads