Morfa Harlech National Nature Reserve, near Harlech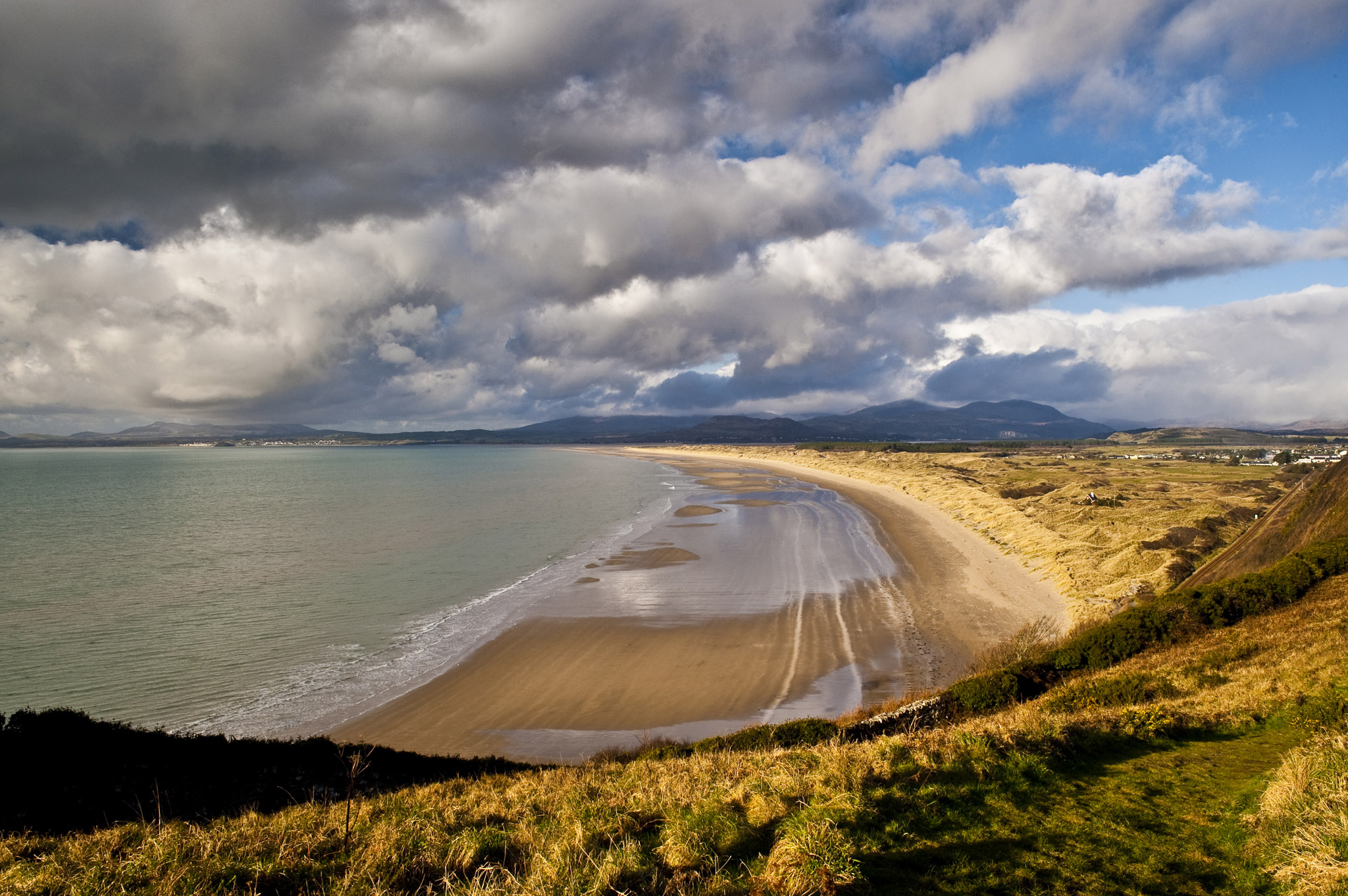 Welcome 
Morfa Harlech National Nature Reserve is one of the most important actively growing dune systems in Britain and one of only a handful in Wales. 
Dunes like these with bare sand areas are becoming increasingly rare. 
This impressive coastal landscape is one of our richest natural treasures and home to a diverse range of plants and animals, all especially adapted to life at the edge of the sea.
Together with Morfa Dyffryn National Nature Reserve in the south, the two reserves form an almost continuous area of sand dunes along the coastline. 
National Nature Reserve
Morfa Harlech is a National Nature Reserve.
National Nature Reserves are places with some of the very finest examples of wildlife habitats and geological features. 
There are over 70 National Nature Reserves in Wales.
 Find out more about National Nature Reserves.
What to see at Morfa Harlech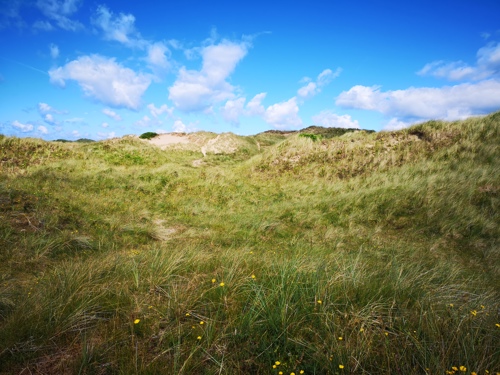 During the year, the landscape changes at Morfa Harlech National Nature Reserve.
Depending on when you visit, you are likely to see different wildlife.
Read on to find out what you could see here during the different seasons.
Sand dunes support a range of rare flowers
In spring and summer keep an eye out for the three-coloured dune pansy, the pyramidal orchid or even the scarce bee orchid.
You may also be lucky enough to see a maiden pink.
In autumn, there are displays of late flowering plants such as autumn gentians and autumn ladies tresses within the dunes. Look out for unique fungi growing in the dunes, too!
A home for scarce insects
When in flower, the dry dune grasslands are home to a number of butterflies and moths, such as the six-spot burnet moth and the common blue and small copper butterflies.
Other insects such as some of our rarest mining bees and solitary wasps depend on bare sand and you may spot a sand lizard, too.
Morfa Harlech's feathered friends
Ringed plover nest on the beach from March – July so please try not to disturb them!
Birds such as the skylark and stonechat breed in the dunes, with redshank and lapwing using the saltmarsh.
In winter wading birds such as oystercatcher, dunlin and sanderling feed along the shoreline, and wildfowl make use of the estuaries and saltmarsh.
Visiting Morfa Harlech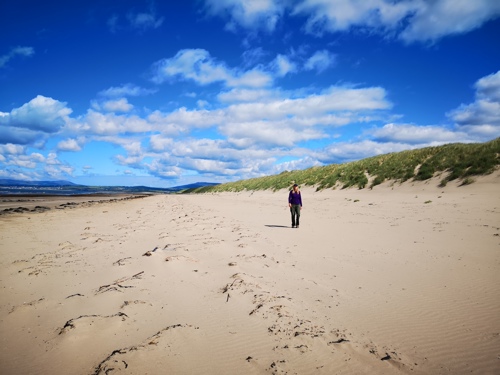 There is a public footpath from Min y Don car park to the beach (turn right along the beach to reach the start of the reserve).
We have fenced off some parts of the reserve to allow grazing or to protect fragile dune plants.
There are public toilets in Min y Don car park which are run by Gwynedd Council.
Wales Coast Path
The Wales Coast Path goes through Morfa Harlech National Nature Reserve.
The Wales Coast Path provides a continuous walking route around the coastline of Wales.
Go to the Wales Coast Path website to find out more.
Eryri (Snowdonia) National Park
Morfa Harlech is in Eryri (Snowdonia) National Park.
Eryri is the largest National Park in Wales and is home to picturesque towns and villages and the highest mountain in Wales.
It is looked after by the Eryri National Park Authority.
For more information about visiting Eryri go to the Eryri National Park Authority website.
Seasonal dog restrictions
Please keep dogs on leads during the bird breeding season March – July; ringed plovers nest right on the beach and other birds nest in the dunes and saltmarsh.
Opening times 
The beach toilets may be locked during the winter months. 
There are also toilets opposite the turning from the main road to the beach road.
Closures and diversions 
Please note: 
Sometimes we need to close or divert trails for your safety whilst we undertake maintenance or operational work 
Occasionally we may have to close a site in extreme weather, such as high winds or snow and ice due to the risk of injury to visitors or staff
Please always follow any instructions onsite and make sure you follow any temporary diversion signs in place 
How to get here 
Location
Morfa Harlech National Nature Reserve is less than a mile to the west of Harlech, just off the A496. 
It is in the county of Gwynedd.
Directions 
From Barmouth, take the A496 towards Harlech. At the right turn for the village of Harlech stay on the A496 (signposted to Maentwrog). Go over the level crossing and take the next left. Follow this minor road (Ffordd Glan Mor) to the car park.
The Min y Don car park is run by Gwynedd Council and there is a parking charge. 
There is a bicycle rack in the car park.
Ordnance Survey map 
Morfa Harlech National Nature Reserve is on Ordnance Survey (OS) map OL 18.
The OS grid reference is SH 574 316. 
Public transport 
The nearest train station is in Harlech. 
There is a bus service from both the south (Barmouth and Dolgellau) and north (Maentwrog) along the A496. There is a bus stop at the end of Ffordd Glan Mor.
For details of public transport visit the Traveline Cymru website. 
Contact details
There are no staff at this location.
Contact our customer team for general enquiries during office hours, Monday to Friday.
Related document downloads