Cors Erddreiniog National Nature Reserve, Anglesey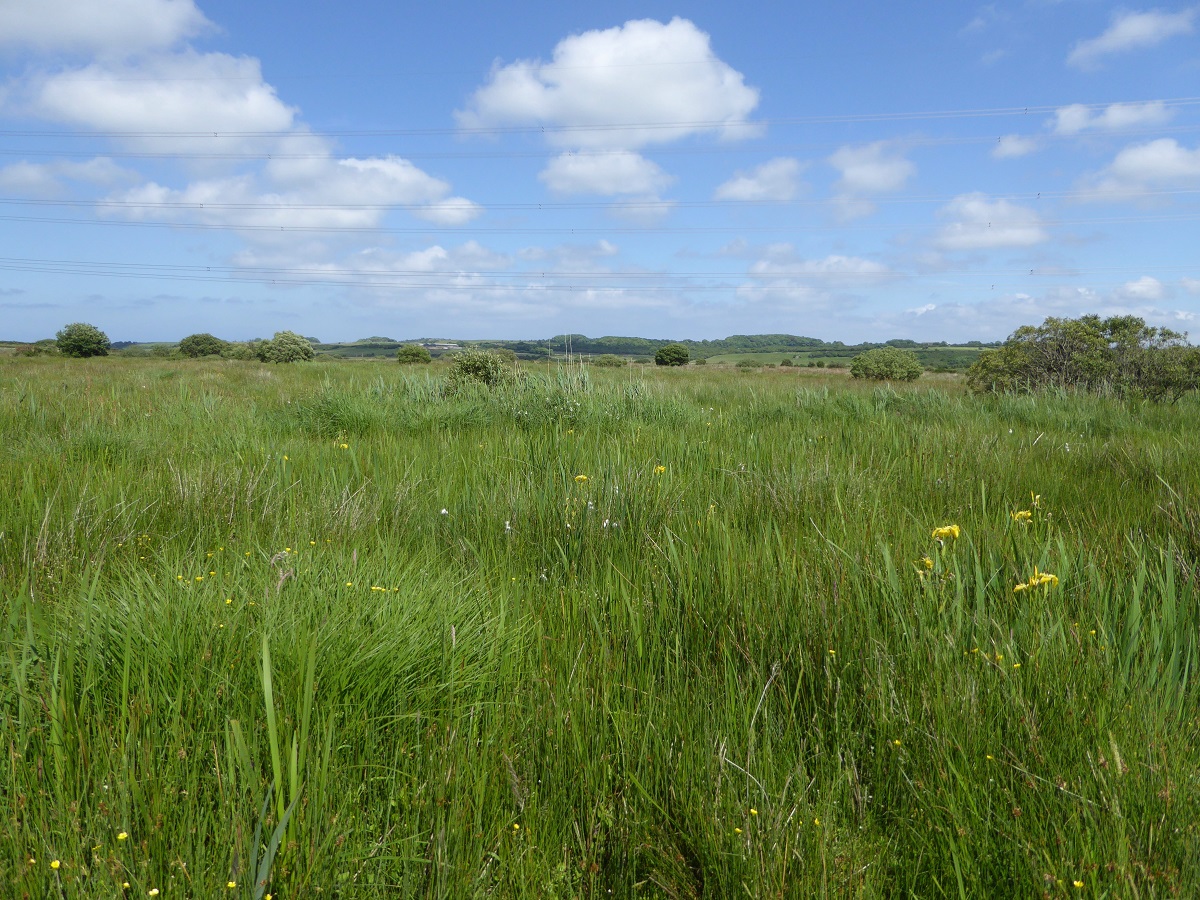 Welcome
Cors Erddreiniog is the largest of Anglesey's three fen National Nature Reserves.
Roam its fens and heaths and you will discover a diversity of wildlife difficult to find anywhere else in Britain.
Wales has the UK's second largest expanse of fens after East Anglia.
This type of threatened wetland is very rare – in fact, because of the incredible range of wildlife it plays host to, these reserves are protected by a range of designations.
Walking trail
The walking trail is waymarked from the reserve entrance.
Look out for the information panel at the reserve entrance.
Find out about walking trail grades.
Fen and Pond Walk
Grade: Easy
Distance: 3¼ miles/5.2 kilometres (there and back from road in Capel Coch)
Time: 1½ hours
Trail information: To reach the reserve entrance you need to walk down a narrow track from the village of Capel Coch. The paths are generally unsurfaced and can be muddy after wet weather. 
Enjoy fenland views and the wildflower display in spring and summer.
Listen out for the calls of reedbed birds in early summer, too.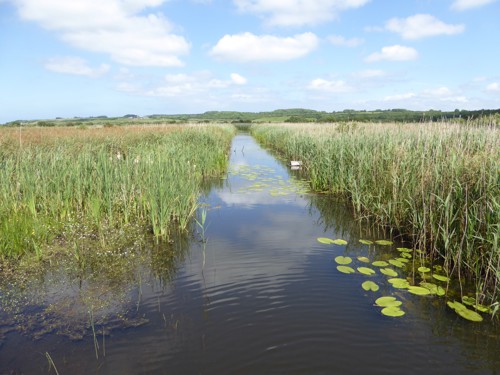 Visiting Cors Erddreiniog
For your safety:
deep water - keep away from the water's edge and do not swim.
paths are muddy in wet weather – wear footwear with a good grip.
paths throughout the reserve are largely level but the woodland section is quite steep.
livestock graze parts of the reserve – do not approach or try to feed them, keep dogs under close control, move around the herd and shut gates behind you.
if you see an adder do not approach it.
wildfowl shooting takes place from October to February – please obey all signs.
What to see at the National Nature Reserve
The diverse plant life at Cors Erddreiniog supports a range of insects, which in turn attract large numbers of wetland birds.
Fenland habitat
Bogs are fed solely from rainwater, while fens are also fed by streams and groundwater.
Mineral-rich water from the porous limestone rocks that surround the Anglesey Fens drains into them creating the perfect conditions for a whole host of rare plants and animals.
The valley bottom was once a lake, the remains of which you can still see at Llyn yr Wyth Eidion (Lake of the Eight Oxen).
Most of this area is now deep peat bog, fed by lime-rich springs.
Extensive ditches criss-cross the reserve, dug by hand over 100 years ago. These attempts at land improvement lowered the water table for grazing livestock, but also encouraged a rich range of plants.
As well as fen, you will also notice other distinctive habitats like wet heath – a riot of colour when the heather and gorse are in bloom.
In spring the hazel woodland is carpeted with primrose, wood anemone, violet and early purple orchid.
Reedbeds great for birds
You can find up to 150 bird species here.
The reserve hums and rattles in spring and summer with the calls of breeding birds like:
reed and sedge warblers
reed buntings
grasshopper warblers
stonechats
You may also see breeding lapwings and curlew flying over the reserve, or even flush out a snipe.
Orchids
Orchids are the fen's speciality.
With the exception of a handful of other sites in north Wales, Cors Erddreiniog is unique in Britain for the variety of species you will find here.
Keep an eye open especially for:
the rare narrow-leaved marsh orchid
marsh fragrant orchid
lesser butterfly orchid
fly orchid
Fantastic fen for minibeasts
There is a tiny, whorled snail here found at only three sites in Britain.
Butterflies are plentiful, such as the small pearl-bordered fritillary, marsh fritillary and the small copper.
Easiest of all to spot are the numerous dragonflies and damselflies (20 species have been seen here) that hover and dart across the reserve.
National Nature Reserve
National Nature Reserves are places with some of the very finest examples of wildlife habitats and geological features.
There are over 70 National Nature Reserves in Wales.
Three of the fens on Anglesey have been designated as National Nature Reserves:
Find out more about National Nature Reserves
Find out more about the Anglesey and Llŷn Fens LIFE Project Wildlife highlights
Closures and diversions
Sometimes we need to close or divert trails for your safety whilst we undertake maintenance work
Occasionally we may have to close a site in extreme weather, such as high winds or snow and ice due to the risk of injury to visitors or staff
Please always follow any instructions onsite and make sure you follow any temporary diversion signs in place
How to get here
Location
Cors Erddreiniog is 16 miles north west of Bangor. 
It is in the county of Anglesey.
Ordnance Survey map
Cors Erddreiniog is on Ordnance Survey (OS) Explorer map 263.
The OS grid reference is SH 463 819.
Directions
Take the A4087 from Bangor, continue to join the A55 heading towards Holyhead, going over the Britannia Bridge and onto Anglesey.
Leave the A55 at junction 6, heading onto the A5114 to Llangefni.
Take the B5111 out of the Llangefni one-way system towards Llannerch-y-medd. Continue through the village of Rhosmeirch and after approximately 1 mile, turn right, signposted to Capel Coch.
Continue for a further 2 miles into the village of Capel Coch.
To reach the reserve entrance you need to walk down a narrow track from the village of Capel Coch.
Public transport
The nearest mainline railway station is Bangor or Llanfairpwllgwyngyllgogerychwyrndrobwllllantysiliogogogoch (which is a request stop).
For details of public transport go to the Traveline Cymru website.
Parking
There is no car park at the reserve and access is on foot via a narrow track from the village of Capel Coch.
There is limited roadside parking in Capel Coch - please park considerately.
Contact details
There are no staff at this location.
Contact our customer team for general enquiries during office hours, Monday to Friday.
Related document downloads