Dyfi Forest - Coed Nant Gwernol, near Machynlleth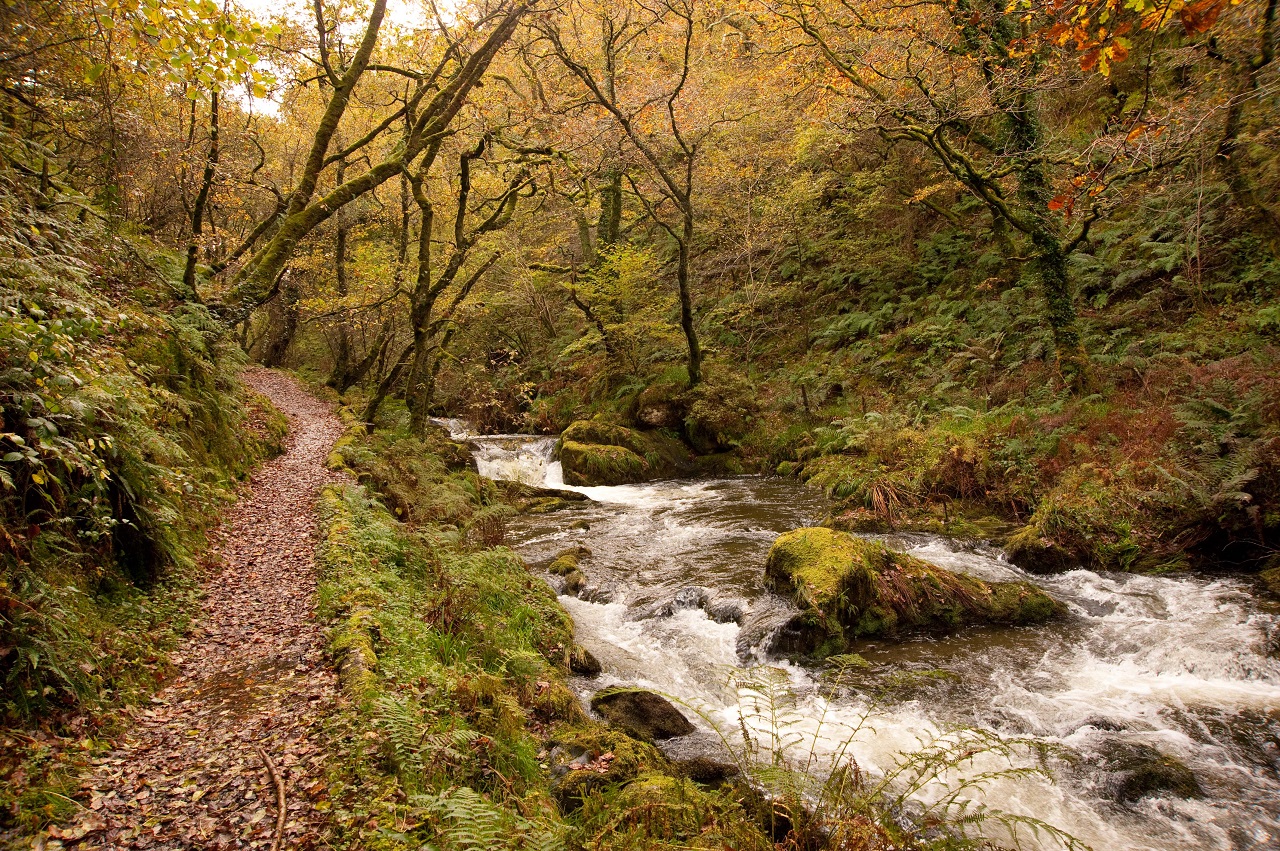 Welcome
Coed Nant Gwernol woodland lies on the edge of Abergynolwyn village.
It takes its name from a rocky river gorge with cascading waterfalls.
The waymarked trails follow the riverside and explore the remains of Bryn Eglwys Slate Quarry. 
Please note that all the trails start from Nant Gwernol station but you can either park in Abergynolwyn village or at Abergynolwyn station.
Walking trails 
All of the walking trails are waymarked and start from Nant Gwernol station.
Leaflets are available from the Tal y Lyn railway stations and the Abergynolwyn community centre/café.
Please take care not to stray from the paths as the old works are dangerous.
Stations Link
1 mile, 1.6 kilometres (one way), moderate
The Stations Link is a linear route between Nant Gwernol station and Abergynolwyn station - there is a steep climb if you start from Nant Gwernol and a steep descent from Abergynolwyn. The trail offers views of the surrounding mountains and the Allt Wyllt incline, part of the former quarry. Please be aware of trains when walking over the level crossing half way along this route.
Cascade Trail
1 mile, 1.7 kilometres, moderate
The Cascade Trail climbs uphill, closely following the tumbling river. It then crosses a wooden bridge onto the old tramway and descends steeply alongside part of the old Allt Wyllt incline back to Nant Gwernol station. 
Quarryman's Trail
4 miles, 6.4 kilometres, strenuous
This is a fairly strenuous walk with long climbs and steep descents. Highlights include expansive views of Cader Idris, waterfalls and the ruined mine workings of Bryn Eglwys quarry. 
Dyfi Forest
Coed Nant Gwernol is part of Dyfi Forest.
Situated between the towns of Machynlleth and Dolgellau Dyfi Forest lies in the shadow of Cadair Idris.
The woodlands cling to the steep hillsides of the Tarren and Dyfi mountain ranges cut through by the Dysynni, Dulas and Dyfi rivers heading west to the nearby sea.
The whole area was once filled with thriving slate mines, employing hundreds of people.
The finished slate was moved to the coast via a system of tramways and steam trains for export.
The remaining trains now carry holidaymakers through the countryside.
Other walking trails in Dyfi Forest
Try our waymarked trails for a taste of the area's history and culture and experience the cascading rivers and majestic trees.
In addition to Coed Nant Gwernol, there are walking trails in these other Natural Resources Wales woodlands within Dyfi Forest:
Eryri (Snowdonia) National Park
Most of Dyfi Forest is in Eryri (Snowdonia) National Park.
Snowdonia is the largest National Park in Wales and is home to picturesque towns and villages and the highest mountain in Wales.
It is looked after by the Eryri National Park Authority.
For more information about visiting Eryri go to the Eryri National Park Authority website.
National Forest for Wales
Dyfi Forest forms part of the National Forest for Wales.
The National Forest will:
create areas of new woodland
enhance existing woodlands
restore Wales' irreplaceable ancient woodlands
It will form a connected ecological network running throughout Wales, bringing social, economic and environmental benefits.
Parts of the network will eventually form a trail running the length and breadth of Wales, so anyone can access it wherever they live.
For more information go to the National Forest for Wales website.
Sometimes we need to close or divert trails for your safety whilst we undertake maintenance work or other operations.
We may have to close a site in extreme weather, such as high winds or snow and ice, due to the risk of injury to visitors or staff.
Please always follow any instructions on site and any temporary diversion signs.
How to get here
Location
Coed Nant Gwernol is 12 miles south of Dolgellau.
It is in the county of Gwynedd.
Directions 
From the A487 northbound, turn left onto the B4405 just after Corris for Abergynolwyn or Tywyn (for the Talyllyn railway).
From the A487 southbound, turn right onto the B4405 just after the Minffordd pub for Abergynolwyn or Tywyn (for the Talyllyn railway).
Ordnance Survey map
Coed Nant Gwernol woodland is on Ordnance Survey (OS) Explorer map OL 23.
The OS grid reference is SH 681 067.
Parking
The three walks start from Nant Gwernol station but there is no parking at Nant Gwernol station itself.
Either park in the village of Abergynolwyn and take the short but steep walk to Nant Gwernol station from behind the community centre/café
Alternatively park at Abergynolwyn station car park and take the linear Stations Link walk from Abergynolwyn station to Nant Gwernol station
Public transport
From Tywyn you can catch a steam train on the Talyllyn Railway to Abergynolwyn village station or Nant Gwernol station.
The nearest train station is in Tywyn For details of public transport visit www.traveline.cymru
Contact details
There are no staff at this location.
Contact our customer team for general enquiries during office hours, Monday to Friday.
Related document downloads