Gwydir Forest Park - Llyn Crafnant, near Llanrwst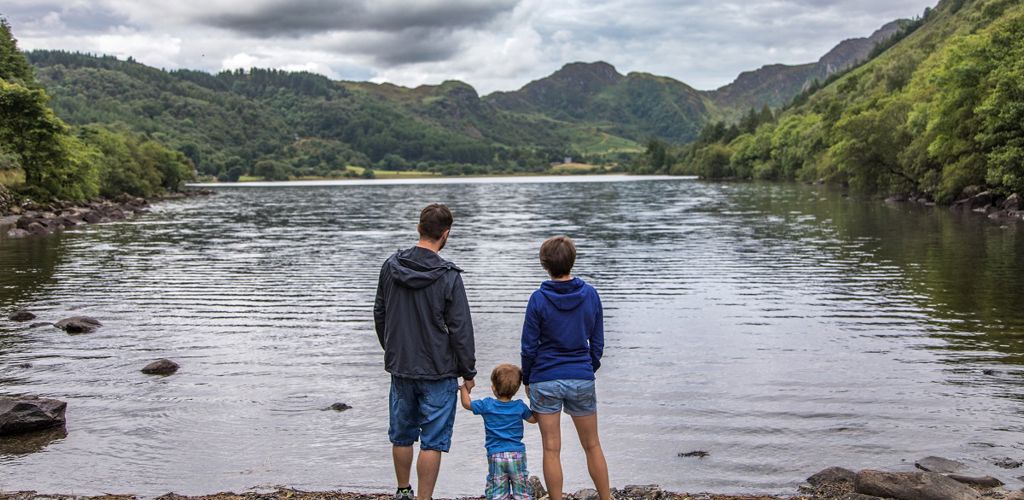 The Afon Crafnant Amble is closed due to a fallen tree. All other trails from here are diverted. Please follow all signage and instructions.
Please be aware of increased traffic on the forest road on the Crafnant to Geirionydd Trail due to maintenance work.
Welcome
Llyn Crafnant lies in a beautiful valley where the edge of the forest meets the lower slopes of the Carneddau mountains.
"Llyn" is Welsh for lake but Llyn Crafnant is actually a reservoir and it was once the water supply for the nearby town of Llanrwst.
Llyn Crafnant is three quarters of a mile long and the view from the head of the lake over the water to the mountains is one of the finest in North Wales.
Three waymarked walks set off from the car park, one of which is an accessible trail along the riverside, and you can also walk to the nearby lake of Llyn Geirionydd.
The lakeside café is privately run and is open from Easter until late summer.
Walking trails
The walking trails are waymarked from start to finish.
Look out for the information panel at the start of the trails.
Find out about walking trail grades.
Afon Crafnant Amble
Grade: Accessible
Distance: ½ mile/0.6 kilometres
Climb: Level
Time: 30 minutes
Trail information: This well surfaced 1.2 metre wide trail has an easy gradient and is suitable for wheelchairs and pushchairs. The four picnic benches are less than 100 metres apart – three of them are wheelchair friendly. There is also a 'fascinating tree facts' trail to follow.
Try this easy short trail, suitable for the whole family, winding its way through a variety of trees, from tall conifers to young birch and an open grassy area next to the bubbling river.
Take a seat at one of the well-placed picnic benches and listen and watch for wildlife.
Or find the 'disappearing signs' along the trail, which tell you some fascinating facts about the trees and wildlife that live in the area.
Llyn Crafnant Circuit
Grade: Easy
Distance: 3¼ miles/5 kilometres
Climb: 94 metres
Time: 1-2 hours
Trail information: This circular route follows a mixture of wide tracks, tarmac and forest roads, with some rougher sections alongside the lake. Along the route there are three kissing gates and two gates.
Take in the view across the lake to the crags at the head of the Crafnant Valley and Cwm Glas Crafnant National Nature Reserve.
Follow the trail climbing gently up the valley; the view is framed by imposing crags and old slate mines.
The woodland on the steep cliffs above is a rare type of ash woodland.
There are no paths through the very steep reserve so it is best viewed from this walk.
Return to the car park by following the tarmac road.
Crafnant View
Grade: Moderate
Distance: 3 miles/4.8 kilometres
Cimb: 295 metres
Time: 1½-2½ hours
Trail information: The trail is on a combination of forest roads, tarmac road, and a steep narrow footpath, less than 80 centimetres wide, on an unmade and uneven surface, with mud, rocks and tree roots. There are two small fords to cross, a kissing gate and a barrier with a gap to the side. There is a bench at the viewpoint where you can get your breath back and admire the view.
Admire the panoramic view across the Crafnant Valley, with the Carneddau mountain range visible behind.
Climb steadily up a forest track to reach a log bench, and from here take in the view of Crimpiau and Craig Wen across the valley.
Continue until the waymarkers send you off on a narrow forest path.
You'll feel a change in atmosphere as you step into the dense shade and silence of a spruce plantation.
Apart from the occasional squawk from a jay, the stillness is a pleasant contrast to the buzz around the lake on a busy day.
Crafnant to Geirionydd Trail
Grade: Moderate
Distance: 5 miles/8 kilometres
Climb: 300 metres
Time: 2-3 hours
Trail information: The trail is on a combination of forest roads, tarmac road, and a steep narrow footpath, less than 80 centimetres wide in some places, on an unmade and uneven surface, where you can expect mud, rocks and tree roots. There are two small fords to cross and a kissing gate just before you meet the council road. There are also two forest barriers you will need to walk around with a gap of around 70 centimetres at the side. There are picnic benches and toilets in both car parks, and a bench at the viewpoint above Crafnant.
This trail goes through the forest and takes in the two beautiful lakes of Geirionydd and Crafnant.
Accessibility information
Facilities for visitors with disabilities at Llyn Crafnant include:
parking for Blue Badge holders
Afon Crafnant Amble accessible trail
accessible toilets
Opening times
Please check the top of this page for any changes to these standard opening times.
The toilets are open at all times.
The lakeside café (which is privately run) is open from Easter until late summer.
Gwydir Forest Park
Llyn Crafnant is in Gwydir Forest Park.
Gwydir Forest Park lies in the heart of the Eryri (Snowdonia) National Park and encircles the village of Betws-y-coed.
Lead and zinc mining once dominated the area and the legacy of old engine-houses, waste tips and reservoirs are characteristic features of the forest landscape today.
Several of the most important mines have been partially restored and made safe for visitors.
Waymarked trails start from Betws-y-coed and several other Natural Resources Wales car parks in Gwydir Forest Park:
Eryri (Snowdonia) National Park
Gwydir Forest Park is set in Eryri (Snowdonia) National Park.
Eryri is the largest National Park in Wales and is home to picturesque towns and villages and the highest mountain in Wales.
It is looked after by the Eryri National Park Authority.
For more information about visiting Eryri go to the Eryri National Park Authority website.
National Forest for Wales
Gwydir Forest Park forms part of the National Forest for Wales.
The National Forest will:
create areas of new woodland
enhance existing woodlands
restore Wales' irreplaceable ancient woodlands.
In time it will form a connected ecological network running throughout Wales, bringing social, economic and environmental benefits.
For more information about the National Forest for Wales go to the Welsh Government website.
Closures and diversions
Sometimes we need to close or divert trails for your safety whilst we undertake maintenance work or other operations.
We may have to close a site in extreme weather, such as high winds or snow and ice, due to the risk of injury to visitors or staff.
Please always follow any instructions on site and any temporary diversion signs. 
How to get here
Location
Llyn Crafnant is 4 miles west of Llanrwst. 
It is in the county of Conwy.
Ordnance Survey map
Llyn Crafnant is on Ordnance Survey (OS) map OL 17.
The OS grid reference is SH 756 618.
Directions
Follow the B5106 from Llanrwst to Trefriw.
In Trefriw turn left onto a minor road opposite the pub.
Follow this narrow road for 2 miles until you reach the car park. 
Public transport
The nearest mainline railway station is in Llanrwst.
For details of public transport go to the Traveline Cymru website.
Parking
The Natural Resources Wales car park and toilets are located just before the road reaches the lake.
Car parking is free of charge.
Overnight parking is not permitted.
Contact details
There are no staff at this location.
Contact our customer team for general enquiries during office hours, Monday to Friday.
Related document downloads