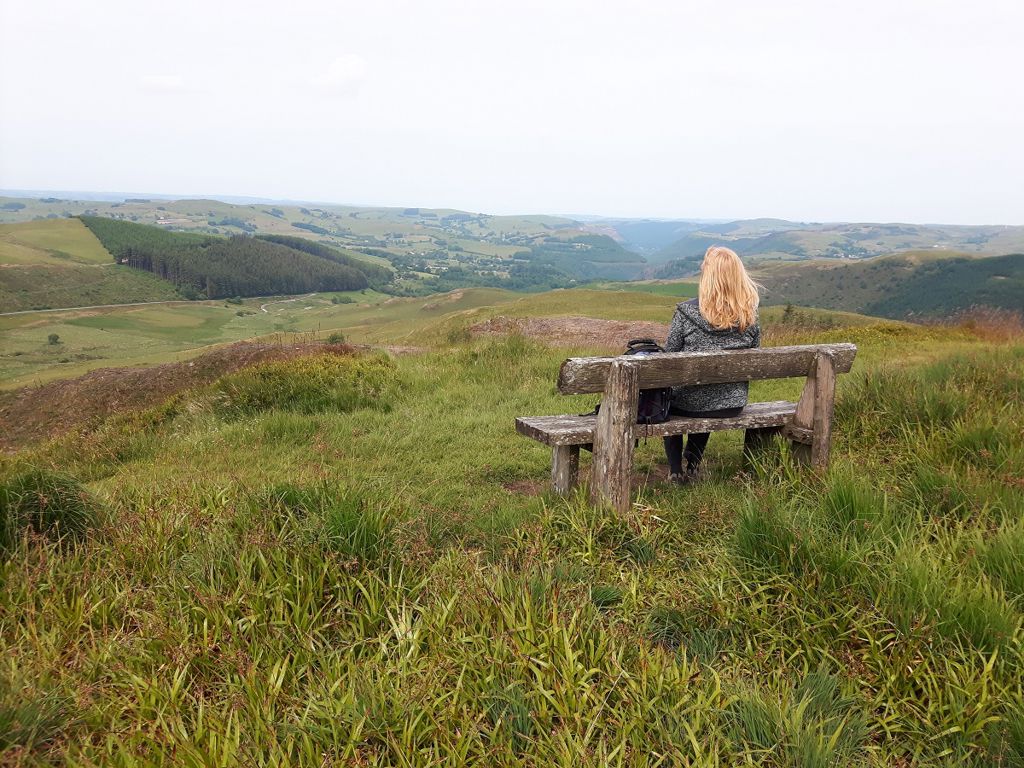 Overview
The Arch car park and picnic area is named after a spectacular old masonry arch which sits by the side of the road from Devil's Bridge.
It was built in 1810 to mark the Golden Jubilee of King George III and the road once ran through it.
The arch was once the gateway to the nearby Hafod Estate.
There are three short walking trails here.
They all lead through huge beech trees planted over 200 years ago by Thomas Johnes who designed the Hafod mansion and grounds.
There are picnic tables on the grassy slope by the car park, overlooking the arch.
Tree felling
We have felled groups of conifer trees infected with the fungus-like disease Phytophthora ramorum here to help stop it spreading.
The walking trails all pass through areas of recently felled trees and there are now more views from the paths to the surrounding hills.
Read more about tree health in Wales.
Walking trails
The three walking trails are waymarked and start from the car park.
They are circular trails and they all return to the car park past a bench in a glade of huge beech trees.
The Ancient Beech Trail
½ mile, 0.8 km, moderate
See huge 200 year-old beech trees planted by Hafod Estate designer, Thomas Johnes, on this short trail.
The Arch Woodland Trail
1 mile, 1.6 km, moderate
The Arch Woodland Trail winds its way uphill, passing through several areas of broadleaved trees. It has views to the surrounding hills, especially in the areas where trees have been felled recently.
The Panorama Trail
1½ miles, 2.5 km, moderate
After a short but steep climb through heather and bilberry to, you'll reach the viewpoint with bench and panoramic views over the surrounding hills as far as Snowdonia National Park. The trail continues down steps and returns to the car park through areas of huge beech trees.
Other routes
There are five waymarked walking trails at the nearby Hafod Estate, famous for its "Picturesque" landscape.
The Cambrian Way passes by the Arch car park. This long distance trail crosses some of the highest and wildest parts of Wales on its journey from the coast at Cardiff to Conwy.
How to get here
The Arch car park is 15 miles east of Aberystwyth.
Parking is free of charge.
Directions
Take the B4574 from Devil's Bridge to Cwmystwyth. After two miles, pass a stone arch on the left and the car park and picnic area is just after it on the left.
The OS grid reference is SN 765 756.
Public transport
For details of public transport visit www.traveline.cymru
Closures and diversions
Please note:
Sometimes we need to close or divert trails for your safety whilst we undertake maintenance work or forest operations
Occasionally we may have to close a site in extreme weather, such as high winds or snow and ice due to the risk of injury to visitors or staff
Please always follow any instructions onsite and make sure you follow any temporary diversion signs in place
Find out more
Contact details
Tel: 0300 065 3000