Coed y Bont, near Tregaron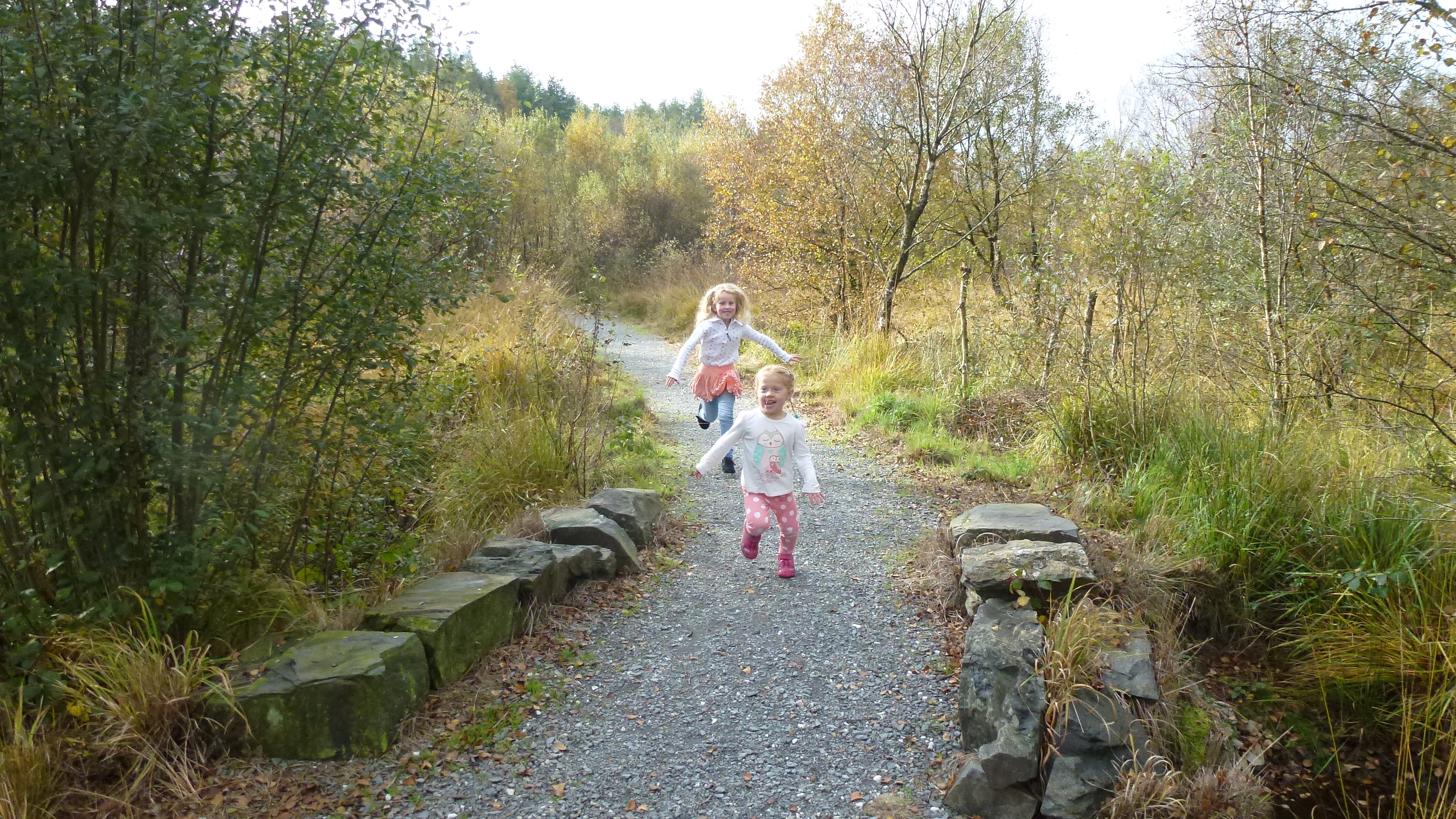 Welcome
Coed y Bont is a community woodland situated on the edge of the village of Pontrhydfendigaid.
It is made up of two adjoining woods, Coed Dolgoed and Coed Cnwch.
Coed Dolgoed is a lower level, flat woodland of native broadleaf trees, mainly willow and downy birch with rowan, hazel, aspen and oak.
Coed Cnwch is an ancient woodland situated on the adjacent hillside with old oaks, areas of hazel and some conifer trees.
There is a range of visitor facilities at Coed y Bont, including two level walking trails through Coed Dolgoed.
Visitor facilities
Coed y Bont Community Woodland Association helps to look after the woodland.
The community association has developed a range of facilities for local people and visitors.
These include:
walking trails (see below)
benches along the paths through Coed Dolgoed, some of which are situated around the ponds
bench at the top of Coed Cnwch with good views
wildlife identification posts with information about some of the species found here
bird hide
geocache trail (for information go to the Geocaching website)
picnic area and wooden shelter next to the car park
information boards in the car park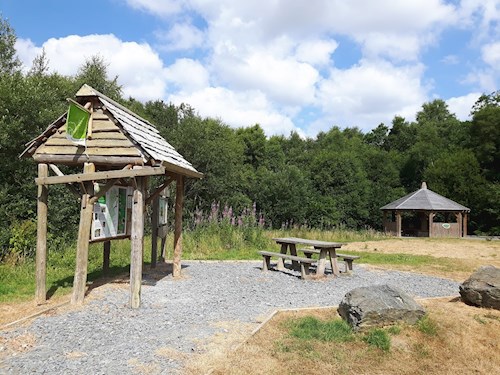 Walking trails
There are two purpose-built trails in the lower level, flat woodland of Coed Dolgoed.
Aspen Trail
Grade: Easy
Distance: ¼ mile/0.4 kilometres
This short walk takes you through a young woodland and passes by a pond with a small island.
The pond often dries out in the summer but it is a peaceful place to sit on one of the benches.
Look out for the "trembling" aspen trees - their leaves shake in the breeze and turn a golden colour in autumn.
Birchwood Trail
Grade: Easy
Distance: ½ mile/0.9 kilometres
Meander through the birch trees and follow the path that goes between two small ponds.
This is a very boggy part of the woodland so look out for dragonflies in late summer.
The trail returns to the start along the forest road from where there are views of Pen-y-Bannau, a striking hill to the north.
Other footpaths
There is a network of rougher and steeper paths through the ancient woodland of Coed Cnwch, situated on the hillside.
Wildlife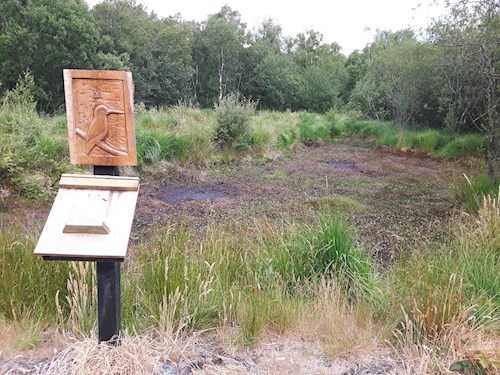 Water voles and roe deer have been recorded in Coed y Bont and the abundant insect life feeds many breeding birds.
Around 80 different bird species have been seen or heard in the woodland including blue tit, great tit, nuthatch, pied flycatcher, spotted flycatcher, redstart, marsh tit and tawny owl. Red kites nest here.
The deciduous trees and ponds in Coed Dolgoed are a favourite haunt of butterflies, moths and dragonflies.
The ancient woodland of Coed Cnwch on the hillside contains centuries-old oaks and hazel trees, along with wetter areas of birch and alder.
This mosaic of mature trees is rich in lichens and fungi, including the rare hazel gloves fungus, and the woodland is especially stunning in the spring when there is a carpet of bluebells.
There are still some blocks of larch and Douglas fir here which were planted by the Forestry Commission in the 1970s. These conifer trees will gradually be removed as part of an ancient woodland restoration programme.
Community woodland association
Coed y Bont Community Woodland Association helps to look after the woodlands in partnership with Natural Resources Wales, within the terms of a management agreement.
Volunteers from the association undertake various maintenance tasks such as renovating and upgrading paths, installing seats and keeping vegetation in check.
Their work has increased the diversity of habitats and species here as well as improving access to the woodland for local people and visitors.
The association also organises events in the woodland including conservation days and seasonal guided walks.
Coed y Bont Woodland Community Association Facebook page
Coed y Bont Woodland Community Association Website
Strata Florida Abbey
The woodlands that make up Coed y Bont were once within the grounds of the Cistercian abbey of Strata Florida, one of the largest abbeys in Britain.
Coed y Bont is on the Strata Florida Trail and there are information boards about the abbey's history in the car park.
The abbey ruins are nearby and are open to visitors.
For more information, go to the Cadw website.
Dark Sky Discovery Site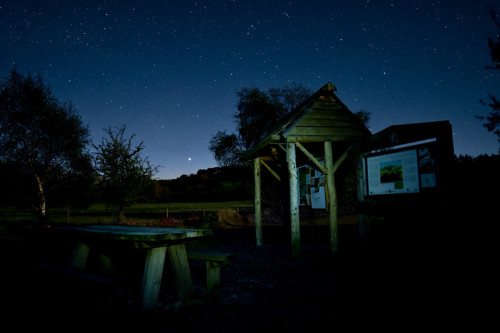 Coed y Bont is located in the Cambrian Mountains which have some of the darkest night skies in Europe.
Coed y Bont is one of the best local places to see the stars and it has been designated as a Dark Sky Discovery Site.
Dark Sky Discovery Sites are places that:
are away from the worst of any local light pollution
provide good sightlines of the sky
have good public access, including firm ground for wheelchairs, and are generally freely accessible at all times
Get tips for enjoying the night sky on the UK Dark Sky Discovery Partnership website
National Forest for Wales
Coed y Bont forms part of the National Forest for Wales.
The National Forest will:
create areas of new woodland
enhance existing woodlands
restore Wales' irreplaceable ancient woodlands
It will form a connected ecological network running throughout Wales, bringing social, economic and environmental benefits.
Parts of the network will eventually form a trail running the length and breadth of Wales, so anyone can access it wherever they live.
For more information go to the National Forest for Wales website.
Accessibility information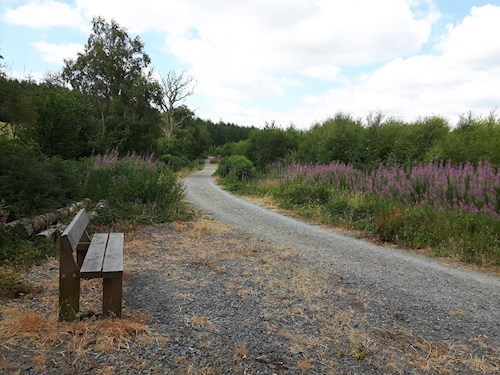 The two trails around the lower woodland (Coed Dolgoed) follow level paths.
The paths are surfaced with gravel and can be a little bumpy in places.
They are suitable for off-road mobility scooters, and may be suitable for more robust pushchairs and wheelchairs.
There are several benches along both trails.
Closures and diversions
Sometimes we need to close or divert trails for your safety whilst we undertake maintenance work or other operations.
We may have to close a site in extreme weather, such as high winds or snow and ice, due to the risk of injury to visitors or staff.
Please always follow any instructions on site and any temporary diversion signs.
How to get here
Location
Coed y Bont community woodland is 6 miles north of Tregaron.
It is in the county of Ceredigion.
Ordnance Survey map
Coed y Bont is on Ordnance Survey (OS) Explorer map 187.
The OS grid reference is SN 737 659.
Directions
Take the B4343 from Tregaron towards Pontrhydfendigaid.
After entering Pontrhydfendigaid, turn right onto Abbey Road following the brown and white sign for Strata Florida Abbey.
After ½ mile the Coed y Bont car park is on the right.
Public transport
The nearest mainline railway station is in Aberystwyth.
There is a bus service to Pontrhydfendigaid.
For details of public transport go to the Traveline Cymru website.
Parking
Parking is free of charge.
Overnight parking is not permitted.
Contact details
There are no Natural Resources Wales staff at this location.
Contact our customer team for general enquiries during office hours, Monday to Friday.