Dyfi National Nature Reserve - Cors Fochno, near Aberystwyth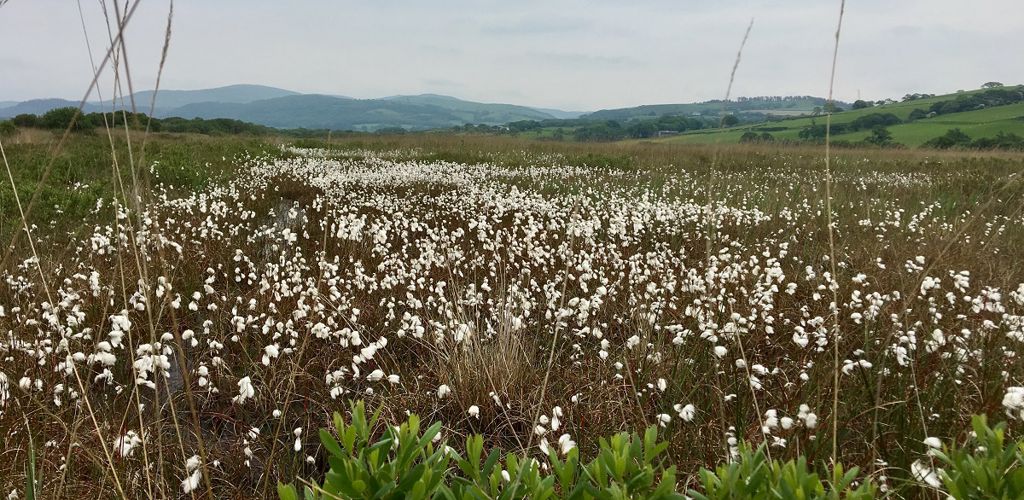 Welcome
Cors Fochno is part of the Dyfi National Nature Reserve, situated midway between Aberystwyth and Machynlleth.
Known locally as Borth Bog, Cors Fochno is one of the largest and finest remaining examples of a raised peat bog in Britain - peat has been accumulating here gradually and continuously for over 6,000 years and now reaches a depth of over 6 metres.
The bog's formation started around 5500 BC when part of the estuary floodplain was covered by forest, but as sea levels rose, the forest was replaced by reed swamp and then peat bog.
The most westerly part is now eroded by the sea, but at low tide the stumps of long dead trees can still be seen on the beach near Borth.
The bog's surface today is dominated by a tapestry of green, gold and red sphagnum mosses and many rare and unusual species live here including insectivorous plants like sundews, the rosy marsh moth and small red damselfly.
The short walk from the small parking area includes a circular boardwalk around the edge of the bog.
Walking trail
The walking trail is waymarked from start to finish.
Look out for the information panel at the start of the trail.
Find out about walking trail grades.
Cors Fochno Walk
Grade: Easy
Distance: 1 mile/1.4 kilometres
Time: 1 hour
Trail information: Dogs are not allowed on this trail. Please stay on the boardwalk – we don't want you to sink or get stuck! 
Enjoy views over the huge peat bog on the circular boardwalk.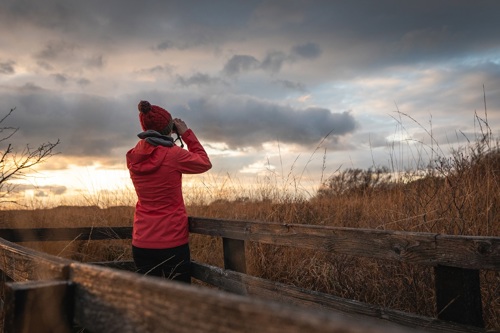 What to see at the National Nature Reserve
Cors Fochno is part of the Dyfi National Nature Reserve.
This 2,000 hectare reserve also includes the Dyfi estuary and Ynyslas sand dunes.
Ynyslas Visitor Centre is the main access point to the Dyfi National Nature Reserve.
The landscape and wildlife varies at Cors Fochno depending on which time of year you visit – read on to find out what to look out for.
A bog for bugs
Many rare and specialised invertebrates survive here.
They include:
rosy marsh moth
large heath butterfly
bog bush-cricket
small red damselfly
bog raft spider
Hostile place for plants
The waterlogged bog surface is a hostile place for most plants, and those that thrive here, like bog cotton, bog asphodel and bog myrtle, all have special adaptations.
Carnivorous plants also come into their own here including all three native species of sundews.
Bog-creating mosses
The most important bog specialist plants (and the main peat-formers), are the bog mosses or sphagnums, which form colourful carpets on the open bog and raise its surface into a shallow dome as their remains accumulate.
Fifteen species of bog moss occur here including three national rarities.
National Nature Reserves in Wales
There are over 70 National Nature Reserves in Wales.
National Nature Reserves are areas of the countryside where special examples of Britain's habitats and wildlife are protected.
Find out more about National Nature Reserves.
Welsh Raised Bogs project
Cors Fochno is one of seven bogs in the LIFE Welsh Raised Bogs project.
The project will help some of the most important raised bogs in Wales become even better places for wildlife.
Restoration work taking place at Cors Fochno will:
improve the conditions of the peatland
remove invasive species and scrub
introduce light grazing
For more information go to the LIFE Welsh Raised Bogs project website.
Wales Coast Path
The Wales Coast Path runs along the southern and eastern edge of Cors Fochno between Borth and Tre Taliesin.
The Wales Coast Path provides a continuous walking route around the coastline of Wales.
For more information go to the Wales Coast Path website.
Dyfi Biosphere
Cors Fochno is within the UNESCO Dyfi Biosphere.
Biospheres inspire communities to work together in creating a future we can all be proud of, connecting people with nature and cultural heritage, while strengthening the local economy.
For more information go to the Dyfi Biosphere website.
Closures and diversions
Sometimes we need to close or divert trails for your safety whilst we undertake maintenance work or other operations.
We may have to close a site in extreme weather, such as high winds or snow and ice, due to the risk of injury to visitors or staff.
Please always follow any instructions on site and any temporary diversion signs.
How to get here 
Location
Cors Fochno is 11 miles north of Aberystwyth.
It is in the county of Ceredigion.
Ordnance Survey map
Cors Fochno is on Ordnance Survey (OS) map 23.
The OS grid reference is SN 633 922.
Directions
From Aberystwyth, take the A487 towards Machynlleth.
After around 9 miles, in Tre'r-ddôl, turn left towards Ynyslas on the B4353.
Continue for around 1½ miles and turn left onto a small track with a gated entrance.
Drive down this track, closing the gate after driving through, to the small parking area (about 600 metres along the track).
Public transport
The nearest mainline railway station is in Borth.
For details of public transport go to the Traveline Cymru website.
Parking
Car parking is free of charge.
The small parking area is reached by driving down a narrow track with a gate at the entrance.
Overnight parking is not permitted.
Contact details
Related document downloads