Black Covert, near Aberystwyth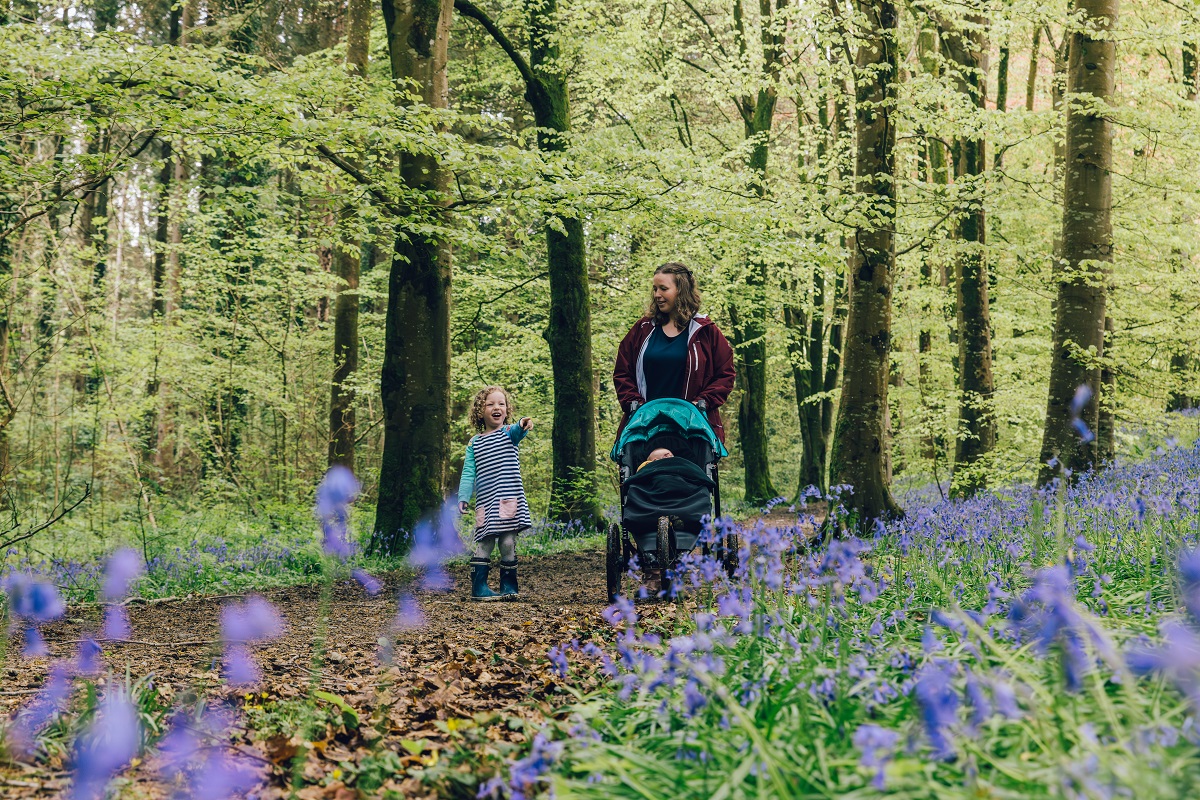 Welcome
Black Covert is a peaceful spot by the River Ystwyth which flows through this steep sided valley on its way to Aberystwyth.
It got its name from the nearby Trawsgoed (Crosswood) Estate it was once part of - a 'covert' is an area for raising game, in this case most likely pheasants.
The Ystwyth Riverside Walk is an easy trail through the beech woodland which is carpeted with bluebells in spring.
The more strenuous Birch Grove Woodland Walk goes up to a viewpoint on a 2000 year-old hillfort.
There's also a short trail for horseriders.
The picnic area is within the shelter of large ash, birch and sweet chestnut trees.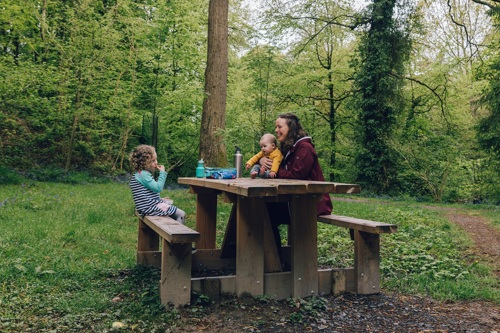 Walking trails
The walking trails are waymarked from start to finish.
Look out for the information panel at the start of the trails.
Find out about walking trail grades.
Ystwyth Riverside Walk
Grade: Easy
Distance: 1.7 miles/2.7 kilometres
Time: 1 hour
Climb: 17 feet/5 metres
Trail information: This easy trail has some steps and roots. The surface is rough and possibly wet in places. Walking shoes with a good grip recommended. There are no climbs over 17 feet/5 metres. You need a reasonable level of fitness for this walk.
This trail offers a gentle walk alongside the river Ystwyth, returning through woodland filled with the scent of resin.
Bluebells carpet the ground under the beech trees in spring and there are lots of fungi in the autumn.
You may even catch the lightning streak of a kingfisher hunting along the river.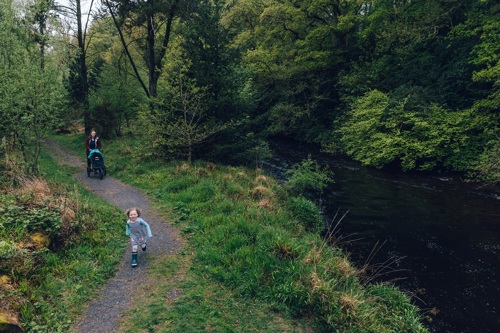 Birch Grove Woodland Walk
Grade: Moderate
Distance: 2.2 miles/3.5 kilometres
Time: 1½ hours
Climb: 400 feet /120 metres
Trail information: This moderate walk has some long climbs and steep descents. The surface is rough and possibly wet in places. There is a bench at the viewpoint. Walking shoes with a good grip recommended. You need a good level of fitness for this walk. Please take care on the 200 metre section of the trail which is on the road near the car park.
The trail passes an attractive pond and climbs up to the 2000 year-old hillfort of Allt Fedw.
There is a bench at the viewpoint from where you can take in panoramic views across rolling hills and valleys all the way to Mid Wales' highest mountain, Pumlumon.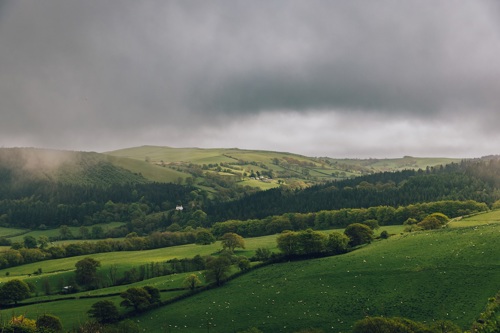 Horse riding trail
Birch Grove Horseride
Grade: Moderate
Distance: 3.5 miles/5.6 kilometres
Time: 1 hour at a walk
Trail information: After starting out on a forest road you'll soon go through a gate onto soft trails. After a steep section of climb (about 70m long), you'll keep on climbing less steeply until you reach the highest point of the trail near the Allt Fedw hillfort. From there more soft trails await you until you reach the halfway point, after which follow a forest road all the way back to the start. The trail can be muddy and slippery in places.
Enjoy a variety of surfaces, woodlands and open areas and take in distant views beyond the woodland.
National Forest for Wales
Black Covert forms part of the National Forest for Wales.
The National Forest will:
create areas of new woodland
enhance existing woodlands
restore Wales' irreplaceable ancient woodlands
It will form a connected ecological network running throughout Wales, bringing social, economic and environmental benefits.
Parts of the network will eventually form a trail running the length and breadth of Wales, so anyone can access it wherever they live.
For more information go to the National Forest for Wales website.
Closures and diversions
Sometimes we need to close or divert trails for your safety whilst we undertake maintenance work or other operations.
We may have to close a site in extreme weather, such as high winds or snow and ice, due to the risk of injury to visitors or staff.
Please always follow any instructions on site and any temporary diversion signs.
How to get here
Location
Black Covert is 9 miles south east of Aberystwyth.
It is in the county of Ceredigion.
Ordnance Survey map
Black Covert is on Ordnance Survey (OS) Explorer map 213.
The OS grid reference is SN 667 729.
Directions
Take the B4340 from Aberystwyth to Trawsgoed.
After going through Abermagwr, turn right over the bridge (signed Llanilar B4575) then turn immediately left and left again into the car park.
Public transport
The nearest mainline railway station is in Aberystwyth.
For details of public transport visit the Traveline Cymru website.
Parking
Parking is free of charge.
Overnight parking is not permitted.
Contact details
There are no staff at this location.
Contact our customer team for general enquiries during office hours, Monday to Friday.
Related document downloads