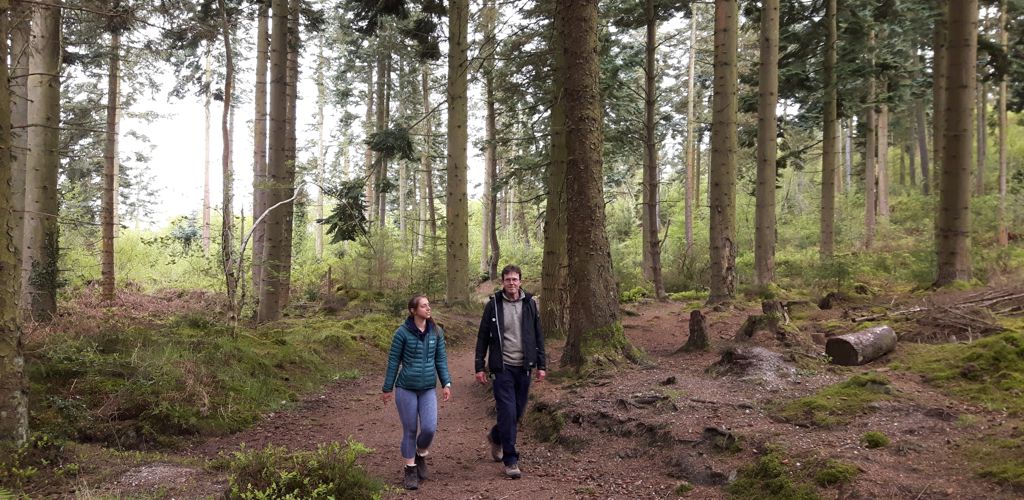 Welcome
Coed Nercwys is located in the Clwydian Range Area of Outstanding Natural Beauty (AONB) near Mold.
Coed Nercwys is one of several woodlands with waymarked trails in the Clwydian Range and Dee Valley Area of Outstanding Natural Beauty (AONB).
On first sight, it is an unremarkable conifer woodland but as you follow the trail round you will come across some of the historical remains which show how people once lived and worked here.
The woodland also provides an excellent habitat for wildlife – look out for birds such as buzzards, gold crest and coal tits.
The small lake known as Llyn Ochin has dried up but this marshy area now attracts dragonflies and newts, and plants like cotton grass thrive here.
There is a slate plaque near the car park entrance which commemorates the Millennium Oak Trees that were planted here by the local community.
Walking trail
The walking trail starts from the car park.
The trail may be used by walkers, cyclists and horse riders.
It is waymarked so that walkers follow it in a clockwise direction and cyclists and horse riders follow it in an anti-clockwise direction.
Coed Nercwys Circular
2¾ miles/4.4 kilometres, moderate
The walking trail sets off through the iron gates at the car park on a wide track before making its way onto a path through the forest.
It follows a circular route around some of the heritage features which are tucked away amongst the trees.
Look out for ruined buildings from a 19th century lead mine, the remains of a shepherd's cottage with a walled meadow full of wildflowers in summer and a newly replanted orchard.
Towards the end of the walking route, there is viewpoint with a stone cairn and trig point from which there are panoramic views to the Jubilee Tower at the top of Moel Famau and the Dee Estuary.
Cycling and horse riding trail
Cyclists and horse riders may use the Coed Nercwys Circular.
This trail is waymarked so that cyclists and horse riders follow it in an anti-clockwise direction and walkers follow it in a clockwise direction.
Closures and diversions
Please note:
Sometimes we need to close or divert trails for your safety whilst we undertake maintenance work or forest operations
Occasionally we may have to close a site in extreme weather, such as high winds or snow and ice due to the risk of injury to visitors or staff
Please always follow any instructions onsite and make sure you follow any temporary diversion signs in place
How to get here
Coed Nercwys is 4 miles south west of Mold.
Car parking is free of charge.
Directions
Head south from Mold, following signs for Nercwys. Continue through Nercwys and at the second set of crossroads, turn left onto Ffordd Cae Newydd. After around ¾ mile take the first right and continue for 250m and the car park is on the left.
Ordnance Survey map
Coed Nercwys is on Ordnance Survey (OS) map 265.
The OS grid reference is SJ 218 592.
Public transport
The nearest train station is in Buckley.
For details of public transport visit the Traveline Cymru website.
Contact details
Tel: 0300 065 3000
Email: enquiries@naturalresourceswales.gov.uk
Downloads
Related document downloads