Flood risk management annual report 2021 to 2022
Foreword
Managing the risk from flooding is important. The impacts of flooding can be truly devastating for people, for communities, for businesses, for infrastructure, for the environment and for the economy. 
We have seen numerous examples of devastating flooding in recent years, both in Wales and across the world. At the time of writing, significant floods in Pakistan have had a devastating impact on the country. The floods in Germany and Belgium in summer 2021, with huge loss of life, were another unwelcome reminder of the force of nature and the impacts of flooding. Residents of Wales will need no reminders of recent floods closer to home, be that from Storm Dennis in 2020, Storms Eunice and Franklin in February 2022, or any of a host of other storms and floods that have happened in recent years. 
Flooding will happen in the future too. The latest Inter-Governmental Panel on Climate Change report published in summer 2021 was categoric in showing that we are experiencing more frequent and more extreme weather events, with more floods and more severe floods, and that we can expect more in the future. It is not just floods; droughts and extreme temperatures are also the 'new norm' – again this year we have seen several long standing weather related records broken.
It is within this context that Natural Resources Wales performs its hugely important flood risk management duties and activities. These are crucial, in managing the risks and seeking to lessen the frequency of flooding impacts and the consequences when it inevitably does happen. The challenges are huge. NRW cannot stop the weather and the rainfall, and we cannot stop all flooding. But our work is to do our utmost within the resources we have to manage the flood waters (from main rivers and coastal flooding) and to invest in activities that help lessen the impacts. It is important work; it makes a difference, and it is a vital public service. 
We do not, and cannot, do this in isolation; we do it working alongside a range of partner organisations and with communities. This collective response and action, of which we are a major part, will always be required.
This report is about NRW's flood activities and summarises the key elements in the financial year 2021-2022. It sits in the context of long term challenges and long term programmes of work, that continue.
Jeremy Parr
Head of Flood and Incident Risk Management
Natural Resources Wales
Summer 2022
Executive summary
Natural Resources Wales (NRW) is the largest Welsh Government Sponsored Body, and we have as our core purpose the sustainable management of natural resources in Wales.
We have a range of roles and responsibilities, ranging from regulator to advisor, landowner and operator and emergency responder. We have a strategic oversight role for flood and coastal erosion risk management which involves the general supervision and communication of flood and coastal erosion risk management in Wales. We also have powers to manage flooding from main rivers, reservoirs, and the sea.
In Wales, there are estimated to be 245,118 properties at risk of flooding. This is approximately 1 in 8 properties in Wales. We take a risk-based approach to managing the risk of flooding through the activities we do. This report summarises the investment, key activities, and achievements in managing flood and coastal erosion risks across Wales by NRW for the financial year from April 2021 to March 2022. It is based on the best available information at the time of writing (Summer 2022). 
Throughout the year 2021-2022, we responded to a number of significant storm events, some of which resulted in property flooding, evacuations, and disruption. We also continued to deliver vital work building on the lessons from the February 2020 flooding, with the context of the Covid-19 pandemic. In this challenging backdrop, we also made considerable improvements to how we undertake flood risk management in Wales.
We intend to use this annual report to form part of the statutory report that NRW has a duty to undertake (under Section 18 of the Floods and Water Management Act) on progress of the implementation of Welsh Government's Flood and Coastal Erosion Risk Management Strategy. This Strategy was published in October 2020, and many of the activities described in this annual report will contribute toward the delivery of the objectives and measures included within that Strategy.
Some of key activities delivered by NRW in 2021-2022 include:
Investment of £39m of Welsh Government funding on key flood risk management activities in Wales over the course of the year.
The launch of our Flood Map for Planning which will replace the Development Advice Map (DAM) in Summer 2023, as well as the launch of the "check your risk" webservice app which allows quicker and simpler access to flood risk information.
The progression of numerous flood schemes, including the completion of schemes at Cadoxton (Barry/Vale of Glamorgan) and Leckwith (Cardiff) which reduce the flood risk to 242 properties. Significant projects at locations such as Ammanford, Llyn Tegid (Bala Lake) and Stephenson Street (Newport) were also progressed. This is alongside many other schemes at various stages of development in locations all across Wales, a number of smaller scale projects, and a comprehensive maintenance programme.
The progression of numerous asset management improvement projects to ensure our data and processes enable us to optimise investment in the priority locations. These projects include further improvements to our asset inventory AMX (Asset Management eXpert); and the publication of The National Flood Asset Database in December 2021.
The progression of improvement works to ensure our reservoirs are safe and fit for their flood risk management purpose at locations, including Llyn Tegid and Crafnant Loop.
The continued improvement to our digital services to provide comprehensive flood risk, river level, rainfall, and sea level information to households, businesses, and communities in Wales.
The development of our policies on the role of Natural Flood Management (NFM) in reducing the risks and impacts of flooding as well as progressing work on four NFM projects at Llanfair Talhaiarn, Dinas Powys, Glyneath and Teifi Uchaf.
The progression of work to complete and implement recommended actions that were identified as part of our February 2020 Floods Review.
Further information on all of these highlights, plus other key achievements, is included in this report.
Introduction
This annual report details our key achievements and deliverables for flood and coastal erosion risk management for the financial year 2021-2022. It provides detail on the activities that contribute towards the management of flood risk in Wales and also highlights key metrics and statistics which demonstrate the level of effort that goes into managing flood risk and the scale of the challenge faced.
This report does not cover every activity or service area in detail and is intended as a summary of the 2021-2022 financial year highlights. The information and data presented in this report is based on data available at the time of producing this summary (summer 2022). This report is intended to be a recurring annual publication and will complement the delivery of the next progress report on the Welsh Government Flood and Coastal Erosion Risk Management Strategy (the 'Section 18 report', required under Section 18 of the Floods and Water Management Act).
Storms and flooding experienced over the past year (April 2021 – March 2022)
Each year, we plan the work we want to deliver to manage flood risk. On top of that, we must respond to flood events when they happen. Our response may be reactive to manage the flood event at the time, or it may generate additional work that we need to deliver. This section provides a summary of the more notable flooding and storm events during the year that we responded to – the ones that caused significant disruption or damage to communities.
We monitor and respond to floods whenever they happen - 24 hours a day, 7 days a week, 365 days a year. This includes tracking forecasts, issuing warnings, ensuring flood and hydrometry assets are operating properly, fixing repairs, posting up-to-date information on our website, handling media interviews and queries and supporting other incident responder organisations. When an event occurs it clearly impacts our ability to deliver other planned work as we react to the challenges each severe weather event introduces, both during and in the period following these events, as we deal with the impacts and the aftermath.
The start of financial year 2021-2022 was calm with dry and fine weather dominated the early part of the year, however significant storm damage occurred as a result of the below named storms between November 2021 and February 2022.
Storm Arwen, 26 - 27 November 2021


Storm Arwen brought severe winds across the UK on the 26 and 27 of November 2021, with the Met Office issuing a red warning for wind. Winds reached 69mph in some parts of the UK and meant that this storm was one of the most powerful and damaging winter storms of the last decade with thousands of homes across the UK being left without power. The strong winds brought reports of structural damage to buildings and the National Trust reported the loss of many mature trees, including 50 trees at Bodnant Gardens, Conwy.
Storm Barra, 7 - 8 December 2021


Storm Barra brought strong winds and heavy rain across the UK from the 7th to 8th of December 2021. Winds were recorded at 69 to 81mph in exposed coastal locations, with the highest gust of 86mph at Aberdaron, Gwynedd. We issued a total of 18 flood warnings across Mid and Southwest Wales. Large waves battered exposed coastlines, with notable damage to Aberystwyth promenade.
Storms Dudley, Eunice and Franklin, 16 – 21 February 2022


Three named storms affected the UK within the space of a week, and two rare red warnings for wind were issued by the Met Office for storm Eunice, with those winds gusting over 81mph in exposed coastal locations. These storms formed part of a turbulent spell of wet and windy weather for the UK associated with a powerful jet stream.
For the first time, the whole of the Welsh Coastline was highlighted as being at risk of flooding. In response to Storm Eunice, we issued 113 flood warnings and 23 flood alerts for the entirety of the Welsh Coastline. Fortunately, severe coastal flooding was avoided as defences held, and the peak of the storm surge narrowly missed the peak of the high tide, in some cases by less than 90 minutes.
The strong winds from Storm Franklin hampered clean-up operations and the persistent heavy rain from the successive storms, brought significant flooding to parts of Mid Wales with reports of around 50 properties flooded. New record river levels were recorded on the River Severn at Newtown, Llanidloes and Munlyn, on the River Teme at Dutlas and Knighton and on the River Vyrnwy at Meifod. Exceptionally high river levels were also recorded on the Upper Wye.
Storms Dudley, Franklin and Eunice brought significant impacts as a result of strong winds, including the closure of schools and businesses across Wales. There was major transport disruption, including cancelled trains and fallen trees causing road blockages. There were reports of a number of overturned lorries on the M4 in south Wales. Both Severn bridges were closed for the first time in their history and there were widespread reports of structural damage to properties. Large waves together with a storm surge on top of high spring tides battered coastlines and the Severn Estuary.
February 2020 flood review
February 2020 saw some of the most devastating floods Wales has seen in a generation. The record rainfall and river flows triggered by Storms Ciara, Dennis and Jorge in February 2020 arrived following an exceptionally wet winter and led to the most severe and widespread flooding incidents seen in Wales since 1979. In total, there were reports of flooding to 3,130 properties across Wales. 
We undertook a significant review into our response to the storms, focussing specifically on our flood incident management operations and looking at how current practices we adopt in the management of the NRW land estate could be modified to reduce the risk of flooding. We published our February 2020 flood review (Storm Ciara and Dennis) in October 2020.
Over the year 2021-2022, we have taken forward work to address the 74 actions identified in the review to improve NRW's operations in flood incidents. We have been delivering the actions through the Flood Recovery & Review Implementation Programme; we made good progress in 2021-2022, with 46 of the 74 actions now complete. We have continued this work into 2022-2023, with many actions requiring delivery over the long term. 
The challenges from more frequent extreme weather events associated with climate change are significant and set to rise. Implementing the recommendations from the Flood Review will improve our services to the public during flooding incidents and help deliver our well-being objectives. They will also help our staff, by putting in place measures to improve the resilience of our response. We also reviewed our land management practices and are making improvements in those activities. Learning from incidents and implementing improvements is a key element of an adaptive approach that uses evidence to help prevent risks in the long term.
During the last year, further work on our recovery has taken place by introducing new guidance for preparing, managing, and recovering from such incidents. We have also introduced more robust procedures and business contingency plans to support our planning and response to such events. We have focused on providing further training to staff, including media training, asset inspection training, trauma training and stress management training. Our commitment to the recovery and the review actions remains high, to ensure we learn from these events and enable us to be more resilient as a service in the future.
Flood incident duty rotas
A key recommendation in the February 2020 Flood Review was to improve the levels of resilience of our incident rotas. We need to operate our flood incident responsibilities on a continuous 24/7/365 basis. To enable us to do that, we have a system of 'duty rotas' where there is a person guaranteed to be available 24/7 (and hence particularly 'out of core hours'), for a duty period (usually 7 days). We have a number of flood duty rotas, to cover our geographical spread, and the types of roles needed. Several of our duty rotas have had fewer people on them than we would ideally like, and this can, at times, cause significant well-being issues for staff and also be problematic at times of peak activity. There has also been inconsistency on which 'day-job' posts are on a rota.
In order to generate more consistency of approach, and fairness, and to bolster numbers, we developed, in partnership with our Trade Unions, a proposal that was put to staff for consideration. The basis of the proposal was to link 'day-job' roles to rotas, and so set the expectation of who can be required to be on a rota. The proposal was accepted by the Trade Union membership in late 2021-2022, and is being implemented. We have already seen some improvements in some areas, but there are challenges in other areas that require further work. 
Understanding and analysing flood risk
This work area includes all efforts to increase the understanding we have of flood risk in Wales, mainly through our hydrological analysis and flood risk modelling activities. It also includes how we communicate that flood risk to stakeholders through our flood mapping products and website services. Its purpose is to increase our understanding of flood risk, to inform and advise all our other activities, and to inform stakeholders of their relevant flood risk.
We have powers to manage flooding from main rivers, our reservoirs, and the sea. We also have a strategic oversight role with general supervision over all Flood and Coastal Erosion Risk Management matters. This is about having a Wales-wide understanding of all sources of flooding, coastal erosion and the risks associated with them, on a consistent basis to provide advice to the Welsh Government as well as helping inform risk management authorities and the public. As part of our oversight role, we undertake national flood and coastal erosion risk mapping for all sources of flood risk.
What's at risk of flooding?
As of April 2022, the undefended sum of properties at risk of flooding in Wales is 291,070. Some properties may be at risk from more than one source and therefore removing any double or triple counting of properties at risk from multiple sources it's currently estimated that 245,118 properties are at risk of flooding in Wales.
The following tables show the split of properties by level of risk and source, correct as of April 2021.
Table 1: The numbers of residential properties, non-residential properties, and services at risk of flooding in Wales from fluvial sources.
| Flood risk description | Residential properties at risk of flooding | Non-Residential properties at risk of flooding | Key Services at risk of flooding | Total at risk of flooding |
| --- | --- | --- | --- | --- |
| Fluvial High | 21,958 | 2,670 | 508 | 25,136 |
| Fluvial Medium | 14,936 | 2,020 | 326 | 17,282 |
| Fluvial Low | 40,984 | 5,814 | 954 | 47,752 |
| Fluvial Total | 77,878 | 10,504 | 1,788 | 90,170 |
Table 2: The numbers of residential properties, non-residential properties, and services at risk of flooding in Wales from tidal sources.
| Flood risk description | Residential properties at risk of flooding | Non-Residential properties at risk of flooding | Key Services at risk of flooding | Total at risk of flooding |
| --- | --- | --- | --- | --- |
| Tidal High | 42,229 | 4,424 | 808 | 47,461 |
| Tidal Medium | 11,764 | 1,835 | 318 | 13,917 |
| Tidal Low | 8,288 | 1,154 | 222 | 9,664 |
| Tidal Total | 62,281 | 7,413 | 1,348 | 71,042 |
Table 3: The numbers of residential properties, non-residential properties, and services at risk of flooding in Wales from pluvial sources.
| Flood risk description | Residential properties at risk of flooding | Non-Residential properties at risk of flooding | Key Services at risk of flooding | Total at risk of flooding |
| --- | --- | --- | --- | --- |
| Pluvial High | 31,192 | 3,347 | 740 | 35,279 |
| Pluvial Medium | 16,425 | 1,892 | 344 | 18,661 |
| Pluvial Low | 68,113 | 6,428 | 1,377 | 75,918 |
| Pluvial Total | 115,730 | 11,667 | 2,461 | 129,858 |
Updates to the Flood Risk Assessment Wales map
We have carried out two bi-annual and one interim update to our online flood mapping service, Flood Risk Assessment Wales (FRAW) since its launch in October 2020. The updates incorporate upwards of 20 new local, detailed models. This improves our understanding of risk assessment for flooding from rivers, the sea, surface water and small watercourses.
The FRAW map categorises risk into locations of high, medium, and low areas. It also displays extra information such as flood defence locations and the local benefits they bring. The flood risk map viewer is available with the new data also available on Welsh Government's Lle website. Work is ongoing to re-publish the FRAW map to better sit alongside the newly developed Floodmap for Planning and utilise the now available technologies to improve its appearance and functionality, such as making it fully bilingual.
Figure 1 shows a screenshot from the existing FRAW map. The map shows the areas that are at what level of risk from flooding from rivers, the sea and surface water in Cardiff.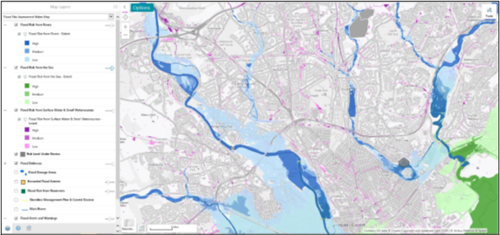 Figure 1: FRAW Map, as available on the NRW Website
Improvements to the Flood Risk Assessment Wales Economic Toolset
We have continued to develop and use our new software tool to explore the impacts of flooding under future climate and population growth scenarios, and how the impacts can be mitigated by a range of adaptation measures. This will inform our understanding of present day and future risk, how this is mitigated by defences and other flood risk management measures, and how adaptation can be used to offset the impacts of climate change.
Publication of the Check Your Risk Webservice App
Launched July 2021, and created as part of the Flood Risk Viewer improvement project, 'Check your Risk' is a web app which interrogates the FRAW mapping data and allows users to generate a short flood risk report for the area around a property postcode. This has removed around 80% of the expected onward web traffic to the FRAW map and gives customers a quicker and simpler way to get flood risk information.
Publication of the Floodmap for Planning (FMfP)
We launched the Floodmap for planning on our website on 28 September 2021.
It will ultimately replace current development advice map (DAM) with a new flood map for development planning purposes. These changes will come into effect in Summer 2023. We will continue to host the DAM until then, at which point it will be taken off our website and become an archived dataset. The Floodmap for Planning is the portal by which we share agreed climate change mapping for development decisions affecting future generations.
We have also incorporated 56 new local, detailed models into the map to improve the display of climate change associated risk.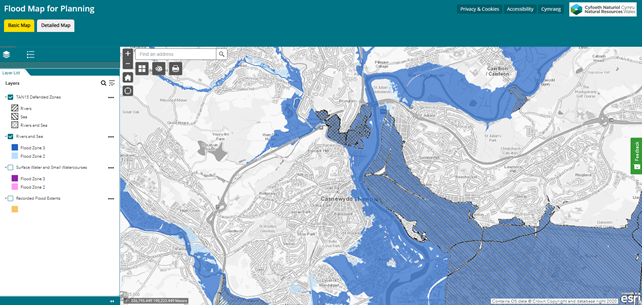 Figure 2: A screenshot of the Flood Map for Planning
Development of the FRAW Data Management Process
Throughout the year, we have continued to develop the FRAW Data Management Processes. This will give us the ability to use the tools developed to produce the larger FRAW datasets, keeping them updated on an annual basis and provide the most current version of flood risk in Wales. The solution sees a partnership arrangement with an external supplier, whereby elements are re-run and updated by NRW and elements by the supplier. Our maps will be updated twice-yearly using the latest data produced either by ourselves, or other bodies.
Sea level change guidance
We have supported the Welsh Government in updating their climate change guidance for future projections of sea level rise based on UK Climate Projections 2018. Indicative sea level rise allowances up to 2120 were published in August 2021 and are presented for each local authority administrative area, with the impact of climate change dependent on location. This information will aid in the understanding of future risk at the local level and enable decision makers to determine and plan for appropriate mitigation measures accordingly. We are now progressing work to review and update climate change allowances for fluvial and pluvial uplifts. This will inform future update to Welsh Government's climate change guidance.
Local modelling improvements
We have progressed a number of local modelling improvements over the past year. These include projects to improve modelling at the following locations: Ynysybwl, Swansea, Bangor, and Pensarn, as well as rivers including the Gele, Monnow, Taff, Rhymney, Cynon, and Ely.
Management of flood risk assets
This work area includes all activities in relation to the management of our flood risk assets. This includes the construction of new flood alleviation schemes, maintenance of existing structures, understanding their condition, management of asset data and the planning for future work requirements. Its purpose is to ensure the effective and efficient management of our flood risk assets, seek opportunities to reduce flood risk through construction of new assets and ensure our assets are ready and able to perform as expected in times of flooding.
New assets
Through completing Capital schemes in Cadoxton (Barry/Vale of Glamorgan) and Leckwith (Cardiff), 242 properties have benefitted from a reduced level of flood risk during 2021-2022.
Alongside the completion of these schemes, we have over 20 major schemes that were at various stages of development during 2021-2022. These schemes will form the majority of our future years capital expenditure and include locations across Wales such as Llyn Tegid (Bala), Pwllheli and Porthmadog (Gwynedd), Llangefni (Isle of Anglesey), Llanfair Talhaiarn (Conwy), Cardigan (Ceredigion), River Ritec (Pembrokeshire), Ammanford (Carmarthenshire) and Stephenson Street and Liswerry (Newport). In the long term, these are expected to benefit 3,899 properties when they are finally completed.
In addition, 1000 properties have benefitted from a sustained level of protection through capital maintenance works. This is important capital investment in existing flood risk assets in order to maintain the standard of protection they currently give to the communities which benefit from them. The investment is typically needed to extend or achieve the asset design life and typically involves significant repairs and refurbishment of existing structures.
Case study – Flood protection scheme in Llyn Tegid, Bala
We are undertaking major improvement work on the embankments and structures near the outlet of Llyn Tegid (Lake Bala). Llyn Tegid is Wales' largest natural lake, and poses a flood risk to the community of Bala. The £7m flood protection scheme is being delivered to make sure that the embankments can continue to withstand extreme weather and meet appropriate statutory reservoir safety requirements. It lowers the risk of flooding to over 800 properties, while also bringing other environmental and recreational enhancements to the area.
The work is running throughout 2022 and we are working closely with Gwynedd Council and Snowdonia National Park Authority (SNPA) to phase the works to minimise disruption and ensure the reservoir remains safe at all times.
Strengthening works to 2km of reservoir embankments will be complete in 2022-2023, with over 3,000 tonnes of rock revetment being replaced. The old material has been reused as part of our works including the landscaping features in order to minimise our carbon footprint.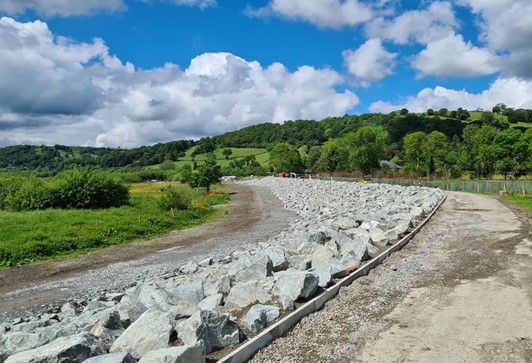 Figure 3: Rock replacement along lakeshore embankment (April 2022)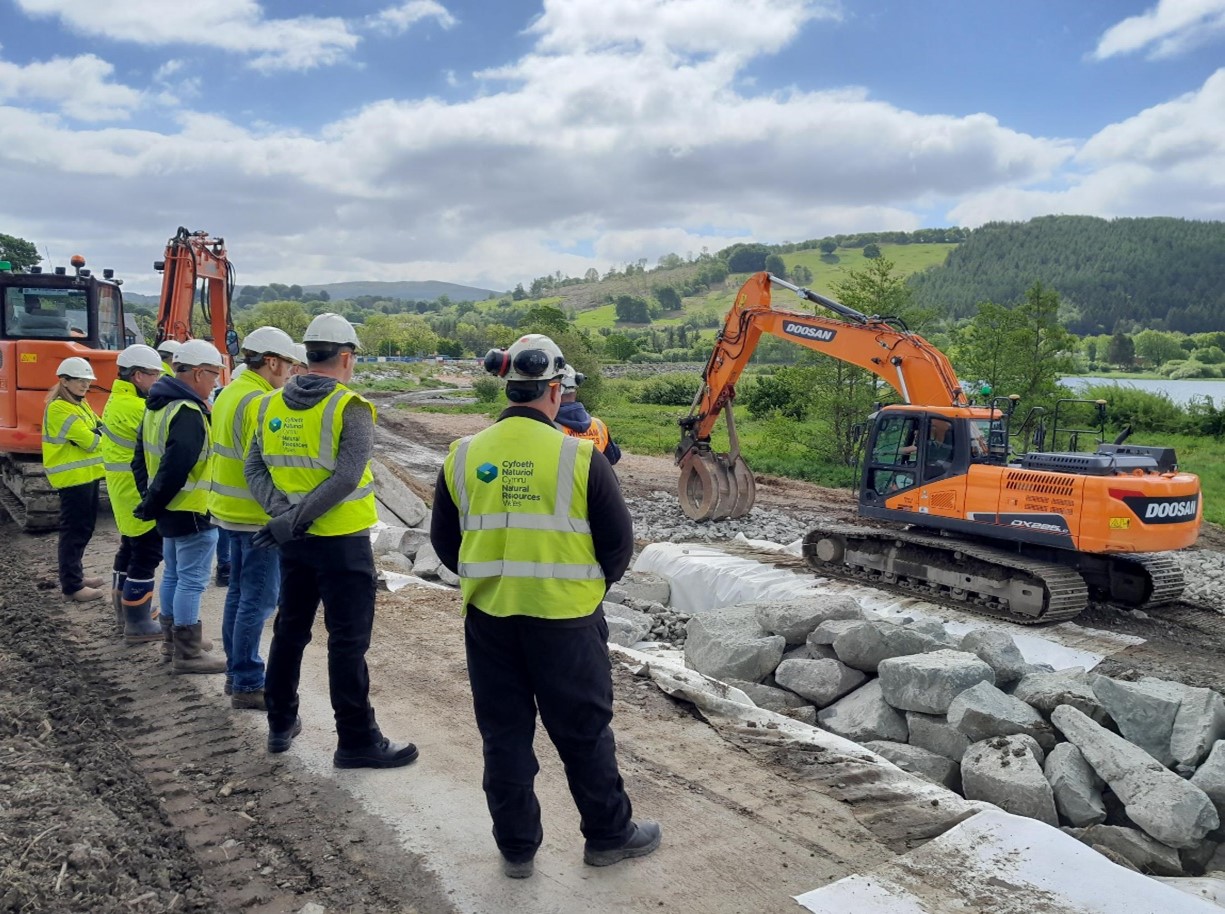 Figure 4: Rock replacement (May 2022)
This important work could not start until the removal of 300 self-seeded trees, mostly growing in and weakening the embankments. Under stringent ecological supervision, tree clearance was undertaken between January and March 2022. As part of our commitment to the community, for every tree that we have removed, NRW will be planting three trees locally. We have already planted new trees along a new tree corridor behind the lakeshore embankment and on land adjacent to the B4391 highway with the first tree whip planted by NRW's chief executive during a visit in March 2022.
We are working with Bala Lake Railway (BLR) to incorporate part of their proposed extension into these works, and working closely with the community and provide regular updates along with site information boards. NRW personnel are also available to meet people on site as required, providing a continual bilingual service. We also have a bilingual explanatory video about the works and why they are required – see our Llyn Tegid reservoir safety project page.
Environmental enhancements delivered
The Llyn Tegid project is a great example of how we seek opportunities for environmental enhancements through all our flood risk management projects.
As well as the tree planting, we have undertaken habitat enhancements to create approx. 5 ha of species-rich wet meadow. We have redesigned the lake foreshore car park to prevent damage from cars that were driving onto the sensitive protected habitats. Boulders reused from the scheme have helped to demarcate areas where cars should drive. A number of paths, ramps and access points will be more accessible as a result of the works. Path surfaces are being upgraded along the Dee/Tryweryn embankment - currently used for a popular Park Run.
Around the Leisure Centre and Woody's Café we have landscaped the area with new seating and planting. We are also providing high-quality seating and interpretation across the site.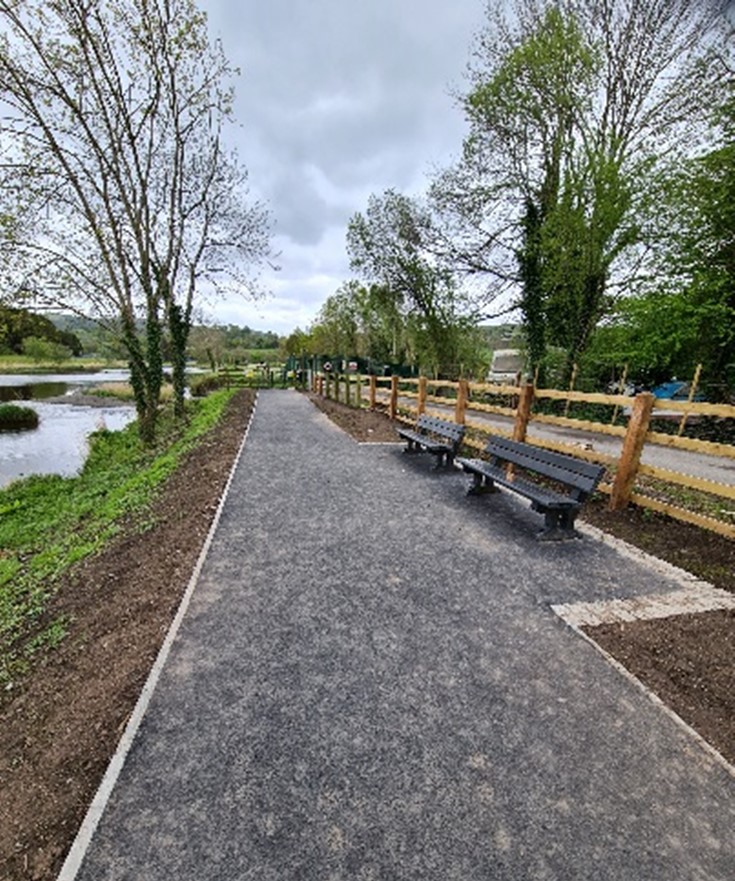 Figure 5: Upgraded surface and benches located along footpath looking out to Tryweryn
Asset management
We undertake a routine inspection and maintenance programme to ensure our flood risk assets are fit for purpose. We maintain over 4030 assets (455km) throughout Wales and throughout 2021/22 undertook 11,061 inspections of these structures.
At the end of the financial year 2021-2022, 86.1% of routine asset inspections were completed on time compared to inspections that were scheduled to be delivered. We are striving to improve this measure, and have recruited more asset inspectors to improve on this in 2022/23.
At year end, our inspections found that 98.1% of our flood assets in high flood risk systems were found to be at or above their required condition to effectively perform their function. This exceeds our corporate Key Performance Indicator target of 98%. This is a rolling target, reflecting that some assets will inevitably not be at target condition; assets not at target condition are scheduled for repair or improvement work.
Alongside our routine maintenance programme, we have a number of projects ongoing to help improve asset management within NRW and other Risk Management Authorities, and these are described below.
AMX improvements
AMX (Asset Management eXpert) is NRW's flood asset management database. It is the repository for all flood asset information, including location, type, target condition, inspection dates, last inspected (current) condition and maintenance information. Having a complete picture and full understanding of our asset base is a key component of managing flood risk. The information in AMX is used for many purposes, including planning and tracking in-year delivery of inspection and maintenance programmes, performance reporting, and investment planning.
In 2021-2022, we have continued with our improvement programme of work with this system and this data. This includes continuation of our core work on the Data Improvement Plan, to ensure the core information is accurate and sound. This is a significant but necessary undertaking, requiring much resource, and will continue into 2022-2023.
This improvement work has also included work on maintenance information to feed into the Risk Based Revenue Allocation Model (RBRAM) (see below), the development of an asset defect reporting system, and preparations for the integration of our existing MEICA (Mechanical Electrical Instrumentation Control and Automation) database into AMX.
Risk Based Revenue Allocations Model (RBRAM)
Over the last few years, we have been developing a methodology and approach to prioritising routine asset maintenance and allocating revenue funding according to flood risk. This enables us to move away from revenue budget allocations that have been based on historic information and previous allocations, to a more evidenced approach, based on flood risk. This will enable us to better allocate our finite resources to the communities at greatest risk and in the assets that give greater benefit of reducing flood risk. It will also enable better reporting on our investment.
We have developed a new risk-based methodology and system (RBRAM) to enable this new approach for allocating funding to FRM routine maintenance. The system will provide NRW with a clearly prioritised maintenance programme allied with assets that provide most benefit to reducing flooding to communities at greatest risk. This will help us to understand what the contribution and priority of each asset is, as well as what cost and resources are required to maintain the benefit of the flood defences and structures. It will also enable us to develop the long-term investment evidence to help make the case for funding in flood risk management activity.
Much work went into the development of RBRAM during 2021-2022, and we are planning to introduce the use of this new tool during the 2023/24 financial year. It is clearly very dependent on the underlying information contained in our asset database AMX. 
National asset database
The concept behind the National Asset Database is to have a Wales-wide system for storing and displaying information about all significant flood risk assets in Wales. This includes assets such as culverts, trash screens, embankments, flood walls and gates, as well as identifying who is recorded as being responsible for their maintenance. The intent is that the NAD will contain information on all significant assets, so that is assets under the control of the different Risk Management Authorities – principally NRW and the Local Authorities, and, in time, assets under the control of others as well. This aspiration in reflected in Measure 6 of Welsh Government's National Flood and Coastal Erosion Risk Management Strategy.
To this end, in December 2021 we published Find flood defence structures near you (The National Flood Asset Database) on our website. Clearly, NRW can publish its own asset data, but the National Asset Database relies on the co-operation from Lead Local Flood Authorities to allow publishing of their data. There is good, but not yet complete, data provision from the LLFAs. 
Further work is ongoing to improve the quality of the underlying data as well as working with other Lead Local Flood Authorities to agree to the use of their data. The vision is that the National Asset Database will become a valuable and comprehensive, accessible, and transparent tool for all.
Reservoirs
We are the regulator for reservoirs in Wales, and are the authority for the registration, compliance, and enforcement of the 395 reservoirs across Wales that are registered under the Reservoirs Act (1975) and associated regulations and amendments. As part of this regulatory role, we also are a member of the reservoirs committee of the Institution of Civil Engineers, which advises Governments of the attributes of engineers required by this sector in the UK. We are also a reservoir operator (or 'undertaker' in the language of the Reservoir Act). Key activities in these two roles are described in this section.
Reservoir regulatory role
NRW is the enforcement authority for the Reservoirs Act 1975; this is the law which sets the minimum standards to ensure the safety of reservoirs. Predominantly, this is to ensure reservoir undertakers appoint and act on the advice of specialist qualified civil engineers.
On 31 March 2022, there were 395 registered large, raised reservoirs in Wales. This is an increase of 19 from the previous year, and this is as a result of our work to seek out unregistered potential large, raised reservoirs. 
We are working through the assessment of the risk designations of the undesignated reservoirs. We have a duty to designate a reservoir as a high-risk reservoir if we think human life could be endangered in the event of a failure of the dam. To provide the evidence to support a designation we produce flood maps showing the extent and hazard posed by a flood from a reservoir.
Status of reservoirs in Wales
Table 4 below shows the designation status of reservoirs in Wales, as at the end of 2021-2022. Note, there is no such designation as 'low risk', a reservoir is either high-risk or it is not high-risk. The risk status is reflected in the regulatory regime that needs to be followed.
| Designation status | No. reservoirs |
| --- | --- |
| High-Risk Reservoirs | 248 |
| Not High-Risk Reservoirs | 70 |
Reservoir mapping project
We concluded our flood mapping project in 2021-2022, providing us with a suite of maps showing the reasonable worst-case flooding that may occur if a reservoir were to fail. These were provided under two scenarios: "dry day" when the reservoir is full to its normal capacity and river levels are low, and "wet day" when the reservoir is subjected to inflows generated from a probable maximum flood.
The maps provide:
evidence for our reservoir designations
information for engineers to be able to correctly specify the level of safety required at the reservoir
information for emergency planners to enable planning, exercising and response activities
information for reservoir undertakers to produce their emergency flood plan
Developing our regulatory role
We have reviewed the extent of our reservoir duties and are challenging ourselves on what more we should do as a regulator. We are seeking to alter our approach to focus on achieving greater outcomes for reservoir safety in Wales, beyond those necessary for legal compliance. Further work will be done on this in 2022-2023, and which may be influenced by Professor Balmforth's review of reservoir safety commissioned by DEFRA following the Toddbrook reservoir incident in England in 2019: Independent Reservoir Safety Review Report (publishing.service.gov.uk).
'Potentials' project
We actively seek out reservoirs which have not been registered but which are liable for regulation by us. Our investigations have identified additional large, raised reservoirs for which we are securing registration and entry into the reservoir flood mapping project. By identifying reservoirs such as these, we can ensure that they are managed in the appropriate manner to reduce risk to society.
Ownerless reservoirs
Using powers from the Reservoir Act 1975, we are undertaking works at two reservoirs in Wales where the reservoir owner is absent. Reservoir hazard mapping at these reservoirs has provided the evidence to confirm their designation as high-risk reservoirs, where a failure could endanger life downstream. Work to maintain the safety of these reservoirs will continue through 2022-2023.
Reservoir enforcement
Where a reservoir owner or operator fails to comply with the law, we have enforcement powers to ensure matters of safety are addressed. At the end of 2021-2022, we had enforcement notices in place at three reservoirs. At one of these sites, a lack of action by the undertaker has prompted us to develop a plan for reducing the water levels to reduce flood risk and enable investigation to establish the extent of work required.
Reservoir incidents
We recorded incidents at five reservoirs during 2021-2022. Reservoir undertakers are responsible for responding to incidents under the guidance of their engineer, and to provide reports to us about the cause and lessons learned. At one incident our field team assisted with the temporary use of a pump to supplement their own resources and those provided by the emergency services. None of the incidents resulted in the failure of a reservoir but emergency and remedial action was required to protect against future similar events.
Management of NRW's reservoirs
We are the owner (or 'undertaker') for 35 reservoirs registered under the Reservoirs Act 1975. 13 of these are designated for flood risk management purposes.
We have ensured that these reservoirs are all inspected and supervised by qualified civil engineers, and we maintain a programme of works to address any recommendations they may make.
We have improved our numbers of 'reservoir keepers' to fulfil our maintenance, monitoring and record keeping duties. Our ability to visit and check all reservoirs was tested during times of flood, and we are looking to make improvements in this area.
Reservoir improvements
We have progressed a programme of reservoir improvements to ensure our reservoirs are safe and fit for their flood risk management purpose. Safety measures recommended at Llyn Tegid (FRM), Crafnant Loop (FRM), New Pool (Land), and Llyn Llywelyn (Land) were certified complete. Further measures are also underway. The improvement works at Llyn Tegid are significant and expected to last into 2023.
Advising planners, consenting and enforcement
This work area relates to all discretionary and statutory advice in regard to flood risk and our role as a consultee within the planning process. The aim is to provide effective advice to influence and control development in flood risk areas, preventing more people and properties becoming exposed to increased flood risk. It also includes our permitting regimes. Combined, these roles seek to control development in flood risk areas and flood risk activities in or around main rivers. We also undertake enforcement where flood risk activities may cause or exacerbate flood risk.
Development planning advice
We are a statutory consultee on flood risk for all development proposals in Flood Zone C2 (areas at risk of 1 in 1000 flood event and without defences) and for highly vulnerable and emergency services development in Flood Zone C1 (areas at risk of 1 in 1000 flood event and with flood defences). Over the past year, our advice has helped to prevent inappropriate development being approved in locations where the risk of flooding would be difficult to manage. Where development has been permitted despite the flood risks, we have provided advice on flood resistance and resilience measures that could be incorporated to help reduce the risk both now and in the future. 
During 2021-2022 we provided 2353 substantive planning responses where flood risk is a constraint. Of these, 1292 were located in zone C2.
Updating TAN15
We have been working closely with the Welsh Government to support revisions to their planning policy (TAN15: Development, Flooding and Coastal Erosion) and to replace the Development Advice Map with the Flood Map for Planning, which takes account of climate change impacts on flood risk. The revisions to planning policy and updated flood mapping will enable planning decisions to be made on the best available information and take future flood risk into account. The updated TAN15 and associated Flood Map for Planning was due to come into effect on 1 December 2021, however in November 2021, the Welsh Government announced a pause to the implementation of its revised policy until June 2023.
Regulating flood risk activities
We regulate activities carried out on or near a main river, on or near a flood defence structure, including a sea defence, or within a flood plain, under the Environmental Permitting Regulations 2016. We do this by issuing a Flood Risk Activity Permit (FRAP) to ensure the activity does not cause any increase in flood risk, adversely impact land drainage in the area, or cause environmental damage to the local environment, fisheries, or wildlife. Some flood risk activities can be carried out without a permit but may need to register with us as 'exempt' from the need for a bespoke permit.
Over the 2021-2022 financial year, we issued 285 Flood Risk Activity Permits across Wales and 52 exemptions were registered.
Enforcement activity
We undertake flood risk enforcement under the Environmental Permitting (England and Wales) Regulations 2016. This work is important to ensure the effective management of flood risk and to support protection of the environment. If our regulatory advice is not sought, or is ignored, when undertaking works on or near main rivers or flood defences the consequences could be serious. In addition to managing flood risk, our enforcement activity ensures we can maintain access to flood/sea defence infrastructure and allow us to undertake important maintenance and improvement works. We can also use enforcement action to rectify unlawful and damaging or potentially damaging work, which may have been carried out in contravention to conditions set out in a flood risk activity permit, or without a required flood risk activity permit. Examples include damage to flood defences and control structures, removing obstructions that impact flow within rivers, potentially increasing flood risks, and works that have caused harm to the environment.
During 2021- 2022 we investigated and took action on 60 cases of unpermitted activities on Main Rivers.
Case study – Wrexham Industrial Estate
We were notified that around 2000m3 of soil had been imported onto the flood plain without the necessary flood risk activity permit or obtaining planning permission. We worked with our colleagues in species licencing (due to great crested newts being present in the area) and waste regulation along with the planning enforcement officers at Wrexham CBC. It was agreed that EPR was the best legislation to use to rectify the matter and a remediation notice was issued to the site owners for the removal of all the material. This resulted in a successful outcome for both flood and environmental risks.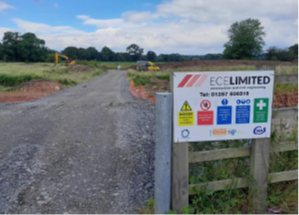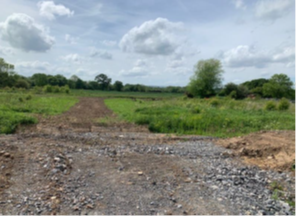 Figures 6 and 7: Unpermitted dredging and raised banks (using the arisings) along a main river
We were notified of a landowner who dredged 70 metres of a main river and used the arisings to increase the adjacent levels along the banks of the channel without a Flood Risk Activity Permit. The works involved excavation of a heavily silted and overgrown channel (due to a lack of maintenance over many years). Whilst this would improve conveyance of floodwaters through the channel, the raising of the existing ground levels along both banks would likely increase flooding upstream and within an area already impacted by previous flooding from the main river. We served a remediation notice on the landowner requiring the level of the banks to be reinstated to previous levels. The landowner cooperated and undertook the works in a timely manner in accordance with the requirements of the notice.
Flood forecasting and issuing warnings
This work area delivers our flood forecasting and flood warning services to the public and professional partners. Its purpose is to provide effective warnings and information to people at risk of flooding enabling them to take direct action to protect life and property in the build up to a flood event.
It includes the detection and forecasting of flooding in real time in the lead up to and during flood incidents, the issuing of flood warnings to those directly at risk and the provision of information on the latest situation and warnings in force via our website, Floodline and our live data portal.
Our teams deliver the planning and preparation of these services before a flood event including data, systems, operational procedures, training of duty staff and management of duty rotas. The services are delivered by a number of specialist duty officer rotas using staff from our teams. Our duty officers are on standby duty 24/7 365 days per year ready to respond to potential and actual flooding at any time of day or night.
Flood forecasting and warning over the 2021-2022 financial year
Elevated flood risk is highlighted through the Flood Guidance Statement which provides a daily flood risk forecast for 5 days to Government and professional partners to assist with strategic, tactical, and operational planning decisions around developing flood risk. The information is also shared with the public through our 5 day flood risk for Wales service. From April 2021 to March 2022, there were 121 days of elevated flood risk (minor forecast impacts and above) and within those, 15 days of heightened flood risk (significant forecast impacts and above). Section 2 of this report highlights the main storms during the year that led to elevated flood risk and associated impacts.
In total, we issued 369 flood alerts, and 193 flood warnings during 2021-2022 in response to the risk of flooding. There were 787 calls made to Floodline agents and 1,029,321 visits to our flood warnings and alerts service. October 2021 and February 2022 were the months with the biggest number of visits with 612,849 total visits received during these months.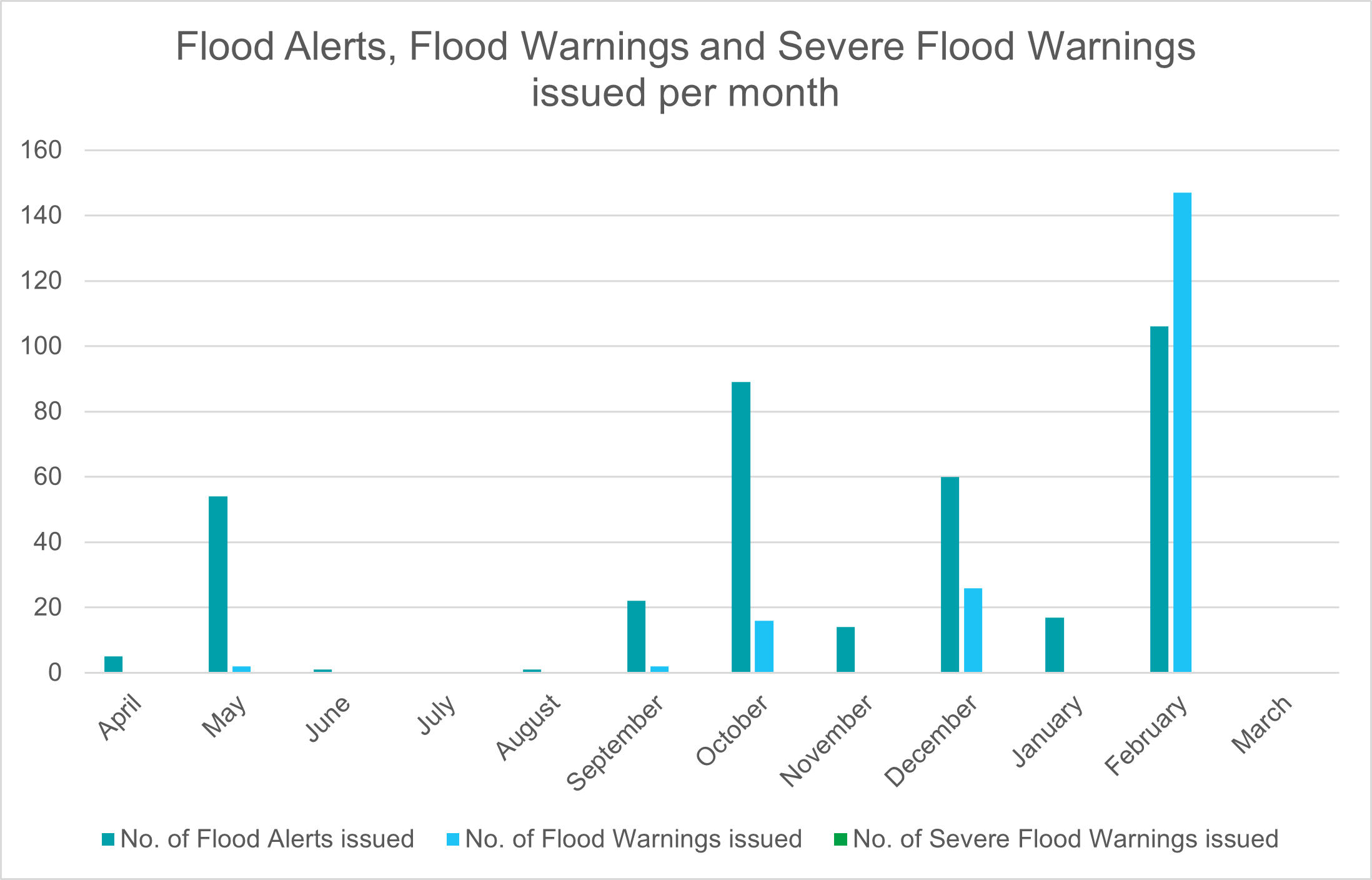 Figure 8: Number of flood warnings and alerts issued during 2021-2022
Flood warnings and 5-day flood risk forecast
The 5-day flood risk outlook for Wales provides clear information of forecast flood risk across Wales over the next 5 days. The service includes a map of Wales (spilt into Local Authorities), a summary of the flood risk for Wales and clearer information on actions to take for each level of flood risk. Our Flood Warnings and Alerts service includes a search function (e.g., by postcode), displays information in a way which is quicker and easier for users to find what they need, provides interactive map features and detailed information for each Flood Warning and Flood Alert area, including direct links to related services such as sign up to receive direct flood warnings and local river levels.
Figure 9 is a screenshot from the improved flood warnings and alerts section of our website, as an example (Flood Warnings and Flood Alerts that were in force at 09.57pm on 18 February 2022).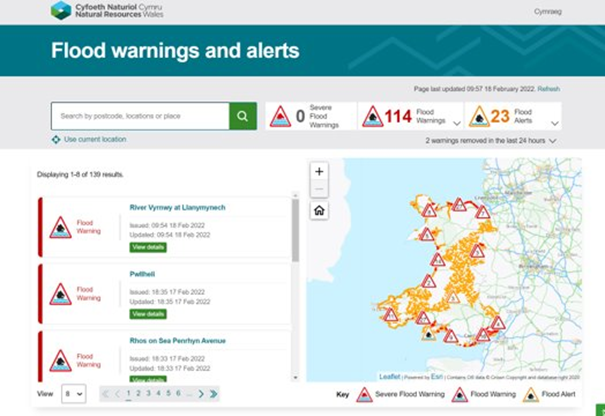 Figure 9: Flood Warnings and Alerts on the NRW Website
Number of properties registered for flood warnings
We issue three different kinds of flood warning via our flood warning service: Flood Alerts, Flood Warnings and Severe Flood Warnings. This information is communicated direct to those that are at risk and can be obtained through our dedicated Floodline information service (0345 988 1188) and on our website, which is updated every 15 minutes. As of March 2022, there are 49,161 properties registered to receive warnings via the flood warning service. This is supplemented by the Extended Direct Warnings initiative which means that in total 113,732 properties are signed up to receive the flood warning service in Wales.
Extended direct warnings
To increase coverage in areas where the Flood Warning Service is available, we work with phone companies to obtain phone numbers for addresses where there is no customer registered for the flood warning service. We tell phone companies the unregistered addresses at risk of flooding, and they send us a list of the phone numbers registered to those addresses. They do not give us the names or addresses associated with those numbers. Properties serviced through our Extended Direct Warning Service are not fully registered. This is an opt out service. Through this initiative an additional 64,571 properties now receive our flood warning service in addition to the 49,161 directly registered.
Flood warning service review
The Flood Warning Service Review was endorsed by our Flood Risk Management Business Board in 2020. It is a review which provided a five-year implementation plan to deliver a service that is customer focused, risk based, nationally consistent and supports our corporate objectives while being efficient and providing value for money. The Service Review generated 83 recommendations, several of which are mirrored in the recommendations of the February 2020 Floods Review and the Coastal Review 2014. These will be taken forward to delivery in future years through a series of key projects. A major early project, in initiation but not yet commenced, is the Future Messages project, which will look to review Flood Alerts, Flood Warnings and Severe Flood Warnings to deliver an improved service across Wales.
Improvements to the flood forecasting service
Following the significant flooding in February 2020, work has been done to review and recalibrate existing flood forecasting models, as well as introduce new coastal and fluvial forecast locations for communities at risk of flooding. This ongoing work of continuous improvement (learning from previous flood events and utilising the data to review forecast accuracy) improves our ability to provide timely and accurate Flood Alerts and Flood Warnings as well as informing the flood risk assessment for the next 5 days in the Flood Guidance Statement.
Substantial work has been done during 2021-2022 to recalibrate or develop new models within 16 river catchments across Wales as well as improving forecast accuracy across large stretches of coastline. New models and new forecast locations means that the flood forecasting service has continued to expand. 17,422 additional properties within Flood Alert areas and 11,555 additional properties within Flood Warning areas now benefit from forecasts informing the decision making process, improving the timeliness and accuracy of the messages which are sent.
Forecast web service
The Forecast Web Service is the system by which forecast information is disseminated and shared internally with Flood Warning Duty Officers. As forecast information develops, enhancements and adaptations are required to improve the interpretation and understanding of this data. Flood forecasting information helps our Flood Warning Duty Officers to make decisions around issuing Flood Alerts and Flood Warnings, improving understanding of flood risk, and improving lead time and accuracy. A key programme of work to develop and enhance the Forecast Web Service was delivered in November 2021 which allows for greater use of flood forecasting data.
Monitoring and Forecasting Duty Officer (MFDO) rota
NRW's operational flood forecasting service is delivered by the MFDO. This is a 24/7 service that utilises the latest meteorological information, runs this information through NRW models, and provides a forecast of flood risk for Wales from main rivers and the sea for the 5 days ahead. This is done every day of the year to input into the 5 day flood risk outlook. As well as this the MFDO provides enhanced forecasting prior to, and during, flood events, to inform NRW's flood warning service. This enhanced forecasting consists of running flood forecasting models as frequently as every half an hour, 24/7, to provide current and targeting flood forecast information.
The creation of the new Flood Warning and Informing team in 2020 provided an opportunity to recruit more duty officers to a rota which has been understaffed for a number of years. During summer and autumn 2021 there was a substantial package of training which was provided to bring four new duty officers onto the MFDO rota. This training included meteorology; hydrology; coastal processes; the use of forecasting systems; operational duty procedures and interpretation of forecast data amongst others. Following this training there was a period of time where the new duty officers shadowed current duty officers, with the new staff fully joining the rota in April 2022. The work which went into providing this training (much of it remotely due to lockdown restrictions) has been rewarded with the new duty officers ably meeting the demands of the role and providing some much needed resilience to the rota by bolstering the number of duty officers.
Flood Warning Duty Officer (FWDO) rotas
We have also been working to bolster the Flood Warning Duty Officer rotas. These duty rotas are the officers who issue the flood warnings, acting on the real time information they are receiving from the field and from modelled information. Whilst we have made some improvements and introduced some more staff to these rotas, challenges remain and so this remains an area for further work in 2022-2023 and beyond.
Delivering hydrometry, telemetry and hydrology services
This work area delivers our hydrometry, telemetry and hydrology services which collect, analyse and report data which underpins a range of flood and water management services across NRW. This includes flood risk modelling and mapping, flood risk scheme appraisal and design (standards of protection), reservoir safety, flood forecasting and warning, river regulation and post flood assessments in terms of the amounts of rainfall, river levels recorded and their severity (e.g., historic ranking or return period).
As well as gathering, processing, and archiving this data for NRW, this work area also reports and shares the data with internal and external customers through specific data requests, data transfers and provision of digital services on our website including our live River Levels, Rainfall and Sea Data service and the associated API which allows third parties to ingest our data for their use or re-presentation e.g. via mobile apps or other websites.
Hydrometric network
The hydrometric network across Wales comprises 253 rain gauges, 347 level or flow sites and 139 groundwater sites. Figure 10 is a map showing the locations of hydrometric sites across our Welsh network of groundwater sites, rain gauges and river level or flow sites.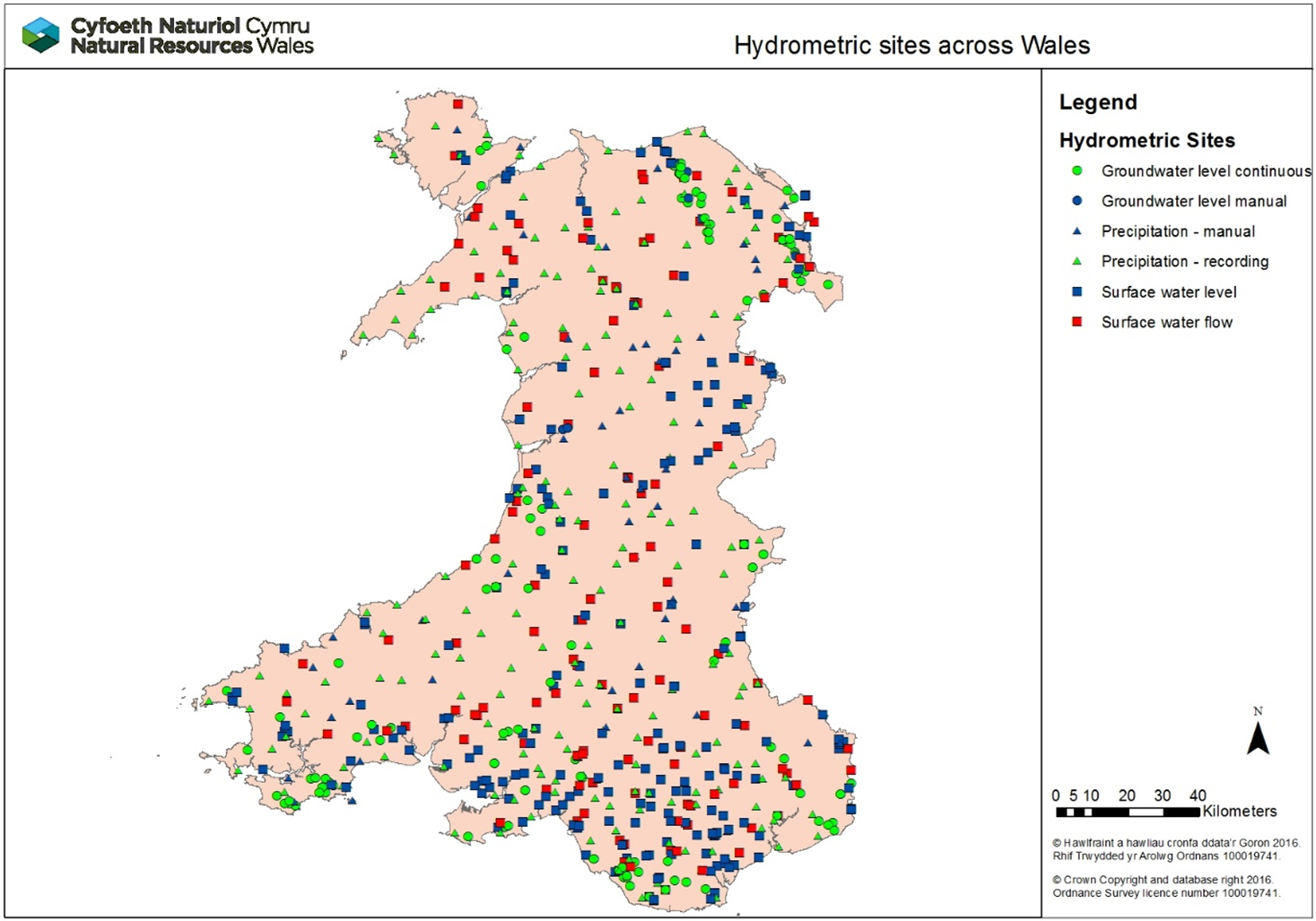 Figure 10: Hydrometric sites across Wales (correct as of March 2021)
Hydrometric network improvements delivered in 2021/22
During the last year improvements to the hydrometric network focussed on the maintenance and repair of several critical assets, as well as the installation and design of works to meet duties to comply with The Eels (England and Wales) Regulations 2009.
Maintenance projects were completed at several hydrometric assets to ensure they can continue to operate and collect data to the standards required, including:
Repair works undertaken to the flood warning station on the Gwendraeth Fawr at Pontyberem, the banks have been stabilised with general site repairs and improvements to the flood warning station on the Gwendraeth Fach at Llangendeirne, and the blockstone bank protection has been repaired at Lanelay Gauging Station on the Ely to prevent erosion to neighbouring properties.

Works have been undertaken on the Afon Seiont at Peblig Mill Gauging Station to improve fish and eel passage by constructing an Eel Pass on the left-hand upper weir. The riverbank adjacent to the weir has been reinstated to aid access to the weir and improve public safety.
UK flood hydrology roadmap
Hydrology is the science that tracks water from the sky to the sea. For flooding we use hydrology to convert rainfall and snow into flows for forecasting purposes, to estimate long-term flood risk and to determine design standards for our assets. Hydrology underpins all our inland flood risk work so is important that we have a future vision for flood hydrology. We have been part of the UK Flood Hydrology steering group since 2018, working with the Environment Agency, SEPA, DFL Northern Ireland, Government, industry, and academia to develop a flood hydrology road map vision and delivery programme for the next 25 years to ensure that flood hydrology methodologies, standards, tools and data service are fit for the future, to deal with a changing climate and more extreme river flow regimes which are already being recorded.
We contributed as a partner organisation to the development of the roadmap throughout 2021-2022, and the roadmap product itself was published in March 2022. Our involvement in the next phases, including delivery, of this very important project will continue in 2022-2023 and beyond. 
Hydro-geomorphology
Hydro-geomorphology is the study of landforms and river features caused by the action of water. Throughout 2021-2022, we have provided support to ensure flood risk activity permits are compliant with the Water Framework Directive. We have also advised on the remediation of a number of high-profile unconsented in-river works. We are currently looking to increase our capacity to ensure we can provide expert advice on river restoration projects across Wales such as the Rivers for LIFE and the LIFE projects, as well as helping us deliver initiatives to improve WFD status via our Opportunity Catchment programmes.
Hydrometric network review project
Work on the review of the Hydrometry & Telemetry (H&T) Network and Service commenced in 2021-2022. This included commencement of the assessment of the criticality of monitoring stations in the H&T network (>700 locations), with the outputs providing information to support network and service management decisions.
The resilience of key monitoring stations to withstand extreme conditions is also being assessed. This process is checking the distribution of monitoring equipment across the network, ensuring resources are targeted at the most important monitoring stations, and seeking to identify those stations where the service may be compromised due to their location e.g., a station which may become inundated by water during an extreme flood event.
Work on the H&T Network and Service Review will continue into 2022/2023, with key outputs being made available for consultation and operational deployment as the project progresses.
Community engagement and resilience
This work area delivers our community engagement and resilience services to communities at risk of flooding across Wales. It includes provision of information and advice to those at risk of flooding on the practical steps they can take to be better prepared before, during and after flooding. We provide this advice digitally via our website and directly with communities, including providing flood plan templates for them to use and facilitating volunteer network events to share knowledge, experiences, and best practice.
Social Media harvesting tool
During 2021-2022, we procured software allowing NRW real-time access to social media content (Twitter) related to floods in Wales, which has improved our situational awareness during flooding. It enables collection of flood impact data for forecast verification, post event reporting and recovery. During and following Storms Eunice and Franklin (February 2022), we were able to identify tweets, photographs, and videos to reflect the impacts of the storms on the ground and designed a permissions system to enable us to use and share these with others. We will continue to harvest relevant data to improve NRW services and understand local impacts in real-time.
Community flood volunteers
We support a Wales-wide network of 513 Community Flood Volunteers by facilitating and delivering Volunteer Network events to support Communities at risk of flooding. Where this has not been possible due to Covid restrictions, we created a quarterly "Flooding Matters" newsletter which has become part of our ongoing support to volunteers. Subscribers have increased from 791 (Issue 1) to 2969 (Issue 8, March 2022). Content has included messages from partner organisations and updates to NRW services.
Community flood plans
Our focus has been on maintaining the 74 community flood plans currently in place to ensure they are fit for purpose and service the communities that own and use them. We have also updated the GIS layer of community flood plans, which will enable us to improve reporting and information sharing about the flood plans and volunteer network.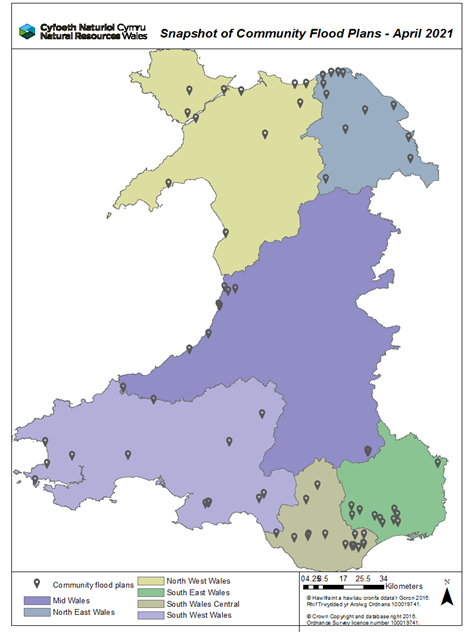 Figure 11: The number and location of community flood plans across Wales.
Flood quiz for younger people
We worked with Education, Learning and Skills colleagues to produce an online resource.
ScoutsCymru have a Flood Awareness ScoutsCymru badge for Cubs and Scouts. The short flood awareness quiz provides an additional resource to complete in their own time or in a group session, to find out more about flooding and what they can do to prepare.
There is a Flood exhibit at DangerPoint Education Activity Centre in North Wales. Groups of school children and families are guided around their interactive centre which offers the opportunity to learn important safety messages whilst having fun. A link to the quiz is included on the Flood page in their activity book.
Our website
Our advice to the public has been split into 3 pages, specific to what information people look for at different stages of flooding – 'Preparing for a flood', 'What to do in a flood' and 'What to do after a flood'. These were published in January 2022 and have over 8000 total combined views (Welsh and English) in the period to April 2022, showing an increase of people checking NRW's website. During Storms Eunice and Franklin (February 2022) around 5000 people checked for advice on how to prepare for flooding and 177 people went on to the sign up for flood alerts page. Around 1000 people looked for advice on what to do during a flood and 80 people looked for information on what to do after a flood. Providing this information at the point of need aims to enable those at risk of flooding to understand what they can do to help themselves and minimise the impact of flooding on their lives, homes, and livelihoods.
Sustainable flood risk management in the face of coastal change
Coastal areas in Wales face challenges from both the existing risk of tidal inundation and ongoing physical changes in the dynamic coastal environment, and also the extreme pressures that Climate Change is likely to place on coastal communities as we look towards the future. NRW plays an important role in both managing coastal flood risk assets and also working with partners to plan for future changes and the requirements for adaptation over the long term. Within this context, we continue to deliver our responsibilities in relation to Shoreline Management Plans.
Coastal adaptation work is long term, and each of the categories in this section summarise the main developments during 2021-2022.
Shoreline Management plans refresh project for Wales
Natural Resources Wales led a project together with input from Coastal Groups to refresh the four Shoreline Management Plans (SMPs) covering Wales. The project has two distinct phases; the first phase, delivered during 2021-2022, involved reviewing: 
how the Plans have been implemented to date
what has changed since they were last updated, such as new policy or evidence
whether changes present a challenge to delivering the SMP policies
The project gives clear guidance to Coastal Groups about the next steps to plan for transition from the short to medium term policy approaches, documented in Health Check reports for each SMP. This will help to achieve the longer-term plan for a more sustainable shoreline. It also aims to make sure that Shoreline Management Plans stay up to date, reliable, and visible.
As part of the project, we produced Supplementary Guidance for SMPs. This supports the maintenance and delivery of the plans in Wales and complements the current 2006 guidance. The new guidance will focus on making sure key principles are applied consistently across Shoreline Management Plans.
Phase 2 of the SMP Refresh project is being carried out by the Coastal Groups and involves:
Deciding what needs to be done for each SMP as informed by the Health Checks
Establishing the specific actions necessary to move forward (in line with the Supplementary Guidance) and populating Action Plans for each SMP
Assets facing coastal change
In 2021-2022, we continued to deliver against our project on our coastal 'Assets facing change'. This project looks to address the changes needed in managing our coastal assets, especially where there is a change in Shoreline Management Plan policies. We have completed phase one, which considered the scale of management changes required to ensure compliance with the Shoreline Management Plans and the impending epoch change approaching in 2025. Phase two will analyse this information in more detail and determine our future management strategy approaches in these areas.
National habitat creation programme
The National Habitat Creation Programme (NHCP), run by NRW on behalf of Welsh Government, was created to meet the statutory requirements to provide compensatory environmental habitat for coastal plans and projects, where impact on habitats cannot be avoided. We continued to investigate and develop opportunities for delivery during 2021-2022. 
The focus and approach to delivering the strategic requirements of the NHCP continues to evolve. It is closely aligned to the wider drivers of wellbeing and sustainable management of natural resources, and integrated with the challenges of working collaboratively on addressing coastal adaptation in the face of a changing coastline and the diminishing standards of coastal flood protection in the face of rising sea levels. The NHCP therefore directly interfaces with wider coastal adaptation planning, as outlined below.
Coastal adaptation planning
In 2021-2022, we further developed our approaches to coastal adaptation planning, combining the knowledge gained through our "Assets Facing Change" project, and taking into account the SMP policies and the need for compensatory habitat (and the links to NHCP, see above). A range of coastal sites have been selected for assessment based on factors including:
Evidence of failing assets from inspections and investigations
Areas facing Shoreline Management Plan 2 policy changes
Recommendations of local Flood Risk Management Strategies
Prioritisation using our Communities at Risk Register
Costs of on-going FRM asset maintenance compared to assessments of flood risk benefits
Screening for intertidal habitat creation potential
These assessments are the first step in planning for coastal change and are closely aligned to achieving outcomes for wellbeing (Well-being of Future Generations Act) and supporting priorities for the sustainable management of natural resources (Environment (Wales) Act). Each of these projects will span several years, due to their complex nature, and are therefore ongoing areas of work involving public and stakeholder consultations. Projects initiated include the southwest Dyfi Estuary, Porthmadog and Pwllheli, with several other potential projects under consideration. This is long term work, that will be continually developed.
Ecosystem appraisal
During 2021-2022, we progressed the development of an Ecosystem Services Appraisals approach for coastal adaptation sites in Wales where flood risk management options are being considered. Application of this approach will enable comparison of environmental benefits and disbenefits of FRM options to support the business case process (5-case business model). 
Strategic planning
This work area includes efforts to undertake consistent strategic planning to our FRM work programmes across Wales and to lead on the development of policy in key areas. The purpose is to lead on strategic policy matters within the organisation, develop long term plans and to ensure FRM deliver programmes of work in effective and efficient ways.
Skills and capacity
We recognised the need for more effort to be placed on skills and capacity building, and created some new resource (all be it just one FTE) to lead this work in July 2020. The purpose of the role is to make sure that the FRM team is in the best place it can be where skills and development is concerned so we can tackle our future challenges, particularly that of climate change. To date this role has focussed on initiating project work including the development of technical competency frameworks for our key FRM roles and related skills areas, improving links with academic partners, and reviewing training opportunities.
During the reporting year 2021-2022 much of this work has progressed with a pilot for the Technical Development Framework being successfully rolled out. Work has continued to strengthen links with academic partners, and we also developed proposals for one-year higher education placements across a range of FRM areas, which is now being implemented in 2022-2023. We have laso invested in a Flood Risk Management training programme, focussing on delivering key technical training for FRM staff in areas such as mapping and modelling, asset inspection and health and safety.
Long term investment requirements (LTIR)
An assessment of the long-term investment requirements for managing the flood defence asset base in Wales was initiated in 2021-2022, and will be delivered in 2022-2023. The assessment and results are focussed on capital work - new or replacement defences and capital maintenance, for assets that are contained in Flood Risk Assessment Wales. The assessments made use the latest understanding of flood risk in Wales on a national basis to model different scenarios. It uses the newly available Flood Risk Assessment Wales (FRAW), and in particular the new Economic Tool that has been developed as part of the FRAW project. 
A report summarising this assessment is due for publication in 2022-2023. Following this, further work will then be looked at to develop a strong investment case around all aspects of Flood Risk Management.
Flood Risk Management plans
Much work progressed in 2021-2022 on our second cycle Flood Risk Management Plan (FRMP) by using the Communities at Risk Register to help us to take a risk-based approach to the FRM actions across Wales, so we can prioritise our funding and actions where the risk is greatest. The FRMP is set to be out for external consultation in the Autumn of 2022, with publication thereafter during 2022-2023.
FRM research and development
We have a strategic research and development (R&D) programme that is aimed at delivering key evidence to inform and improve our operational and policy needs across FRM. Most of our R&D needs are delivered through the Joint Flood and Coastal Erosion Risk Management R&D Programme which aims to serve the needs of all flood and coastal risk management authorities in England and Wales. Over the last year, the Joint Flood and Coastal Erosion Risk Management R&D Programme has published several key projects in which NRW has been involved:
The wider programme of projects consists of 60 projects which are split into theme areas consisting of Policy, Strategy and Investment, Asset Management, Incident Management and Modelling.
FRM improvement programme
NRW's FRM service seeks to reduce flood risk to the communities of Wales through a range of activities across the business covering operational and policy driven work. To support this work, a strategic Flood Risk Management Improvement Programme was established in January 2020. The improvement programme is structured to ensure all project work outside of normal capital construction projects or Business as Usual activities is centralised in a single programme bringing clarity, transparency, consistency, and effectiveness in identifying and delivering needed improvements and efficiencies across the service. The aim of our programme is to ensure we continuously improve and enhance to ensure a more resilient service for the future.
At the end of March 2021 there were 30 projects within the programme, and several of these projects feature in this annual report.
Nature based solutions
A key priority of the Welsh Government National Strategy for Flood and Coastal Erosion Risk Management (FCERM) in Wales is to deliver more natural interventions and catchment approaches to reduce flood risk. Risk management authorities in Wales are encouraged to pursue natural flood management (NFM) and are required to consider the use of NFM when developing options for new schemes and maintenance activities.
Internal policy statement on NFM
We developed a position statement on the role of NFM in reducing the risk and impacts of flooding, aligning our approaches and ways of working with the Welsh Government National FCERM Strategy. Alongside delivery, NRW are seeking opportunities to influence and promote NFM through wider policies, programmes and plans and participate in research to further evidence and understanding on NFM.
Natural flood management projects
We successfully bid and received funding from the Welsh Government NFM fund to develop and progress delivery of four NFM projects in 2021-2022, in Llanfair Talhaiarn, Dinas Powys and Glyneath. A fourth project in Teifi Uchaf was supported but is on hold due to delivery issues. The funding programme aims to develop skills, expertise and understanding in the delivery of NFM across risk management authorities in Wales and contribute to the evidence on the effectiveness through monitoring.
Natural flood management evidence and research
In 2021-2022, we continued to engage and participate in research to improve evidence and understanding on the effectiveness and the role of NFM in reducing flooding in Wales. In addition to our work with the Environment Agency and Defra on the Joint FCERM R&D programme, NRW is a member of the programme executive board for the UKRI NERC funded NFM research programme. This important research programme will help advance our knowledge and understanding of the effectiveness of NFM measures for reducing flood risk at the catchment scale.
Where our money is spent
We are funded to deliver FRM work directly by Welsh Government in the form of Flood Defence Grant in Aid (FDGiA) funding. This takes the form of revenue funding which supports routine operational and "business as usual" activities and services as well as capital funding which is utilised to deliver project work.
In 2021-2022 NRW received a total of £39m of Welsh Government FDGiA funding to undertake FRM work, this comprised of £22m of revenue funding and £17m of capital funding. This funding was fully utilised in this financial year to deliver the FRM outcomes, sustain the services NRW provides and many of the successes outlined in this report.
Capital funding
For financial year 2021-2022, our capital funding of £17m enabled the delivery of 156 projects within our Capital Programme, this included many of the projects highlighted in this report and many examples of ongoing work which will complete in future years. A breakdown of capital spend by project type is included in figure 12 below.
Figure 12: Chart showing the breakdown of Capital spend by project type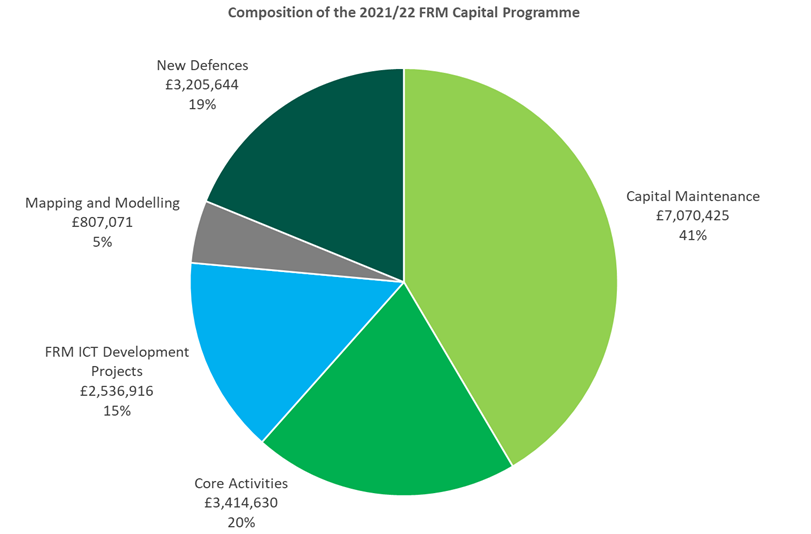 Core Activities include capitalised salary costs (£1.9m), corporate overheads (£0.6m) and fleet, plant and equipment purchase (£850k). Capital ICT costs relate to FRM specific system development or contributions to system development which benefits FRM services. In 2021/22 this included enhancements to our flood forecasting and warning systems, Flood Risk Assessment Wales (FRAW), the flood maps on our website, our telemetry system and our asset inventory database AMX.
Revenue funding
The 2021-2022 revenue settlement of £22m supported the significant effort that goes into sustaining and providing the services, advice, tools, and activities NRW undertakes to help manage flood risk in Wales. This funding predominantly supports staff costs, routine maintenance works, various enabling services which support our work and other routine activities. A breakdown of revenue spend by activity is included in figure 13 below.
Figure 13: Chart showing the breakdown of revenue spend by activity
Each of these work areas interact and overlap with each other to deliver key services, therefore there are some areas where teams support wider activities which can misrepresent the scale of effort in some of the above activities, for example Hydrometry and Telemetry work heavily supports forecasting and issuing flood warnings and is accounted for above accordingly.
Enabling Service and Corporate Overheads include FRMs contribution to the operation of key business services which support the delivery of FRM activities, these include Communications, Procurement, Governance and Leadership, Corporate Planning, Legal Services, People Management, Facilities, Fleet Management and Finance. ICT costs are associated with ongoing business support, infrastructure and ongoing service and licence fees for FRM systems.
This year's revenue allocation of £22m included an additional £1m of Non Flood Defence Grant in Aid in addition to the £21m of Flood Defence Grant in Aid from Welsh Government.
This reflected an internal prioritisation of FRM work within NRW, and enabled an additional 16 Full Time Equivalent (FTE) posts to be established as well as supporting the delivery of additional routine maintenance works in year alongside a number of smaller projects.
The revenue budget of £22m was fully utilised in 2021-2022 and helped support many of the initiatives outlined in this report and ensured that our "business as usual" services continued to be delivered effectively.
Staff numbers
The effort that goes into delivering FRM work within NRW can broadly be grouped into the following work areas and structures:
National services and policy teams reporting to the Head of Flood and Incident Risk Management within the Evidence, Policy and Permitting Directorate
Direct FRM technical services reporting to Flood and Water Management Managers within the Operations Directorate
Integrated operational delivery teams reporting to Land and Asset Managers within the Operations Directorate
Enabling Services providing central support to all NRW functions are also part funded proportionately by FRM funding to enable the delivery of the services they provide
As of March 2022, we estimate the FTE staff numbers working directly within the FRM areas identified as per the following table, (this report does not contain data on the number staff working in enabling services as this is too complex to identify specific roles and contributions).
Table 5: Full time equivalent staff numbers working directly in FRM
| Full Time Equivalent Staff Numbers | Organisational Work Area |
| --- | --- |
| 60 | National services and policy teams |
| 123 | Direct FRM technical services |
| 167 | Integrated operational delivery teams |
| 350 | Total estimate of FRM funded FTEs in NRW |
Forward look
Whilst the purpose of this report is to focus on the outcomes and achievements of the 2021-2022 financial year, a substantial amount of the work undertaken supports the delivery of projects and outcomes that will finish in future years. In the coming financial year (2022-2023) we aim to start significant construction works at two locations as well as progressing project development at several other locations across Wales. An update will be provided against these projects in the next annual report with some of the highlights of this upcoming work provided below:
Stephenson Street, Liswerry (Newport)
Homes and businesses in Liswerry, Newport are vulnerable to flooding from the River Usk during periods of heavy rainfall and high tides. Leisure amenities, industrial areas and key infrastructure are also at risk and the existing defences are in poor condition. Construction is currently due to begin in late 2022-2023. The scheme will look to raise parts of the existing earth embankment and in other areas, new flood walls will be constructed to raise the defence to the required level, and a new flood gate will be installed at the industrial area. When completed, the scheme will provide an increased level of protection to over 800 properties in the area. During 2021-2022 design work was finalised as well as advanced vegetation clearance works to facilitate the main delivery phase.
Ammanford (Carmarthenshire)
The cause of flooding in Ammanford is complex, with flood water spilling into the town at several locations. A combination of measures is needed to reduce the risk of flooding. Construction is currently scheduled to start in late 2022-2023 and will consist of a series of flood defence embankments and walls in several areas in the town to contain flood water in the River Loughor, and also the installation of Property Level Protection (PLP) measures. This scheme will provide approximately 300 properties with a reduced risk of flooding. Detailed Design was completed during 2021/22 as well as some essential tree clearance works to allow construction to begin in 2022-2023.
Risk based revenue allocation model (RBRAM)
We will continue to complete the development of the system to support RBRAM in the Asset Management (AMX) database. The development work will require testing in accordance with ICT procedures prior to launching into the live environment of the AMX database.
In order to achieve a good standard of business readiness for this agreed business change, documentation such as guidance describing the process with prescriptive instructions will be produced and approved before training and support is provided to the FRM Operation Teams to enable the utilisation of the RBRAM methodology to assess asset and related maintenance activity prioritisation.
We aim to use RBRAM as the tool to allocate funding for financial year 2023-2024 FRM Routine Maintenance Programme. We will be able to estimate the forecast spend throughout the year and monitor the performance of actual completed maintenance versus estimated.
Asset management database (AMX) improvements
Work will continue to improve our asset management database with three distinct projects: Flood Asset Intergrations, Flood Asset Construction Work, and Flood Asset Lifecycle project. The first of the project will integrate AMX with NRW corporate systems and improve the system performance. The Construction project will improve our Risk Management paperwork including Public Safety Risk Assessments, and also incorporate Incident response and Contingency plans. The last of the projects will look at a way of implementing asset lifecycle planning in AMX, with output indicative of maintenance programme, with a forecast of whole life cost/value of assets. This combination of projects is likely to span multiple years.
The Asset Group architecture will also be changed to enable the MEICA assets to be ported into the AMX system. The new group structure will benefit how NRW manage FRM assets from Public Safety Risk Assessments to FRM Reservoir Asset inspections. 
Asset management review
Following the gap analysis work to establish our performance against industry standards, we will develop a Strategic Asset Management Plan for FRM assets. This will be the first of tasks to produce an Asset Management System in line with that described by the Institute of Asset Management and ISO 55001.
Development of the flood map for planning
As part of the revisions to TAN15, we are replacing the current development advice map with a new Flood Map for Planning. This was initially published in September 2021 and is the first map to indicate future flood risk from climate change, assuming no defences are in place. Although the Flood Map for Planning has no official status for planning purposes until June 2023, the Welsh Government have instructed Local Authorities to revise their Strategic Flood Consequence Assessments by November 2022 in line with the new TAN15 and Flood Map for Planning.
We are currently working closely with the Welsh Government and Local Authorities to further refine the flood map for planning with updated local flood models and evidence provided by local authorities on flood risk from ordinary watercourses and surface water. The map is updated every 6 months in May and November.
We will also be referring to the Flood Map for Planning as the 'best available information' on flood risk to support our planning advice as part of our statutory consultee role.
Climate change allowances
We will be developing a project over the next financial year to consider changes in peak river flows and extreme rainfall events as a result of climate change. This will enable us to better understand the impacts of increased flows and rainfall on flood risk across Wales. We will also use this information to work with the Welsh Government on revisions to their climate change guidance for flood and coastal erosion risk management and for development planning purposes. 
Flood warning service renewal project
The Flood Warning System Renewal Project will continue in 2022-2023, with delivery of the new system expected in Summer 2024. This is a very significant ICT project, as it is the system through which we issue flood warnings to the public and partners. It is also a complex project with many data feeds and output, and its successful delivery is a key priority for us.
Flood volunteer network events
Following the easing of Covid 19 restrictions, and in consultation with the Flood Volunteer Network who are keen to meet again in person, we are planning to facilitate and deliver two Volunteer Network events to support Community Flood Volunteers and Communities at risk of flooding with involvement from National partners, Local Authorities and other supporting organisations that can offer advice and guidance. We hope to run these events in autumn 2022. 
Other places in Flooding reports, evidence and data