Flood risk management annual report 2020 to 2021
Foreword
Managing the risk from flooding is important. The impacts of flooding can be truly devastating for people, for communities, for businesses, for infrastructure, for the environment and for the economy. 
We have seen numerous examples of devastating flooding in recent years, both in Wales and across the world. The floods in Germany and Belgium in summer 2021, with huge loss of life, were another unwelcome reminder of the force of nature and the impacts of flooding. Residents of Wales will need no reminders of recent floods closer to home, be that from Storm Dennis in 2020, Storm Christoph in early 2021, or any of a host of other storms and floods that have happened in recent years. 
Flooding will happen in the future too. The latest Inter-Governmental Panel on Climate Change report published in summer 2021 was categoric in showing that we are experiencing more frequent and more extreme weather events, with more floods and more severe floods, and that we can expect more in the future.
It is within this context that Natural Resources Wales performs its hugely important flood risk management duties and activities. These are crucial, in managing the risks and seeking to lessen the frequency of flooding impacts and the consequences when it inevitably does happen. The challenges are huge. NRW cannot stop the weather and the rainfall, and we cannot stop all flooding.  But our work is to do our utmost within the resources we have to manage the flood waters (from main rivers and coastal flooding) and to invest in activities that help lessen the impacts. It is important work, it makes a difference and it is a vital public service. 
We do not, and can not, do this in isolation; we do it working alongside a range of partner organisations and with communities. This collective response and action, of which we are a major part, will always be required.
This report is about NRW's flood activities, and summarises the key elements in the financial year 2020/21. We intend this to be an annual report going forward. 


Jeremy Parr
Head of Flood and Incident Risk Management
Natural Resources Wales
Summer 2021
Executive summary
Natural Resources Wales (NRW) is the largest Welsh Government Sponsored Body, and we have as our core purpose the sustainable management of natural resources in Wales.
We have a range of roles and responsibilities, ranging from regulator to advisor, landowner and operator and emergency responder. We have a strategic oversight role for flood and coastal erosion risk management which involves the general supervision and communication of flood and coastal erosion risk management in Wales. We also have powers to manage flooding from main rivers, reservoirs and the sea.
In Wales, there are estimated to be 245,118 properties at risk of flooding. This is approximately 1 in 8 properties in Wales. We take a risk-based approach to managing the risk of flooding through the activities we do. This report summarises the investment, key activities and achievements in managing flood and coastal erosion risks across Wales by NRW for the financial year from April 2020 to March 2021.  It is based on the best available information at the time of writing (summer 2021). 
Throughout the year 2020/21, we responded to a number of significant storm events, some of which resulted in property flooding, evacuations and disruption.  We also continued to deliver vital recovery  work from the February 2020 flooding, with the backdrop of the covid-19 pandemic.  In this challenging backdrop, we also made considerable improvements to how we undertake flood risk management in Wales.
We intend to use this annual report to form part of the statutory report that NRW has a duty undertake (under Section 18 of the Floods and Water Management Act) on progress of the implementation of Welsh Government's Flood and Coastal Erosion Risk Management Strategy.  This Strategy was published in October 2020, and many of the activities described in this annual report will contribute toward the delivery of the objectives and measures included within that Strategy.
Some of key activities delivered by NRW in 2020/21 include:
Investment of £34.5m of Welsh Government funding on key flood risk management activities in Wales over the course of the year.
The launch of Flood Risk Assessment Wales maps which use the latest data available to categorise locations into high, medium and low risk of flooding from main rivers, the sea, surface water and small watercourses. This nationally consistent picture is vital to manage flood risk effectively – to manage flood risk, we need to understand the nature and magnitude of the risk, and communities need to understand their risk too.
The progression of numerous flood schemes, including the completion of construction work for the Crindau flood risk management scheme which protects over 660 residential and commercial properties from the risk of flooding from the Crindau Pill and tidal Usk in Newport. Significant projects at locations such as Ammanford, Llyn Tegid and Stephenson Street (Newport) were also progressed to enable construction in future years, and a whole host of smaller projects were delivered, alongside a comprehensive maintenance programme.
The progression of numerous asset management improvement projects, to ensure our data and processes enable us to optimise investment in the priority locations. These projects include further improvements to our asset inventory (AMX); a review of uneconomic assets; development of a risk-based revenue allocations model; development of the national asset database (for all Risk Management Authorities) and a gap analysis project to ensure our processes are up to standard.
The introduction of improved digital services to provide comprehensive flood risk, river level, rainfall and sea level information to households, businesses and communities in Wales.
The development of our policies on the role of Natural Flood Management in reducing the risks and impacts of flooding.
The delivery of the comprehensive review on our response to the February 2020 flooding, focussing specifically on our flood incident management operations and looking at how current practices we adopt in the management of the NRW land estate could be modified to reduce the risk of flooding. This review highlighted areas for improvement and recommended actions that are now being taken forward.
The recovery from the February 2020 flooding including repairing damage (both emergency fixes and more permanent work being designed and programmed for a later date), and responding to the huge volume of queries and requests for work.
Further information on all of these highlights and more is included in the report.
Introduction
This annual report details our key achievements and deliverables for flood and coastal erosion risk management for the financial year 2020/21. It provides detail on the activities that contribute towards the management of flood risk in Wales and also highlights key metrics and statistics which demonstrate the level of effort that goes into managing flood risk and the scale of the challenge faced.
This report does not cover every activity or service area in detail and is intended as a summary of the 2020/21 financial year highlights.  The information and data presented in this report is based on data available at the time of producing this summary (summer 2021). This report is intended to be a recurring annual publication and will complement the delivery of the next progress report on the Welsh Government Flood and Coastal Erosion Risk Management Strategy (the 'Section 18 report', required under Section 18 of the Floods and Water Management Act).
Flooding experienced over the past year (April 2020 – March 2021)
Each year, we plan the work we want to deliver to manage flood risk. On top of that, we must respond to flood events when they happen. Our response may just be reactive to manage the flood event at the time, or it may generate additional work that we need to deliver. This section provides a summary of the more notable flooding events during the year that we responded to – the ones that caused significant disruption or damage to communities.
We monitor and respond to floods whenever they happen - 24 hours a day, 7 days a week, 365 days a year. This includes tracking forecasts, issuing warnings, ensuring flood and hydrometry assets are operating properly, fixing repairs, posting up-to-date information on our web-site, handling media interviews and queries and supporting other incident responder organisations. When an event occurs it clearly impacts our ability to deliver other planned work as we react to the challenges each severe weather event introduces, both during and in the period following these events, as we deal with the impacts and the aftermath.
Flooding over 2020/21 financial year
Following a very wet winter period and the widespread and severe flooding during February 2020, the start of financial year 2020/21 was very benign with dry and fine weather dominating throughout much of April and May.
Storm Francis, 25 August 2020


Storm Francis delivered heavy rain with unusually high winds for the time of year. Localised flooding was experienced across Wales with evacuations required in Bethesda and Beddgelert. A number of flood alerts and flood warnings were issued and operational response was undertaken in a number of locations across Wales, particularly in Llanelli where we supported Carmarthen Council to draw down the level of Trebeddrod reservoir.
Storm Alex, 3 October 2020


Storm Alex marked the start of the autumn / winter storm season across Wales. 30 to 50mm of rain fell widely across Wales, and led to flood alerts and warnings to be issued. The heavy rainfall in North Wales led to a breach in defences in Abergwyngregyn where a small number of properties experienced flooding. Our staff were on site to undertake emergency works to repair the breach and monitor the ongoing situation in the unsettled days that followed.
Storm Aiden, 31 October 2020


Storm Aiden caused widespread heavy rainfall across Wales resulting in the issuing of over 30 flood alerts and two flood warnings. Widespread travel disruption was experienced, particularly in North Wales where a number of roads were closed or badly flooded.
Unnamed storm, 18 December 2020


40 to 60mm of rainfall fell widely across South Wales with up to 80 to 100mm in localised areas. 98mm of rain fell at Llyn-y-Fan Blaenau in a 24 hour period which is roughly half the monthly average for December in one day. The heavy rainfall during a relatively short duration (9 to 12 hours) resulted in a number of flood warnings and flood alerts to be issued with impacts experienced on the ground with flooded roads, isolated property flooding and concerns around the stability of a coal tip above Wattstown in the Rhondda Valley. Our staff were on site in a number of locations providing operational response, particularly at the Ritec in Tenby where highest ever river levels were recorded as a result of the saturated catchment and high tides.
Unnamed storm, 23 December 2020


Localised river flooding affected numerous locations across South Wales on the 23rd December after 50 to 70mm of rainfall fell, with particularly heavy rainfall over lower-lying catchments along the South Wales coastline. Impacts were experienced in Newport, Monmouthshire, Torfaen and Cardiff, some in communities which rarely experience flooding. The worst affected location was Dinas Powys, Vale of Glamorgan where approximately 70 properties experienced internal flooding from the rivers Cadoxton and East Brook. We are working with the community to consider options to improve flood protection to the town.
Storm Christoph, 20 January 2021


Storm Christoph bought significant rain to all parts of Wales, with the worst impacts affecting North Wales where it recorded one of the wettest 3-day periods on record, with weather fronts bringing persistent rain to these parts. Over a 72 hour period, 198mm of rainfall was recorded at the Cwm Dyli raingauge in the Glaslyn catchment (North Wales). At the peak of the event, our duty officers had issued two severe flood warnings, 62 Flood Warnings and 57 Flood Alerts. The significant rainfall and river flooding led to the evacuation of residents in Bangor on Dee, the collapse of a bridge over the river Clywd and over 20 properties flooding in Ruthin, Denbighshire. Elsewhere, multiple other isolated properties experienced flooding around North Wales and South West Wales as the rivers responded to the rainfall. During this period of unsettled weather, we recorded over 142,000 users to our flood warnings and alerts pages of our website.
Unnamed storm, 19 and 20 February 2021


Widespread and heavy rainfall led to multiple flood warnings and flood alerts issued across Wales. Carmarthenshire saw 127.6mm of rain across the period, which compares to an average rainfall of 98mm in South Wales for the whole of February. Property flooding was experienced in Crickhowell and Carmarthen, many of which were also affected by flooding from Storm Dennis in early 2020. An evacuation was ordered in Newcastle Emlyn over concerns of the risk of flooding. Our staff undertook operational response in many locations across Wales, including Abergwili where we operate flood gates to reduce the risk of flooding.
Publication of the February 2020 flood review
The record rainfall and river flows triggered by Storms Ciara, Dennis and Jorge in February 2020 arrived following an exceptionally wet winter and led to the most severe and widespread flooding incidents seen in Wales since 1979. In total, flooding impacted 3,130 properties across Wales.  
We undertook a significant review into our response to the storms, focussing specifically on our flood incident management operations and looking at how current practices we adopt in the management of the NRW land estate could be modified to reduce the risk of flooding. We published our response to Storm Ciara and Storm Dennis on our website in October 2020. We are now working to take forward the actions from the reviews, with many actions and recommendations providing future work for the coming financial years.
February 2020 floods – our own recovery
Recovery means dealing with the immediate aftermath and putting in place a plan that brings the organisation back to 'business as usual' after the incident. We worked to address the immediate impact on NRW from the February 2020 storms including repairing damage (both emergency fixes and more permanent work being designed and programmed for a later date), restoring operations, and ensuring that staff and the organisation can return to full capability. This work ran alongside the ongoing response on the ground, as well as the review work.
As part of our recovery work, we inspected 2,127 flood defences and structures to ensure that they continued to offer protection and inspected 170 high risk assets on the NRW land estate such as bridges. All works to our flood defences that were deemed urgent and that required immediate attention have been completed to ensure communities have the same level of flood protection they had before winter 2019/20. This included repairs to our flood assets at locations including Abergele, Llanrwst, upstream and within Llanfair Talhaiarn, Ponthir, Usk town and on the Afon Elwy upstream of St Asaph.
We continue to work closely with communities that have been impacted, or that are at greater risk, to determine if there are any further long-term solutions that can be implemented. However, these are more complex issues and will take more time and investment to address. This includes reviewing options for the Lower Taff (from Pontypridd area to Cardiff), a major undertaking which has started with a review of the modelling.  It also includes work in locations such as Ystrad Mynach, Bedwas, Bangor on Dee and damaged defences in locations in Cardiff.
Responding to flood incidents during COVID-19
Despite the difficulties faced at the start of the COVID-19 pandemic, we still managed to deliver our flood forecasting, warning, operational response and incident reporting services. Flood incident response work has carried on remotely through the creation of virtual incident rooms enabled by resilient technology and flexible working arrangements. Our other flood risk services have also continued throughout this period working under the constraints of the Government rules on working with a substantial amount of our workforce becoming home based for the duration of 2020/21.
Understanding and analysing flood risk
This work area includes all efforts to increase the understanding we have of flood risk in Wales, mainly through our hydrological analysis and flood risk modelling activities. It also includes how we communicate that flood risk to stakeholders through our flood mapping products and website services. Its purpose is to increase our understanding of flood risk, to inform and advise all our other activities, and to inform stakeholders of their relevant flood risk.
We have powers to manage flooding from main rivers, our reservoirs and the sea. We also have a strategic oversight role with general supervision over all FCERM matters. This is about having a Wales-wide understanding of all sources of flooding, coastal erosion and the risks associated with them, on a consistent basis to provide advice to the Welsh Government as well as helping inform RMAs and the public. As part of our oversight role, we undertake national flood and coastal erosion risk mapping for all sources of flood risk.
What's at risk of flooding?
As of April 2021, the undefended sum of properties at risk of flooding in Wales is 291,070. Some properties may be at risk from more than one source and therefore removing any double or triple counting of properties at risk from multiple sources it's currently estimated that 245,118 properties are at risk of flooding in Wales.
The following tables show the split of properties by level of risk and source, correct as of April 2021.
| Flood risk description | Residential properties at risk of flooding | Non-Residential properties at risk of flooding | Key Services at risk of flooding | Total at risk of flooding |
| --- | --- | --- | --- | --- |
| Fluvial High | 21,958 | 2,670 | 508 | 25,136 |
| Fluvial Medium | 14,936 | 2,020 | 326 | 17,282 |
| Fluvial Low | 40,984 | 5,814 | 954 | 47,752 |
| Fluvial Total | 77,878 | 10,504 | 1,788 | 90,170 |

Table 1 shows the numbers of residential properties, non-residential properties and services at risk of flooding in Wales from fluvial sources.
| Flood risk description | Residential properties at risk of flooding | Non-Residential properties at risk of flooding | Key Services at risk of flooding | Total at risk of flooding |
| --- | --- | --- | --- | --- |
| Tidal High | 42,229 | 4,424 | 808 | 47,461 |
| Tidal Medium | 11,764 | 1,835 | 318 | 13,917 |
| Tidal Low | 8,288 | 1,154 | 222 | 9,664 |
| Tidal Total | 62,281 | 7,413 | 1,348 | 71,042 |

Table 2 shows the numbers of residential properties, non-residential properties and services at risk of flooding in Wales from tidal sources.
| Flood risk description | Residential properties at risk of flooding | Non-Residential properties at risk of flooding | Key Services at risk of flooding | Total at risk of flooding |
| --- | --- | --- | --- | --- |
| Pluvial High | 31,192 | 3,347 | 740 | 35,279 |
| Pluvial Medium | 16,425 | 1,892 | 344 | 18,661 |
| Pluvial Low | 68,113 | 6,428 | 1,377 | 75,918 |
| Pluvial Total | 115,730 | 11,667 | 2,461 | 129,858 |

Table 3 shows the numbers of residential properties, non-residential properties and services at risk of flooding in Wales from pluvial sources.
Publication of the Flood Risk Assessment Wales map


We launched an update to our online flood mapping service with the publication of the Flood Risk Assessment Wales (FRAW) map in October 2020. This is a new national risk assessment for flooding from rivers, the sea, surface water and small watercourses to categorise locations into high, medium and low areas of risk. It also displays extra information, such as flood defence locations and the local benefits they bring. The flood risk map viewer is available to view with the new data also available on Welsh Government's Lle website.
Figure 1 shows a screenshot from the FRAW map. The map shows the areas that are at what level of risk from flooding from rivers, the sea and surface water in Cardiff.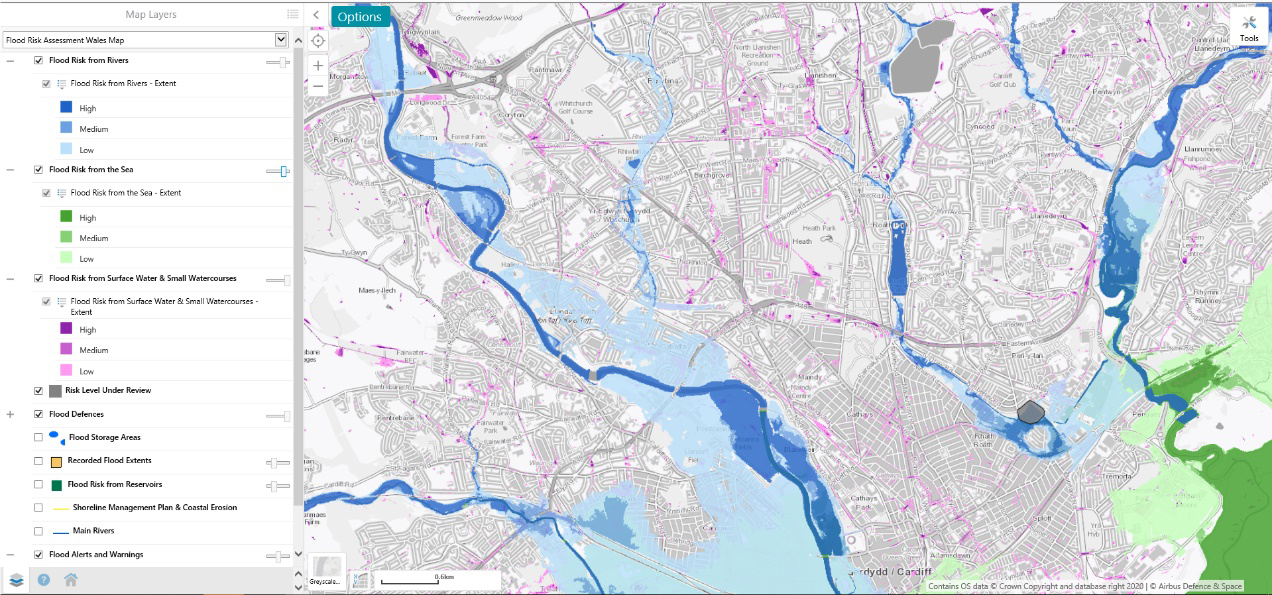 Development of Flood Risk Assessment Wales Economic Toolset


We have developed a software tool to explore the impacts of flooding under future climate and population growth scenarios, and how the impacts can be mitigated by a range of adaptation measures. This will inform our understanding of present day and future risk, how this is mitigated by defences and other flood risk management measures, and how adaptation can be used to offset the impacts of climate change.
Development and publication of the Communities at Risk Register


The Communities at Risk Register (CRR) allows the level and distribution of flood risk to be quantified across Wales using a standard methodology across all flood sources to calculate a theoretical 'Danger' score.  We use it to help us prioritise flood risk management interventions, such as investment in new schemes. In October 2020, we made this tool available for the first time through the Welsh Government's Lle website. We are continuing to work to make this accessible and will make this available through our website in due course.
National Receptors Database (NRD)


A new National Receptor Database (NRD) has been created as part of the Flood Risk Assessment Wales (FRAW) project. The NRD is a collection of risk receptors, typically residential and commercial property, which will help Risk Management Authorities manage flood and coastal erosion risk.
Publication of National Flood Hazard and Risk maps


The National Flood Hazard and Risk maps were published to comply with the Flood Risk Regulations (2009) and the EU Directive (2007/60/EC), and used to inform the creation of Flood Risk Management plans across Wales.
Sea level change guidance


We have supported the Welsh Government in updating their climate change guidance for future projections of sea level rise. The revised sea level rise allowances are now presented for each local authority administrative area, with the impact of climate change dependent on location.  This revised information will enable a better understanding of future risk at the local level and enable decision makers to determine and plan for appropriate mitigation measures accordingly.
Local modelling improvements


We have progressed a number of local modelling improvements over the past year. These include projects to improve modelling at the following locations: St Clears, Tregaron, Swansea, Afon Cynon, South Tremadog Bay and the tidal river Dee.
Management of flood risk assets
This work area includes all activities in relation to the management of our flood risk assets. This includes the construction of new flood alleviation schemes, maintenance of existing structures, understanding their condition, management of asset data and the planning for future work requirements. Its purpose is to ensure the effective and efficient management of our flood risk assets, seek opportunities to reduce flood risk through construction of new assets and ensure our assets are ready and able to perform as expected in times of flooding.
New assets
Through completing Capital schemes in Crindau (Newport) and Llwynypia (Rhondda Cynon Taf), 720 properties have benefitted from a reduced level of flood risk during 2020/21.
Alongside the completion of these schemes, we have over 20 major schemes that were at various stages of development during 2020/21. These schemes will form the majority of our future years capital expenditure and include locations across Wales such as Bala, Pwllheli and Porthmadog (Gwynedd), Llangefni (Isle of Anglesey), Llanfair Talhaiarn (Conwy), Glasbury (Powys), Cardigan (Ceredigion), River Ritec (Pembrokeshire), Ammanford (Carmarthenshire), Ely Bridge, Leckwith (Cardiff), Stephenson Street, Liswerry (Newport).
In addition, 950 properties have benefitted from a sustained level of protection through capital maintenance works. This is important capital investment in existing flood risk assets in order to maintain the standard of protection they currently give to the communities which benefit from them. The investment is typically needed to extend or achieve the asset design life and typically involves significant repairs and refurbishment of existing structures.
Case study – Completion of flood protection scheme in Crindau, Newport


Construction work completed this year on a £14m flood protection scheme in the Crindau area of Newport, with more than 660 properties benefitting from an increased level of protection. The scheme protects residential properties and local businesses from the tidal flood risk posed by the Crindau Pill and River Usk. The scheme comprises of sheet pilling, new walls and new embankments along a 2.6km stretch of river. The scheme was designed with climate change and predicted sea level rise in mind, allowing it to be adapted as necessary in future. As part of the project, a number of other improvements have been made for the benefit of the community – including new footpaths, cycle paths, public seating areas, a new amenity area and a children's fitness trail.
Figure 2 is a photograph showing the new children's fitness trail that was created as part of the Crindau flood alleviation scheme.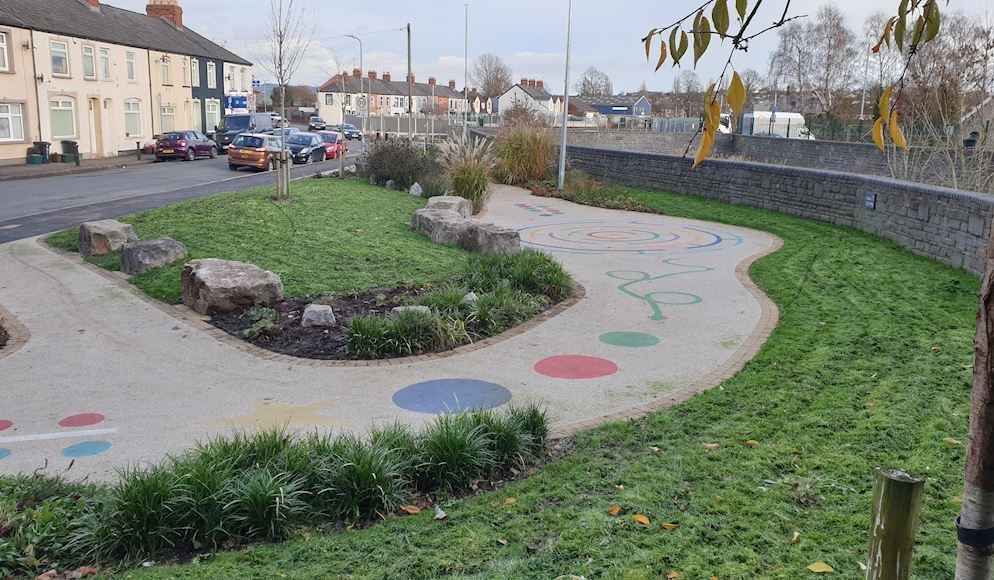 Asset management
Asset maintenance


We undertake a routine inspection and maintenance programme to ensure our flood risk assets are fit for purpose.
At the end of the financial year 2020/21, 92.5% of routine asset inspections were completed compared to inspections that were scheduled to be delivered. During these inspections, 97.5% of our flood assets in high flood risk systems were found to be at or above their required condition.
Alongside our routine maintenance programme, we have a number of projects ongoing to help improve asset management within NRW and other Risk Management Authorities.
AMX improvements


AMX (Asset Management eXpert) is an existing asset management system used by NRW.  The vision is that this will be the centralised system for all flood asset data which we will use for the management and maintenance of flood assets to help with decision making. The information through this system will be accessible to a broad range of staff across the business, all with different levels of interest in the data. The latest phase of development has focused on the addition of Hydrometry and Telemetry assets, and linking a defect process to help identify and schedule ad hoc fixes.
Uneconomic assets – pumping station review


We have been undertaking a detailed review of NRW operated pumping stations to help develop a long term management strategy for these assets. We currently operate and maintain 21 pumping stations across Wales and this project seeks to reduce costs and carbon by decommissioning assets where the costs significantly outweigh the benefits. Through the project, we wish to better understand the operation of the stations and the flood risk management benefits they provide to residential and commercial properties. We will continue to operate pumping stations where continued investment can be supported and justified by a positive benefit cost ratio. For those that the costs outweigh the benefits, we will explore options for decommissioning or transferring these assets. This is an ongoing project.
National asset database


We are working to deliver a National Flood Risk Asset Database that contains data on flood and coastal erosion risk management assets owned or designated by Risk Management Authorities. To date, our database (AMX) contains information from NRW and initial information from Lead Local Flood Authorities but further work is needed before this can be used as the valuable tool it will become. This work is ongoing and is planned to  be delivered by the end of 2021, in line with WG's National Flood and Coastal Erosion Risk Management Strategy.
Asset Management review - gap analysis project


We have 9000 maintained assets that have a primary function to reduce flooding to people and property. We recognise there are improvements we could make to the way we manage our flood risk assets and are seeking an industry standard benchmark so we can have confidence in the way we manage our assets, and that they are fit for purpose. We are working with consultants to undertake a good practice review and assessment of our current systems against industry standards. The intention of the assessment is to understand our current approach and systems for flood risk management assets; compare these with good practice and the requirements of industry standards; and to identify areas for improvement. This will help us prioritise any opportunities for improvement in the future.
Reservoirs
We are the regulator for reservoirs in Wales, and are the authority for the registration, compliance and enforcement of the 371 reservoirs across Wales that are registered under the Reservoirs Act (1975) and associated regulations and amendments.  As part of this regulatory role, we also are a member of the reservoirs committee of the Institution of Civil Engineers, which advises Governments of the attributes of engineers required by this sector in the UK. We are also a reservoir operator (or 'undertaker' in the language of the Reservoir Act).  Key activities in these two roles are described in this section.
Reservoir regulatory role
NRW is the enforcement authority for the Reservoirs Act 1975; this is the law which sets the minimum standards to ensure the safety of reservoirs. There are 371 registered reservoirs in Wales of which 188 have previously been designated as high-risk reservoirs where a failure of the dam could endanger life. During 2021, we provisionally designated 37 reservoirs as high risk and confirmed that 1 was not high risk under the Act, using the evidence supplied by reservoir flood maps.
Reservoir mapping project


We have progressed our flood mapping project to produce flood maps which show the extent and hazard posed by a flood which could follow the failure of a reservoir. This information will enable us to have a better understanding of reservoir flood hazards in dry and wet day scenarios. This provides the evidence for our reservoir risk designations and helps focus our regulatory work. The maps will be accessible through the Resilience Direct website and provide important planning information for emergency responders.
Developing our regulatory role


We have reviewed the extent of our reservoir duties and are challenging ourselves on what more we should do as a regulator. We are seeking to alter our approach to focus on achieving greater outcomes for reservoir safety in Wales, beyond those necessary for legal compliance. Further work will be done on this into 2021/22, influenced by the publication of the review into reservoir safety following the Toddbrook incident in England Independent Reservoir Safety Review Report (publishing.service.gov.uk).
'Potentials' project


We actively seek out reservoirs which have not been registered but which are liable for regulation by us. Our investigations have identified additional large raised reservoirs for which we are securing registration and entry into the reservoir flood mapping project. By identifying reservoirs such as these, we can ensure that they are managed in the appropriate manner to reduce risk to society.
Ownerless reservoirs


Using Powers from the Reservoir Act 1975, we are currently undertaking works at two reservoirs in Wales where the reservoir owner has not been identified. These reservoirs are Llyn Cae Conroy and Cwm Clydach Dam. Reservoir hazard mapping at these reservoirs show that if there was to be an uncontrolled release of water from the reservoirs, there would be a danger to life downstream. Works to make the reservoirs safe have commenced at both sites with works expected to conclude during 2021/22.
Reservoir enforcement


Where a reservoir owner or operator fails to comply with the law, we have enforcement powers to ensure matters of safety are addressed. At the end of the year, we had enforcement notices in place at three reservoirs. At one of these sites, a lack of action by the undertaker to decommission the reservoir has prompted us to develop a plan for reducing the water levels to enable investigation to establish the extent of work required.
Reservoir incidents


We recorded safety related incidents at five reservoirs during the year. The reservoir owners responded well to these incidents with advice from their advising engineers. At one incident our field team assisted with the temporary use of a pump to supplement other resources supplied by the undertaker and emergency services. None of the incidents resulted in the failure of a reservoir but emergency and remedial action was required to protect against future similar events.
Reservoir undertaker role
We have 13 reservoirs designated for flood risk management purpose that are registered under the Reservoirs Act 1975. As of the end of March 2021, two of our flood risk management reservoirs were non-compliant with the Act. On one occasion this was a failure to visit a flood storage area during impounding events whilst resource for this responded to widespread fluvial flood events. Additional staff have now been trained for this role in the future. The second relates to the establishment of newly seeded grass following a construction project which we anticipate being resolved by summer 2021. We address any breach through our programme of works on reservoir improvements.
FRM Reservoir improvements


We have progressed a programme of reservoir improvements to ensure our reservoirs are safe and fit for their flood risk management purpose. We have completed significant repairs to an embankment in the Dyffryn Conwy flood alleviation scheme and completed the detailed design for the significant improvement works needed for Llyn Tegid that will take place from summer 2021. We also completed surveys and studies required from the last inspection reports at the Cowbridge and Llanblethian Flood Alleviation Scheme and Frampton Flood Storage Area.
Advising planners, consenting and enforcement
This work area relates to all discretionary and statutory advice in regard to flood risk and our role as a consultee within the planning process. The aim is to provide effective advice to influence and control development in flood risk areas, preventing more people and properties becoming exposed to increased flood risk. It also includes our permitting regimes. Combined, these roles seek to control development in flood risk areas and flood risk activities in or around main rivers.  We also undertake enforcement where flood risk activities may cause or exacerbate flood risk.
Development planning advice
We are a statutory consultee on flood risk for all development proposals in Flood Zone C2 (areas at risk of 1 in 1000 flood event and without defences) and for highly vulnerable and emergency services development in Flood Zone C1 (areas at risk of 1 in 1000 flood event and with flood defences). Over the past year, our advice has helped to prevent inappropriate development being approved in locations where the risk of flooding would be difficult to manage. Where development has been permitted despite the flood risks, we have provided advice on flood resistance and resilience measures that could be incorporated to help reduce the risk both now and in the future. 
Updating TAN15
We are working closely with the Welsh Government to support revisions to their planning policy (TAN15: Development, Flooding and Coastal Erosion) so that future planning decisions can be made on the best available information.  We have provided advice to ensure the final policy supports sustainable decision making, taking account of future climate change impacts and which aligns with other strategies and legislation.  The updated TAN15 is scheduled to be published in September 2021.
Regulating flood risk activities
We regulate activities carried out on or near a main river, on or near a flood defence structure, including a sea defence, or within a flood plain under the Environmental Permitting Regulations 2016. We do this by issuing a flood risk activity permit to ensure the activity does not cause any increase in flood risk, adversely impact land drainage in the area, or cause environmental damage to the local environment, fisheries or wildlife.
Over the past year, we have issued 214 flood risk activity permits across Wales.
Enforcement case study: unpermitted fencing along Dee embankment
We were notified of a landowner who erected 1.7km of fencing along the crest of an embankment on the river Dee without a flood risk activity permit. The fence compromised our access to carry out regular maintenance to the defence and could impact on the stability of the defence which could increase the flood risk to a large area of Sealand. We served a remediation notice on the landowner requiring the fencing to be removed and the damage repaired. The landowner undertook the removal works and we came to an agreement that the fence could be relocated elsewhere.
Flood forecasting and issuing warnings
This work area delivers our flood forecasting and flood warning services to the public and professional partners. Its purpose is to provide effective warnings and information to people at risk of flooding enabling them to take direct action to protect life and property in the build up to a flood event.
It includes the detection and forecasting of flooding in real time in the lead up to and during flood incidents, the issuing of flood warnings to those directly at risk and the provision of information on the latest situation and warnings in force via our website, Floodline and our live data portal.
Our teams deliver the planning and preparation of these services before a flood event including data, systems, operational procedures, training of duty staff and management of duty rotas. The services are delivered by a number of specialist duty officer rotas using staff from our teams. Our duty officers are on standby duty 24/7 365 days per year ready to respond to potential and actual flooding at any time of day or night.
Flood Forecasting and Warning over the 2020/21 financial year
Elevated flood risk is highlighted through the Flood Guidance Statement which provides a daily flood risk forecast for 5 days to Government and professional partners to assist with strategic, tactical and operational planning decisions around developing flood risk. The information is also shared with the public through 5 day flood risk for Wales. From April 2020 to March 2021, there were 153 days of elevated flood risk (minor forecast impacts and above) and within those, 39 days of heightened flood risk (significant forecast impacts and above). Section 2 of this report highlights the main storms during the year that led to elevated flood risk and associated impacts.
In total, we issued 596 flood alerts, 195 flood warnings and two severe flood warnings during 2020/21 in response to the risk of flooding. There were 1,057 calls made to floodline agents and over 730,000 visits to our flood warnings and alerts webpage. December 2020 and January 2021 were the months with the biggest number of visits with just under half of the total visits (364,000) received during these months.
Figure 3 shows the number of flood alerts, flood warnings and severe flood warnings issued each month of the financial year 2020/21.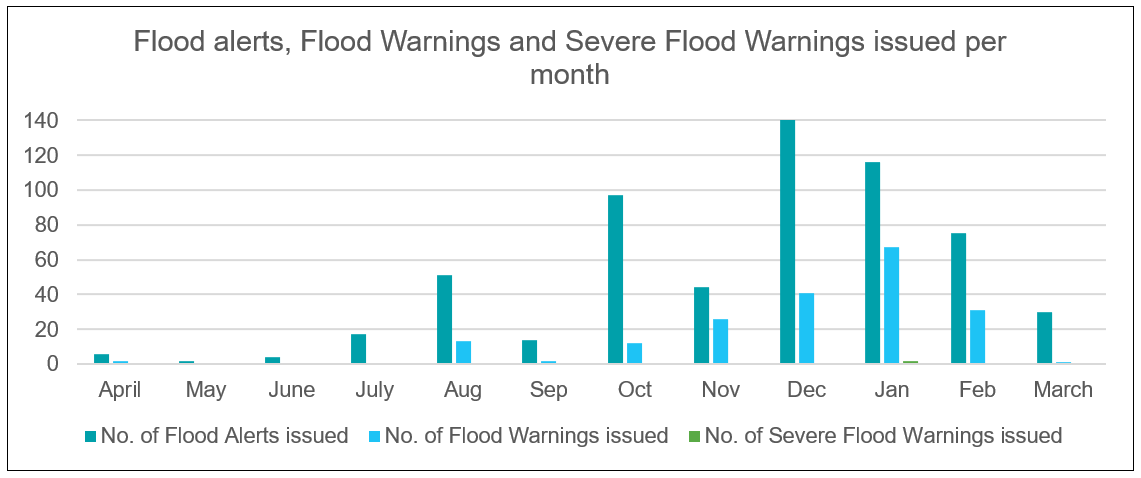 Analysis of the numbers of flood alerts, flood warnings and severe flood warnings issued each month shows a general trend of increasing numbers issued up to a peak in December 2020 and then a general trend of decreasing to March 2021.
Flood warning and flood forecasting services
Flood Warnings and 5 day flood risk forecast


We introduced new digital services to provide comprehensive flood risk and flood warning information to households, businesses and communities in Wales in December 2020. The daily flood risk forecast for 5 days provides clearer information including a larger map, a summary of the flood risk for Wales and clearer information on actions to take for each level of flood risk.
Our new Flood Warnings and Alerts service includes a search function (e.g. by postcode), displays information in a way which is quicker and easier for users to find what they need, provides interactive map features and detailed information for each Flood Warning and Flood Alert area, including direct links to related services such as 'sign up to receive direct flood warnings' and local river levels.
Figure 4 is a screenshot from the improved flood warnings and alerts section of our website. This image shows the Flood Warnings and Flood Alerts that were in force in Carmarthenshire at 20.58pm on 21 January 2021.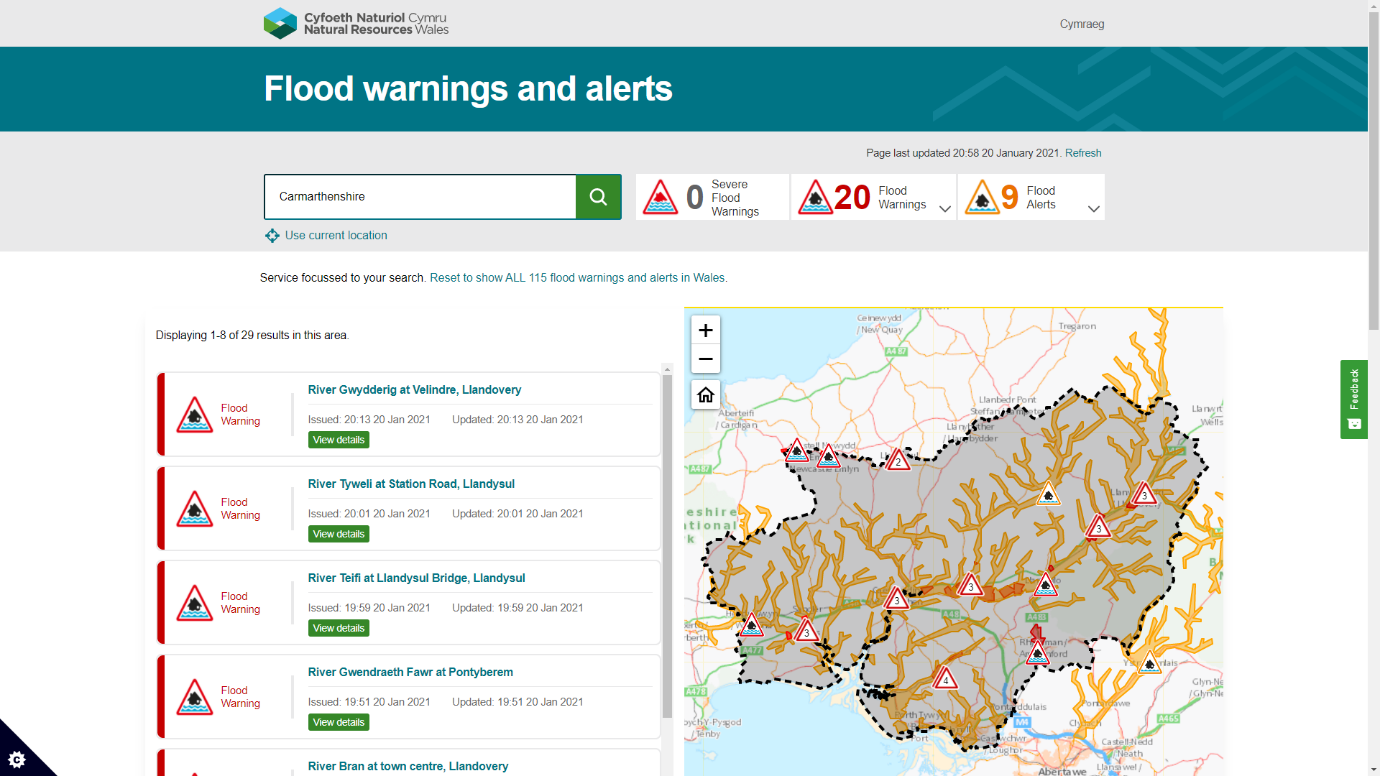 Number of properties registered for Flood Warnings


We issue three different kinds of flood warning via our flood warning service: Flood Alerts, Flood Warnings and Severe Flood Warnings. This information is communicated direct to those that are at risk and can be obtained through our dedicated Floodline information service (0345 988 1188) and on our website, which is updated every 15 minutes. As of March 2021 there are 52,011 properties registered to receive warnings via the flood warning service. This is supplemented by the Extended Direct Warnings initiative which means that in total 132,581 properties are signed up to receive the flood warning service in Wales.
Extended Direct Warnings


Of the properties at risk which are able to receive flood warnings in Wales, approximately 40% are registered to receive flood warnings.  To increase this service take-up, we have continued to work in partnership with the main telecommunication providers (BT, EE, O2, Three & Vodafone) to provide warnings to people at risk of flooding who have not registered to the service by pre-registering their telephone numbers onto the service. This means we can also send our warnings to almost all of the remaining properties in Wales where a warning service is available. Through this initiative an additional 80,570 properties now receive our flood warning service in addition to the 52,011 directly registered.
Flood Warning Service Review


This year, we endorsed a comprehensive Flood Warning Service Review which provided a five year implementation plan to deliver a service that is customer focused, risk based, nationally consistent and supports our corporate objectives while being efficient and providing value for money. The Service Review generated 83 recommendations that following assessment against the recommendations of the February 2020 Floods Review and the Coastal Review 2014, will be taken forward to delivery in future years through a series of key projects.
Creation of new Flood Warning and Informing team


The national Flood Warning and Informing team has been created to deliver a consistent flood warning and informing service in Wales and to ensure we have the capacity as an organisation to support our flood warning system and digital services.  The team will deliver work to improve the service, including lessons learnt from the February 2020 floods review and the Flood Warning Service Review. Improvements and new ways of working will be delivered which aims to improve partnership working within NRW and also with external organisations such as the Environment Agency, to ensure that any new Flood Warning system is resilient, meets customer needs and keeps pace with technological change.
Improvements to the Flood Forecasting service


Following the significant flooding in February 2020, work has been done to review and recalibrate existing flood forecasting models, as well as introduce new coastal and fluvial forecast locations for communities at risk of flooding. This work improves our ability to provide timely and accurate Flood Alerts and Flood Warnings as well as informing the flood risk assessment for the next 5 days in the Flood Guidance Statement.
Forecast Web Service


We are working to make improvements to the system we use to share flood forecasting data and products internally with Flood Warning Duty Officers. This system is called the Forecast Web Service. Flood forecasting information helps our Flood Warning Duty Officers to make decisions around issuing Flood Alerts and Flood Warnings, improving understanding of flood risk and improving lead time and accuracy. The improvements to the system will better enable duty officers to access and interpret information, leading to better utilisation of the forecast data.
Delivering hydrometry, telemetry and hydrology services
This work area delivers our hydrometry, telemetry and hydrology services which collect, analyse and report data which underpins a range of flood and water management services across NRW. This includes flood risk modelling and mapping, flood risk scheme appraisal and design (standards of protection), reservoir safety, flood forecasting and warning, river regulation and post flood assessments in terms of the amounts of rainfall, river levels recorded and their severity (e.g. historic ranking or return period).
As well as gathering, processing and archiving this data for NRW, this work area also reports and shares the data with internal and external customers through specific data requests, data transfers and provision of digital services on our website including our live River Levels, Rainfall and Sea Data service and the associated API which allows third parties to ingest our data for their use or re-presentation e.g. via mobile apps or other websites.
Hydrometric network
The hydrometric network across Wales comprises of 253 raingauges, 340 level or flow sites and 139 groundwater sites.
Figure 5 is a map showing the locations of hydrometric sites across our Welsh network of groundwater sites, raingauges and river level or flow sites. This data was correct as of March 2021.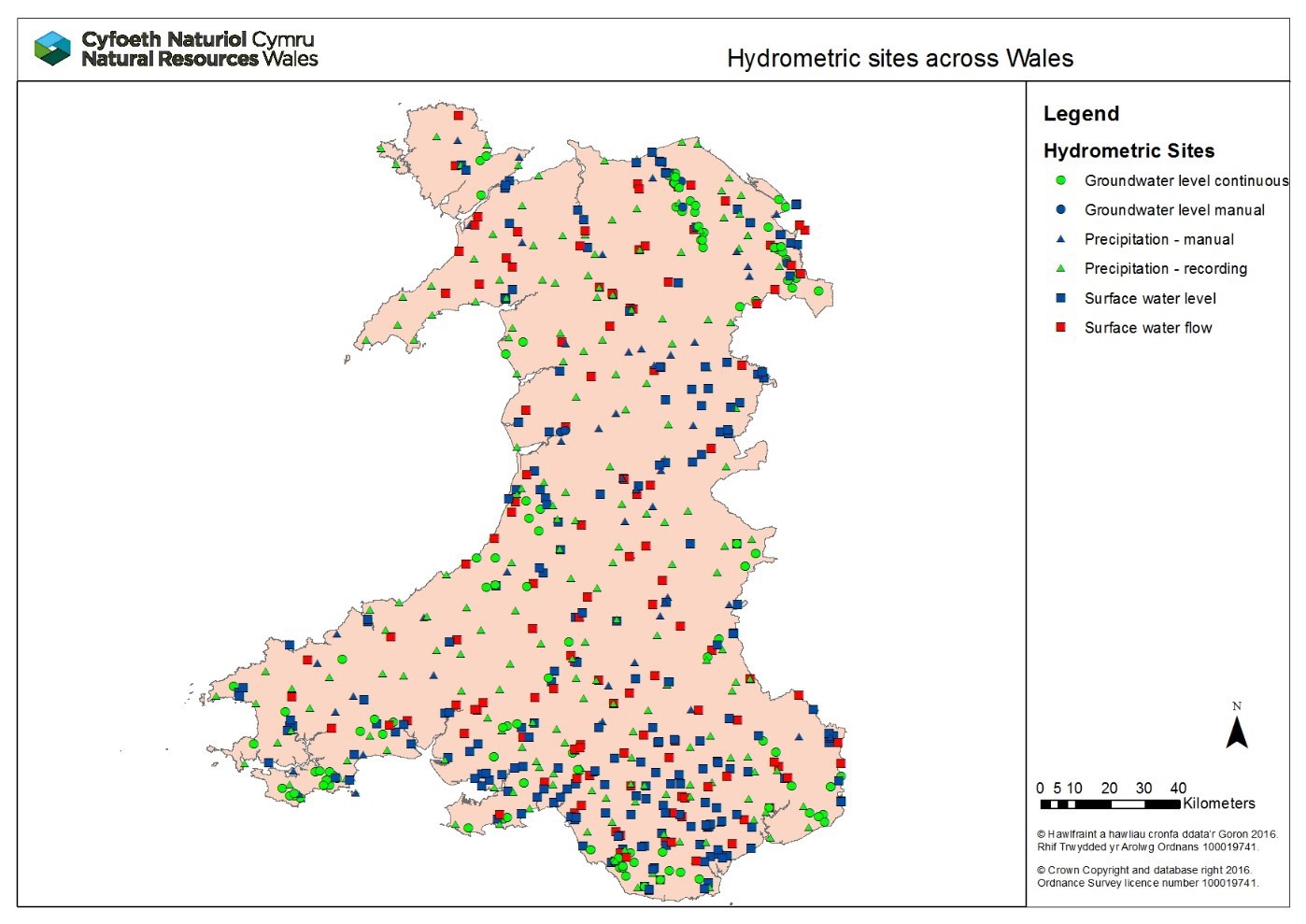 Hydrometric network improvements delivered in 2020/21
During the last year, improvement of the hydrometric network has been extremely challenging due to lockdowns, travel restrictions and social distancing. We were able to progress work in some areas by planning installations and purchasing equipment ready for installation at a later date and also delivering the addition of three rain gauges to the network.
In addition, a small number of maintenance projects were completed for our hydrometric assets through the course of last year to ensure the assets can continue to collect data to the standards required:
Works have been undertaken on the River Ithon at Disserth to improve fish and eel passage by refurbishing our weir structure along with improving access to the channel to help us undertake work in this location.
Repair works have been undertaken to make repairs to the gauging station on the River Teifi at Llanfair, caused by the winter 2019/20 flood events. This involved general maintenance and installation of new stilling pipes between the station building and river.
River Levels, Rainfall and Sea Data service


In September 2020, we launched our new River Levels, Rainfall and Sea Data service on our website to replace the existing Check River Levels service. The new service provides live data from over 400 monitoring stations across Wales. It is also a valuable resource for recreational river users, such as anglers and water-based activity enthusiasts who depend on up to date river levels for planning their activities. The improvements include offering rainfall and sea data for the first time, greater functionality, more detailed maps, larger data sets, improved mobile device compatibility, and a better user experience through quicker and easier navigation on our website between information on flood warnings in force and water levels in or close to the flood warning area.
Figure 6 shows a screenshot from the improved river level, rainfall and sea data section of our website.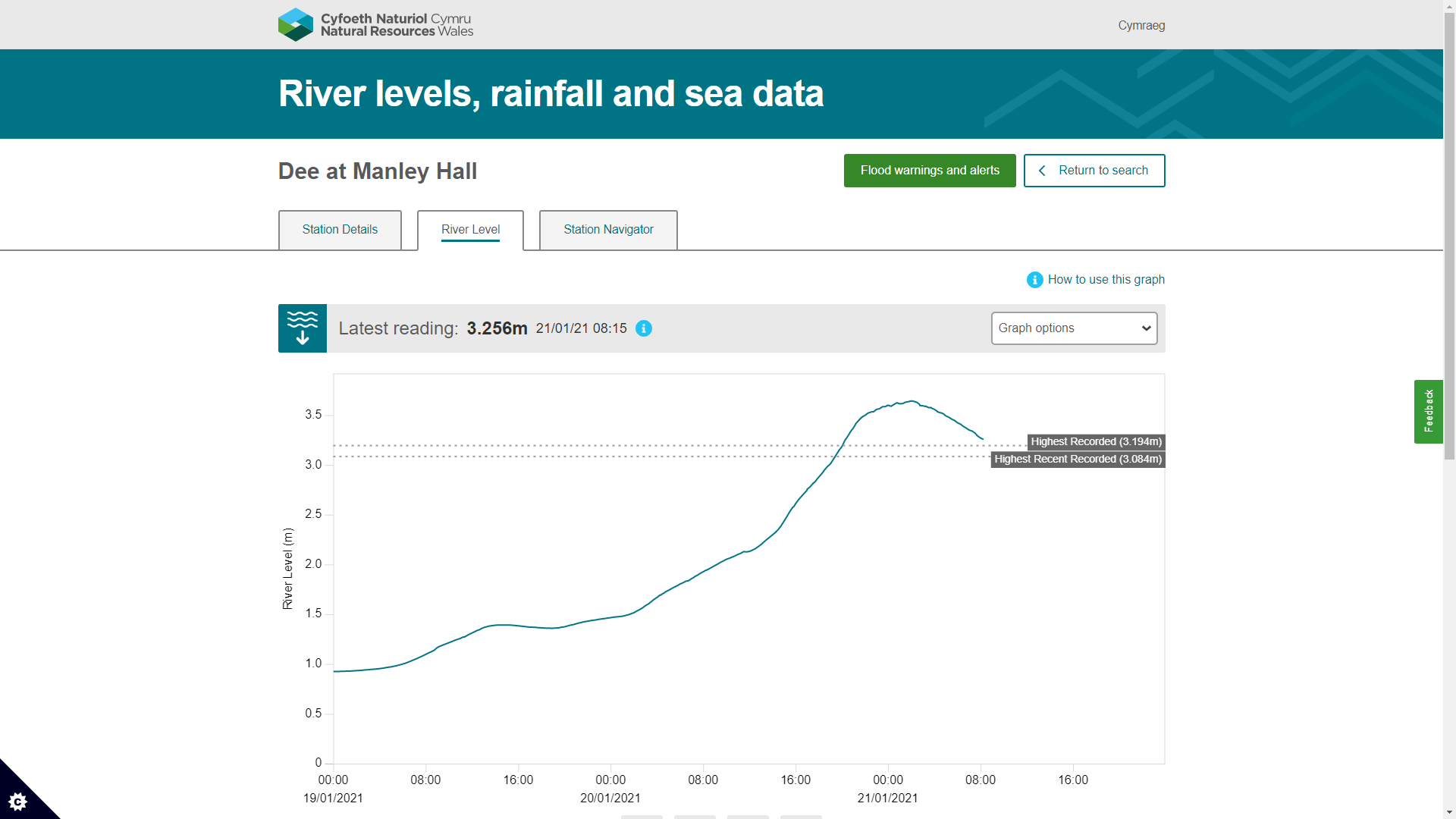 This image shows the level of the River Dee at Manley Hall at 08.05am on 21 January 2021. The trace of the river level shows the River Dee peak begin to fall.
UK flood hydrology roadmap


Hydrology is the science that tracks water from the sky to the sea. For flooding we use hydrology to convert rainfall and snow into flows for forecasting purposes, to estimate long-term flood risk and to determine design standards for our assets. Hydrology underpins all our inland flood risk work so is important that we have a future vision for flood hydrology. We are part of the UK Flood Hydrology steering group working with the Environment Agency, Government, industry and academia that has worked together to develop a flood hydrology road map vision and delivery programme for the coming years to ensure that flood hydrology methodologies, standards, tools and data service are fit for the future, especially to deal with a changing climate and more extreme river flow regimes which are already starting to be recorded.
Hydro-geomorphology


Hydro-geomorphology is the study of landforms and river features caused by the action of water. Throughout this year, we have provided support to ensure flood risk activity permits are compliant with the Water Framework Directive and provided expert advice on the impact of unconsented in river works. We have also provided expert advice on river restoration projects across Wales.
Community Engagement and Resilience
This work area delivers our community engagement and resilience services to communities at risk of flooding across Wales. It includes provision of information and advice to those at risk of flooding on the practical steps they can take to be better prepared before, during and after flooding. We provide this advice digitally via our website and directly with communities, including providing flood plan templates for them to use and facilitating volunteer network events to share knowledge, experiences and best practice.
Flood Community Engagement Review
To seek options which support NRW's desired 'enabling' role for community engagement with the public at risk of flooding, we undertook a Flood Community Engagement Review to determine where we could achieve the best outcomes within our remit and with our skills and resources, along with seeking greater opportunity for partnership working with other organisations. The Review was completed in September 2020 and concluded that we should strengthen our enabling role in this area. We continue to advise, support, and signpost the public at risk of flooding to become more resilient and will work to incorporate the options identified in the Review to improve our service.   
Community Flood Volunteers
We support a Wales-wide network of 409 Community Flood Volunteers by facilitating and delivering Volunteer Network events to support Communities at risk of flooding.  Where this has not been possible due to Covid restrictions, we created a quarterly "Flooding Matters" newsletter which has become part of our ongoing support to volunteers along with face-to-face events. Subscribers have increased from 791 (Issue 1) to 2,145 (Issue 4, March 2021). Content has included messages from the network and preventative actions.
Community Flood Plans
Our focus has been on maintaining the 76 community flood plans currently in place to ensure they are fit for purpose and service the communities that own and use them.  We have also developed a GIS layer of community flood plans, which will enable us to improve reporting and information sharing about the flood plans and volunteer network.
Figure 7 shows the number and location of community flood plans across Wales.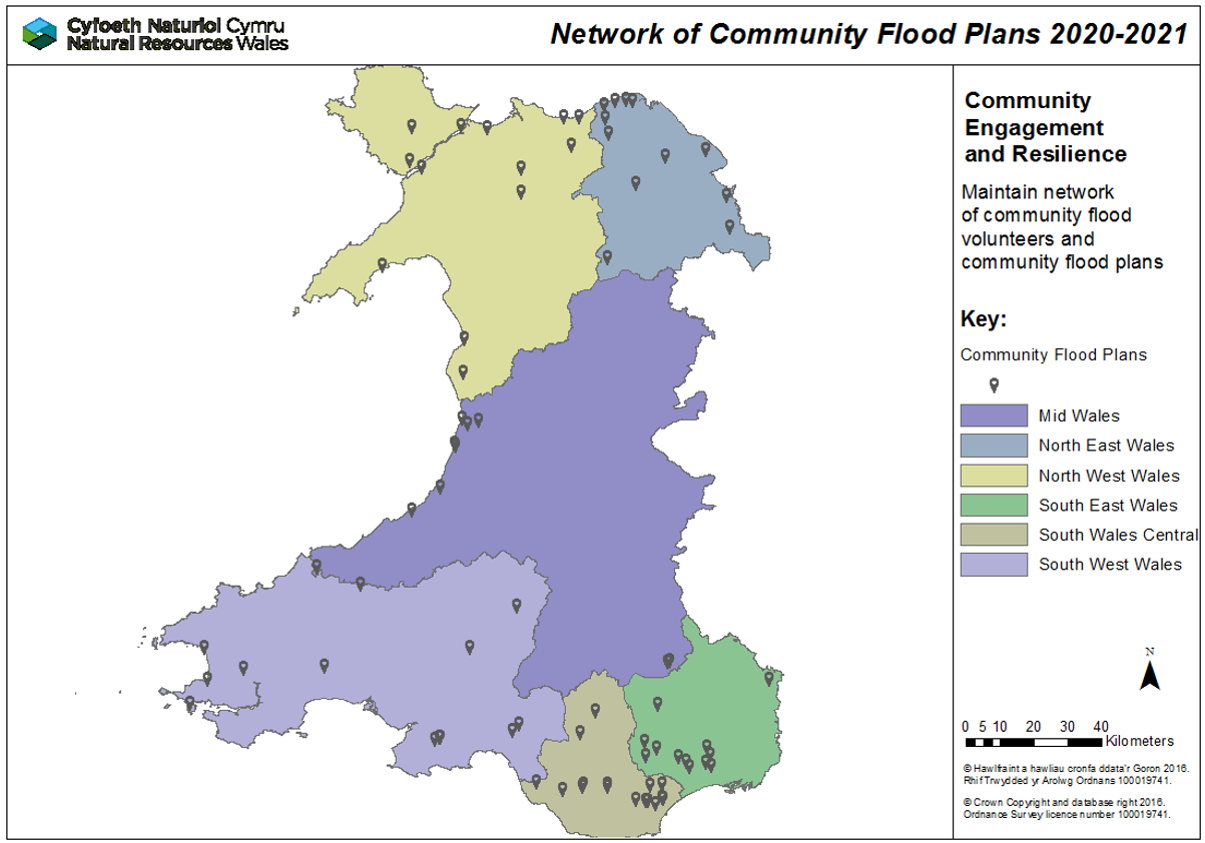 Community Flood Volunteers Facebook Page
We have maintained the Community Flood Volunteers Facebook page, and have included more proactive messages. For example, when the Flood Guidance Statement shows heightened flood risk, we inform the volunteer network about the risks and the potential impacts. This is to increase awareness of potential flooding incidents, so the network can prepare and take appropriate action earlier in response to potential flooding.
Community Flood Plan Templates
We published the 'Tell us your thoughts about the community flood plan template' survey using the new NRW survey tool, Citizen Space, on our website. We gathered opinions from community flood volunteers and secured their participation in developing an updated consistent version, aiming to encourage the public to download and use with their communities.
Our Website and Accessibility
We have carried out a website content audit of our publicly available flood advice and have improved the content and accessibility of our digital information and signposting to other organisations who can help. There were 4,052 views of our web pages what to do before, during and after a flood and how to prepare your home, business or farm for a flood this year. This includes 591 links opened, and 498 downloads from our web pages.
Sustainable flood risk management in the face of coastal change
Coastal areas in Wales face challenges from both the existing risk of tidal inundation and ongoing physical changes in the dynamic coastal environment, but also the extreme pressures that Climate Change is likely to place on coastal communities as we look towards the future. NRW plays an important role in both managing coastal flood risk assets and also working with partners to plan for future changes and the requirements for adaptation over the long term.
Coastal adaptation planning
In the face of rising sea levels and managing coastal flood risk, we need to continuously review and make plans for coastal areas, developing options and strategies for the sustainable management of flood risk over the short, medium and long-term. A range of coastal sites have been selected for assessment based on factors including:
Evidence of failing assets from inspections and investigations;
Areas facing Shoreline Management Plan 2 policy changes;
Recommendations of local Flood Risk Management Strategies;
Prioritisation using our Communities at Risk Register;
Studies of costs of on-going FRM asset maintenance compared to assessments of flood risk benefits;
Screening for intertidal habitat creation potential.
These assessments are the first step in planning for coastal change and are closely aligned to achieving outcomes for wellbeing (Well-being of Future Generations Act) and supporting priorities for the sustainable management of natural resources (Environment (Wales) Act).  Each of these projects will take time to deliver and are therefore ongoing areas of work.
What's at risk of flooding from the sea?
There are 71,042 properties at risk of tidal flooding across Wales. Some of the 71,042 properties may be at risk from more than one source. This data is correct as of April 2021. Table 2 in chapter 3 provides the breakdown of the numbers of properties at risk of tidal flooding in Wales.
Progress against Shoreline Management Plan (SMP) actions
A progress report of SMP Action Plans in Wales was provided to the Wales Coastal Group Forum in January 2021 following the annual status review. Of the 928 SMP actions, 140 have been classified as complete by the action owner, 18 of which were completed in the 2020 reporting period. Discussions are ongoing via the Wales Coastal Group Forum regarding the future of Action Plan reporting, particularly in relation to the 283 actions which have been challenged and the 158 actions which are on hold, and in the context of the forthcoming SMP Refresh Project outputs.
SMP refresh project
We have commissioned a project that will deliver a refresh to our Shoreline Management Plans (SMPs) in Wales. We have appointed a consultant who has begun delivery of supplementary guidance to support future SMP delivery at the national and strategic level and a technical health check report for each of the four SMPs to support future SMP delivery locally. The final stage of the project will be for delivery of an SMP data portal to improve accessibility to, and public understanding of, the SMPs. Each of these projects are underway and work will be ongoing into future years.
Assets facing coastal change
We instigated a project looking at our coastal assets facing change in the future due to Shoreline Management Plan policies. We have completed phase one, which considered the scale of management changes required to ensure compliance with the Shoreline Management Plans and the impending epoch change approaching in 2025.  Phase two will analyse this information in more detail and determine our future management strategy approaches in these areas.
Coastal adaptation
The National Habitat Creation Programme (NHCP) is Welsh Government's programme for the provision of coastal compensatory measures in Wales to provide environmental offset for coastal plans and projects relating to Risk Management Authorities. The NHCP delivers coastal compensatory measures over the longer term: Cwm Ivy Marsh and Morfa Ffriog have jointly created approximately 18 Ha of salt marsh over the past five years. Over the past year, we have been working on developing projects for Tan Lan, Conwy Estuary and Porthmadog. Further to this we have six sites across Wales that we have been working on at a very early stage and additional locations in the pipeline for further consideration in the near future.
Ecosystem appraisal
We have developed an Ecosystem Services Appraisals approach for coastal adaptation sites in Wales where flood risk management options are being considered. We have used this to enable comparison of environmental benefits and disbenefits of FRM options and supports the five case business model. 
Strategic planning
This work area includes efforts to undertake consistent strategic planning to our FRM work programmes across Wales and to lead on the development of policy in key areas. Its purpose is to lead on strategic policy matters within the organisation, develop long term plans and to ensure FRM deliver programmes of work in effective and efficient ways.
Skills and capacity
A new FRM skills and capacity role was established in July 2020. The purpose of the role is to make sure that the FRM team is in the best place it can be where skills and development is concerned so we can tackle our future challenges, particularly that of climate change. To date this role has focussed on initiating project work including the development of technical competency frameworks for our key FRM roles and related skills areas, improving links with academic partners and reviewing training opportunities, all of which will be ongoing areas of work in future years.
Long Term Investment Case
As part of the Flood Risk Assessment Wales mapping project (refer to chapter 2), we developed an Economic Tool that enables NRW to assess the economic benefits provided by its flood risk management assets as well as the cost of applying various adaptation measures. This tool and the Risk Based Revenue Allocation Model (refer to the Forward Look) will provide input to our Long-Term Investment Case due for publication in Spring 2022 which will provide evidence on investment requirements for different future scenarios.
Flood Risk Management Plans
We are working to progress our second cycle Flood Risk Management Plan (FRMP) by  using the Communities at Risk Register to help us to take a risk-based approach to the FRM actions across Wales, so we can prioritise our funding and actions where the risk is greatest.
FRM Research and Development
We have a strategic research and development (R&D) programme that is aimed at delivering key evidence to inform and improve our operational and policy needs across FRM. Most of our R&D needs are delivered through the Joint Flood and Coastal Erosion Risk Management R&D Programme which aims to serve the needs of all flood and coastal risk management authorities in England and Wales. Over the last year, the Joint Flood and Coastal Erosion Risk Management R&D Programme has published several key projects in which NRW has been involved:
Assessing reservoir capacity limits;
Communicating impacts in flood warnings and forecasting;
Development of interim national guidance on non-stationary fluvial flood frequency estimation;
What is coastal squeeze;
Flood and coastal erosion risk management research and development framework: working with communities.
The wider ongoing programme of projects consists of 65 projects which are split into theme areas consisting of Policy, Strategy and Investment, Asset Management and Incident Management and Modelling.
Nature based solutions
A key priority of the Welsh Government National Strategy for Flood and Coastal Erosion Risk Management (FCERM) in Wales is to deliver more natural interventions and catchment approaches to reduce flood risk. Risk management authorities in Wales are encouraged to pursue natural flood management (NFM) and are required to consider the use of NFM when developing options for new schemes and maintenance activities.
Internal policy statement on NFM
We have developed an internal position statement on the role of NFM in reducing the risk and impacts of flooding, aligning our approaches and ways of working with the Welsh Government National FCERM Strategy. Alongside delivery, NRW are seeking opportunities to influence and promote NFM through wider policies, programmes and plans and participate in research to further evidence and understanding on NFM.
Environmental enhancements delivered through schemes
We seek opportunities for environmental enhancements through our flood risk management improvement schemes that we deliver. An example of this is at Crindau, Newport where we used green engineering on the pill embankment, sensitively planted trees that would be of most benefit to the people and wildlife of Newport, incorporated sand martin nest tubes into the defence and developed an Invasive Species Management Plan for the long-term treatment of Japanese Knotweed.
Natural Flood Management projects
We successfully bid and received funding from the Welsh Government NFM fund to develop and deliver four NFM projects in Llanfair Talhaiarn, Dinas Powys, Glyneath and Teifi Uchaf.  The funding programme aims to develop skills, expertise and understanding in the delivery of NFM across risk management authorities in Wales and contribute to the evidence on the effectiveness through monitoring. Over the last year we have undertaken project development work at the following locations which will hopefully be delivered in future years:
Llanfair Talhaiarn. Considering options for natural flood management in the Nant Barrog catchment which support flood risk management activities in Llanfair Talhaiarn.
Dinas Powys. Working with local community stakeholders, landowners, and specialist consultants to investigate feasibility and impacts of delivering Natural Flood Management interventions in the catchment of the Cadoxton River.
Nant Gwarch, Glynneath. Considering options for addressing flooding and build-up of sediment in the Nant Gwarch catchment, Neath.
Teifi Uchaf. Working collaboratively with West Wales Rivers Trust, Woodland Trust and Ceredigion Council to investigate and deliver measures to address local surface water flooding and support flood risk management activities in and around Tregaron.
Influencing the development of wider policies, programmes and plans
We recognise the opportunity and importance of the future Welsh Government agriculture policy in supporting and widening the implementation of Nature Based Solutions and NFM across Wales.  The Welsh Government are proposing future support is designed around the principle of sustainability with payments for outcomes targeting challenges such as climate change and climate adaptation. We are working to advise and support Welsh Government with input from a wide range of technical specialists across the organisation, this is an important opportunity to influence and potentially support delivery of nature based solutions to flood risk through future initiatives such as the Sustainable Farming Scheme.
NERC programme
We continue to engage and participate in research to improve evidence and understanding on the effectiveness and the role of NFM in reducing flooding in Wales.  In addition to our work with the Environment Agency and Defra on the Joint FCERM R&D programme, NRW is a member of the programme executive board for the UKRI NERC funded NFM research programme. This important research programme will help advance our knowledge and understanding of the effectiveness of NFM measures for reducing flood risk at the catchment scale.
Where our money is spent
We are funded to deliver FRM work directly by Welsh Government in the form of Flood Defence Grant in Aid (FDGiA) funding. This takes the form of revenue funding which supports routine operational and "business as usual" activities and services as well as capital funding which is utilised to deliver project work.
In 2020/21 NRW received a total of £34.5m of Welsh Government FDGiA funding to undertake FRM work, this comprised of £21m of revenue funding and £13.5m of capital funding. This funding was fully utilised in this financial year to deliver the FRM outcomes, sustain the services NRW provides and many of the successes outlined in this report.
Capital Funding
For financial year 2020/21, our capital funding of £13.5m enabled the delivery of 210 projects within our Capital Programme, this included many of the projects highlighted in this report and many examples of ongoing work which will complete in future years. A breakdown of capital spend by project type is included in figure 8 below.
Figure 8: Chart showing the breakdown of Capital spend by project type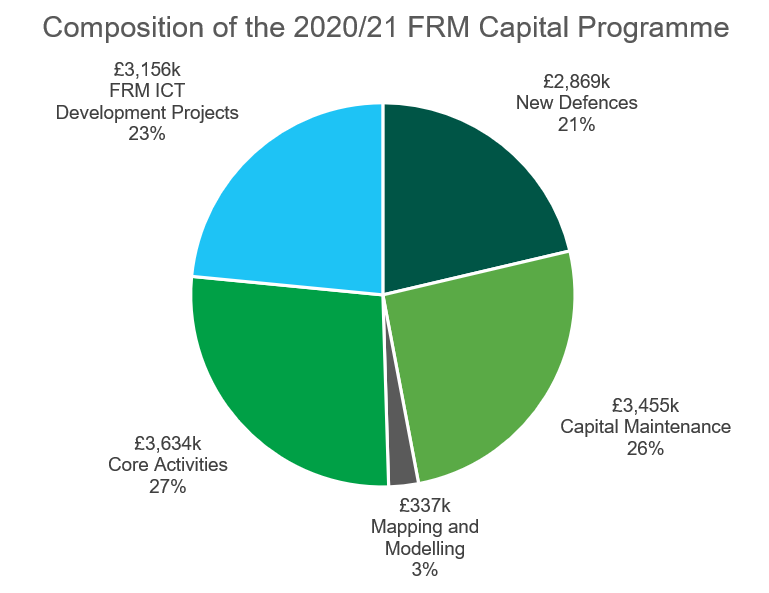 Core Activities include capitalised salary costs (£1.6m), corporate overheads (£0.6m) and fleet, plant and equipment purchase (£1.4m). Capital ICT costs relate to FRM specific system development or contributions to system development which benefits FRM services. In 2020/21 this included enhancements to our flood forecasting and warning systems, Flood Risk Assessment Wales (FRAW), the flood maps on our website, enhancements to River Levels Online and our asset inventory database AMX.
This year's capital budget started at £9.4m in April 2020. During the year additional work was identified and through close working with Welsh Government officials we were able to draw down an additional £4.1m of funding this year. Our financial outturn at the end of March 2021 indicates that the £13.5m of capital funding was fully utilised this financial year.
Revenue Funding
The 2020/21 revenue settlement of £21m supported the significant effort that goes into sustaining and providing the services, advice, tools and activities NRW undertakes to help manage flood risk in Wales. This funding predominantly supports staff costs, routine maintenance works, various enabling services which support our work and other routine activities. A breakdown of revenue spend by activity is included in figure 9 below.
Figure 9: Chart showing the breakdown of revenue spend by activity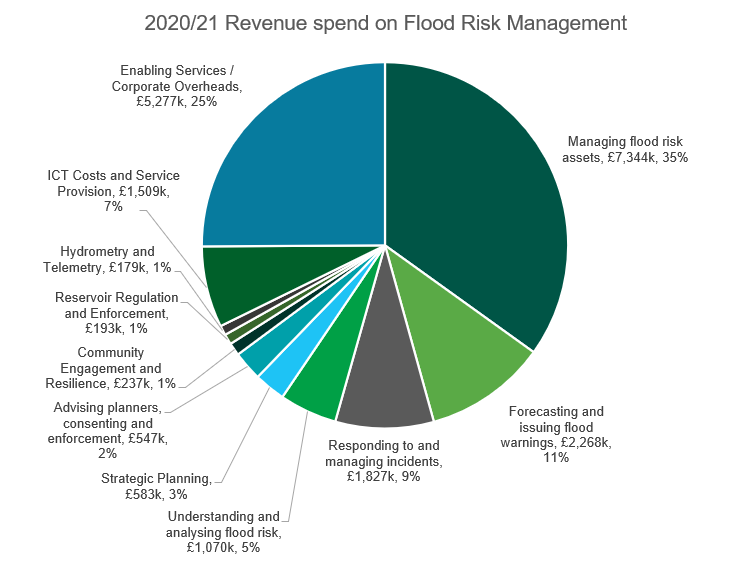 Each of these work areas interact and overlap with each other to deliver key services, therefore there are some areas where teams support wider actitivities which can misrepresent the scale of effort in some of the above activities, for example Hydrometry and Telemetry work heavily supports forecasting and issuing flood warnings and is accounted for above accordingly.
Enabling Service and Corporate Overheads include FRMs contribution to the operation of key business services which support the delivery of FRM activities, these include Communications, Procurement, Governance and Leadership, Corporate Planning, Legal Services, People Management, Facilities, Fleet Management and Finance. ICT costs are associated with ongoing business support, infrastructure and ongoing service and licence fees for FRM systems.
This year's revenue allocation included an increase of an additional £1.25m over previous years, this enabled an additional 36 Full Time Equivalent (FTE) posts to be established as well as supporting the delivery of additional routine maintenance works in year alongside a number of smaller projects. The revenue budget of £21m was fully utilised in 2020/21 and helped support many of the initiatives outlined in this report and ensured that our "business as usual" services continued to be delivered effectively.
Staff numbers
The effort that goes into delivering FRM work within NRW can broadly be grouped into the following work areas and structures:
National services and policy teams reporting to the Head of Flood and Incident Risk Management within the Evidence, Policy and Permitting Directorate
Direct FRM technical services reporting to Flood and Water Management Managers within the Operations Directorate
Integrated operational delivery teams reporting to Land and Asset Managers within the Operations Directorate
Enabling Services providing central support to all NRW functions are also part funded proportionately by FRM funding to enable the delivery of the services they provide
As of March 2021, we estimate the FTE staff numbers working directly within the FRM areas identified as per the following table, (this report does not contain data on the number staff working in enabling services as this is too complex to identify specific roles and contributions).
Table 5: Full time equivalent staff numbers working directly in FRM
| Full Time Equivalent Staff Numbers | Organisational Work Area |
| --- | --- |
| 63 | National services and policy teams |
| 113 | Direct FRM technical services |
| 169 | Integrated operational delivery teams |
| 345 | Total estimate of FRM funded FTEs in NRW |
Forward look
Whilst the purpose of this report is to focus on the outcomes and achievements of the recent financial year, a substantial amount of this year's work supports the delivery of projects and outcomes that will finish in future years. In the coming financial year (2021/22) we aim to progress a number of large, important projects. An update will be provided against these projects in the next annual report with some of the highlights of this upcoming work provided below.
Llyn Tegid, Bala (Gwynedd)
The planning committee granted approval for the scheme in May 2021 with construction starting on site in mid-September, lasting 17 months until March 2023. A contractor has been appointed to undertake the works which involve strengthening the embankments, raising ground levels and improving the lakeshore wave protection to improve the ability to withstand extreme flood events.
Stephenson Street, Liswerry (Newport)
Homes and businesses in Liswerry, Newport are vulnerable to flooding from the River Usk during periods of heavy rainfall and high tides. Leisure amenities, industrial areas and key infrastructure are also at risk and the existing defences are in poor condition. Construction is currently due to begin in 2021/22. The scheme will look to raise parts of the existing earth embankment. In other areas, new flood walls will be constructed to raise the defence to the required level, and a new flood gate will be installed at the industrial area. When completed, the scheme will provide an increased level of protection to over 800 properties in the area.
Ammanford (Carmarthenshire)
The cause of flooding in Ammanford is complex, with flood water spilling into the town at several locations. A combination of measures is needed to reduce the risk of flooding. Construction is currently scheduled to start in 2021/22 and will consist of a series of flood defence embankments and walls in several areas in the town to contain flood water in the River Loughor, and also the installation of Property Level Protection (PLP) measures. This scheme will provide approximately 300 properties with a reduced risk of flooding.
A Risk Based Revenue Allocations Model (ARBRAM)
We have been working to develop a risk-based approach to routine asset maintenance revenue allocations. The allocation of the revenue budget has to date been on best available information and allocated Wales wide using subjective and legacy based rationale. This means there is a risk that our finite resources are not necessarily invested in the communities at greatest risk and in the assets that give greater benefit of reducing flood risk. We are working to develop a system where Revenue funding is allocated on a risk basis. This will help us to understand what the contribution of each asset is and what the priority is for maintenance. The system should also support the Long-Term Investment Case (LTIC) by assisting in the development of long-term investment evidence to formalise the case for funding in flood risk management activity. A Risk Based Revenue Allocations Model (ARBRAM) is under development.
Development of the flood map for planning
As part of the revisions to TAN15, we are updating the current development advice map with a new flood map for development planning purposes that will be the first map that will indicate future flood risk from climate change. These changes are expected to be published in 2021/22.
Flood Warning Service Improvements projects
Work is ongoing to take forward the projects identified through the five year implementation plan which will lead to flood warning service improvements. The key projects are currently being assessed to ensure that delivery is achievable with the desired outcomes for the service and the people at risk of flooding in Wales.
Taking forward the hydrometric network review project
The project scope and brief have been produced for a wide scale review of NRW's hydrometric network. Work will begin in June 2021 to categorise and prioritise stations and will help to identify user requirements and the associated cost of the service. The estimated completion date for this work is July 2022.
Flood Risk Assessment Wales (FRAW) data management project
The FRAW Data Management project will develop tools, processes and a work environment that will enable key datasets created as part of the FRAW project to be managed and maintained. This work is ongoing and will be completed during 2021/22.