Making sure Llyn Tegid remains safe in the long-term
Natural Resources Wales (NRW) has completed major works to make sure Wales' largest natural lake, Llyn Tegid in Bala, remains safe in the long-term.
Although Llyn Tegid is a natural lake, it also needs to be managed under reservoir legislation as the lake's embankments give protection from flooding to the town of Bala. This was seen most recently following heavy rain in November 2020 (see photos from this event and how Bala used to be affected before the 1950's defences were constructed).
The works, completed in Spring 2023, involved the strengthening of embankments and replacing the entire length of lakeshore rock protection. This is part of our work to regulate Llyn Tegid under the Reservoirs Act 1975 and is part of a wider ongoing programme of reservoir safety work across Wales.
Planning permission was granted by Snowdonia National Park Authority for the project on 19th May 2021 and works started on site on 15th November 2021.
Our Framework Contractor, William Hughes, has delivered engineering works to 3km of raised embankments as well as landscaping, recreation and biodiversity improvements.
More than 13,000 tonnes of rock protection along the lake frontage has been replaced and over 300 self-seeded trees (mainly ash) that were weakening the embankments have been removed.
Working with a specialist landscape company, Ground Control, NRW has fulfilled its commitment of planting three trees locally for every one tree that has been removed.
The improvements delivered by the project include:-
Habitat enhancements creating approximately 5 ha of species-rich wet meadow,
supplemented with green hay seeding last summer;
Three years of advance work to control Invasive and Non-Native Species;
Redesigning the lake foreshore car park to prevent damage from cars that were driving onto protected habitats;
Boulders reused from the scheme have helped to demarcate car parking areas;
A number of paths, ramps and access points are now more accessible. Path surfaces
were upgraded to tarmac and have been popular with the local Park Run;
We have landscaped the Leisure Centre area with new seating and planting;
We have provided high-quality seating and project information across the site;
Felled timber was provided to a local woodworking group, schools and a local mountain
rescue group;
We produced resources for local schools to use for environmental education.
NRW identified an early opportunity to work with the Bala Lake Railway Trust (BLRT). We have incorporated a section of the railway trough within the embankment to facilitate a potential expansion of their narrow-gauge railway. The work, funded by BLRT, will enable this popular tourist feature to run from Bala town to the west end of Llyn Tegid, subject to funding and planning approval.
The Llyn Tegid Reservoir Safety project has been funded by Welsh Government, with a total project cost of £7 million.
We thank the local community for their continued support and understanding during the works. An opening ceremony was held on 31st March 2023 when the foreshore embankment was fully re-open for local residents and visitors to enjoy once again.
If you have any questions, please direct these to llyntegid@naturalresourceswales.gov.uk or contact Andrew Basford, Project Manager (Welsh Learner) on Tel: 03000 653846 or Sharon Parry, Project Support Officer Welsh Speaker) on Tel: 03000 655264.
You can find out more about this work by reading our answers to frequently asked questions. ​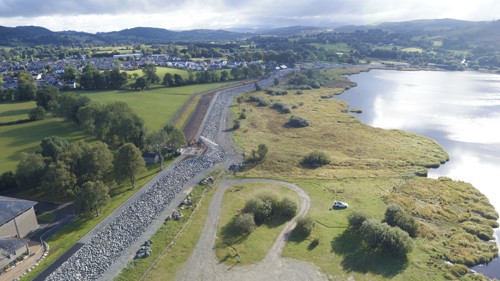 Drone footage taken during the works along lake foreshore embankment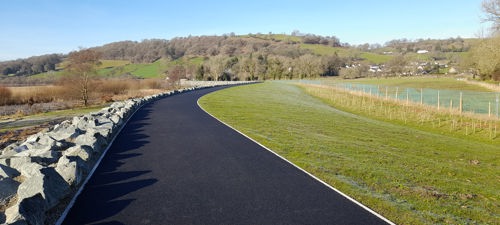 View of upgraded foreshore embankment footpath