Work to remove 160,000 diseased larch trees at Cwmcarn forest is now nearly complete, and we are moving forward with plans to reopen the forest drive next spring.
The Drive road closed on 2 November 2014 to allow us to undertake this large-scale felling operation to try and stop the spread of the disease.
All other facilities at Cwmcarn forest, including the visitor Centre, footpaths and mountain bike trails remain open.
Whilst it's been incredibly sad to have to fell so many larch trees, it has provided us with an opportunity to replace them with native broad-leaf woodland trees as well as more marketable timber varieties. It's also provided us with an opportunity to relook at the site and it's drive and find ways to make it even more attractive as a destination.
We'd like to thank our visitors and the local community for their patience and cooperation during this lengthy and complex operation.
Project to reopen the Forest Drive
A dedicated project manager is now in place as we make preparations to reopen the drive. Geminie Drinkwater has extensive experience working within forestry and community projects.
Geminie has already held numerous public drop in sessions in Cwmcarn to gather feedback from local people about what they'd like to see from the forest and its drive in the future.
As our plans develop, we'll share more information here on our website and via our social media channels.
Visitor information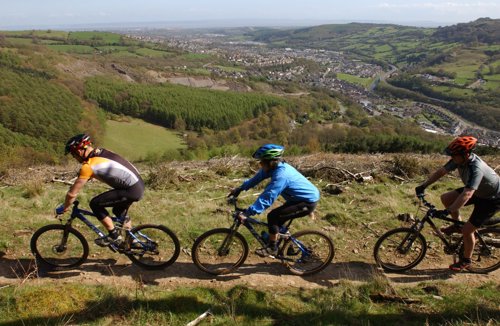 The Visitor Centre, run by Caerphilly County Borough Council, remains open as usual and continues to sell walking guides, maps and information on the surrounding area.
There is also a fishing lake, a play area for under sevens, a gift shop featuring a great selection of locally produced crafts and Welsh goods, Raven's Cafe which provides a wide range of food and drinks and camping pods.
Details about visiting Cwmcarn
Further information
Read more about why we had to fell the larch in Cwmcarn and our plans for the future in our Frequently Asked Questions. 
For questions relating to the site you can contact us at cwmcarn@naturalresourceswales.gov.uk or by calling 03000 65 300 (Mon – Fri 9am-5pm )