Danes delight in Welsh peatland restoration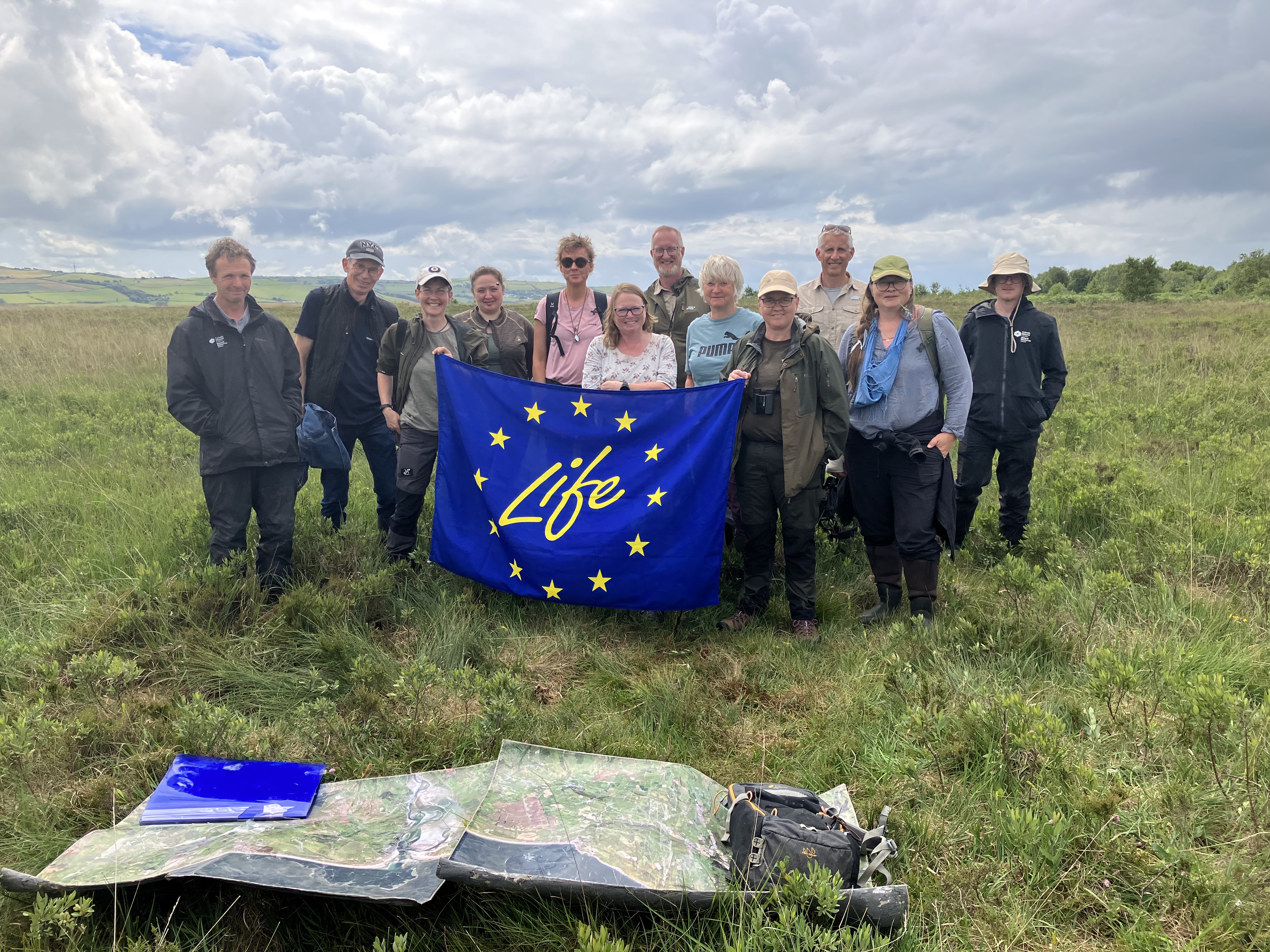 Peatland restoration is a global issue; left degraded it accelerates climate change, but once restored, it's one of the best ways to lock in carbon. This summer, the LIFE Welsh Raised Bog team was pleased to host a visit for 11 peatland professionals from Denmark to showcase the success of Welsh bog restoration to date.
Visiting the iconic Welsh Raised Bog sites of Cors Caron and Cors Fochno in June, Ole Ottosen who manages the Danish LIFE Raised Bog project said:
Our Danish team was delighted to review the innovative solutions for restoration of degraded raised bogs seen here in Wales. In particular, the use of the bunding restoration method seemed to be very promising and we were pleased to see that the negative impact on raised bog ecosystems can be counteracted by relatively simple means. This is good news for the conservation forecast of our more recent LIFE Raised bog project work in Denmark.
Welsh LIFE Raised Bogs Project Manager, Jake White explained:
Wales and Denmark face many of the same problems for the conservation and restoration of raised bogs in terms of environmental threats such as nitrogen disposal and poor hydrology. A common understanding of these threats and how to deal with them is important for nature conservation in the future and for mitigating climate warming.
The Danish visitors also expressed a keen interest in Natural Resources Wales' approach to making the bogs more accessible to the public through paths, boardwalks, information boards, and public engagement activities.
Natural Resources Wales coordinates the strategic all-Wales approach to Wales peatland action on behalf of Welsh Government, through the National Peatland Action Programme, as well as managing bespoke peatland LIFE restoration projects, such as the initial Anglesey and Llyn Fens project, the Welsh Raised Bogs project, and the more recent Quaking Bogs project.
Peatland restoration contributes to the national efforts to address the climate and nature emergencies. The joined-up partnership Wales Peatland Action approach aims to standardise monitoring and reporting, collaborate with stakeholder liaison, and share good practice within Wales and with wider partners in the UK, Europe and beyond.
Around 4% of Wales is covered in peat which is the most valuable land resource for carbon capture and safeguarding, given its potential to store 30% of soil-based carbon in Wales. About 90% of Welsh peatland is in an unfavourable condition due to impacts such as drainage or erosion. In this state, greenhouse gases contributing to accelerating climate change are released, until the peatland is restored.