'Teen'ing' up – Project drags teens off screens and offers Conwy families opportunities to get outdoors
January 2023
'Teen'ing' up – Project drags teens off screens and offers Conwy families opportunities to get outdoors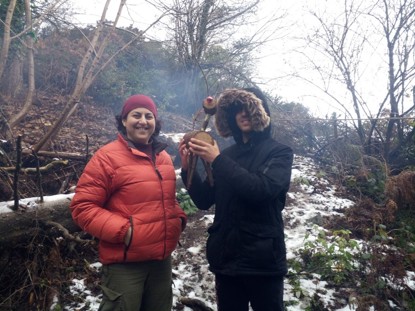 It's often harder to get older kids out into the natural environment.  Many teens are disconnected from nature at a time in their lives when getting outside is pivotal to their mental and physical health.  Competing against the warmth of their bed or the draw of screens and social media, getting outside into the fresh air is not always a top priority for teens and tweens.  However, most of us don't need science to tell us that grumpy, moody teenagers are often happier when they are outside.  They might need a little bit of persuasion and encouragement to get outdoors but once they have ventured out, there are many fantastic things for teens and teens to do.  Greg Woolley from Nant y Glyn Forest School, Colwyn Bay shares his experiences of running a project which teams teens and their families in the great outdoors.   
"During the summer of 2022, we received Welsh Government 'Summer of fun' funding and ran some trial sessions aimed at teenagers and their parents", Greg explains.  "Participants took part in a range of activities including shelter building, archery, green woodworking, and campfire cooking.  The sessions were very popular and received positive feedback from both parents and their teenage children.  It was the success of these sessions that led to the new project as there was a lack of opportunities specifically aimed at this specific demographic." 
"In the build-up to Christmas 2022, we received a small grant from Conwy County Borough Council to run further sessions for parents and teenagers.  The funding had come from the Betsi Cadwaladr Public Health Board's Intergenerational Green Communities Fund and the purpose of the sessions was to connect both teens and their families with green spaces, promote strong relationships whilst improving their health and well-being."
"While many of us have personal experience of how a walk along the beach or simply spending time outside can help shift our mood", continues Greg, "it's not necessarily a strategy that teenagers are aware of or choose to do.  For most of the families that took part, it was the parents that instigated the participation, and the teenagers were reluctant to attend.  However, once out in the woodland environment the teens really enjoyed themselves and were reluctant to leave at the end of each session!  The families that attended worked together to make log reindeers for Christmas and took part in some campfire cooking at our woodland in Colwyn Bay.  We only had a few families at a time, so the sessions had a friendly, intimate feel to them."
"For the teenagers, taking part in the outdoor activities provided opportunities for them to manage risk, push themselves physically and mentally and helped them to develop resilience and self-confidence whilst having fun.  For the parents that attended, I think they benefitted from spending quality time and jointly taking part in activities with their children.  We hope to run further sessions in the future and continue to lure teens away from their screens and out into the natural world."
If you would like to learn more, please contact Greg direct or check out the Nant y Glyn Twitter or Facebook account.
Learning in, learning about and learning for our natural environment
Looking for learning resources, information or data? Please contact:
education@naturalresourceswales.gov.uk or go to https://naturalresources.wales/learning 
Alternative format; large print or another language, please contact:
enquiries@naturalresourceswales.gov.uk 
0300 065 3000