A view from the bog – a volunteer's story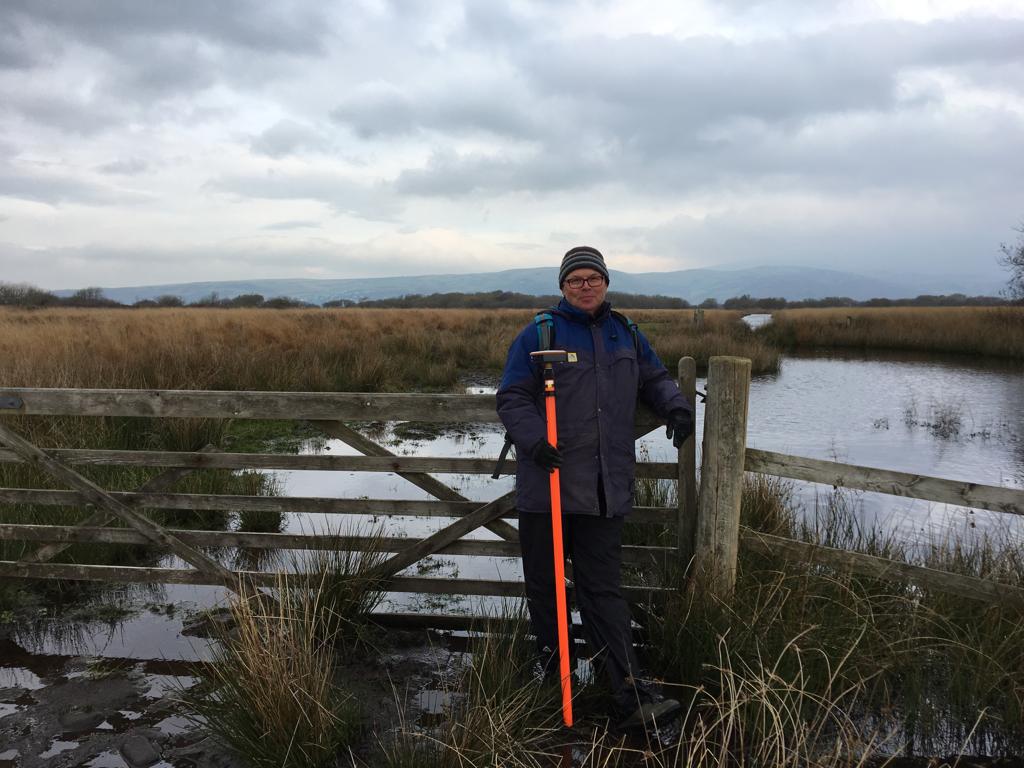 With Christmas just around the corner and New Year not far behind, why not make a New Year's resolution this year and volunteer some of your time to help a local project.
The LIFE Welsh Raised Bogs project is the first national restoration programme for raised bogs in Wales, and the project is looking for volunteers to help support its monitoring and surveying work.
Volunteering opportunities like this are shown to increase confidence, self-esteem and improve your skills for potential jobs in similar industries. Evidence also shows that being outdoors and connecting with nature improves health and well-being.
Recent recruit and bog volunteer Chris talks to us in this blog about why he volunteers and what he's gaining from the new role.
I had never previously considered volunteering as I had been lucky enough to be in full time employment since leaving university and the weekends had always been too busy and were considered my time.
I had however witnessed first-hand the benefits of volunteering through my father who started volunteering for a charity during a period of extended unemployment during his fifties. The placement was a perfect match for him; it was convenient and local to where he lived, it was a subject matter that he was passionate about and it was for a good cause. This was the ideal placement which became full-time employment and ultimately the most enjoyable working years of his career. Today in his mid-seventies he still volunteers on a Wednesday evening and most weekends throughout the summer.
My story is less dramatic but similar in many ways. An enforced reduction in my work hours with my current employer in June came with the realisation that I had a spare day a week to fill. Rather than sit at home and watch daytime TV, I decided that I would do something beneficial with this extra time and started to look for volunteering opportunities in the area.
I work for an environmentally focussed company and, if possible, I wanted to undertake volunteering that was somehow aligned to what I do for a living. I contacted a number of local organisations and ended up volunteering for the Montgomery Wildlife Trust at the Dyfi Osprey Project near Machynlleth. The summer was great; sitting on the observatory deck I learnt a lot about ospreys and met a whole variety of people. The passion and knowledge of some of the people I met was amazing.
It was during this time that a work colleague pointed me towards an advertisement for a volunteering opportunity on the LIFE Welsh Raised Bogs Project. I read the specification document and thought: "I have nothing to lose, I'll have a go at that." A few weeks later, and I was delighted to be notified that I had been accepted onto the project team as a volunteer.
I've been volunteering on the LIFE Welsh Raised Bogs Project for around six weeks now and I have really enjoyed the experience. I've learnt a lot about peat bogs in a short space of time and realised that there is so much more to learn. The spirit and atmosphere within the project team creates a pleasant environment to volunteer in and I love getting out onto Cors Fochno on a nice day and getting stuck in.
My aspiration for the placement is to continue learning and developing new skills which may become useful for new opportunities in the future. Ultimately, I would like to witness and measure first-hand the benefits of the work that is being undertaken on the bog.
My wife says I've changed (for the better) since I started volunteering and appear to be generally more content with life. Volunteering has enabled me to put certain things into better perspective. I'm a whole lot fitter and a little thinner than I was six months ago, and I look forward to the volunteering day each week. So, in conclusion, I believe volunteering has been beneficial and worked for me.    
Chris currently volunteers on the LIFE Welsh Raised Bogs Project based at Cors Fochno – part of the Dyfi National Nature Reserve near Borth.
If you've been inspired by Chris's experiences and want to make a New Year's resolution to volunteer this January, find out more about the project and its volunteering opportunities by visiting the website www.naturalresources.wales/liferaisedbogs