Restoration work shows encouraging results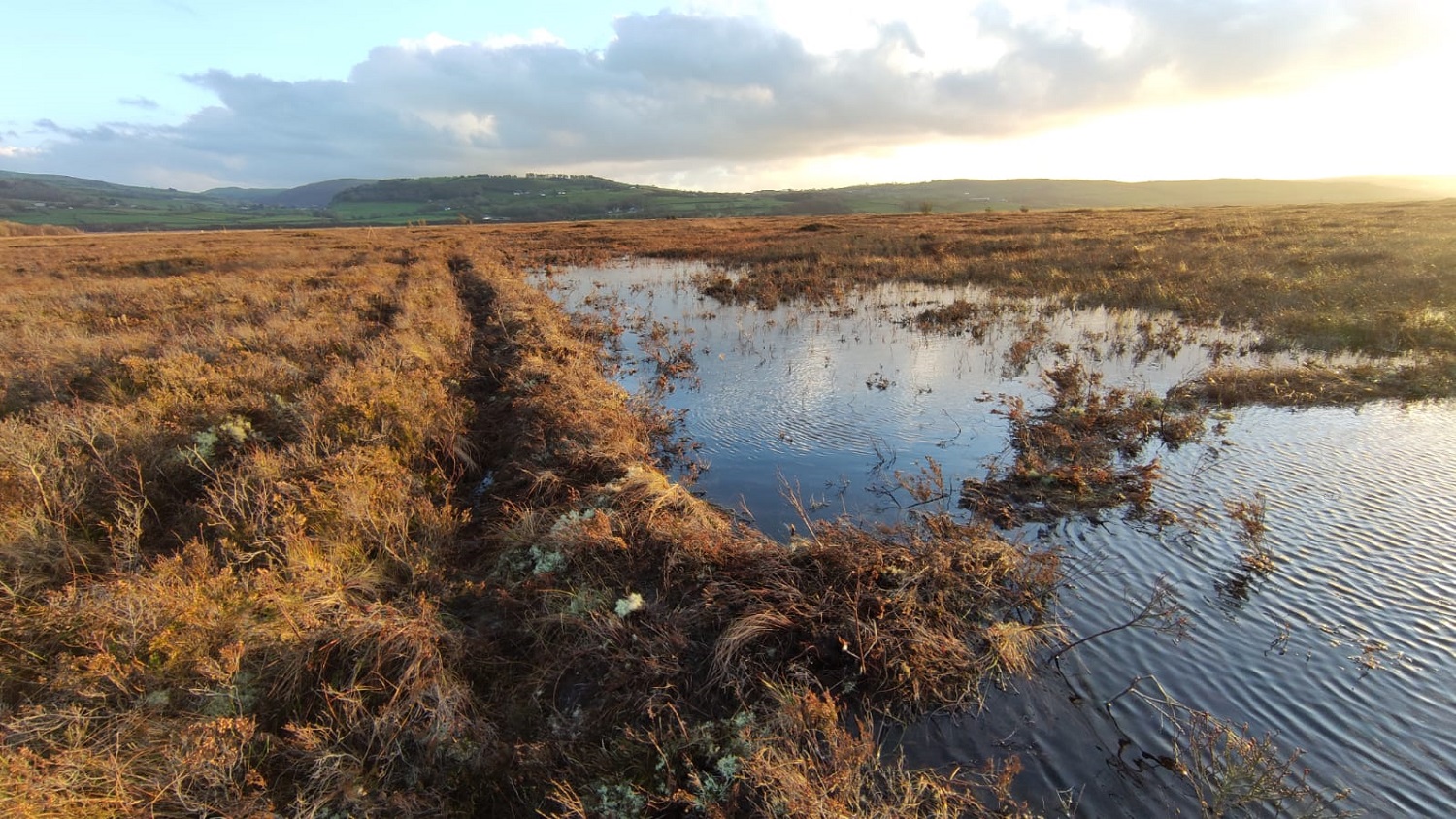 Restoration work done by Natural Resources Wales aimed at protecting Wales's rarest habitat, lowland raised bogs, is seeing positive results.
Jack Simpson, LIFE Welsh Raised Bogs Project Officer, tells us more about the restoration work and what's been achieved so far...
In the UK a staggering 94% of lowland raised bogs have been lost, the LIFE Welsh raised Bogs Project aims to restore seven of the very best examples in Wales.
The sites are internationally important and are classed as Special Areas of Conservation (SAC). These are environmentally sensitive sites legally protected on an European level for their environmental interest.
Work has been ongoing since September 2020 to restore two raised bog sites in Ceredigion by creating over 18,000 metres (11 miles) of peat bunds.
The work aims to restore more natural water levels at Cors Fochno and Cors Caron National Nature Reserves (NNR), two of the best and least damaged raised bogs remaining in the UK.
The peat bunds, or low-level banks of peat as they are also called, are approximately 25cm high and follow the natural contours of the raised bogs domes.
The bunds are designed to slow the loss of water in the upper layer of the raised peat dome, holding the natural water level on the bog for longer.
A few months after starting the work, there is already encouraging signs that a more natural water level is starting to form.
We are delighted with the impact the bunds have had on the site in such a short space of time.
We know that these sites have suffered from drainage and peat cutting in the past, and this has affected the water table level so that it is below what it should be for a healthy raised bog – particularly in summer.
Restoring natural water levels on raised bogs will ensure they stay wetter for longer, helping to create areas where important sphagnum (bog moss) can establish and thrive.
Sphagnum moss is the habitat engineer of raised bogs with its amazing ability to hold onto water and resist decay, its partly decayed remains forms dark brown peat soil.
A diversity of sphagnum types is a sign of a healthy bog, and the peat it creates naturally absorbs and stores tonnes of carbon from the atmosphere, helping in the fight against climate change.
In September over 12,875 metres (8 miles) of peat bunds were created on Cors Fochno. The project has also created over 5,790 metres (4 miles) of peat bunds on Cors Caron NNR in October.
The long-term objective with this method is to stabilise the water levels within 5cm of the bog surface for 95% of the time, the other 5% of the time water levels should not drop below 30cm of the bog surface.
By creating these bunds to date, it is estimated that, on both sites, almost 85 hectares (210 acres) of bog habitat will benefit and be returned to good condition helping to create new peat and lock in more carbon.
Formal scientific results including hydrological data about the work will be available later this year.
When Covid-19 restrictions allow the project will invite neighbours and other interested parties to visit these wonderful sites to see and discuss the work that has been happening.
To keep up to date with the restoration work please go to our Facebook page @CyforgorsyddCymruWelshRaisedBogs or the Twitter page @Welshraisedbog