Continuing the fight against fly-tipping during the pandemic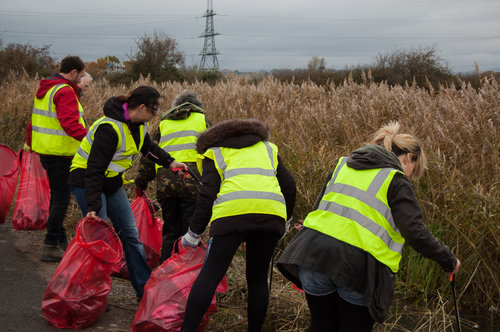 Since the end of March when the pandemic reached the UK, we've had to adapt the way we work to keep our customers and our teams safe.
For many of our frontline teams, covid-19 has meant customer contact has had to change without being compromised. Here, the Fly-tipping Action Wales team share the challenges they've faced and how they adapted to ensure that the fight against fly-tipping continues.
Fly-tipping Action Wales is a Welsh Government sponsored initiative that is coordinated through Natural Resources Wales. We work with over 50 partners in tackling the problem of fly-tipping in Wales. The partners include the 22 Local Authorities, Fire Service, Police and Network Rail to name a few. The negative impacts of fly-tipping are serious, especially around people's local environmental quality and well-being.
Our work focuses on four main themes that we call the 4 "E's"
Evidence – working with our partners in gathering evidence on the scale of the problem so that resources can be targeted in these areas.
Enforcement – working with enforcement agencies such the police and Local Authorities in taking action against fly-tippers.
Education – developing targeted public campaigns such as the Duty of Care message to encourage our customers to take responsibility for their waste items that are passed on to waste operators.
Engagement – we coordinate working groups that bring together partners throughout Wales to combat fly-tipping using a partnership approach.
We're a very busy team. There were over 35,000 cases of fly-tipping reported in Wales last year - that's a rate of four every hour! The majority of fly-tipping is dealt with by our local authorities, and it cost them nearly £2m to clear - money that could be better spent on other frontline services. Fly-tipping is a serious crime, which poses an immediate threat to the environment, animals, local communities and our beautiful Welsh landscapes.
During the lockdown earlier this year and the current firebreak, it's been important to continue our vigilant work with customers and the public to help tackle fly-tipping in Wales so people could manage their waste whilst Household Waste Recycling Centres were closed and avoid rogue traders removing excess rubbish from their property and tipping illegally.
A significant challenge for us has been to understand the scale of fly-tipping during this time with the Household Waste Recycling Centres being closed. Many of our partners in the local authorities have had to put in place different working arrangements or restrictions in how they work due the covid-19 emergency, so getting the full picture on what is happening on rates of fly-tipping in Wales has been challenging. As a team we had to establish quickly what we thought the impacts of the covid-19 emergency might be and determine where we could most effectively make a difference. We developed a social media campaign over the summer anticipating an increase in DIY projects during lockdown and the likely rise in people looking to dispose of bulky household waste. The messages targeted householders, encouraging people to be vigilant for unlicensed waste carriers.
Beware of rogue traders
Taking advantage of the pandemic and the closure of Household Waste Recycling Centres, many of these unscrupulous individuals have emerged, often using platforms like Facebook to advertise their waste collection services. With no licence to collect waste it often turns up dumped on the side of a road somewhere after they've pocketed the cash.
And thanks to the investigative work of our officers, one of these opportunists found himself in court over the summer with a two-year conditional discharge and £750 costs to pay. James Osbourne, from Cardiff, advertised his waste collection services through Facebook, fraudulently claiming to hold a waste carrier licence.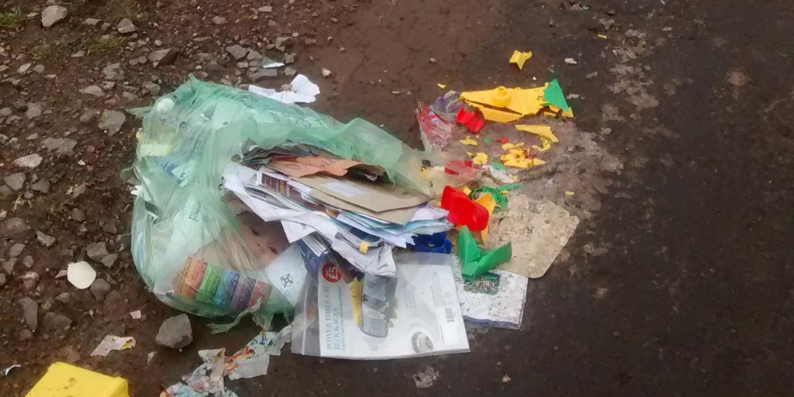 After taking payment to collect waste from a local resident, he later illegally dumped the waste in a nearby country lane in Peterstone, Cardiff, leaving a trail of 40 bin bags spanning 300 metres along the side of the road.
The waste was spotted by an NRW officer doing routine work in the area. Household documentation was found amongst the rubbish, and with the support of the resident, the officer was able to successfully trace the incident back to the offender – who now has a criminal record for fly-tipping and fraud.
The Gwent Levels is a particular area of concern for us, and we have been involved in a project in recent years called 'Black Spots to Bright Spots' to tackle fly-tipping in the area – under the Living Levels Landscape Partnership. Through this project we have prosecuted six individuals for fly-tipping and associated offences, and enforced two fixed penalty notices of £400 payable to Newport City Council.
We know from the data collected by local authorities that over 70% of fly-tipped waste in Wales contains unwanted household items and rubbish. Most often, this is the result of a householder unknowingly putting their excess waste into the hands of a fly-tipper.
We would urge householders to always check for a waste carrier licence on the Natural Resources Wales website and ask where their waste is being taken before paying to have excess rubbish removed from their property. These two things will ensure householders comply with their legal duty of care.
Following the easing of national restrictions, we launched our previously postponed national campaign called 'It's Your Duty to Care' that aims to educate householders & businesses about their responsibilities towards the waste they produce.
Find out more information about the campaign on our website or head over to our social channels facebook.com/FtAWales / twitter.com/ftaw to stay up to date with our latest information.