Health, Education & Learning – in the spotlight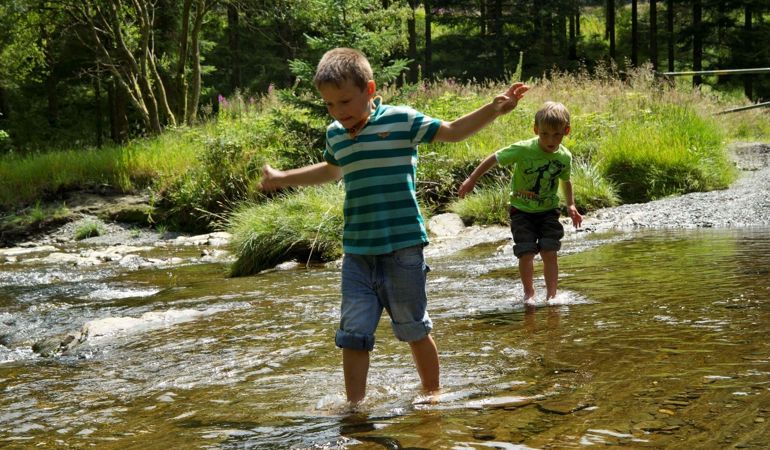 There is a lot of excellent practice going on across Wales with different groups using the natural environment to maximise health, learning and education opportunities.  On this page we shine the spotlight on settings, organisations, individuals or topics that have featured in our monthly Education & Learning newsletter and give you more detailed information and ideas on how you can develop or improve what you do at your setting.
Would you like to receive monthly updates on how to get your group learning in, learning for and learning about the natural environment?  Subscribe to our Education & Learning newsletter for inspiration, support and the latest news by dropping us an email.
Embracing the joys of winter with your learners
January 2023
Just because it's cold outside doesn't mean your learners have lost their energy or desire to play.  The winter offers a variety of ways to stimulate imagination through play – check out our ideas.
Mudiad meithrin – using the outdoors to 'meithrin' / nurture Welsh language development
January 2023
Nia Chapman, North Powys Support Officer, and Mirain Jones, Cylch Methrin Leader for Cylch Meithrin Dyffryn Banw, Powys share their thoughts on the benefits of spending time in the outdoors and how this helps to promote Welsh language development.
'Teen'ing' up – Project drags teens off screens and offers Conwy families opportunities to get outdoors
January 2023
Greg Woolley from Nant y Glyn Forest School, Colwyn Bay shares his experiences of running a project which teams teens and their families in the great outdoors.
​Enterprising, creative contributors - Penygarn pupils get 'Arty Parky'
December 2022
Having spent time exploring and taking notice of the natural beauty of their local natural environment, Years 4 and 6 pupils from Penygarn Primary, near Pontypool have been channelling their creative flair to create pieces of natural art.
​The 'in-tree-ging' learning opportunities a Christmas tree offers
December 2022
"It's beginning to look a lot like Christmas" but have you ever stopped and wondered how evergreen trees, be they pine, spruce or fir, become the symbol of Christmas?  Why do we cut down a perfectly good tree, drag it in the house and decorate it?  Why not look into the origins of the custom with your learners?
"Baby it's cold outside!" - How to 'Carry on' learning in the natural environment during the winter months
November 2022
You look out the window and see a grey and dull day or feel a crisp, cold breeze drafting through the door as you open it. "We'll leave it until tomorrow", you say to yourself. It's easy to put off venturing out into the natural environment with your learners when the temperature dips but just because it's cold outside doesn't mean your learners have lost their energy or desire to play. Here are our tips on how to enjoy the outdoors with your learners in the colder months ahead.
Installing a love and appreciation of the natural environment from a young age at Rachael's Playhouse
Hannah Jones and Rachael Barnett run successful childcare settings at Hirwaun and Aberdare for children aged from 18 months to 5 years old. Hannah explains how the Aberdare setting provides opportunities for learners from a young age to engage and connect with the natural environment.
Ysgol Rhos Helyg, Ceredigion on the trail of the Wales Coast Path
The 870-mile-long Wales Coast Path which stretches along the entire length of the Welsh coastline offers a plethora of learning opportunities. With the Path celebrating its 10th birthday in 2022, we launched a suite of education resources to support groups to learn on, about and for the path and offered education groups that had attended our 'Wales Coast Path – your route to coastal learning' webinars a travel bursary of up to £200 to help towards the cost of visiting the path. One setting which took up the offer was Ysgol Rhos Helyg, near Tregaron, Ceredigion. Teacher Sioned Owen shares their experiences.
"A conker fight – what's that?" What's happened to the playground game?
Small and shiny, conkers are one of the natural jewels of autumn's bounty. Once much sought after, primed for battle by being baked in ovens or soaked in vinegar before being put on string ready for the playground, we ask why, one of the oldest games around, seems to have fallen by the wayside?
Looking to a natural future: Flintshire looks to grow its outdoor learning provision
Jane Borthwick, Learning Adviser - School Improvement Primary at Flintshire County Council shares lessons learnt and looks to increase outdoor learning provision even further as the county embraces the Curriculum for Wales.
Nature tots: childminding with nature
Creating time and space for fun, active learning in the natural environment for the children in her care comes as second nature to Carmarthenshire childminder Kelly Still.
Lessons we can learn from nature
What lessons can we learn from nature? Here's our thoughts.
How can learning in, learning about, and learning for the natural environment help our health and well­
being?
In 2008, the New Economics Foundation published the study '5 ways to well­being' study, which identified evidence­ based actions to improve well­being. Each step has synchronicity with being in nature.
How Natur has grown
In 2021, we introduced you to Natur, a visionary outdoor learning area at Ysgol Bro Dinefwr, Llandeilo that was in the planning stages. We recently caught up with the school's Assistant Headteacher, Ian Chriswick, to find out how it has developed over the last year.
Ysgol Abererch, Pwllheli share their thoughts on school gardening 
Pupils from Ysgol Abererch, Pwllheli, winners of the S4C 'School garden of the year competition 2021', take a break from growing flowers, herbs and leeks to share their thoughts on school gardening.
"It's not revolutionary or hard.  We're just ordinary kids who have taken small steps to make our corner of the world greener"
Watch a video of the learners and their teacher discussing their efforts.
Making the most of the outdoors to tackle loneliness 
How can the natural environment be used to tackle loneliness? Here are some ideas we've come up with. 
Flintshire teacher puts NRW enviro-crime training into practice
Following training from Natural Resources Wales (NRW), Megan Hughes, a Year 3 teacher at Ysgol Sychdyn, Flintshire decided to put the 'From Crime to Courtroom: Enviro crime' training to life.
Teacher describes flytipping investigation during Wales Outdoor Learning Week as "one of the most memorable, AMAZING weeks in my teaching career!" 
"Here comes the sun" – customs celebrating the onset of summer from around the world
Most people are aware of how Christmas is celebrated around the world, but have you ever asked your learners to pause for thought and investigate how the arrival of summer is celebrated?