Analytical services
Find details of our research, analytical and environment testing services available to new and existing customers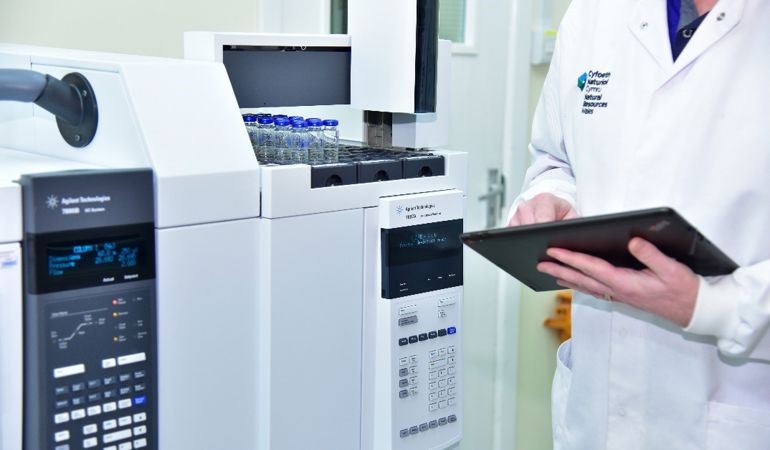 We provide high quality environmental testing and analysis by professional and experienced staff operating to the highest industry standard – accredited by UKAS, the national accreditation body for the United Kingdom to ISO/IEC 17025:2017.
Our analytical services team is based at our new Natural Resources Wales Analytical Services lab at Swansea University and offers a wide range of services.
Water analysis
We test various water sources such as rivers and lakes to check for levels of herbicides and pesticides entering the watercourses which could have a detrimental effect on the ecosystem resulting in pollution incidents such as fish kills
We test 2,000 samples of bathing waters against EC standards every summer 
Soil analysis
Soil testing – testing of particle size which is carried out using traditional sieving methods and also Laser Diffraction
Carbon, hydrogen and nitrogen analysis of Soil samples and other matrixes also possible on request
Biota analysis
Testing of biota samples such as Shellfish to determine heavy metal toxicity as a result of bioaccumulation in flesh tissue
Sediment analysis
Metals in Marine Sediments are analysed to class leading standard, utilising low limits of detection via ICPMS, ICPOES and CVAF.
Passive sampling
We offer an expert Passive Sampling Service, which offers a more sensitive method of characterising watercourses for various pollutants such as pesticides, industrial chemicals, metals and some nutrients.
Passive sampling provides better representation of the area being sampled, as the sampling device is left in situ for a timescale of typically 2 to 4 weeks rather than the snapshot of a traditional sample. Data interpretation is key with this technique and we provide expert support from our highly qualified Technical Specialists and Scientists.
Other analytical services
We have the expertise and resources in our new laboratory to grow our services and develop more commercial aspects by expanding the range of analytical services we offer. Get in touch to discuss your testing and analysis requirements.
We work in partnership with Swansea University providing enhanced skills and synergies between the University and Analytical Services.
Contact us
If you are interested in bespoke analysis or collaborative research, please get in touch.
Or by post:
NRW Analytical Services (NRWAS)
2nd Floor, Faraday Tower
Swansea University
Singleton
SA2 8PP