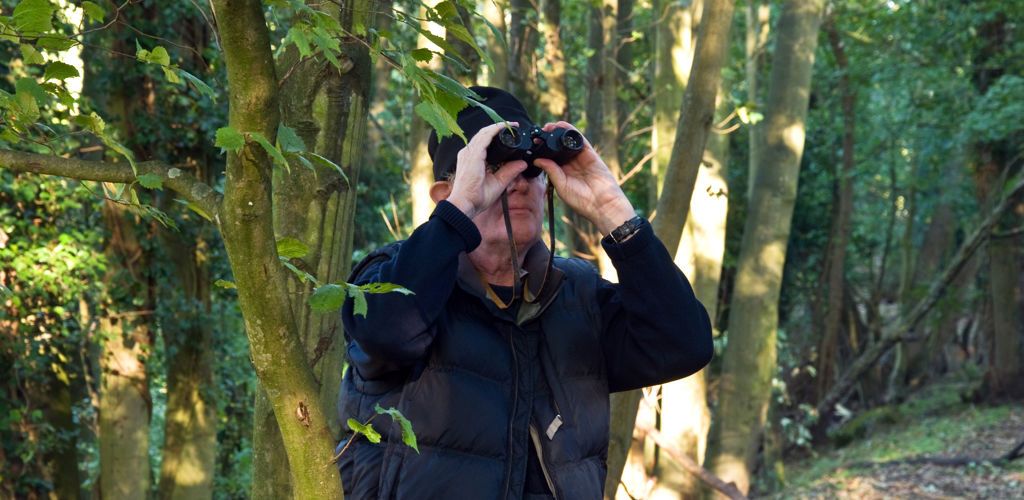 Coronavirus update
Our sites and most visitor facilities are open.
We have changed the normal route for some of our trails to help you maintain social distancing – please follow signs on site.
From living trees supporting birds to dead wood giving a habitat to insects, woodlands provide a home for many different animals.
Listed below is just some of the wildlife to look out for on a visit to one of our woodlands.
We've also suggested a woodland where you have a chance of spotting each one.
And remember, whatever woodland you're in, if you sit still and are quiet enough there's all kinds of wildlife waiting to be discovered!
Red squirrel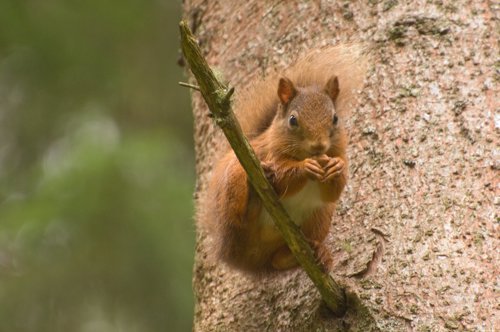 Where can I spot one?
Newborough Forest, Anglesey, North Wales
Tell me more about them
The red squirrel is one of Britain's rarest mammals. 
Anglesey is a stronghold for the UK's only native squirrel species due to the eradication of grey squirrels from the island.
Red squirrels like the mix of pines and other trees species which we grow here to provide them with food and shelter.
When's the best time to spot one?
In the morning during spells of milder weather is a particularly good time to catch a glimpse of one.
Keep your eyes peeled for a colourful flash of red in the trees and listen out for the sound of nest boxes opening and shutting as the squirrels go in and out.
Any tips for my visit?
The Red Squirrel Walk is a waymarked circular trail through the trees from the Llyn Parc Mawr car park
There are information panels around the trail with facts about the red squirrel
You may also spot a red squirrel at the feeders around the car park
What else can I do here?
Newborough Forest and the adjacent National Nature Reserve are popular places to visit.
There are lots of waymarked walking trails, running trails and cycling trails, a huge sandy beach and the historical island of Ynys Llanddwyn.
Find out more about visiting Newborough Forest
Wood ants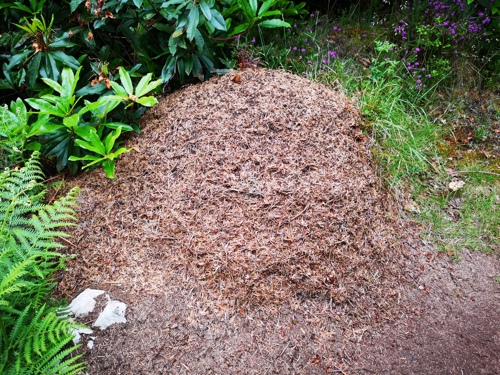 Where can I spot one?
Coed y Brenin Forest Park, near Dolgellau, North Wales
Tell me more about them
The Northern Hairy Wood Ant can reach up to 12mm long and are manly found in conifer forests - this part of Wales is about as far south as you will find them.
Hundreds of thousands of them live in nests which are made from pine needles, leaves and twigs.
Some nests can reach well over 1 metre tall and some of the bigger ones in Coed y Brenin are likely to be nearly 100 years old.
When's the best time to spot one?
Spring and summer after they have emerged from hibernation.
Any tips for my visit?
Follow one of our walking trails through the woodland and look out for ants' nests at the edge of the woodland
Don't stand still too long near a nest as there will be hundreds of ants on the ground all around it!
Don't disturb the nests with sticks or your feet - these feisty insects squirt formic acid at anything that they deem a threat and this can blister the skin
What else can I do here?
Coed y Brenin was Britain's first purpose-built mountain bike centre.
There are mountain bike trails for all levels from beginners to experienced riders, a skills area and bike shop.
There are also plenty of walking trails, running trails, children's play areas and a visitor centre with café and shop.
Find out more about visiting Coed y Brenin Forest Park
Red kites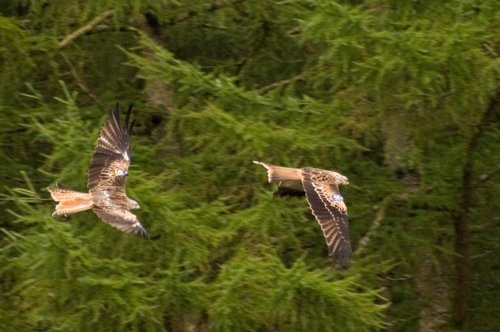 Where can I spot one?
Bwlch Nant yr Arian Visitor Centre, near Aberystwyth, Mid Wales
Tell me more about them
The red kite is an unmistakable bird of prey with its reddish-brown body, angled wings and deeply forked tail.
Bwlch Nant yr Arian became a red kite feeding station in 1999 as part of a programme to protect the small number of these birds in the area then.
Red kites are fed by the lake at Bwlch Nant yr Arian every afternoon when as many as 150 come in to feed.
When's the best time to spot one?
You can see red kites circling overhead at Bwlch Nant yr Arian throughout the day.
The red kite feeding takes place every day at 2pm in winter (GMT) and at 3pm in summer (BST).
Any tips for my visit?
Follow the Barcud Trail easy access walking route around the lake to the viewing area with seating or continue past the viewing area to the large bird hide for close-up views of the kites swooping down to feed
The outside seating next to the café has views towards the lake and the red kite feeding area - this is a great place to watch the kites through your binoculars or enjoy the spectacle from the café if the weather is bad
Find out more about red kites from the information boards in the bird hide and around the lake
What else can I do here?
There is a range of trails for walkers, mountain bikers, and runners which are waymarked from the visitor centre.
There is a café, shop and children's play area.
Find out more about visiting Bwlch Nant yr Arian
Butterflies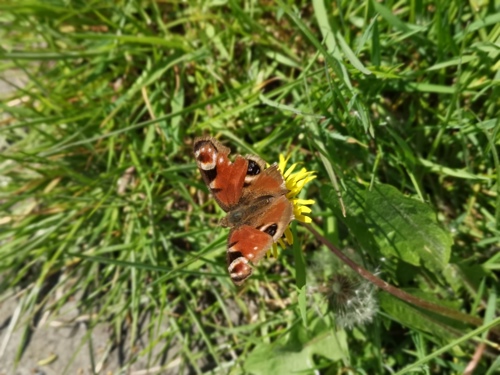 Where can I spot one?
Coed y Bont community woodland, near Tregaron, Mid Wales
Tell me more about them
Situated in a quiet corner of Ceredigion, Coed y Bont woodland supports a wealth of wildlife including lots of different species of butterfly.
Start off by looking out for the distinctively patterned species that are easiest to identify.
Look out for the reddish-orange Small Tortoiseshell with its black and yellow markings on the forewing, the Red Admiral with its bold red and white stripes and the Peacock with its spectacular pattern of eyespots.
Then try to spot butterflies that have less striking markings like the orange-winged Small Copper, the dainty Common Blue and the Meadow Brown with its small black eyespot.
Once you get your eye in, you may spot some of the less common species here, too.
When's the best time to spot one?
On a warm day.
Any tips for my visit?
There are plenty of benches along the walking trails where you can sit quietly and look out for butterflies
Look out for the wildlife identification posts along the walking trails with information about some of the species found here
You may also want to take a butterfly guide with you to see how many species you can spot
What else can I do here?
There are two level accessible walking trails, a public footpath through the upper woodland and a picnic area.
The community association organises events in the woodland including conservation days and seasonal guided walks.
Find out more about visiting Coed y Bont
Fallow deer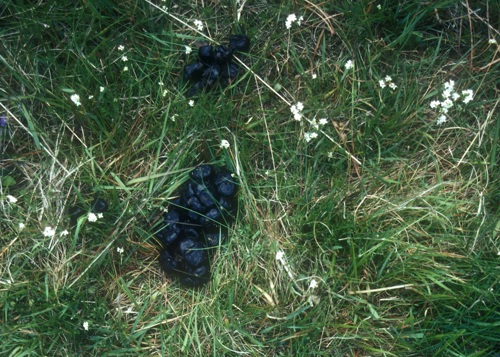 Where can I spot one?
Wye Valley woodlands, near Chepstow, South Wales
Tell me more about them
Fallow deer come in a variety of colours from brown with white spots, brown/grey and black and white.
The Fallow deer is the only species in Britain with palmate antlers.
Fallow deer were the only deer species in the Wye Valley for many years.
Other species of deer such as Red, Roe and Muntjac have since moved into the area.
When's the best time to spot one?
Dawn and dusk as most daytime hours are spent 'lying up', where deer lie down to ruminate between feeding bouts.
Any tips for my visit?
Keep very quiet as you walk through the woodland
Look out for deer droppings – these are smooth, shiny, dark pellets that are pointy at one end and often stuck together in clusters (see photo above)
Look out for hoof prints of about 6cm long in soft ground
Listen out for the short barks given by does and their young when alarmed
What else can I do here?
The woodlands are home to historic viewpoints offering spectacular views across the Wye gorge and river and across to the Bristol Channel.
Some of our waymarked walks through the woodlands take you to these viewpoints, including the famous Eagles Nest lookout.
Find out more about visiting Wye Valley Woodlands
Damselflies and Dragonflies
Where can I spot one?
Coed y Cerrig National Nature Reserve, near Abergavenny, South Wales
Tell me more about them
There are many different species of damselfly and dragonfly in the UK.
The damselfly is smaller and slimmer than the dragonfly and rests with its wings folded.
The dragonfly is bigger than the damselfly and keeps its wings spread out.
They are seen near water as they eat other flying insects, particularly midges and mosquitoes which thrive in damper conditions.
When's the best time to spot one?
Summer and early autumn on a warm day.
Any tips for my visit?
Follow the Alder Tree Boardwalk which goes through the wet woodland at the bottom of the valley which is the best place to spot damselflies and dragonflies
Keep still and look out for the spectacular splashes of colour as the damselflies and dragonflies flit through shards of sunlight in between the trees
The boardwalk is wide and level and is suitable for wheelchairs
What else can I do here?
There is a short circular route which climbs up a series of rough stone steps through the oak and beech woodland which clings to the steep valley sides.
At the top of this woodland, there is a public footpath which continues upwards out of the reserve.
Find out more about visiting Coed y Cerrig National Nature Reserve