Pembrokeshire bathing waters: it wasn't always this way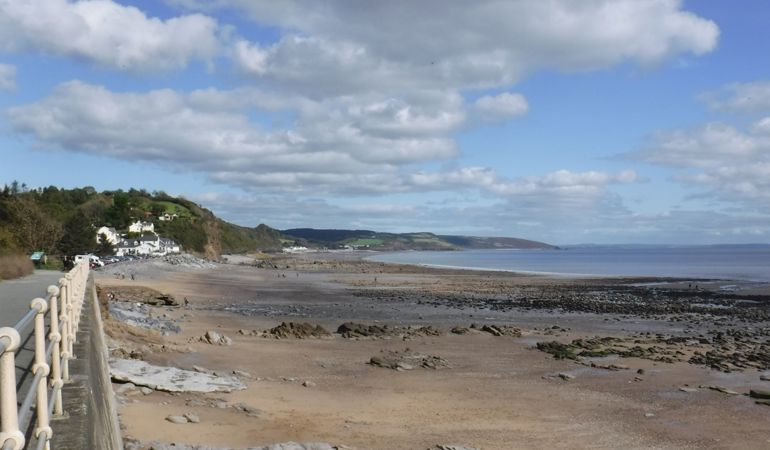 In the south western corner of Wales lies Pembrokeshire, a beautiful place that attracts millions of tourists each year and is currently celebrating having some of the cleanest bathing waters in the United Kingdom.
The county has 29 designated bathing waters – almost a third of all those in Wales – and latest results from our Wales Bathing Water Quality Report 2020 show that 27 of those have achieved the highest 'excellent' status, with the remaining two achieving 'good'.
The bathing water sampling season usually runs from the 15 May to 30 September and tests all 105 designated bathing waters around Wales on their water quality. Water samples are taken away, analysed in a specialist laboratory and assessed against a set criteria.
At the end of the season the results will be compiled for each bathing water and used to assess the water as 'poor', 'sufficient', 'good' or 'excellent'.
This means that local residents and the millions of tourists that flock to Pembrokeshire, can take a dip in the sea safe in the knowledge that they are swimming in some of the cleanest waters in the UK.
But it hasn't always been that way.
Rod Thomas, a senior environment officer for Natural Resources wales, has lived in Pembrokeshire all his life, and worked as an environment officer within NRW for more than 30 years.
Here Rod tells the story of how strong partnership working and a joint commitment to making a change has made Pembrokeshire the county with the highest number of excellent rated bathing waters in Wales.
Change was no accident
I was born and raised in Pembrokeshire. I love it here and visit our beaches as often as I can.  
I'm so proud of what has been achieved, and to be part of the Pembrokeshire Environment Team that has played such a massive role in turning things around for our bathing waters.
This change was no accident. It is the result of a lot of hard work by all parties involved.
Top three issues – tourism, sewage treatment and farming
Our bathing water issues resulted from a combination of problems, with the top three issues being:
the impact of tourism
out-dated sewerage systems
impacts from agriculture
Partnership working and Pembrokeshire Beach Strategy
We started to achieve change when organisations pulled together, and we took a partnership approach to the issue. Welsh Water started to make improvements to their waste management systems, while NRW proactively visited areas to identify pollution problems. In addition, Pembrokeshire County Council identified sewer misconnections and enforced dog byelaws to allow dogs on restricted areas of the designated beaches.
In 2018 we formalised this partnership working with the launch of the Pembrokeshire Beach Strategy (2018-2021). This outlines the roles and responsibilities of each organisation and has been our road map to continuous positive change in ensuring that 'a visit to a Pembrokeshire beach is the best experience that it can be.'
Each beach has a story to tell
Each beach has its own story to tell and demonstrates the range of pollution issues that can affect our bathing waters.
We worked with a local farmer in one area who was keen to help protect the Blue Flag status of a local beach. The farmer changed his practices to ensure that cattle were not allowed to stand in the stream above the beach. By providing an alternative drinking water source, and protecting the water quality of the stream, the beach achieved 'excellent' status.
Wiseman's Bridge
Back in 2011 the bathing water at Wiseman's Bridge was rated 'poor', the lowest standard possible. There was the very real possibility that signage would be required to advise people not to swim there. This was a real challenge for NRW, Pembrokeshire County Council, and all the organisations that it impacted upon, as well as the local economy that relies so heavily on tourism.
The beach is surrounded by caravan sites, as well as properties on private sewerage systems. We carried out a rigourous pollution prevention campaign in the area. We visited all caravan sites, farms and local houses using septic tanks. We found a variety of problems including misconnections.
Several caravan sites had private sewage treatment plants that were old and therefore not working very effectively. The result was poor quality effluent discharging into the stream that led to the beach. We provided site owners with advice and guidance. They took all this on board and went above and beyond what was required, investing in new sewerage treatment systems. The technology includes the use of ultraviolet light treatment plus a reed bed system and results in 'gin clear' water.
After seven years of continual improvements this beach now has 'excellent' status, a fantastic achievement!
It's not easy, but change is possible
Improving bathing water quality is not easy, but it is most certainly possible. It requires organisations to work together, chipping away bit by bit over a long period of time. We couldn't do it without the help of local businesses and landowners.
We will continue to look for opportunities for more improvements to be made. My dream would be for all 29 bathing waters to achieve excellent status.
If we turn our backs on this and stop doing what we're doing, the quality of bathing waters will decline again. I for one, do not want this to happen.
Stay safe in our waters this summer
If you are planning on visiting some of Wales' coastlines or inland rivers and lakes this summer, please ensure that you take extra steps to keep yourself  and your family safe around water, by assessing the risks before you enter the water and paying more attention to what's happening around you.
Find out more on how to have a safe and enjoyable time outdoors at Adventure Smart UK, and follow the advice in the Waterside Code and the Wild Swimming Code – part of the Countryside Code family.
The Wales Bathing Water Quality Report 2020 is available to view here, Natural Resources Wales / Wales bathing water quality report 2020.
You can also check the bathing water quality of each designated area here