Peatland restoration pays off for nature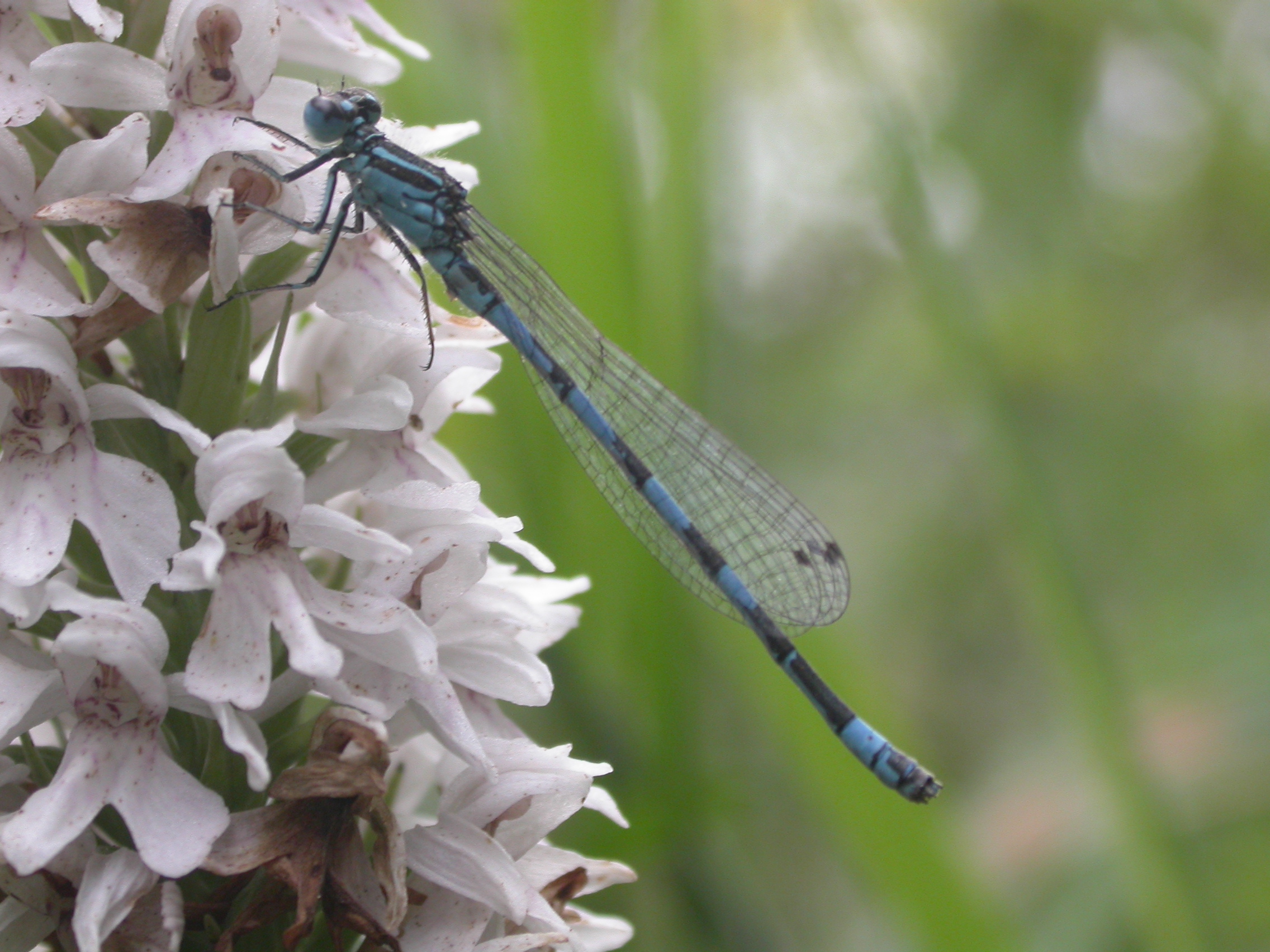 As the first part of the UN Biodiversity Conference (COP15) takes place at Kunming, China, a partnership project to restore the Anglesey Fens is showing great signs of success with rare wildlife returning to make their homes on the landscape, according to observations made by specialists in the fields of plants and peatlands.
Anglesey boasts three fen National Nature Reserves (NNRs) - Cors Erddreiniog (the largest), Cors Bodeilio and Cors Goch.
Together they form part of the Anglesey Fens Special Area of Conservation (SAC) and are the UK's second largest expanse of fens after East Anglia.
The award-winning Anglesey and Llŷn Fens LIFE+ project was the largest wetland restoration project of its time in Wales. It won the Best Nature Award out of 600 LIFE projects across Europe - a huge achievement for NRW and for Wales.
The main aim was to restore or improve 750 hectares of very rare fen habitats, which depend on a delicate water balance and limestone springs that flow into the peat.
The peatland restoration work carried out at the Anglesey Fens addresses the intrinsically linked nature and climate emergencies which top the agendas at the UN Biodiversity Conference (COP 15) and the UN Climate Change Conference (COP26) this year.
The National Peatland Action Programme, launched in 2020, is learning from past restoration to make sure that Wales delivers for both climate and nature.
Rare and endangered species such as the dwarf stonewort, greater bladderwort, medicinal leech and southern damselflies have been found this year in good numbers and most in new places on the Anglesey Fens restoration and management areas.
Fens are a special and rare kind of peatland. Bogs are fed solely from rainwater, while fens are also fed by streams and groundwater.
Mineral-rich water from the porous limestone rocks that surround the Anglesey Fens drains into them and it's this mixing of alkaline and acid that makes them so special, and so rare.
They create the perfect conditions for a whole host of rare plants and animals, many of which are marsh plants growing closely together such as rushes, sedges or blankets of wildflowers.
Peter Jones, from NRW's National Peatland Action Programme said:
"The importance of managing fens can't be over-stated. In good condition, fens lock in carbon that would otherwise be released into the atmosphere contributing to climate change.  
"Peatland restoration and sustainable management of fens is one of the National Peatland Action Programme's six priority actions, the others being peat erosion, peat drainage, sustainable management of upland peatlands, afforested peatlands and hyper-modified peatlands.
"By addressing these six areas the National Peatland Action Programme will be tackling the climate and nature emergencies."
In 2008, work to restore the Anglesey Fens accelerated through the Anglesey and Llŷn Fens LIFE+ project. The project was funded by the EU LIFE programme together with additional funding from the Welsh Government, Natural Resources Wales and Dŵr Cymru.
A further grant was received by the Freshwater Habitat Trust in 2017, and from the National Peatland Action Programme in 2020. This funding as well as the on-going management has made it possible for these sites to still support the fantastic wildlife we see today. 
Numerous activities were done to restore the fens including removing rank, overgrown fen, opening up land for grazing, scrub removal, creating 'scrapes' or artificial pools, improving the water table, and restoring springs, streams and seepages. Lime rich water is now flowing back across rich fen habitat rather than being lost within drains.
Small scrapes mimicking old traditional peat cuttings have been found to be really good for fen plants. Simple pools provide new areas of open habitat for rare species to colonize. For example, within 12 months stoneworts had colonized these wetlands and ten years on, we see a range of rare and unusual species.
Nigel Brown, from the Botanical Society of Britain and Ireland said:
"During a recent visit to Cors Bodeilio, I was so impressed with the management, quality and diversity of habitats within the fen, including uncommon sedges, greater bladderwort and the rare dwarf stonewort colonizing scrapes in abundance."
Emyr Humphreys, Cors Erddreiniog & Cors Bodeilio National Nature Reserve Manager for NRW said:
"Pony and cattle grazing are essential for the long-term management of the fens and we greatly value the relationship we have with our neighbouring farmers in helping to deliver this. Grazing helps keep the vegetation open allowing space for these rare species to thrive."
Chris Wynne, Senior Reserve Manager for the North Wales Wildlife Trust said:
"Cors Goch is such a special place – it lies at the heart of the Wildlife Trust, it was our first nature reserve and the reason the Trust came into being in 1963.
"There is a thread that links those naturalists who explored the wetland in the late 1950s, through to the last ten years and the major work on the site.
"This continues today thanks to funding from Natural Resources Wales and the Welsh Government's Landfill Disposals Tax Communities Scheme, administered by WCVA.
"The marsh orchids so beloved of those Welsh naturalists are still present, enjoyed by visitors and given new opportunities to flourish thanks in no small part to the efforts of many volunteers … and some hungry cattle!"
The National Peatland Action Programme, led by Natural Resources Wales and funded by the Welsh Government, is supporting a range of restoration activity across Wales to deliver further peatland restoration this winter in order to reduce carbon emissions and bring back wildlife to these special places.