New grant scheme searches for innovative solutions to sustainable drainage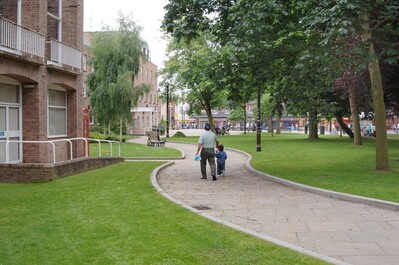 Applications open today for a new Natural Resources Wales (NRW) grant scheme to support the development of small-scale, retro-fit, sustainable drainage solutions in Wales.
Sustainable urban drainage systems (SuDS) help to reduce surface water flooding in built up areas and reduce run-off into local rivers and streams.  In rural landscapes, schemes can reduce localised flooding and improve water quality.
They use a more natural approach to managing the flows, volumes and quality of surface water by including components such as permeable pavements, wetland creation, soakaways and rain gardens.
When the sewer network fills with rainwater and is overloaded, this can lead to storm overflows discharging diluted sewage into rivers, streams and coastal waters.
Up to £450,000 is available in the first round of funding to allow applicants to undertake feasibility studies to tackle issues on existing sites, with the potential to develop small-scale retro-fit schemes via a future competitive grant.  At this stage NRW is looking to support projects between £25,000-£40,000.
Applicants will need to demonstrate how their project would use innovation to improve current approaches, as well as demonstrating how they would reduce carbon emissions, enhance biodiversity and provide health and wellbeing benefits to the local community.
Helen Haider, Lead Specialist Advisor, Water Capital Programme, from Natural Resources Wales said:
"Sustainable urban drainage solutions have an important role to play in how we tackle both climate and nature emergencies in the future.
"Intense showers and thundery downpours are becoming more commonplace, and volumes of water quickly overwhelm developed areas where there is little natural drainage.
"Combined with a growing population and an aging sewerage network, there is an urgent need to use innovative solutions to reduce the amount of surface water which enters our drains and subsequently rivers through storm overflows.
"As well as providing practical solutions to urban problems, these schemes can provide an important role in reducing localised flooding, improving water quality and providing valuable aquatic habitat in rural areas."
The grants are being funded by the Welsh Government Capital Fund.
The deadline for applications is midnight on Monday 25th September 2023.
Full details about the scheme and how to apply is on the NRW website.
NRW also plans to run a series of webinars where potential applicants can find out more and ask questions about the process. People can register their interest for a webinar via the web page.