Monster Mower - brand new wetland harvester machine arrives in mid Wales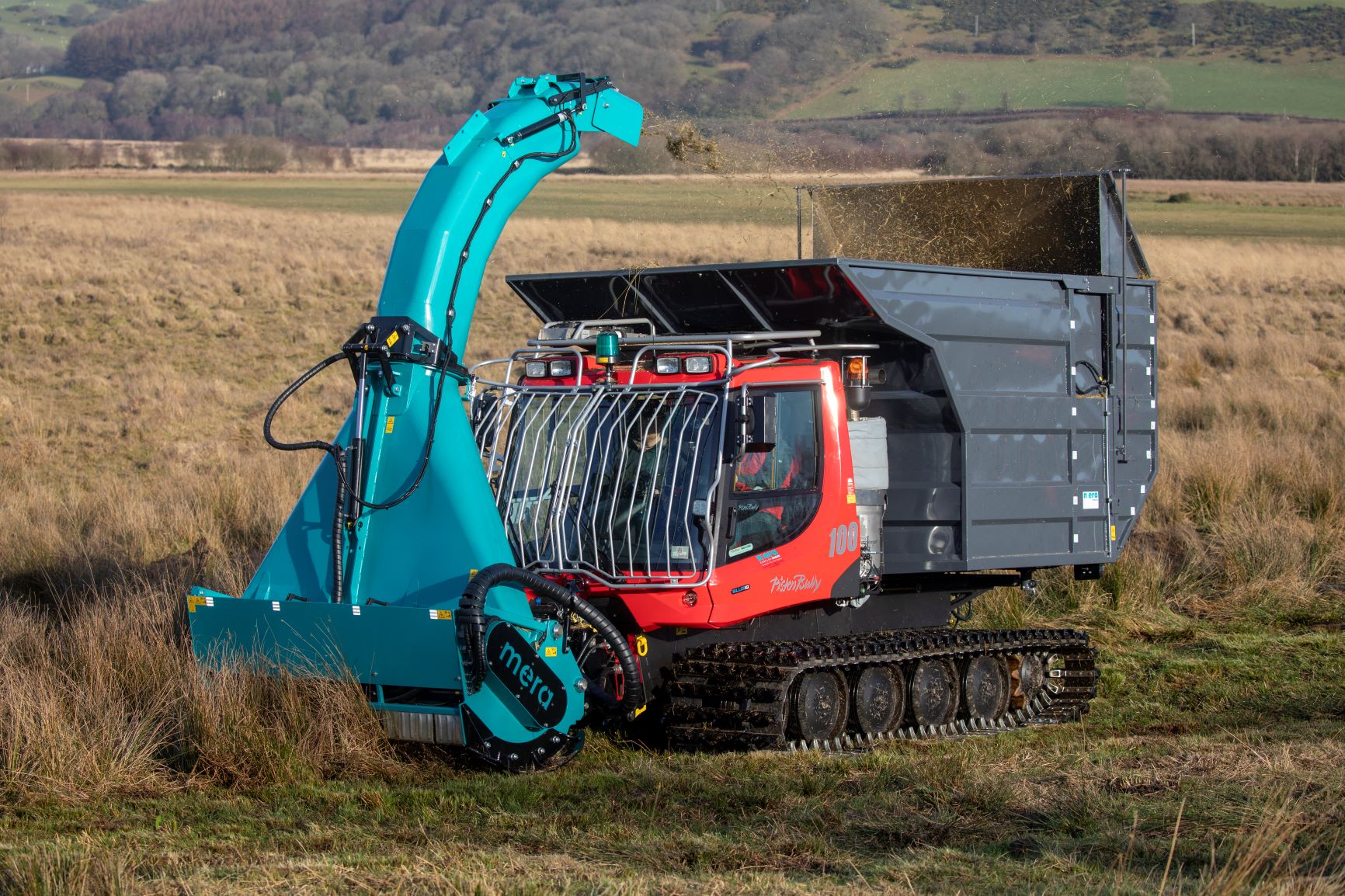 A project to restore some of Wales' most important wildlife habitats has received a boost as conservationists at Natural Resources Wales (NRW) take delivery of a machine to help restore sites across Wales.
Raised bogs are home to rare plants and animals, but have deteriorated as invasive plants moved in.
Now, as part of the EU-funded LIFE project, NRW has taken delivery of a purpose-built machine to cut back the invasive grasses which choke native plants in these areas.
Weighing 4.5 tonnes and reaching more than 3 metres tall, the machine will be a prominent part of these sites for the next four years of the project.
But despite its size and weight, the machine can float on the raised bogs because it has low ground pressure due to the extra wide tracks. It also carries a range of tools for cutting and harvesting wetland vegetation, chipping timber and applying herbicide.
It will reduce the dominance of purple moor-grass and other invasive plants and scrub on seven raised bog sites in Wales, including Cors Caron and Cors Fochno in Ceredigion, and will help to restore the bogs to favourable condition.
Costing up to £300,000 due to its high specification and specialist requirements, the 4.5 tonne machine is 3.10 metres in height. Over the project's' lifetime the machine will aim to cut at least 75 hectares of purple moor-grass, which equates to 75 rugby pitches.
Rhoswen Leonard, LIFE Welsh Raised Bog Project Officer said: "The machine itself is amazing. The wide tracks mean it can float on the peat bog and reach areas that have been inaccessible in the past, and all without damaging the spongy mosses that make the site so important. We can't wait to get started."
Once the project is complete the machine will be used by NRW to restore other similar sites across Wales.
Purple moor-grass dominates some parts of raised bogs due to previous drainage.
It smothers the special bog plant species and stops sphagnum (peat moss) from growing.
The machine will mow, treat and roll the moor-grass to create more open areas where peat moss will have space and light to grow and thrive once again.
The contract for driving the machine has been awarded to local contractor John Davies Agricultural and Plant Contracting Ltd from Pencader in Carmarthenshire. 
Work will start over the next few weeks on Cors Caron National Nature Reserve near Tregaron in Ceredigion and will finish at the start of the bird breeding season in March.
Work will start again later in the year once the breeding season has finished.
All of the work carried out under this contract will be on Special Areas of Conservation (SACs).
These are environmentally sensitive sites legally protected for their environmental interest.
More restoration work will also take place at sites near Trawsfynydd, Fishguard, Crosshands, Crickhowell and Builth Wells.
Harry Kester from Off-Piste Agri Ltd, the UK dealer for the machine said: "This versatile machine and can work on several terrains. 
"Its wide tracks ensure it can operate on environmentally sensitive and wetland conditions, making it the perfect choice for conservation restoration projects like this."
"We're looking forward to working with NRW to demonstrate the successes of this machine over the coming years, it will really step up the restoration work a gear and make a massive difference to the project."
Raised bogs get their name because of their domed shape. They are areas of peat that have built up over 12,000 years and can be as deep as 12 metres.
They are home to rare plants and animals, including the large-heath butterfly and the iconic bog rosemary.
Restoring them will help fight climate change by creating new peat to lock in more carbon and improve water quality in local rivers. They are also great places to visit to enjoy nature and the benefits of being active outdoors.
The four-million-pound New LIFE for Welsh Raised Bogs project aims to restore 970 hectares, 2,397 acres (3.8 square miles) of raised bog - one of Wales' rarest and most important habitats.
Funding for the four-year project has been given to NRW from an EU LIFE programme grant, with support from Welsh Government and Snowdonia National Park Authority.
Photo credit: Farming Photography Ltd