Discovery of rare orchid made on a mid-Wales reserve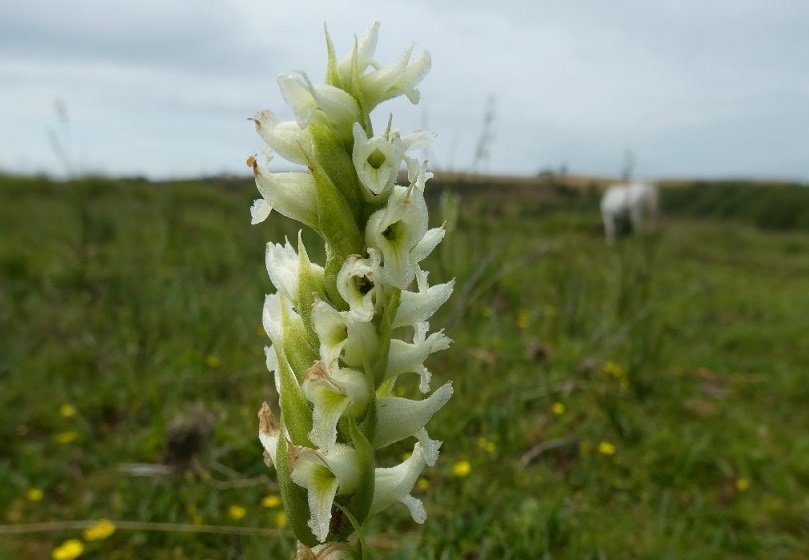 An extremely rare orchid called Irish Lady's-Tresses, unknown elsewhere in Wales or England, has appeared on a mid-Wales reserve managed by Natural Resources Wales (NRW).
A small colony of the creamy white flower spikes were found on Cors Fochno, an internationally renowned raised peat bog between Borth and the Dyfi estuary, and part of the Dyfi National Nature Reserve (NNR).
The discovery was made at the end of July by Justin Lyons, an NRW staff member, as he was checking on the Welsh Mountain Ponies that are used to graze marshy fields around the raised bog.
Mike Bailey NRW Senior Officer – Land Management said:
"Wild orchids are well known for long-distance dispersal and unpredictable flowering, they have a short flowering period from mid-July to August, and flowering doesn't occur every year, so this is an astonishing find.
"Although widespread in north America, in Europe the orchid is confined to a small number of sites in north-west Scotland and Ireland. It has disappeared from its only known English site in Devon and has declined elsewhere."
Based on genetic studies experts believe that the species may have colonised Ireland from the dust-like seeds blown across the Atlantic, so windblown seed may account for the orchid now appearing in Ceredigion.  
NRW manages Cors Fochno and is now planning how best to enable enthusiasts and local people to see the orchids next summer, whilst maintaining the grazing and protecting the colony from inadvertent damage  
Cors Fochno is one of seven SACs (Special Areas of Conservation) lowland raised bogs in Wales where EU and Welsh Government funded bog restoration is currently underway.
The New LIFE Welsh raised Bogs Project aims to protect the raised bogs' important carbon stores, re-generate active peat growth and sustain their wonderful biodiversity. 
The Irish Lady's-Tresses is likely to become the most notable rarity amongst the many scarce inhabitants of Cors Fochno, which include good colonies of Lesser Butterfly Orchid, rare bog mosses and Sundews. Many rare invertebrates such as the Rosy Marsh Moth (a species once thought to be extinct in Britain), Large Heath Butterfly and Bog-Bush-Cricket are also thriving on the reserve.
Sue Parker from the Hardy Orchid Society said:
"This exciting discovery is yet another example of the many benefits Wales gets from the continued investment in properly managing our National Nature Reserves."