Worse than expected condition of Rodney's Pillar to require rebuild, not repair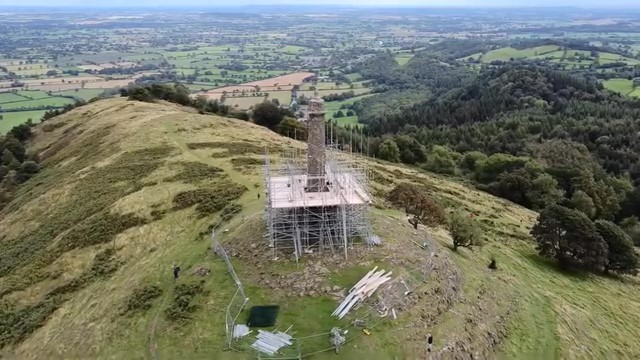 The condition of Rodney's Pillar - a much-loved memorial in Mid Wales – has been found to be in too unstable a condition to be repaired and will instead need to be rebuilt.
Contractors working on behalf of Natural Resources Wales (NRW) had started work on repairing the local landmark earlier this year but a recent survey has found that the condition of the pillar was much more unstable than initial surveys had shown.
NRW has taken the decision that the most appropriate course of action is to dismantle and re-build the structure.
Rodney's Pillar is a grade II* Listed Building and is also a Scheduled Monument, given its location within the boundaries of a scheduled Iron Age hillfort.
NRW have been consulting with CADW – the Welsh Government's historic environment service throughout the project and will continue to do so, to ensure the work will be carried out sympathetically. Great care will be taken to ensure that the monument is rebuilt in a way that faithfully reflects the original structure.
The condition of the structure was so unstable, that work has stopped on the site so as not to risk the safety of workers and to allow for new plans to be made.
Ruairi Barry, NRW's Project Manager said:
"We know how important Rodney's Pillar is to the communities surrounding it, and that some may be unhappy about dismantling and rebuilding the structure.
"We came to this decision only after planned investigations gave a better understanding of the structural problems the pillar faces. The condition is such that it is beyond repair.
"As a listed structure, the pillar has a high level of protection and cannot simply be demolished. We will abide by the requirements of its heritage protections, and we will ensure it is rebuilt sympathetically."
Bill Lee, Chairman of the Save Rodney's Pillar Trust said:
"NRW has updated our trustees on the findings of the recent survey, and we will continue to work closely with them to help in any way that we can to ensure that the pillar is rebuilt and is there for many generations to come.
"We want the pillar remain a popular place to visit and to be an important piece of local history."
NRW's specialist team is working with CADW and others stakeholders to find the best way to carry out the necessary work. The pillar will remain closed off to ensure public safety.
A timescale for the work to be completed cannot be offered at this time, as the revised plans are still being prepared.