Wildlife boost after dune pool restoration at Newborough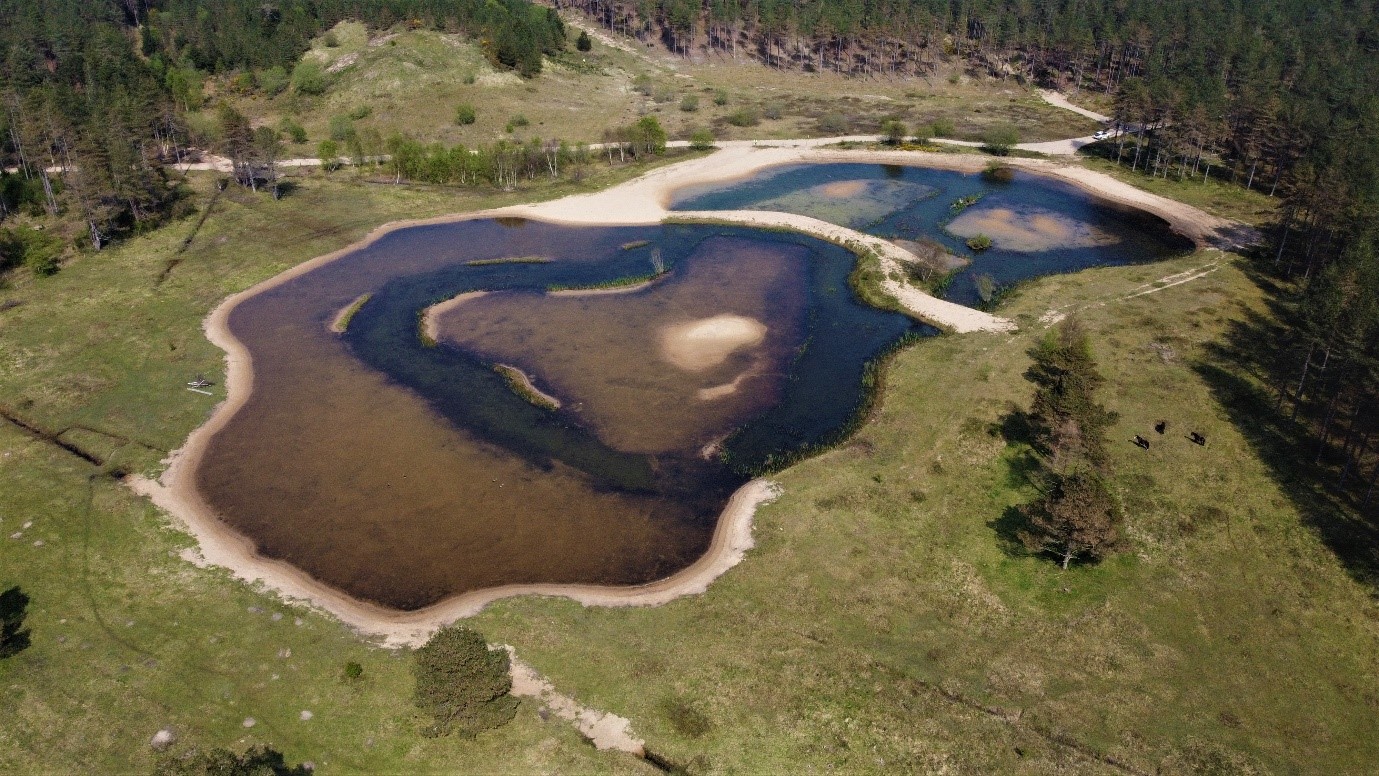 A major restoration at Pwll Pant Mawr dune pool at Newborough National Nature Reserve and Forest on Anglesey has helped wildlife thrive.
The work undertaken by Natural Resources Wales (NRW) assisted by the Sands of LIFE project has helped protect rare wildlife, including endangered stonewort charophytes, amphibians and medicinal leeches, at the internationally recognised site.
Pwll Pant Mawr was originally excavated as a large dune pool in the early 1960s to increase biodiversity, but the last decade had seen it gradually infill with sand and regularly drying out in the summer.
The restoration work saw the removal of 21,000 tonnes of sand from the edges to create wider and gentler habitat transitions which has increased the surface area of seasonally flooded habitat.
The design catered for a wide range of different species, increasing the value of the pond for biodiversity.
Initial surveys following the restoration have shown a dramatic increase in rare charophyte species, some of which are critically endangered in the UK, while conditions have improved the habitat for great crested newts, with significant increases recorded in May 2022 by Bangor University.
The now shallow edges provide more suitable habitat for medicinal leeches and it is hoped the population will increase dramatically over the coming years.
Small areas of bare sand will be removed later this year to provide wetland patches on the southern side of the pool.
Richard Berry, NRW's Land Management Team Leader at Newborough, said:
"Newborough National Nature Reserve and Forest is a site of international nature conservation significance, being one of only a handful of such dune systems of this extent and supporting some of the rarest species in Europe.
"We are undertaking a range of innovative and ambitious projects to protect and enhance the nature conservation value of Newborough and making sure that sites like these are healthy helps us tackle the current climate and nature emergencies.
"NRW has also been working in partnership with the Sands of LIFE project, which will soon excavate a pond adjacent to Pwll Pant Mawr to increase the breeding habitat for great crested newts.
"We will continue to work closely with members of the community and stakeholders on our management of this important internationally recognised site."
Sands of LIFE is an EU-funded project led by NRW and is restoring more than 2,400 hectares of sand dunes across four Special Areas of Conservation, on 10 separate Welsh sites.
Find out more about Newborough National Nature Reserve and Forest