Threatened birds nest on golf course car park during lockdown solitude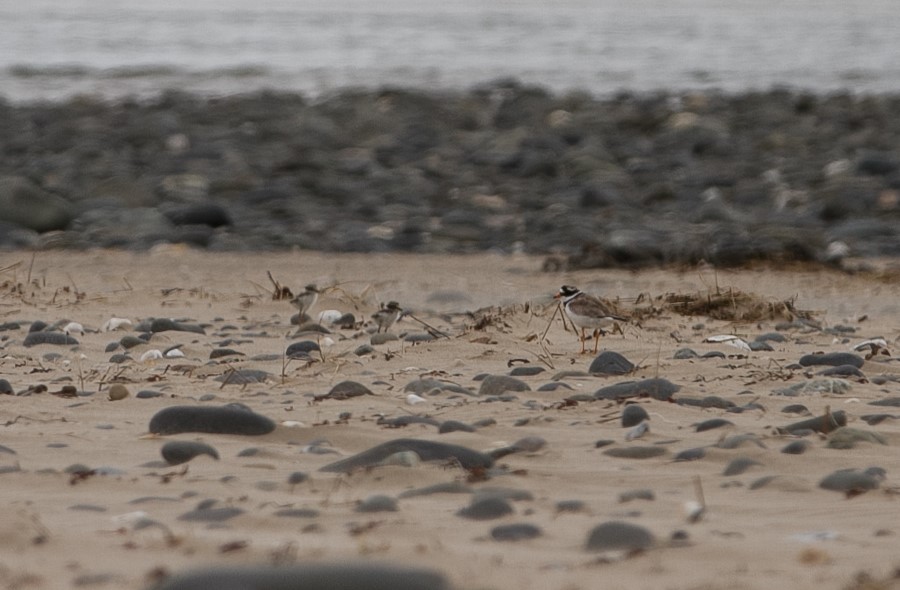 Threatened ringed plover chicks have capitalised on the solitude of a west Wales golf course car park, hatching in a nest built during the coronavirus lockdown.
The shy ground nesting birds laid their eggs in the Borth and Ynyslas Golf Club car park in late June.
The ringed plover is a small wading bird that is on the red list of birds of conservation concern. Its presence at Ynyslas is one of the reasons why the Dyfi is a Site of Special Scientific Interest.
Carol Fielding, Ceredigion Environment Team Leader for Natural Resources Wales (NRW) said,
"The ringed plover is a vulnerable species that needs careful conservation work to help them breed and flourish in a popular tourist area.
"Despite this, they have shown how resilient nature can be and how quickly it can flourish given the right conditions.
"The nest was spotted before some of the recent coronavirus restrictions were lifted. This posed a serious threat to the nest and the birds.
"We are very grateful to the golf club for responding quickly and positively by closing half of their car park to give the chicks and their parents the space they needed to flourish."
Ringed plovers only use their nest to lay and hatch eggs and move to the beach within hours of the chicks hatching. This behaviour allowed the golf club to reopen the whole car park soon after.
Athole Marshall of Borth and Ynyslas Golf Club said,
"The wonderful wildlife of Borth and Ynyslas is a major draw for visitors to the area.
"When we learnt that vulnerable birds had made a temporary home in our car park, we were happy to work with NRW to protect them. We cordoned off a section to give them space until they were ready to move on."
As the birds are easily disturbed by people and dogs, NRW are asking people to give the birds space if they see them on the beach and to keep dogs on a lead.
One pair bred in the area in 2018 and two pairs successfully fledged five chicks in 2019.
At least four pairs have bred in 2020 and may fledge a number of chicks by the end of the season.
This bodes well for the future as ringed plovers often return to the same area every year to breed, meaning a strong local population is being formed following NRW's conservation work over the last two years.