Sole Clywedog osprey chick ringed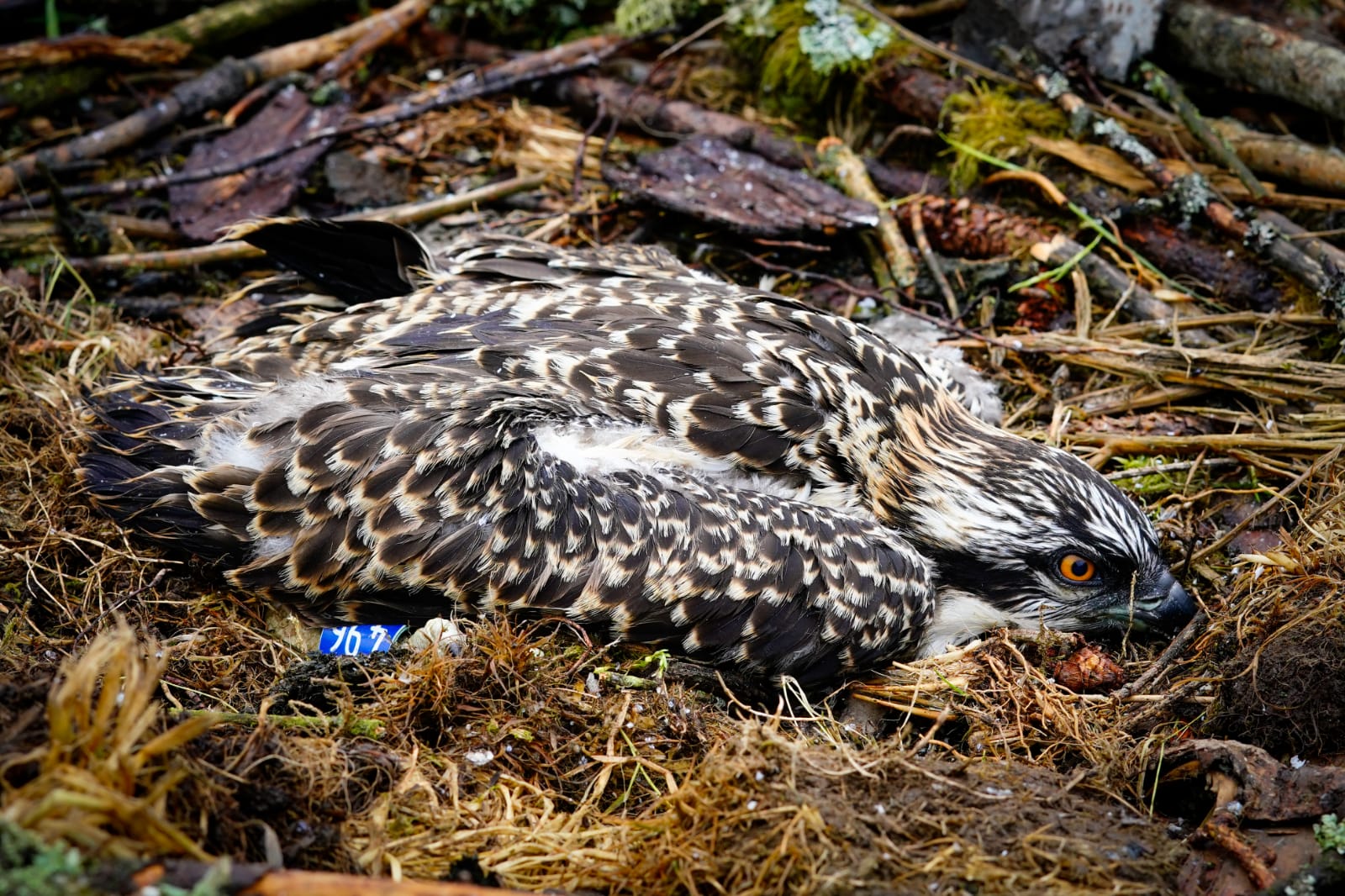 The only osprey chick to hatch this year on the Llyn Clywedog nest - near Llanidloes - was ringed on 25 June 2021.
Now sporting a blue ring displaying the number 496 on its right leg, the bird will be identifiable if it fledges the nest and is spotted elsewhere.
The chick was ringed by a contractor on behalf of Natural Resources Wales (NRW) who carry out annual nest maintenance under license and coordinate the monitoring and ringing.
Already weighing 1.4kg at only 32 days old, the chick is quickly developing its adult feathers and was found to be in good health.
Three eggs were laid at the nest earlier in the season in what was the second year for the resident female on the nest. Poor weather conditions in April gave the ospreys difficult incubating conditions, and despite a strong supply of fish being brought to the nest, two of the eggs never hatched.
John Williams, Land Management Technical Support Officer for NRW said: "Ringing the ospreys is always an exciting step and is the only hands-on opportunity we get to assess their health.
"We were delighted to see that he is in good health and is developing well.
"Although it's obviously disappointing that only one chick hatched this year, it's a fact of nature that we have to accept. Being the only chick on the nest increases his chance of survival and fledging; he has no competition for food and is clearly one well fed chick."
In an effort to reduce the handling of the chick which can reduce the natural waterproofing of the feathers, the ringing was done on the nest rather than at ground level.
While up at the nest, the un-hatched eggs were removed, and the camera lens was given a well needed clean.
The chick's development can be seen on a live online feed facilitated and funded by NRW by visiting https://www.youtube.com/c/CarnyxWildWales/videos.