Smart Water used to tackle waste crime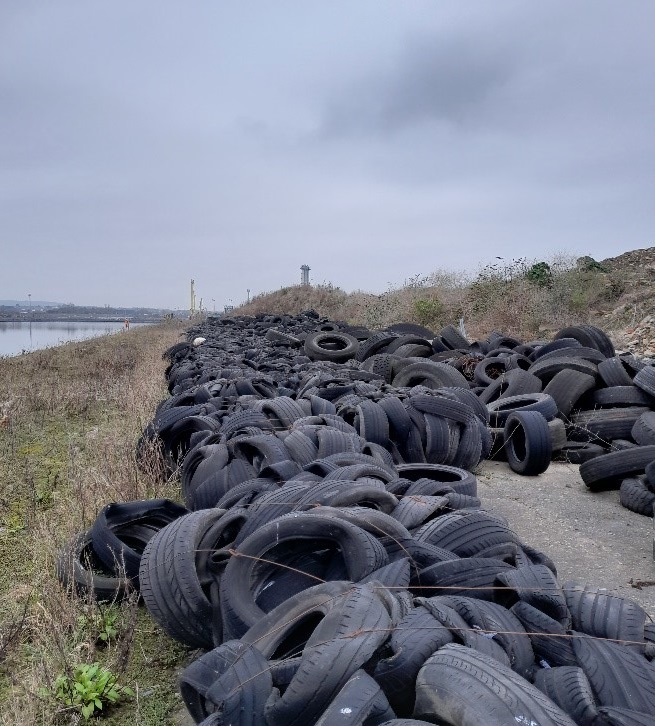 A site in Barry has been used to test the use of Smart Water in Natural Resources Wales' fight against illegal waste crime.
The site in question has an exemption permit for the treatment and storage of waste tyres but has exceeded the quantity permitted by the exemption, estimated to be in excess of 2000 waste tyres. 
Having so many tyres on a site is a potential fire risk not only harms the environment but can also impact on people's health and undermines legitimate business.
NRW's waste regulation team has served a Notice on the site to remove the waste tyres but there are concerns that they may not be disposed of legitimately. To try and prevent this NRW's Tackling waste Crime team has deployed Smart Water at the site.
Mark Oughton of NRW's Tackling Waste Crime team, said:
"Smart Water is a nontoxic forensic tagging system which contains a unique identifier in its droplets, it is invisible to the naked eye once it has dried and only able to be seen with use of an ultraviolet light.
"Once the waste has been identified as having Smart Water upon it, a sample can be sent away to a laboratory for code identification and this information can then be used as strong evidence in any enforcement or court action that is to follow.
"We hope that the use of Smart Water will act as a strong deterrent to illegal behaviour and ensure that the waste tyres are disposed of at a permitted site."
Anybody who suspects illegal waste activity in their area should report it via NRW's incident hotline on 0300 065 3000.