Sands of LIFE work taking place at National Nature Reserve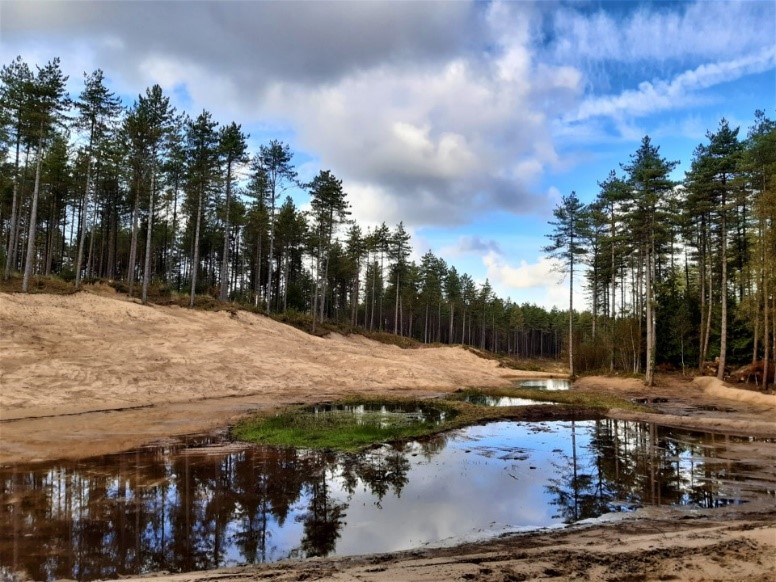 A series of conservation and restoration projects are planned at Newborough National Nature Reserve and Forest on Anglesey.
Work will start this month to help promote and protect a rich and diverse range of wildlife at the internationally important site.
It includes the rejuvenation of Pant Canada and two areas of low-lying dune slacks at Newborough Warren, as well as a wetland habitat extension at Pant y Fuches.
Sands of LIFE, an EU-funded project led by Natural Resources Wales (NRW), working to restore sand dunes across Wales, is carrying out the work.
Kathryn Hewitt, Sands of LIFE Project Manager for NRW, said:
"We will be undertaking these restoration projects at Newborough to protect wildlife and improve biodiversity.
"Some of the work will involve heavy machinery, but in all cases the needs of protected species such as Great Crested Newts, sand lizards and Red Squirrels are taken into account as well as other interests such as archaeology and the safety of visitors.
"We would like to thank members of the public for their understanding during this period."
Between September and November at Pant Canada, areas of bare sand, a new pool and a more natural wetland will be created to form a 'pioneer' habitat for rare and specialised species including Great Crested Newts, Shore Dock, dragonflies and damselflies, mining bees and other invertebrates.
Pant y Fuches, a high-quality dune slack grassland supporting many species including marsh orchids, will be extended on one side by removing scrub, a small number of conifers and scraping away overgrown surface vegetation.
Work will take place in early to mid-autumn.
At Twyni Penrhos standing dead trees, fallen timber and brash will be removed from the edge of the forest by the Commonwealth Trail to improve flower-rich grassland habitat.
This will improve safety and reduce fire risk and during this work the Commonwealth Trail in this area will be closed for the safety of the public.
Please follow Sands of LIFE social media for dates.
At Newborough Warren work will take place in two seaward locations to rejuvenate low-lying dune slacks and dry dune slopes, covering around one hectare each.
This will involve the removal of turf, lowering the bottom of the dune slacks to the water level and the creation of a new pool.
Mowing will take place over nine hectares of the site between August and October to allow a wider range of flowering plants to thrive by controlling tall, coarse grasses, bramble and scrub while invasive alien species control will be undertaken.
Regular updates will be posted on social media at @TwyniByw on Twitter, Instagram, and Facebook or by searching Sands of LIFE.
Image: Previous Sands of LIFE work at Ffrydiau at Newborough National Nature Reserve and Forest.