Pond restorations to boost Flintshire newt population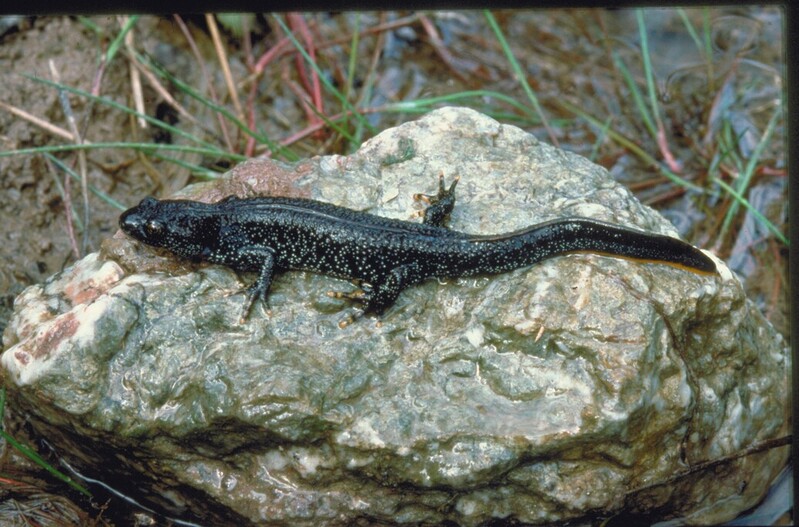 Ambitions to increase the populations of great crested newt and amphibian populations across Flintshire are set to receive as work to restore ponds and habitats at various locations across the county gets underway.
Work to restore failing ponds will start on 13 November and will focus on three areas within the protected Mynydd Helygain / Halkyn Mountain Special Area of Conservation (SAC) and Halkyn Common and Holywell Grasslands Site of Special Scientific Interest (SSSI). Work will also take place at Holywell Golf Club, Moel y Crio, and at several ponds in the Wern y Gaer/Berth Ddu area.
Natural Resources Wales (NRW) officers have worked closely with Holywell Golf Club and Amphibian and Reptile Conservation (ARC) to plan the important work. Contractors will scrape the ponds to remove overgrown vegetation and increase depth and size. They will also manage the habitat around the pond edges.
The upcoming work is part of wider plans to restore at least twenty ponds across North East Wales with further work due to start in 2024.
Great crested newts are a European Protected Species. The animals and their eggs, breeding sites and resting places are protected by law. They are threatened by loss of breeding ponds through destruction or degradation of water quality, loss and fragmentation of terrestrial habitat and a rise in non-native invasive weeds.
This work will be undertaken by Wildbanks Conservation and is supported by the Welsh Government's Nature Networks Fund. The fund has ambitions to strengthen the resilience of Wales' network of protected land and marine sites, supporting nature's recovery while actively encouraging community engagement.
Christina Sheehan, NRW's Lead Advisor on the project, said:
"We look forward to getting started on this work as we aim to boost great crested newt and other amphibian populations across Flintshire.
"We are currently experiencing a nature emergency and it is essential we have resilient ecosystems to support species and habitats.
"Once completed the newly restored ponds will offer amphibians better habitats for breeding and areas where they can hibernate.
"We have worked closely with partners to try and ensure we provide a crucial helping hand to a rich array of amphibian species whilst further enhancing Flintshire's biodiversity."