Pond restoration work completed to boost biodiversity in Wrexham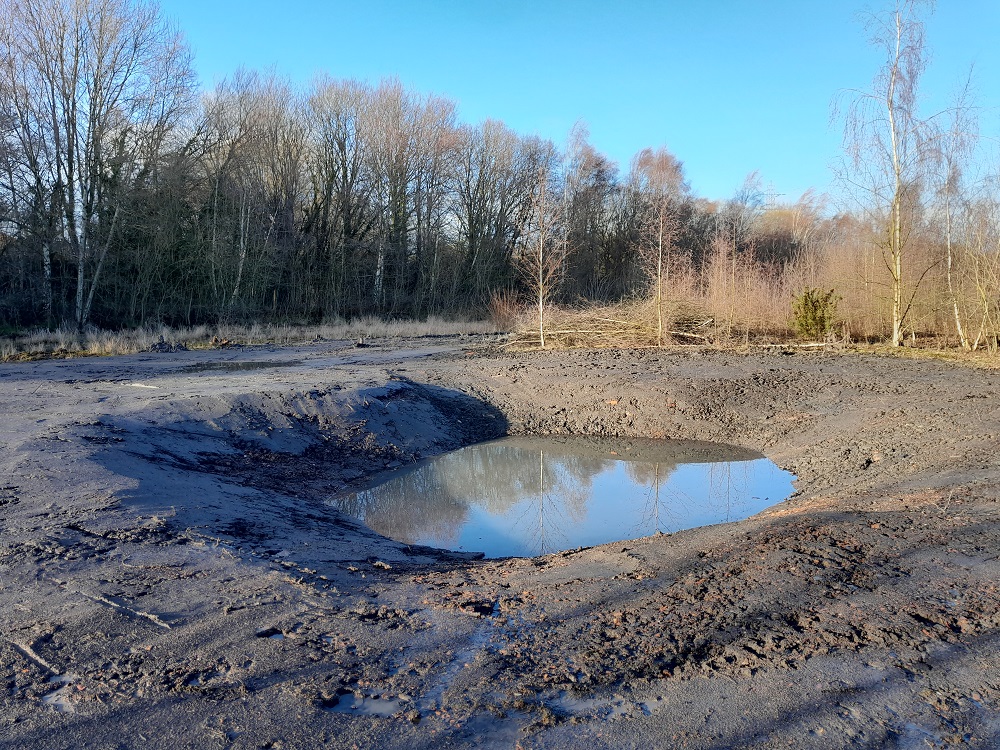 A pond that failed to hold water for a number of years has been restored in a move that will help boost biodiversity and wildlife populations at Aberderfyn nature reserve in Wrexham.
The newly restored pond will benefit the site's great crested newts, smooth newt, palmate newt, common frog and common toad populations, which all require such ponds to breed.
This work was completed by Wild Ground and funded by round one of the Nature Networks Fund - an initiative delivered in partnership by Welsh Government and National Lottery Heritage Fund. The fund has ambitions to strengthen the resilience of Wales' network of protected land and marine sites, supporting nature's recovery while actively encouraging community engagement. The work took place between 9 – 13 January.
Aberderfyn nature reserve is part of Stryt Las a'r Hafod Site of Special Scientific Interest (SSSI) and Johnstown Newt Sites Special Area of Conservation (SAC). The site is owned and managed by Wild Ground and lies next to Bonc yr Hafod Country Park in Johnstown, Wrexham. 
Anthony Randles, NRW Environment Team Leader, said:
"We are glad to have completed restoring this pond at Aberderfyn nature reserve in Wrexham.
"This pond will provide a crucial helping hand to a rich array of amphibian species and further enhance the biodiversity that can be found at this Johnstown site.
"This work will offer an important contribution in making sure sites like these are healthy, which then helps us tackle the climate and nature emergency.
"We would like to thank Wild Ground for their cooperation during this work and look forward to working closely with them again in the future."