People's views sought on Dinas Powys flood scheme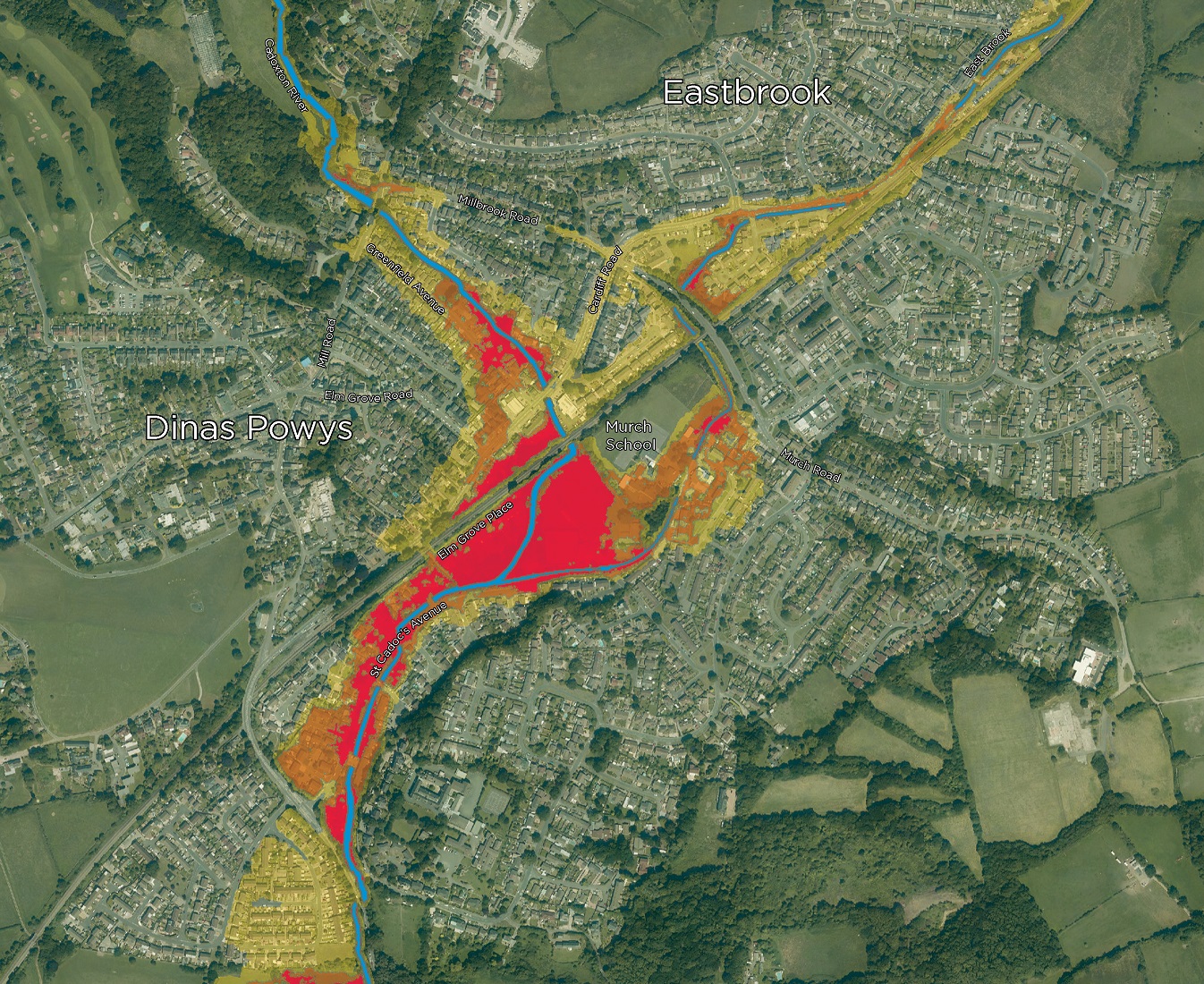 Natural Resources Wales (NRW) has completed its assessment of options to manage flood risk in Dinas Powys, South Wales, and is now seeking the community's views.
Using records of past flooding events and hydraulic modelling, NRW has confirmed that there is a significant flood risk in Dinas Powys from the Cadoxton River and its tributary the East Brook.
NRW believes it has looked at all practicable options to address the flood risk for 197 homes in Dinas Powys and Eastbrook.
Following published guidelines, each option was assessed on whether it provided a community-wide solution, adequate level of flood protection, if it was technically possible to build and the environmental and social impacts. NRW also listened to the views of the community and stakeholders and used this feedback during its assessments.
NRW has also considered the economic viability of each option to determine if they provide good value for public money. This means providing a greater benefit than it costs to develop and build it.
Out of a longlist of options, five were shortlisted:
Natural flood management - implementing nature-based measures such as building ponds, placing leaky dams across streams, planting trees and soil decompaction, to slow down and store flood water
East Brook channel storage – using the natural oversized channels to store flood water to reduce flood flows downstream in Dinas Powys.
Cadoxton River upstream storage - building an embankment between Cwm George and Casehill Woods to temporarily store flood water during times of heavy rain.
Flood scheme through Dinas Powys – building walls and embankments along the river banks, in houses' gardens and the verges in St Cadoc's Avenue, to contain the flood flows.
Combined upstream storage and channel storage.
Based on the latest assessments, the risks and feedback from the community, landowners and other stakeholders, NRW does not think there is currently a viable scheme to deliver a community-wide solution to manage the flood risk in Dinas Powys.
Tim England, Operations Manager (Flood and Water Management) for NRW, said:
"Flooding can devastate people's lives and it's our job to look at ways to manage the flood risk in our communities across Wales.
"We believe we've considered all practicable ways to reduce the risk to the community in Dinas Powys, but unfortunately there appears to be no perfect solution.
"The reasons for this are different for each option considered. Some are not technically possible to build, some would be too expensive and impractical, and others carry risks that could materialise to become too expensive.
"We are listening to and considering the views of the community, landowners and other stakeholders throughout this process to inform how we move forward.
"Over the next few weeks we will be speaking with people to explain our findings, and we would like to hear their views."
More detail on the flood risk, the options considered and how each one has been appraised is available on NRW's website: www.naturalresources.wales/dinaspowys
NRW is asking for feedback on its findings by 27 March 2020.