Over 13,000 marine specimens to be curated at Amgueddfa Cymru-National Museum of Wales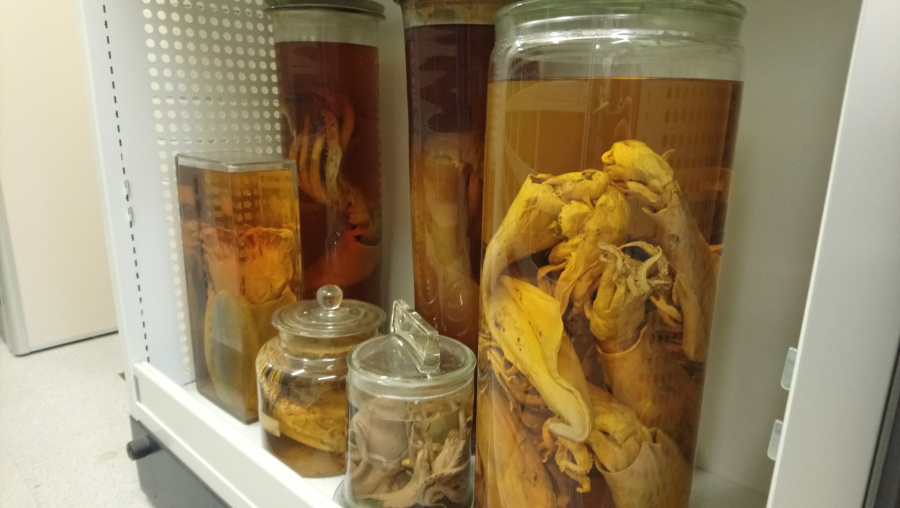 Natural Resources Wales (NRW) and Amgueddfa Cymru-National Museum of Wales are working together to curate over 13,000 marine invertebrate specimens collected from coastal and offshore waters around Wales by NRW and it's predecessors.
The specimens are made up of several invertebrate species that were collected over the past decade during monitoring surveys, mainly from within Marine Protected Areas (MPAs). 
Previously, the specimens were not stored to last long-term and were at risk of becoming damaged. Thanks to this partnership the specimens will now be stored and maintained by the museum in a way that will last well into the future. 
The specimens will be stored in high quality vials and catalogued with a reference of where and when the species were found. 
These references will be used to verify the identification of species collected in the future and update species names for past records. This will support our analysis and help keep track of changing marine habitats and invertebrate communities. 
Matthew Green, Senior Marine Ecologist for NRW, said: 
"Monitoring marine life by collecting samples and specimens is just one example of the work we do to monitor the diverse marine habitats in Wales. 
"By monitoring marine communities and their habitats, we can make informed decisions to ensure these habitats are maintained and improved and that biodiversity is protected for future generations. 
"The curation of our marine species collections will be a fantastic resource, not only for ourselves but for the wider scientific community. We're absolutely thrilled to be working with Amgueddfa Cymru-National Museum Wales on this project." 
Teresa Darbyshire, senior marine curator at Amgueddfa Cymru-National Museum of Wales, said: 
"Amgueddfa Cymru-National Museum of Wales marine invertebrate collections provide a detailed view of Welsh marine diversity not just by species but often across time and changing habitats and enable us to compare species from Wales with those from elsewhere around the UK and the wider world. 
"Acquiring these monitoring collections will strengthen our representation of Welsh species and we are very pleased to collaborate with Natural Resources Wales to ensure that these specimens are accessible and safeguarded for the future. Should new species be discovered or names change then having these specimens will mean that the original identifications can be verified quickly and easily." 
Amgueddfa Cymru-National Museum Wales will be undertaking and managing the project whilst NRW provides support and funding for the work. 
The collection is expected to be completed in March 2020 and will provide a valuable and readily available resource to the scientific community in Wales and beyond.