Organisations commit to protect and improve health and the natural environment in Wales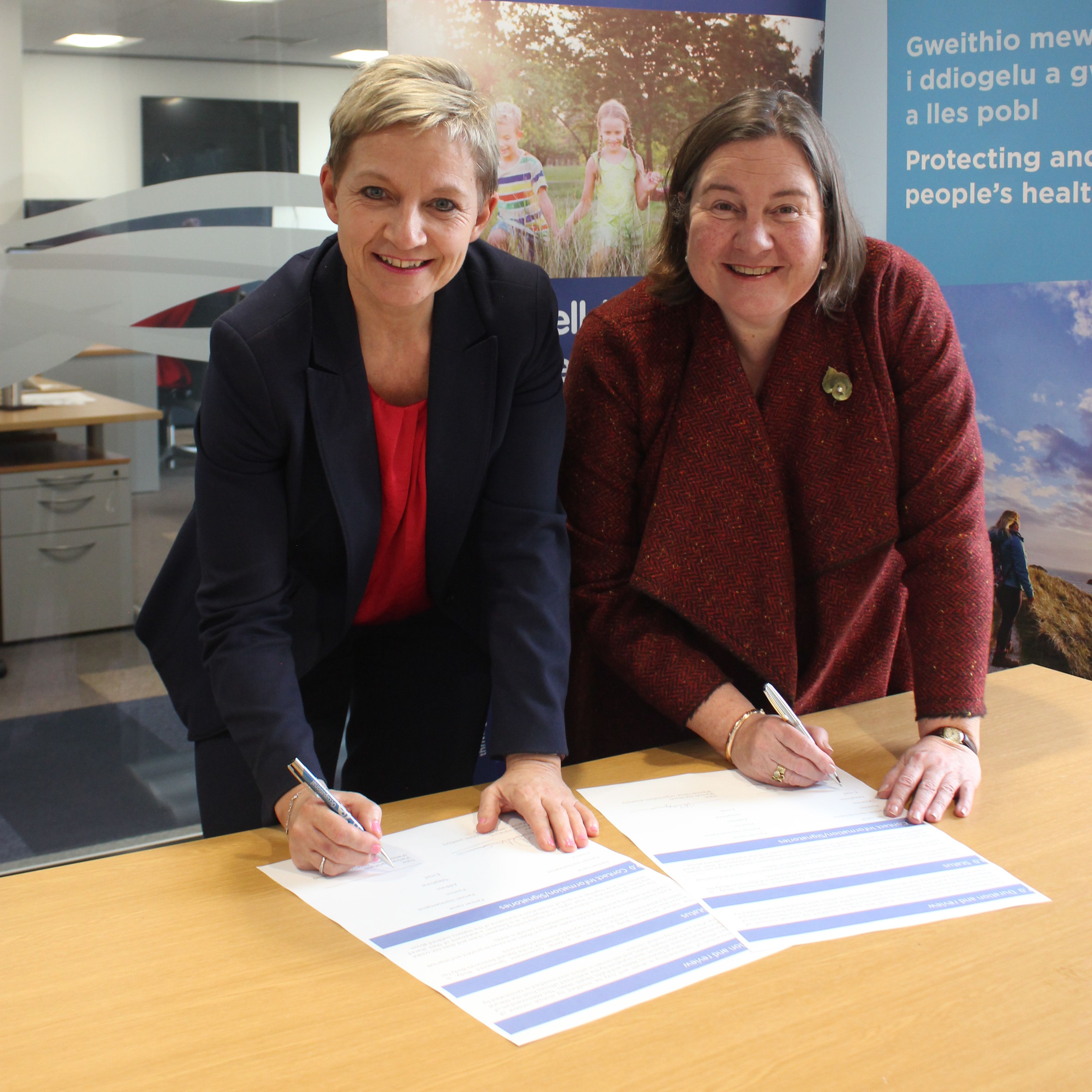 Natural Resources Wales and Public Health Wales have made a commitment to work more closely together to protect and improve the lives and health of people in Wales, as well as the natural environment they live in.
A Memorandum of Understanding signed on 30 January 2020 will ensure that the organisations work collaboratively to develop shared objectives, guidance, evidence and actions to demonstrate the role our natural resources have in protecting and improving human health and well-being.
Natural Resources Wales and Public Health Wales currently work closely and effectively in several areas, such as climate change, air quality, and promoting the physical and mental health and well-being benefits of the outdoors. 
Tracey Cooper, Chief Executive of Public Health Wales, said:
"This memorandum marks a significant step forward in the exciting, purposeful partnership between Public Health Wales and Natural Resources Wales, in response to both the Environment (Wales) Act and Well-being of Future Generations (Wales) Act.
"Our outdoor spaces belong to all of us. They are a precious resource for all the people of Wales, providing a valuable opportunity to improve our physical and mental well-being, and help us live longer, healthier and happier lives.
"By thinking and acting sustainably we will work together towards our combined goals with Natural Resources Wales, and make a real and meaningful difference to the lives of people across Wales."
Clare Pillman, Chief Executive of Natural Resources Wales, said:
"The natural environment has a massive impact on all our lives.  Not only does it provide space for people to get active outdoors, it is the foundation of our health and well-being - providing the air we breathe, the water we drink and the food we eat.
"The memorandum will ensure that people's health is considered in all our work looking after Wales' environment, and equally that natural resources are considered in public health developments.
 "I hope this closer relationship will help our organisations find innovative solutions to address the health and environmental challenges we face in Wales."
The aspirations of the memorandum will be supported by an action plan and overseen by a joint steering group to drive the collaboration forward. 
Watch a video of Clare Pillman and Tracy Cooper talking about what the MOU means to their organisations.