Off-road bikes endangering people and wildlife at Ynyslas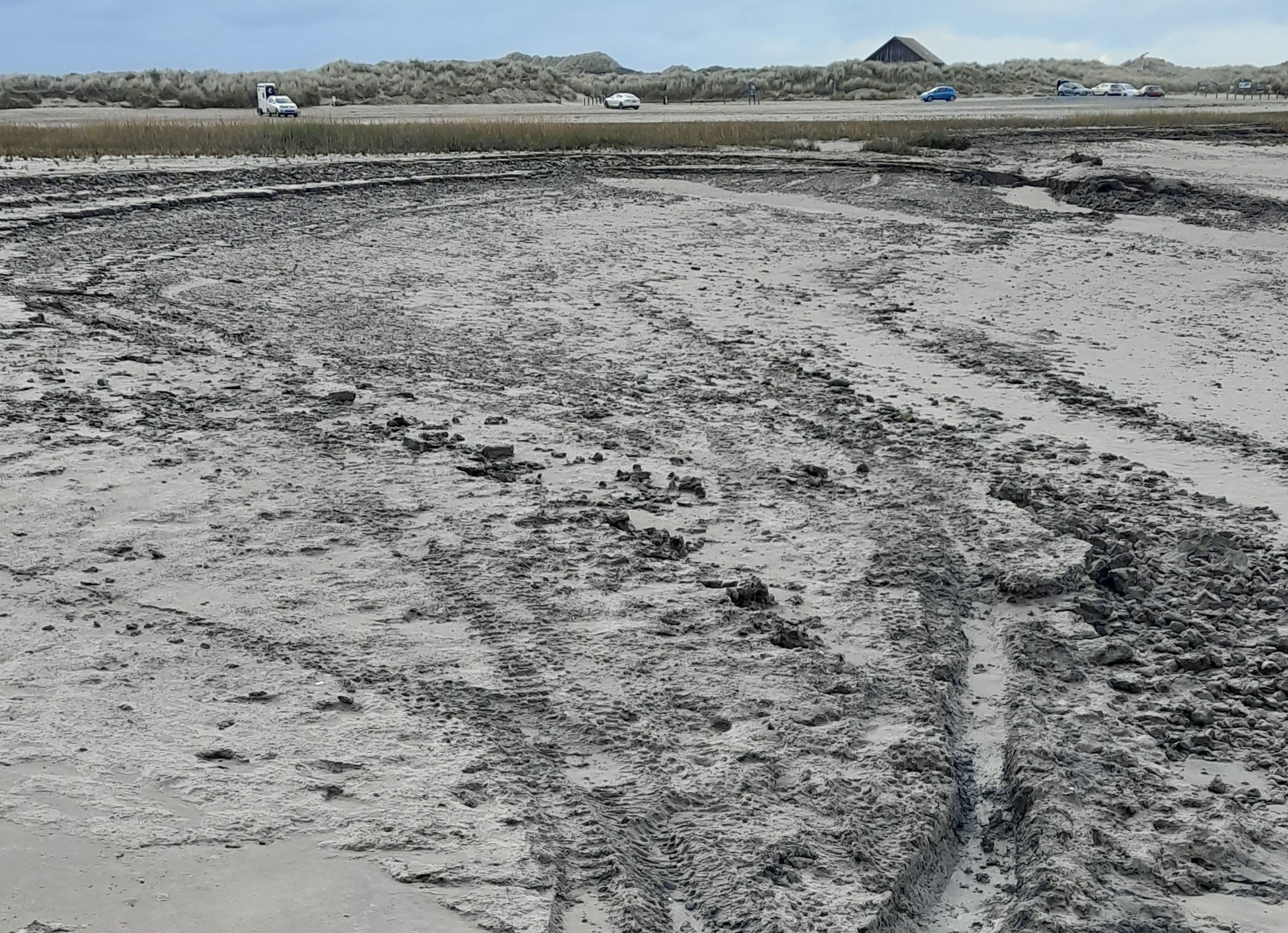 Natural Resources Wales (NRW) and Dyfed-Powys Police are looking to clamp down on illegal off-roading as the latest incident of motorbikes at Dyfi National Nature Reserve threatens visitors, wildlife and their habitats.
The internationally important sand dunes, mudflats and saltmarsh of Ynyslas and the Dyfi estuary, a few miles north of Aberystwyth, were left scarred by bike tracks following the activity at the beginning of December.
While built for off-road use, it is against the law to ride motorbikes on publicly owned land without permission.
If caught, the Police have the power to issue warnings under Section 59 of the Police Reform Act and could seize bikes for repeat offences or if driving without insurance.
Ynyslas dunes are home to a rich and rare population of orchids, mosses, liverworts, fungi, insects and spiders.
During the winter months, the Dyfi estuary is home to large numbers of wintering wildfowl such as wigeon, and waders including curlew and golden plover.
NRW manages the Dyfi National Nature Reserve for the conservation of the dunes and estuary, which are part of the Dyfi Site of Special Scientific Interest and the 'Pen Llŷn a'r Sarnau' Special Area of Conservation.
Justin Lyons, Senior Land Management Officer for Natural Resource Wales, said:
"When illegal off-roading and anti-social activities take place on our sites it endangers people and nature.
"Riding through the dunes and estuary disturbs and damages rare and protected species, such as birds, hibernating sand lizards, rare mosses and grassland rich with wildlife.
"The recent activity likely disturbed over-wintering birds. If this happened during bird nesting season, they would have driven through the ringed plover breeding enclosure, disturbing these ground-nesting birds and potentially driving over their well camouflaged nests.
"People who off-road may not even be aware of the devastating consequences that their action has on these important habitats for some of our rarest wildlife.
"I would urge anyone who sees people driving illegally on our sites to report it to the police by calling 101."
Inspector Gareth Earp from Dyfed-Powys Police said:
"Anti-social use of off-road bikes is not only against the law but is also extremely dangerous.
"Off-roading may be seen as innocent fun by some, but it can have more of an effect on local communities and the environment than just nuisance noise.
"We want to increase awareness of the negative impact this activity can have and are determined to crack down on it to protect everyone's safety.
"We now have a team of off-road police motorcyclists with motorcycles and we will be actively targeting all of the regular hot-spots including Ynyslas."
To report illegal off-roading call the police on 101.