NRW's plan to manage Wales' flood risk published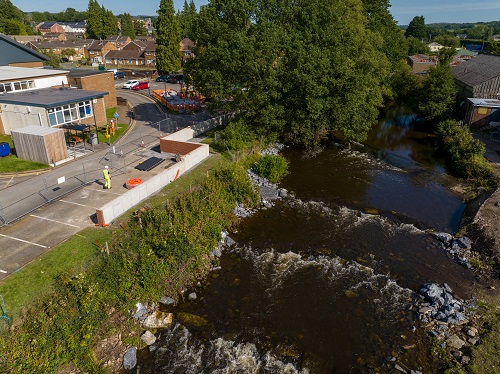 As climate change fuels the ferocity and frequency of extreme weather events, sea level rise and flooding, more action is needed to build in adaptation and resilience to the very real impacts of those real threats.
This is the call from Natural Resources Wales (NRW) today (16 November) as it publishes its road map for managing Wales' flood risk.
NRW's Flood Risk Management Plan (FRMP) sets out the priorities for managing flood risk  in Wales for the next six years, for the areas of flooding for which NRW has lead responsibilities.
Set against the backdrop of the climate and nature emergencies, it outlines how the nation needs to continue to invest in and improve existing systems, such as its network of flood defences and its flood warning system. However, it also underlines how Wales needs to do more to mitigate and adapt to the inevitability of flooding, focussing on building resilience and taking a whole catchment approach within those communities at risk of flooding now, and in the future.
In Wales, approximately 1 in 8 properties (245,118) is currently at risk of flooding from rivers, the sea and surface water. 
Figures highlighted in the FRMP show that, over the next century, 46,000 more homes will become at risk of flooding from rivers and the sea in Wales. That represents an increase of close to a third more homes at risk than today (139,905 -> 186,662).
The set of planned measures and actions included in the plan will address the overall objective of reducing the risk to people and communities from flooding from main rivers, reservoirs and the sea, and support the delivery of the 14 priorities set out within the plan.
It highlights how climate change impacts must be factored into our actions, the long-term adaptation requirements specific to key areas and the contribution natural flood management can make to managing flood risk. The plan will be used as a basis for more informed decision-making and discussions around delivery with partners, so that investment in reducing flood risk is targeted to the communities likely to be affected most.  

Jeremy Parr, Head of Flood and Incident Risk Management at NRW said:
"More frequent and more extreme flooding and storm surges are becoming the new normal and are already posing greater risks to lives, infrastructure and property. How we plan for and manage our flood risk in response to that has far reaching consequences for communities in Wales.
"From making improvements to our Flood Warning Service and our engineered defences, through to greater use of nature based solutions and whole catchment approaches, our plan sets out how we will prioritise our action over the next 6 years to reduce that risk to people and property in areas most at risk. 
"However, we have to recognise that the risk of flooding cannot ever be removed entirely. Whilst NRW invests heavily in flood defences, we simply cannot just build our way out of the issues we face. Wales will need a combination of measures in order to help communities become more resilient.
"It means making big decisions about where development is allowed, and learning to live with more water than ever before. It means we need to build or convert properties to be more resilient to flood water, so that people and businesses can bounce back quicker when the waters start to rise. We need to ensure people know the steps they can take themselves to reduce the impact of flooding. We'll also need to be more innovative and look at harnessing nature-based solutions to flooding and work more effectively with landowners, and take whole catchment-scale approaches to make space for the huge quantities of water we are seeing during floods.
"It is essential we get ready for the unavoidable impacts by taking action and building in resilience now, so that when flooding does happen it poses much less risk to people, does less damage, and helps ensure life can get back to normal much quicker."
The plan is published in the wake of Storms Babet, Ciarán and Debi which impacted parts of Wales in the space of a month.  NRW colleagues continue to be heavily involved in the ongoing response and recovery to those storms, and work goes on to ensure that the organisation is always ready to respond to the next incident and the winter months ahead.
Jeremy Parr added:
"The defences and schemes that we have invested in over the years, coupled with the other critical services we provide like the Flood Warning Service can make a life-or-death difference when the rain starts to fall.
"Providing these services will always be at the heart of how NRW manages the nation's risk, but they are not the silver bullet.
"While this is plan focussed on what NRW will do to reduce flood risk in Wales, we cannot do it alone. Successfully managing this risk can only be achieved when delivered as a common endeavour, bringing everyone from all parts of government and society with a stake in the outcome together to tackle one of the biggest challenges of our lifetimes."
The Flood Risk Management Plan covers flooding from rivers, reservoirs and the sea. It does not include flooding from surface water and smaller watercourses, for which Lead Local Flood Authorities have powers and take the lead.
The plan is separated into an overarching national section alongside six place focussed sections which cover the different operational areas within NRW.
One of the best steps everyone can all take is to know your flood risk and what to do if that risk materialises. Information is widely available on the NRW website at www.naturalresources.wales/flooding where people can sign up for flood warnings, check their flood risk from rivers, the sea, reservoirs and surface water with a simple postcode checker and find useful advice on how to prepare for flooding.