NRW river projects set to boost fish habitats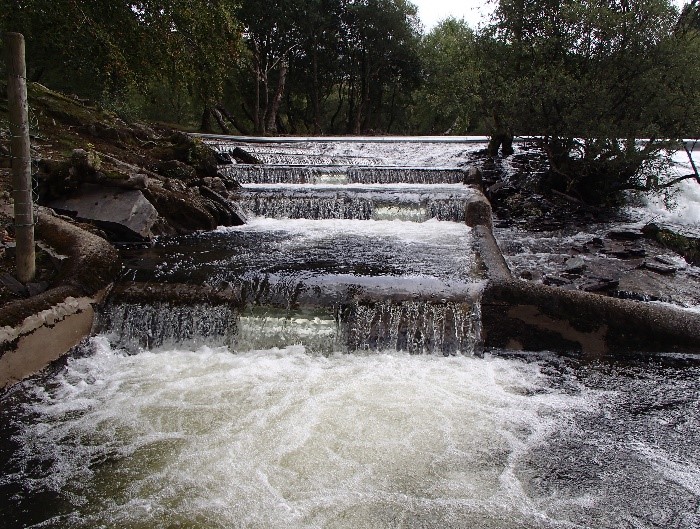 Natural Resources Wales (NRW) is starting the new year by celebrating the completion of several river projects aiming to improve fish habitats and bring a boost to their populations.
The projects were carried out across Wales and focus on repairing damaged assets and improving natural river structures.
One project was carried out on the Ogwen bank weir, Snowdonia, and focused on improving and repairing a fish pass.
The fish pass, which was built in the 1930's, had been deteriorating over recent years. NRW repaired and modified the asset allowing more fish to access the upstream habitat.
NRW have also improved fish migration on the Nant Clwyd. A weir which controlled water levels had been partially damaged, making it more difficult for fish to get upstream. 
This meant that no salmon had been recorded in the upstream electro-fishing site since 2009. 
A boulder barrage was installed to replace the lower weir, raising water levels and making the river much more accessible to fish traveling upstream. 
As well as improving the channels that fish can travel through, some projects focused on improving fish spawning sites.
Work on the Afon Wen, a tributary of the river Mawddach, included reinstalling spawning beds that had been washed away by a flooding event in 2001 and damaged by historic gold panning.
NRW reinstated 12 gravel traps that act as spawning sites for fish and within 2 weeks sea trout were sighted spawning in the area.
Traps like these will help boost the local trout population, as they have done in several other sites in Wales in recent years.
While some of these projects deal with repairing damage caused by natural means there are also several that deal with updating and removing manmade structures.
The Afon Tryweryn, Snowdonia has been a focus for NRW for the last four years and this focus has been on improving the habitat below the Celyn Reservoir.
The work in 2019 included creating three gravel traps to improve spawning numbers, removing an old fish screen that prevented fish getting upstream and installing boulders to create a more natural habitat for juvenile fish.
Salmon were spotted using the gravel traps within days of the work being completed. 
Sian Williams, head of North Wales operations for NRW, said:
"Ensuring Wales watercourses are healthy is an important job not only for the wildlife that depends on them but for the people and communities that do as well.
"These projects will improve fish migration and spawning across Wales and hopefully improve fish populations as a whole in the country.
"I'd like to say a big thank you to our staff and all the partners involved in these brilliant pieces of work.
Other river projects completed in 2019 included mitigation work on the Dwyfawr, fish monitoring programmes across North Wales and the release of over 9000 Arctic Char into the wild from NRW's Cynrig fish hatchery.