NRW foresters celebrate success at woodland awards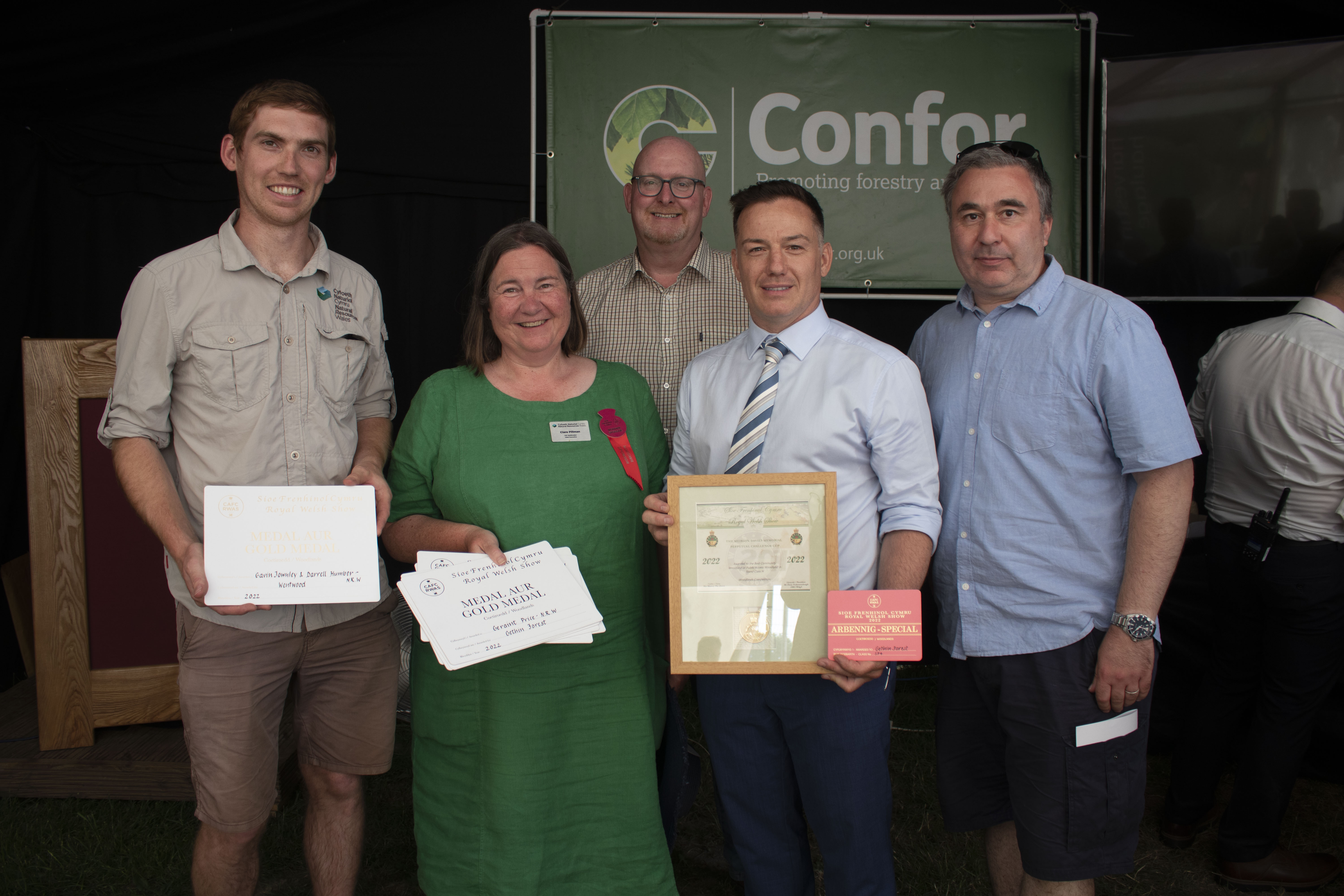 Natural Resources Wales (NRW) has won eight awards in the Woodlands Competition at the 2022 Royal Welsh Show.
Competing at the ceremony on 19 July against public and private woodlands across South East Wales, the work by NRW's forestry teams impressed the award judges.
The judges visited each of the 22 woodlands that entered the competition. They considered how the woodlands have been managed over the past ten years and were pleased to see environmental challenges, both current and future, being reflected in the planning and management of the woodlands.
NRW's Forest Operations Teams won the following awards:
Best managed woodland over 200 hectares
Gold medal for Gethin Forest near Merthyr Tydfil (Geraint Price)
Broadleaf planting or restocking under 10 years old
Gold medal for Wentwood Forest, Monmouthshire (Daryl Humber and Gavan Townley)
Silver medal for Gethin Forest (Geraint Price)
Broadleaf woodland over 40 years old
Silver medal for Fforest Fawr near Cardiff (Geraint Price)
Conifer planting or restocking under 10 years old
Silver medal for Gethin Forest (Geraint Price)
Area managed under Low Impact Silviculture systems that helps to increase species and structural diversity
Bronze medal for Pen Parc Forest near Abercynon (Geraint Price)
Best community or public access woodland
Gold medal for Gethin Forest and Bike Park Wales (Geraint Price)
Winner of the special prize (The Meirion Davies Memorial Perpetual Challenge Cup for best community woodland)
Gethin Forest / Bike Park Wales (Geraint Price)
Gethin Forest, the winner of four awards including the special prize for the best community or public access woodland, covers 857 hectares in the South Wales valleys near Merthyr Tydfil.
The forest is managed for multiple benefits, with a mixture of conifer and semi-natural ancient species, and a newly established area of mainly Norway Spruce that the judges thought showed impressive growth and stocking due to good management practices.
Most of the recent restocking of the Welsh Government Woodland Estate has been as a result of removing infected larch trees. But this has given NRW the opportunity to diversify species and to increase biodiversity and forest resilience for the future.
Gethin Forest also contains over 300 hectares, which is leased to Bike Park Wales and currently has 42 mountain bike trails and a large visitor centre and attracts an average of 500 cyclists every day.
Chris Rees, NRW's forest operations team leader, said:
"Seeing our forest operations teams winning so many awards in such a competitive sector is testament to their hard work, professionalism and dedication in managing our forests."
"There is a renewed focus on forestry across South Wales which can sometimes be negative.
"We recognise the importance of woodlands and trees for their environmental benefits and in combatting the climate and nature emergencies, but also for their many social and economic benefits.
"We are exploring how woodlands and trees can be better managed to provide the benefits most needed in South Wales, while ensuring woodlands are connected, healthy and diverse with resilient ecosystems for nature, for us and for future generations."
The other big winner was Wentwood Forest in Monmouthshire for the planting of broadleaf species following the felling of infected larch.
Wentwood Forest is the largest area of ancient woodland in Wales and is managed by the Woodland Trust and NRW.
Most of the original native trees in the area managed by NRW were felled during the middle of the 20th century to make way for fast-growing, timber-producing conifers.
NRW's plan is to restore Wentwood to a native broadleaved woodland and create valuable habitats for wildlife.
The Forest Operations team planted one half with oak trees at high density (5000 trees per hectare) and the other half planted with a variety of native broadleaf species at a lower density (1600 trees per hectare).
The newly planted trees are protected by biodegradable tubes, rather than plastic, to stop grazing animals eating the trees.
For more information about the forest and nature reserves that NRW manages, and how to visit them, got to naturalresources.wales/days-out